Living
He describes his latest album sound as "thugs crying."
Nathan Legiehn
Mention
Tre Mission
's name in Toronto or London, UK, and it will be recognized. A not-so-easy feat for an emerging artist, yet the Don Mills native has managed to carve a name for himself internationally—and it
'
s just the beginning. Mission dove into both production and songwriting while still in high school, eventually moving to London, where he wrote grime music and produced for names like Skepta, AJ Tracey, and Wiley.
By 2015 he was nominated for a Juno for his album
Stigmata.
Four and a half years later he released his latest album,
Orphan Black
. The album is an evolution that intersects grime and hip-hop—a mature sound of impassioned lyrics. "It sounds like thugs crying," Mission summarizes. "One of my [guys] calls it 'G cry', like Gs crying. I'm not on the ropes, but you can feel the emotion, you know? Master T said that it's emotionally charged." It's a new sound for his fans, but one that they've happily welcomed. "My favorite part is how many times people have said to me [that certain tracks] are like nothing they
'
ve ever heard before," the rapper continues. We sat down with Mission to chat about his start in music, his time in grime-scene London, and to discuss the influence of his newest album.
---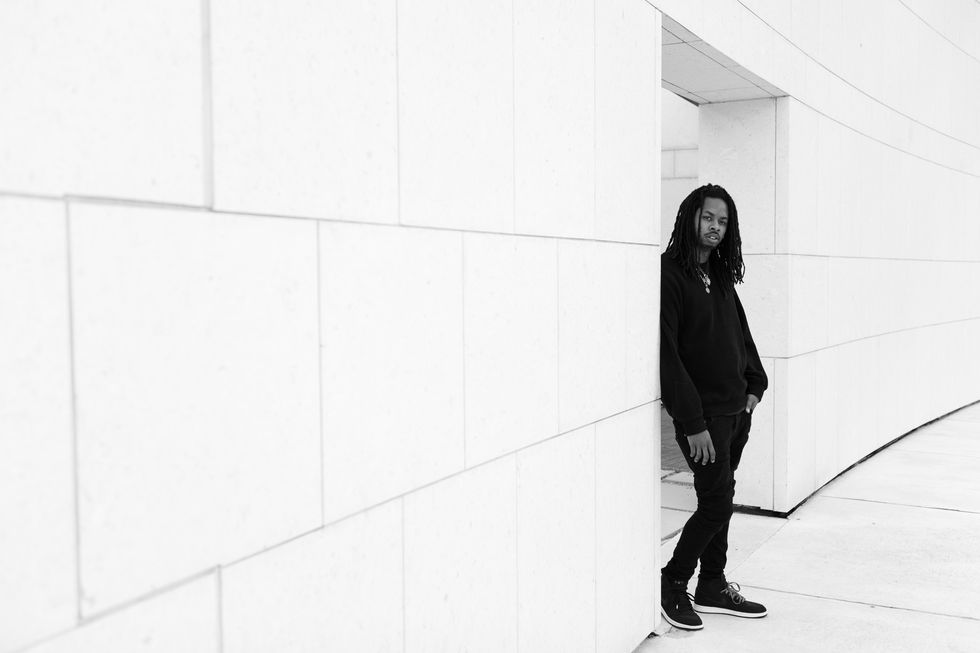 What are your very first memories with music?

"My very first memory is the song that goes 'I can see clearly now the rain is gone'—that's the first song that I remember liking, and I was like, three years old."

What kind of music did you listen to growing up?

"Rap, punk rock, ska, reggae, R&B, and some neo-soul stuff. Then my grandma had the old calypso and jazz. The other stuff was what my mom and uncles put me on."

A good range. So tell me a little bit about your first experiences working with music:

"Well, my uncle taught me how to make beats when I was 11 years old. He'd been doing it for a while and was in and out of studios, so that was the first thing. Then, when I was in high school, there were a lot of people who had bedroom studios, so we used to bounce around to those a lot. I kind of became known for rapping and making music within the community of schools and in my neighborhood. You had to make people believe you, you know? It was very competitive to be a rapper in high school. Also, during that time I was in and out of the studio with Sunny Diamonds—I was under his wing. At that time I was like, 15 years old, so I met a lot of artists and producers in the city."


It wasn't too long after that that you made the move to London, England. What drew you to that city?

"I did a couple of extra years of high school, and I was supposed to do another, but I stopped to [move] to London. Around that time, I was getting into the culture and music over there, and I was putting [that] into my music. I started [noticing] people were interested, so I said, 'Fuck it, I'm going to get up and go there.' You know, the same way I would go to Jane and Finch or wherever to record—that's the same way I looked at it."

Fair enough. You spent a lot of time there—what did you find were the biggest differences between the music industry in the UK versus North America?

"Market size. They have their own industry, and it's more separate from the mainstream American [and] Canadian industries. We're so close [here] and share so much mediawise, culturally—everything. You look at our charts, and it's the same as the American charts. But you go to England, and 50 percent of their charts at minimum is their own shit. Stuff that wouldn't even play on the radio here will be a number one hit over there—dance records with six words."

When you went over there, you were making music in a genre, grime, that hadn't really found its way over to North America yet. Do you think that made it more difficult for you to get your name out?

"It's easier. People used to say 'Toronto people don't like Toronto music.' Even Toronto rap, up until maybe five years ago, was more popular outside of the city. A lot of people used to rap in American accents and shit like that, it was really awkward. Because of that culture, as soon as you went somewhere else and got respect, you got an extra layer of respect at home. People that wouldn't give you a chance here before would then give you a chance. It's different now, but that's what it did for me back then—people took me seriously as an artist because I'd gone somewhere. Also, I was the only person that I know—and people tell me this as well—that, as a rapper, left Toronto and went and created a fan base in Europe. It was unheard of, so people were really tripping out over the shit that I was doing."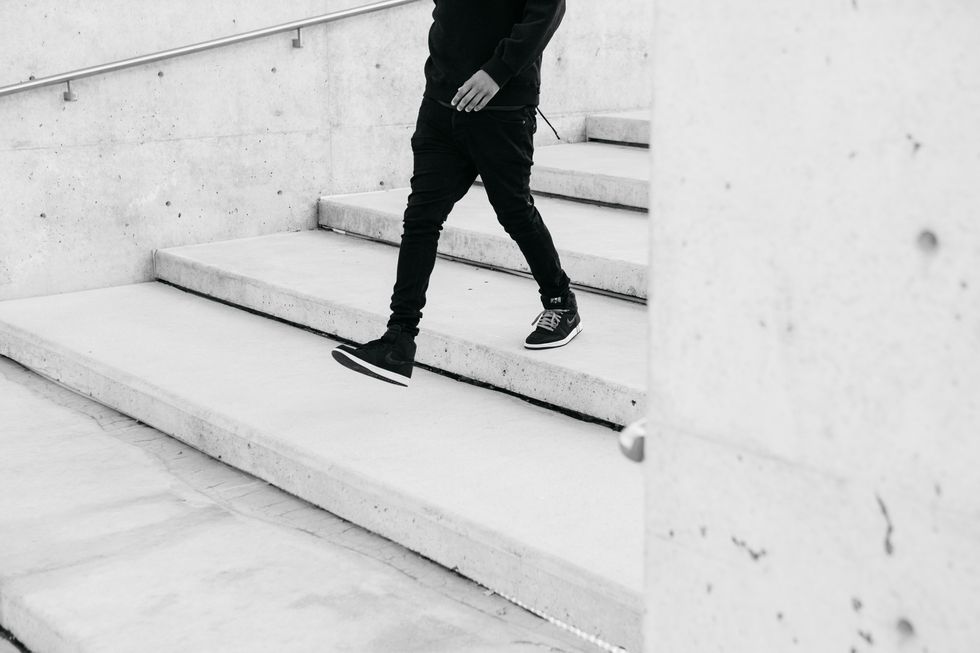 That makes a lot of sense. So it's been about five years since you released your album Stigmata. What made you wait so long to release another?

"I kind of felt out of love with recording and performing. Music was in a weird place with the change in the industry from streaming. The way that people were listening to music was changing, and it was weird, I couldn't see where what I wanted to do would fit in.

"It took a lot of time for me to figure out what I wanted to do sonically, thematically, and how I wanted to put it out. Four and a half years is a long time in the music industry, and I knew that once [my break] got to two years, [I would be] starting from the beginning, and I just said, 'Whatever, fuck it, I'd rather start from the beginning.'"

Were you ever concerned that your fans wouldn't receive this new project well? I mean, Orphan Black is a fairly different sound for you:

"No. I've always made different stuff. I play instruments and I'm a producer, so throughout my projects, there's always been variation. I've always made sure my singles were the most in line with what people know me for. I posted this album in the same kind of way, but also, this time, it was more of what I myself would want to listen to in my car. I knew that casual fans and listeners would be upset, but people who are actual fans, that listen to every project from start to finish, know what I do. The other part of it, too, was that any artist I've loved, they've always switched it up. This album is me preparing for when I switch it up again next time."

And how does your creative process differ from when you're songwriting to when you're producing?

"With producing, I kind of zone out. I don't have to concentrate too hard, and by the end of it, I'll have made five beats and I'll be like, Holy fuck, I'm tired. But with songwriting, it takes me forever to write the first two lines. Once I get past that, it just flows. I feel like I'm very open to making mistakes with producing because mistakes are how new shit gets discovered, but with my words, when I listen back to old songs and I hear some shit that makes me cringe, I'm like, Why did I say that? I wasted that line."


Let's talk about the album artwork. What's the story behind it, and why did you choose a koala?
"The koala is my favorite animal. It's sick; it's a bear, it doesn't live in Canada, but it just eats shit all day and looks cute, but they're not friendly. [For the artwork], I wanted to blend two of my main influences. If you look at the cover, it's London and Toronto, but what's happened is the koala has landed; he's in the middle of the impact, and it's broken down [around him]. You can see a building for Rogers [phone company] because I hate them, so I made sure they got destroyed. Data Cars are the cabs I take in London, and I don't hate Data Cars, but I wanted to put them in there."
Wow, I never even realized that. That's amazing. Moving away from music slightly, what are a few of your favorite spots in Toronto
?
"I like Shawarma Empire, Twice as Nice, and Roti Hut. Also
—
ah, see, I can't say it, it's my secret spot. Listen, this spot is so secret that you have to find the magical way to open the door."
Next interview, we're going there. OK, last question: What's the best piece of advice you've ever received?
"There's a producer from Toronto called Megaman, and when I was about 18 years old, I played him a bunch of music, and he was like, 'The reason why I'm so excited about your music is because I can tell you don't even know how you want to sound yet.' That's not even advice, and when he said it, I was offended, but it wasn't until later that I realized that he was 100 percent right. When I came to understand not to be offended by it, it turned into advice. I wasn
'
t scared to sound different than I did yesterday."
Want more stories like this?
Behind the Scenes of Dreezy's "Love Someone" Video Shoot
How 6lack Preps for the MTV VMAs
A Day in New York with Rico Nasty