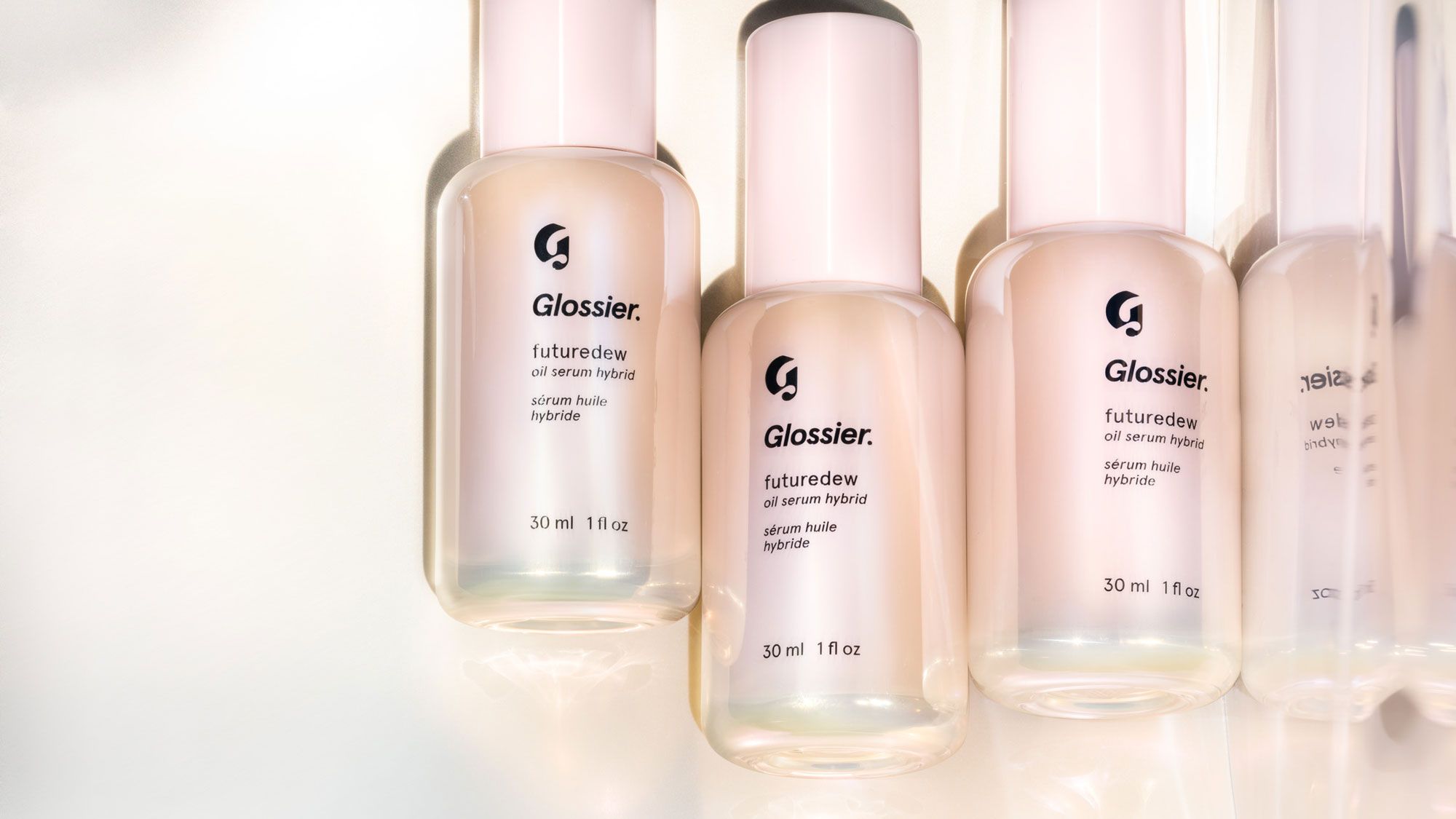 Skin
The brand's latest skin-care release promises your skin, but glowier.
When we consider the beauty goliath that is Glossier, the first thing that comes to mind is preternaturally glowy skin. Founder and CEO
Emily Weiss
agrees, and so do her customers, as she informed us last Monday in a small sunlit room at Glossier's HQ. In fact, something that delivered that signature glow was the number one most requested product from the Glossier community, which is precisely why we found ourselves gathered with half a dozen other beauty editors just one day after the company hit the five-year mark. Futuredew, the brand's latest release, is being touted as Glossier skin in a bottle, an oil-serum hybrid that "will help you along your skin-care journey," explained Weiss. "It's skin care for today and tomorrow."
So what exactly does that mean? The peach-tinted serum is a return to the brand's original "skin first, makeup second" ethos, containing nourishing
oils
like jojoba, grape seed, evening primrose, and rosehip, as well as plant-based extracts like squalane to help brighten. It has a lotion-like texture that melts into the skin without any trace of color and leaves a soft—if slightly tacky—finish. Its purpose is to moisturize, brighten, and reflect light (courtesy of minerals like mica), all in the pursuit of that soft-focus finish you spot on Glossier's campaign models.
The R&D team explained that they went in search of something that couldn't be classified as
just
a serum, or
just
an oil, but combined the most beneficial effects of both. So for fans of the original Supers serum trio, Futuredew isn't necessarily replacing those steps, but is providing more of an aesthetic effect rather than a targeted treatment. Whereas dewy skin is a welcome byproduct of your everyday skin-care routine, that look is the entire goal of Futuredew.
For someone who regularly wears upwards of five products on her face every day, this editor approached the new launch with a hint of caution. God forbid I blow out my selfie camera with an ultra high-shine forehead. But as suggested, I swiped a thin layer post-sunscreen (I use
Solid & Striped's
, which has a nearly identical texture to Futuredew) and waited to see if my co-workers noticed any change to my face. They didn't until I prompted, but then most agreed that my complexion did appear particularly glowy.
As I glanced in my camera throughout the day, I managed to avoid resembling an oil slick, and my blush, highlight, and bronzer all remained where I applied them that morning. Was there any noticeable difference compared to my everyday routine? Maybe not a significant one, but for a barely-there glow that seems to come from within (Glossier's trademark look), I wouldn't be opposed to adding this to my lineup—especially on the days when I don't feel like wearing any makeup at all. And with fall temperatures dropping lower by the day, we could use all the help we can get to keep our skin looking and feeling as hydrated as possible. But if it's a megawatt highlight you're after, you'd be better off with
one of these
.
---