In a Crowded Editorial Space, This PR Firm Makes Their Brands Stand Out Amid the Noise
Azione's nabbed Equinox, Away & MedMen for their roster.
Career
We'd bet (and win) that you've used, loved, and obsessed over one, if not numerous, brands represented by the bi-coastal PR firm 
AZIONE
 with clients like
Equinox
,
Away
,
Sakara Life
,
Sweetgreen
, and 
MedMen
, to name a few. Their client roster is stacked. Michele Angeloni-Thomas and Leland Drummond are at the helm with two major outposts on each coast: a brand-spanking-new Culver City in Los Angeles (which we snapped a plethora of photos of below) and one in New York City. And after eight years, Angeloni-Thomas and Drummond had a lot of wisdom to share. Read below for how AZIONE is snatching up big business, how the founders have finally found balance, and why their MO is the secret to their success.
---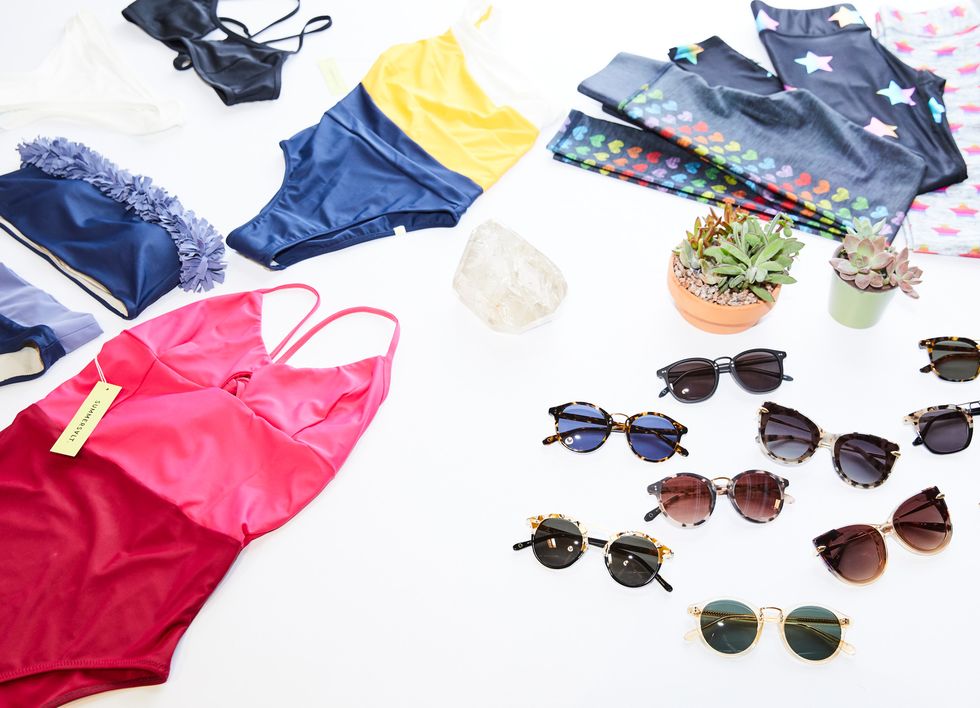 How did you both land in PR?

Michele Angeloni-Thomas: "I majored in public relations with a minor in political science. I absolutely loved political science but knew I was never going to make a career out of it. I started working my last year in college at a PR firm in Beverly Hills that focused on talent, corporate, and consumer products. It was there I decided that PR was for me. There was a competitiveness that I absolutely loved. I was handed a client and it was my job to tell their story in a crowded editorial space. I was there for about three years in the consumer products division. Then I went to a smaller agency, where I met Leland in 2005. After four years of working together, we started AZIONE in 2010."

Leland Drummond: "I was an English and journalism major in college, and I started copywriting for brands in both action sports and yoga, and ultimately thought I might want to be a journalist. From that copywriting background, I had articles published on a couple different websites which were instrumental in landing a job at Disney in the corporate communications and consumer products division upon graduating. [There] I saw a truly unique creative approach to brand building, and it really opened my eyes to another professional path. I went on to work at a few different agencies on fashion, talent, and consumer products before joining Michele at that smaller agency."

What made you decide to turn your friendship into a business partnership?

LD: "Since the day we met each other, we had a truly mutual and expanded vision of what PR was in its current state (at the time) and what it had the potential to be. It was more collaborative, intuitive, and creatively all-encompassing. There wasn't a one-size-fits-all approach that made sense to us. To see our vision through, we had to create our own brand and give it a shot. We wanted to do something greater than what was out there—create something that felt authentic to who we were."

MAT: "We knew we couldn't work under someone else's vision any longer—we had our own mission statement. We shared a unique view on how we thought a company should and could be run. [When] clients started seeking us out and coming to us directly, not wanting to work with anyone else, that was a big indication we should start our own firm."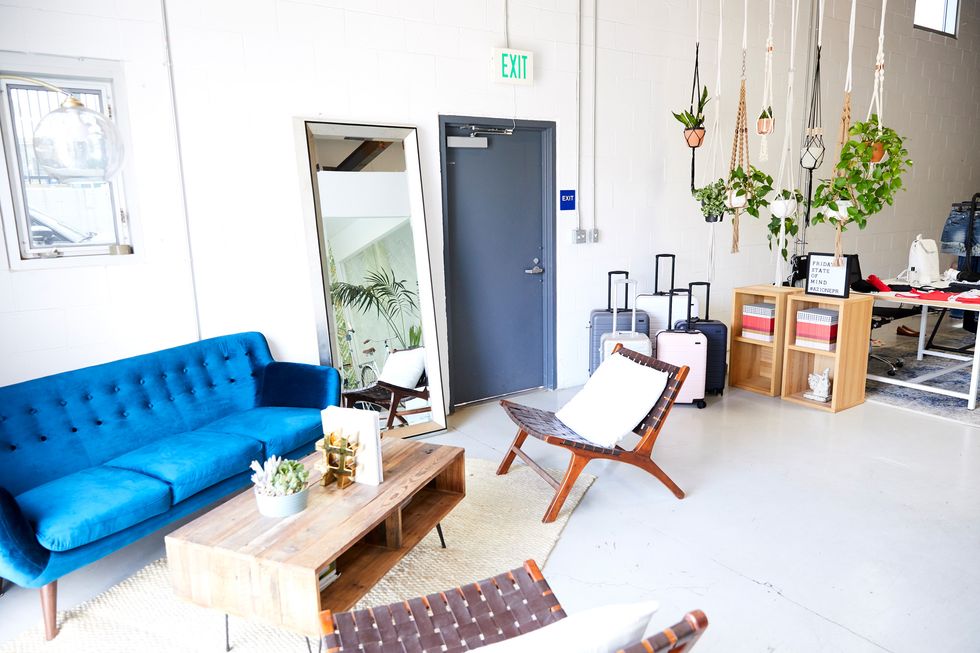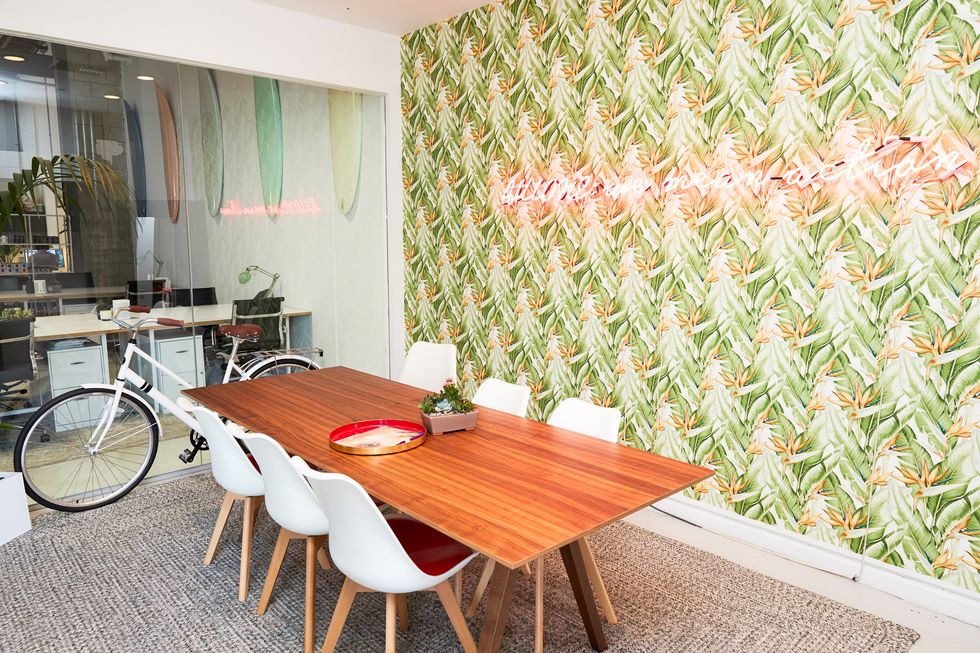 What were some hurdles you had to overcome in the early days of AZIONE?

MAT: "The most challenging aspects of the journey have been learning the back end of the business. We were well versed in PR and creative brand building, but when it came to the nuts and bolts of building a business—from accounting to hiring, scaling a business smartly, and everything in between—that was all new to us. Another early struggle as a small business is that you're relatively unknown, so you have to fight for your seat at the table amongst established companies. You have to get people to take that leap of faith with you to come on board and know there was longevity."

Was there a moment you knew you made it?

LD: "Have we though? [laughs] Honestly, we begin every day trying to be grateful for everything that's happened so far. The drive to be better inspires us to remain so heavily involved in every aspect of our day-to-day business. For me personally, there are brands we've been able to collaborate with or become agency of record for, that were on vision boards well before we started AZIONE."

MAT: "It still shocks us today when we [have] people reach out saying they have followed our work for some time, or when past colleagues ask what we are doing differently that allows us to garner such success for our clients. I still feel like we're just putting our heads down and doing our jobs at the end of the day, though.

"AZIONE is so much bigger than us. Everybody here brings something to the table. Having our collective team subscribe to the energy of what we're doing is really gratifying. That's a big moment. When it became about that collective and the agency name took precedence, that was a big moment, too."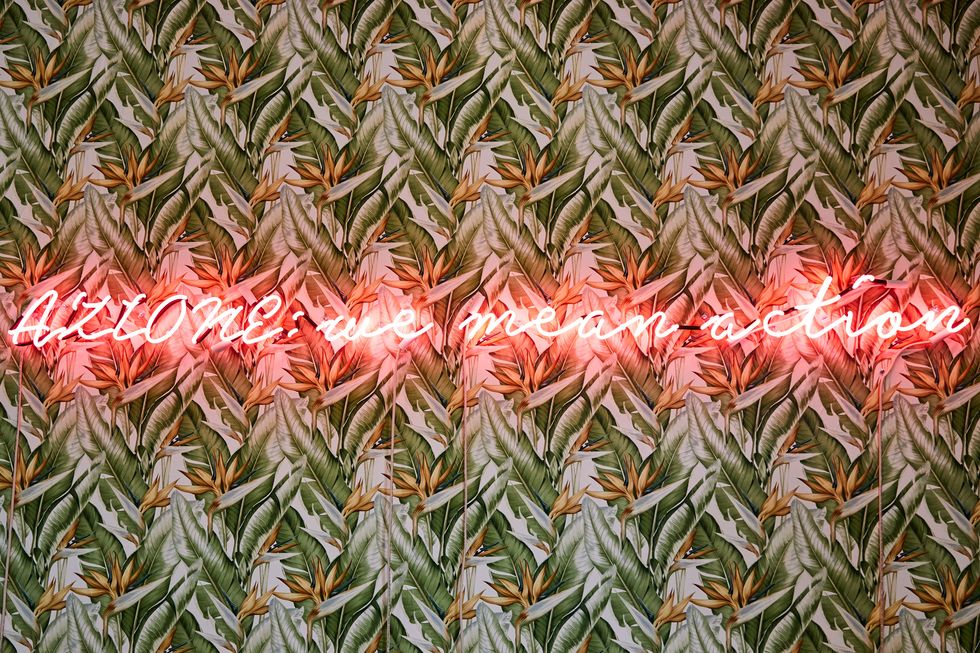 What's your modus operandi?

LD: "We've always followed our instincts in terms of how we feel after meeting with a potential client. It was the same during our first days of business—and we continue to follow those same instincts now, eight-plus years later. We don't go by standard metrics of compatibility, i.e., based on money. We are at the forefront of creating and bringing relevancy to categories and brands at the zeitgeist of consumer behavior today—whether that's with disruptive startups or legacy brands looking to pivot and engage a new audience."

What does a typical day look like for you?

MAT: "I start my day at 5:00 AM. I go through all of my emails in the morning because we have a New York office, and frankly, I'm just an early riser. I communicate with the East Coast team and address as much work-related communication as I can before my two lovely children wake up, and then head into our Orange County office and start my day there. The days consist of emails, calls, and meetings. I'll work out of our L.A. office and take client meetings one or two times per week. Other than that, I'm home with the family."

LD: "I'm definitely not as much of an early-morning person as Michele. To get me going, I typically meditate for 20 minutes first thing, unless my son wakes me up before I get a chance to do so. Two days a week, I do Pilates early morning before work. Much like Michele, I spend the majority of my days fielding emails and talking to our clients, taking new business calls, and communicating with our team. When not in O.C., I spend one to two days a week in L.A., usually with back-to-back meetings to maximize my time up there. Otherwise, it's family and home time."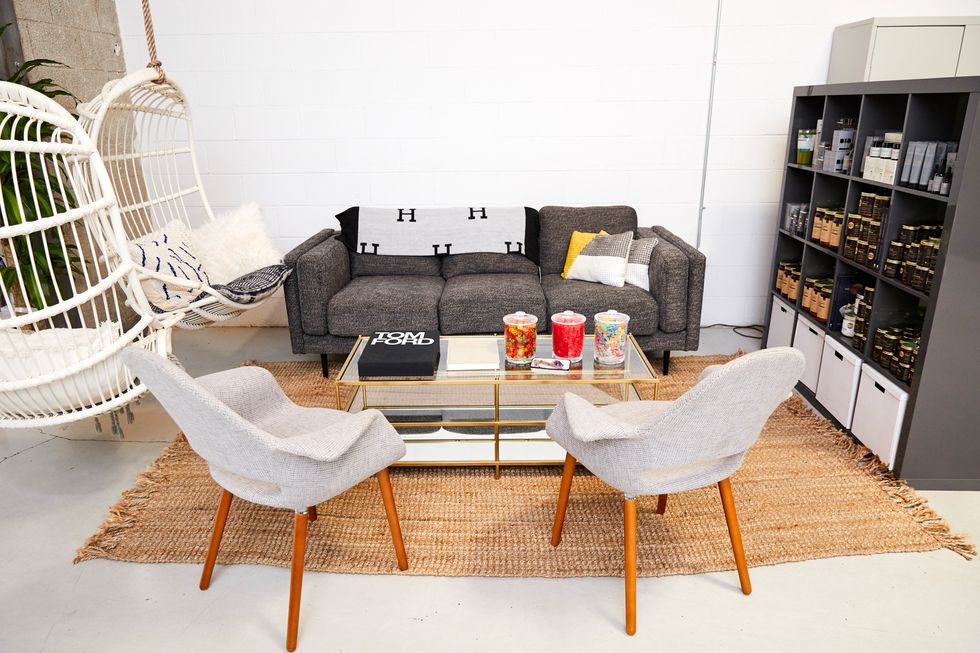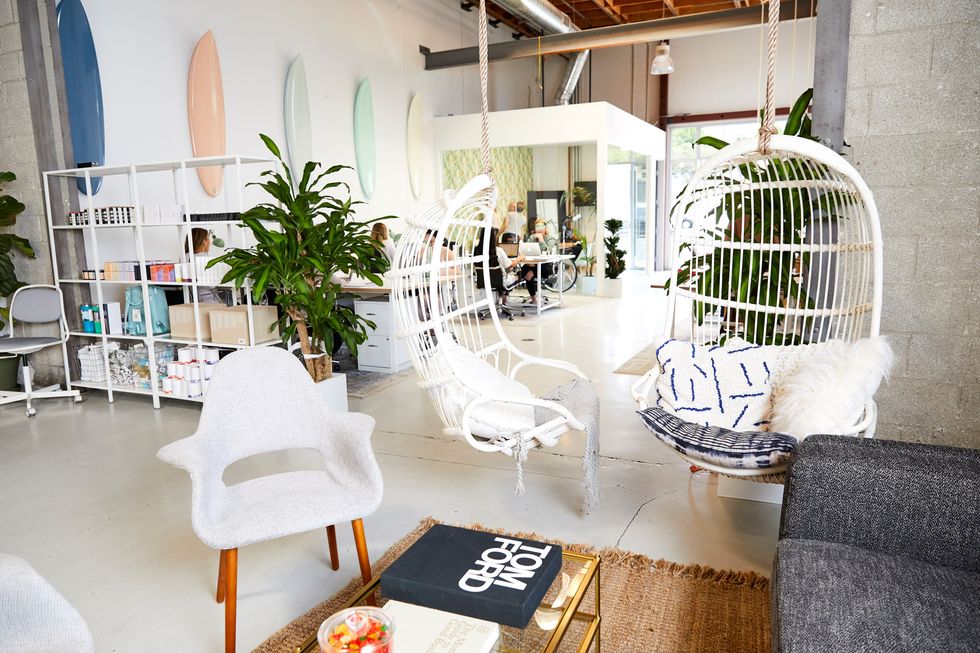 How do you find a balance between work and a personal life?

LD: "Early on, we gave our work our entire lives. Now that we've scaled, we're able to focus on doing the jobs we are best at, and can set aside and allow ourselves time to take a long weekend, have a vacation, go home early one day, or take a Friday off. That's been a huge part of finding balance. If we feel super run-down, we have an incredible partnership, where one of us is always on, and an amazing staff that enables us to have more balance in our day-to-day lives."

MAT: "You find a way to make it work. When you're a parent and a founder of a company, your work and personal life are both 24/7 jobs. You have to juggle the balance every day, and it becomes second nature. We're fortunate to have a very strong team, and we're leaning on them to make sure everything is getting done."

What has been the most rewarding part of the job?

LD: "Personally, mentoring 30-plus employees, that's really an incredible feeling. On the agency side, to see how we've organically grown from a bird's-eye view is a great source of pride. Being able to take a brand from pre-launch to IPO or sale and be a part of their trajectory at each stage is amazing."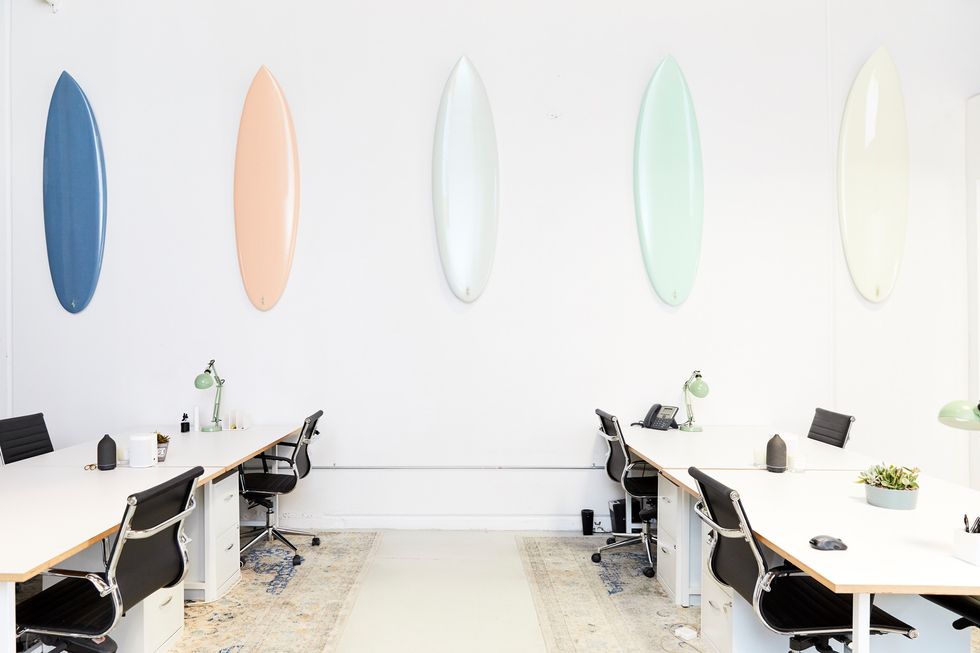 Tell me about your new space. What was the design process like?
MAT:
"AZIONE wasn't born out of a high-rise, and it really never could live in one—we're not a cubicle-friendly company. The space has always needed to be reflective of our personalities."
LD:
"Our Culver space is open, airy, and bright—the ceilings are incredibly high. We wanted to create a West Coast extension of what we had in New York. We have a friend who's a
surfboard shaper
, and we had him customize surfboards for the office to hang on the walls as an installation. We picked out furniture that you'd want in your living room and created communal spaces throughout. We have art books we love and photography from our friends. Everything was really a treasure hunt of things that we thought would complement our vibe."
What's something in your work space that's special to you?
LD:
 "You photographed a crystal that belonged to my husband's late mother that is one of my favorite things. It was a gift from his family to me, and it's really special to me and carries a really strong, healing energy."
MAT:
"My watch and lucky rosary—I keep both on me at all times. The rosary belonged to my paternal grandmother. My Rolex… I love it. I bought it for myself when I turned 30—the same year we started AZIONE. I never leave home without it."
Want more stories like this?
Meet the Agency Founder Connecting Baron Von Fancy with Louis Vuitton
This Woman Is Responsible for Helping to Launch Dozens of Fashion Brands
Remember That Amazing NYC Party You Went To? MATTE Projects Probably Threw It