WWWRN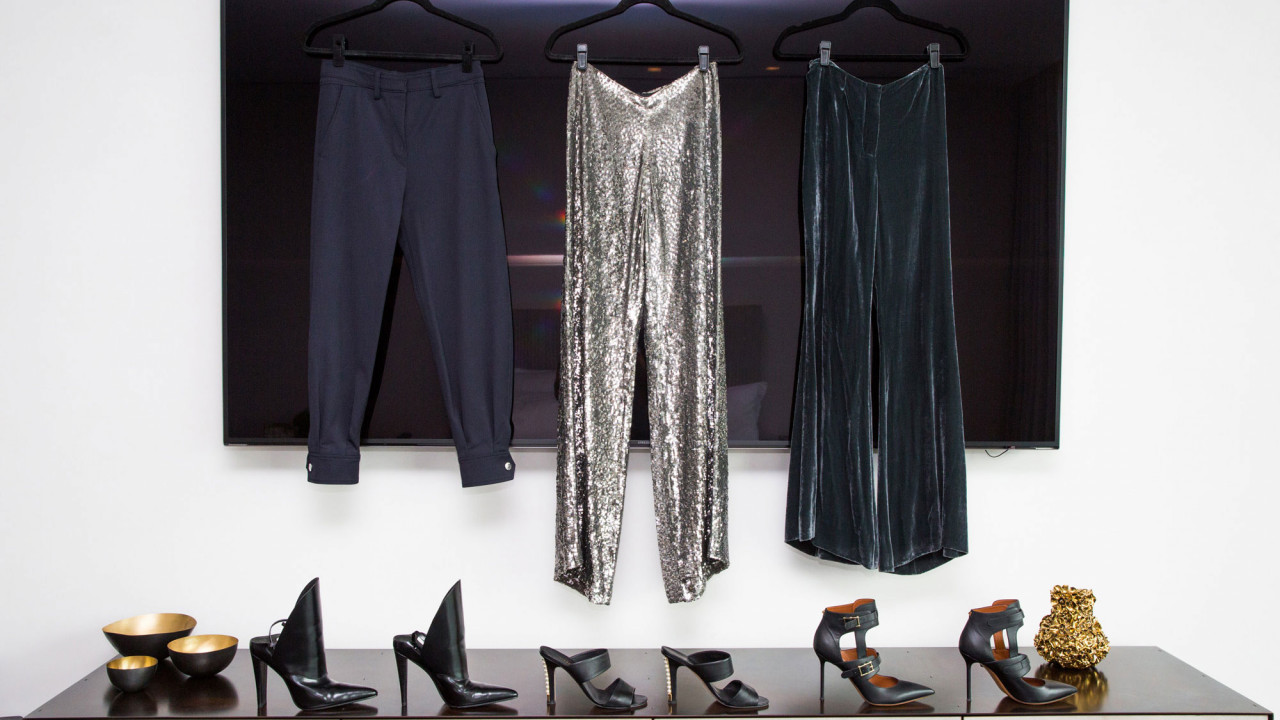 15 Pairs of Pants We Want Right Now
Like it or not, it's the season for them. In collaboration with The Outnet.
Tuck away those bike shorts and mini skirts, because bare-leg weather is on its way out. Which means it's time to freshen up our pant (and sweatpant; let's be real) inventory, making sure we have pants for every occasion, whether it be a night out or a night in, cozied up on the couch. Both are equally important, if you ask us. So without further ado, all the styles we currently have our eyes on:
---
Hannah Baxter
Senior Beauty Editor
---
Noah Lehava
Director, Lifestyle and Talent
1. Muuba Cropped Leather Pants: I have a stockpile of black leather pants, but when I found a pair in this hue, I knew I needed to add it to my rotation.
2. Monse Printed-Twill and Denim Straight Leg Pants: For the days when I can't decide the sort of vibe I'm going for… OK, that was me just trying to justify why I love this half camo, half denim pair. Truly, they are just cool. They don't need more explanation than that.
3. Ann Demeulemeester Lambeth Georgette-Trimmed Satin Pants: Now that skirts and dresses are getting difficult to wear with potential cool wind gusts that come with this season, I opt for a fancy pair of pants in a rich, yummy hue. I also love the nod to the tuxedo pant.
---
Gabby Sgherri
Editorial Intern
1. Alexander Wang Satin-Jacquard Straight-Leg Pants: These pants are the perfect dress-up or dress-down staple I need in my wardrobe. They're also loose (comfort—yes, please!) and satin, so you're basically wearing fancy Alexander Wang pajamas. I can already see them in my closet (insert heart-eyes emoji).
2. Alberta Ferretti Cropped Two-Tone Tapered Pants: I'm obsessed with the two-tone look of these pants and the little gold zippers at the ankle. I don't usually gravitate towards beige pants, but Alberta Ferretti has won me over. They are just cropped enough that you can see the two-strap heels I'll be wearing them with.
3. Nicholas Belted Crinkled-Vinyl Straight-Leg Pants: Love, love, love. That's how I feel about the cut, color, fabric, and overall style of these pants. They're a statement piece that's perfect for fall and so easy to integrate into my wardrobe, and what a coincidence, they happen to match my bordeaux-colored manicure.
---
Naydeline Mejia
Editorial Fellow
1. Ganni Ridgewood Cotton-Blend Corduroy Straight-Leg Pants: You know it's officially fall when the corduroy pants come out. This cotton-blend pair from Ganni is a perfect everyday fall staple. I can see myself rockin' these with my Air Force 1s and a cozy pullover—and probably twice in one week. Don't @ me. I need these in my closet now!
2. 3.1 Phillip Lim Cropped Pleated Crepe Wide-Leg Pants: These pleated pants will make you go Who is she? when you catch a glimpse of yourself in the mirror. They're perfect for dressing up with a silk blouse and some kitten heels and are great for casual days when you don't want to put too much effort into your outfit, but still want to look chic—*cough cough* me literally every single day. [Hits "add to bag."]
3. Acne Studios Cropped Cotton-Twill Wide-Leg Pants: I love a good wide-leg pant. This army-green cropped pair from Acne Studios definitely gives me Kim Possible vibes, but if Kim Possible quit her spy job and moved to New York to work in fashion. And I'm not mad about it. I can see myself rockin' these similar to the model, with a muted brown or orange turtleneck and my trusty vintage Guess leather jacket. Plus, it's high-waisted, which, let me tell you, is my favorite type of waist.
---
Jodi Taylor
Editor
1. Frame Slick Textured Patent Pants: Every person needs one reliable pair of leather pants in their closet, IMO. Consider it another version of a little black dress. Personally, I like to have a few on hand, given their high comfort and warmth levels. Next on my leather-pant wish list are these patent babies from Frame. They look as though they fit perfectly, and I can already imagine a million and one outfits I can make with them.
2. Victoria, Victoria Beckham Satin-Trimmed Wide-Leg Pants:There's something about these pants that makes me confident that they will fit like a glove. Perhaps it's the fact that Victoria Beckham designed them, and she's always been very vocal about creating pieces that fit women like a glove, but either way, I know I need them.
3. The Range Lace-Up Straight-Leg Pants: The Range never ceases to impress me with their pieces, and these straight-leg pants are no exception. Wearing pants for six months straight can become a little boring, but the lace-up back and asymmetrical bottoms on these are the perfect touch to help spice up an outfit.
Want more stories like this?
18 Earrings We Need Right Now
5 Emerging Trends We Can't Wait to Wear
How Eyewear Might Actually Be the Key to Refreshing Your Fall Vibe
Part of the series:
WWWRN