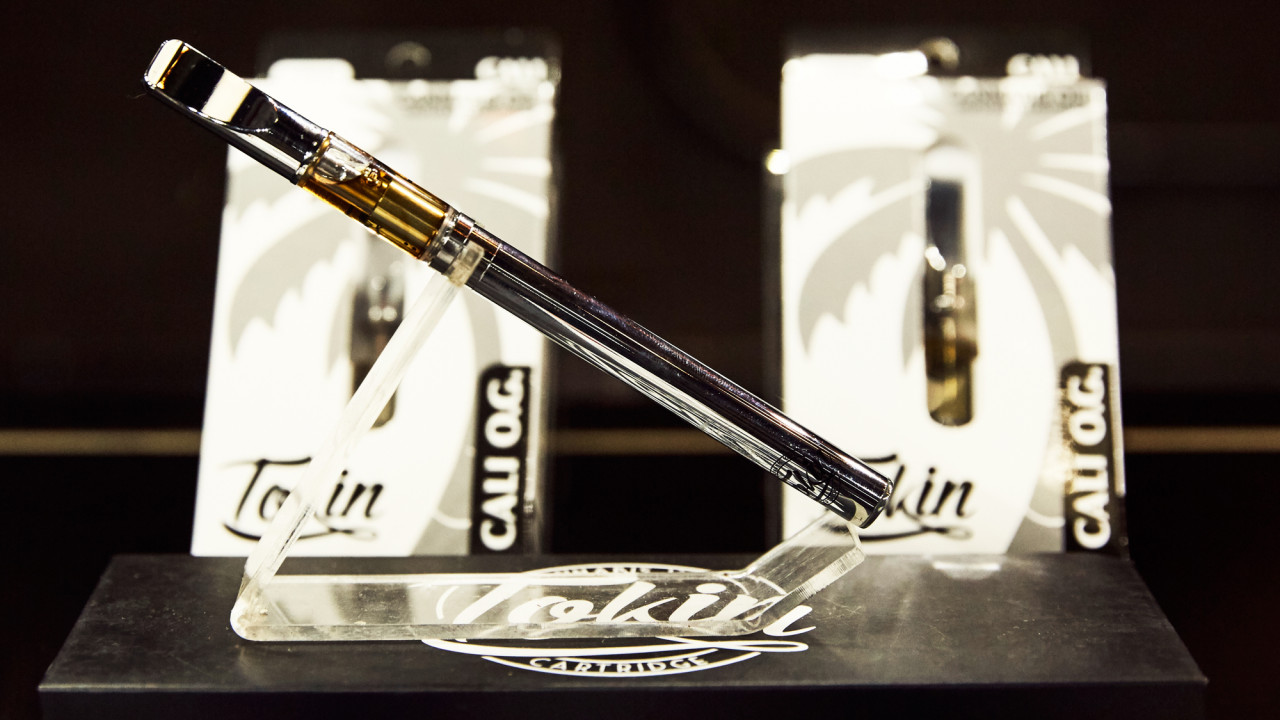 FDA Warns Against "Weed Vapes" Amid Lung-Disease Outbreak
And everything else we can't stop talking about this week.
This week on Open Tabs—an assortment of links we have on our open tabs for the week—we're giving you a peek into our own internet habits and the stories and themes we can't seem to stop talking about, like how the FDA has issued a warning against "weed vapes" amid a lung-disease outbreak, Shiseido's nine-figure acquisition of Drunk Elephant, Tyler Perry's new movie studio, and much, much more.
1. FDA Warns Against "Weed Vapes" Amid Lung-Disease Outbreak (via Business Insider)
The FDA is warning people to stop the use of vapes containing THC amid an outbreak of vape-related diseases. According to Business Insider, so far in the U.S. 18 deaths have been reported, and about 1,080 have been sickened in relation to using THC vapes. The FDA hasn't identified the specific cause for the lung-disease outbreak, but experts are pointing to chemicals like vitamin E acetate. Amid this outbreak, some states like Massachusetts have placed bans on the sale of THC vapes, and other states are working on placing limited bans. The FDA is currently criminally investigating the matter.
2. Shiseido Acquires Drunk Elephant for $800M (via AdWeek)
The cult-favorite clean beauty brand Drunk Elephant was just recently acquired by beauty conglomerate Shiseido for $845 million (yes, you read that right!). This partnership will allow Drunk Elephant to expand to Europe and Asia, as well as continue to reach more U.S. markets, with the company set to bring in more than $100 million in sales this year. According to AdWeek, "The acquisition is part of Shiseido's Vision 2020 goal, first announced in 2014, to expand the company by growing new brands, removing silos between teams, and devote resources to ecommerce. With the acquisition [of Drunk Elephant], the 147-year-old Shiseido hopes to reach a younger audience of millennials and Gen Z."
3. Tyler Perry Purposefully Builds His New Studio on a Former Confederate Army Base (via CBS News)
Writer, director, and actor Tyler Perry just built a movie studio complex on 330 acres of a former Confederate Army base in Atlanta, Georgia. In an interview with Gayle King, Perry discusses the "poetic justice" of building his studio on this land. He says, "The Confederate Army is fighting to keep Negroes enslaved in America, fighting, strategy, planning on this very ground. And now this very ground is owned by me." Perry's hopes for the studio include "building a compound for trafficked women, girls, homeless women, LGBTQ youth who are put out and displaced…somewhere on these 330 acres, where they're trained in the business and they become self-sufficient. They live in nice apartments. There's day care. There's all of these wonderful things that allows them to reenter society. And then pay it forward again.' Kudos to you, Mr. Perry!
4. Emily Weiss Shares Touching Note on Beauty in Celebration of Glossier's 5th Birthday (via Glossier)
Cult-favorite beauty and skin-care brand Glossier celebrated its five-year anniversary on October 6, 2019. In celebration of five years, founder and CEO Emily Weiss wrote a heartfelt letter on the stereotypes around beauty and the power of beauty to foster community and togetherness. She says, "We've been choosing lanes when it comes to beauty for as long as I can remember. And through it all, beauty has taken on an increasingly narrow definition: beauty equals physicality. Vanity. Superficial worship. Frivolity. Skin. Hair. Makeup. But what about beauty as a quality of experience? What about the beauty in your journey, in your day, in your friendships, in your risks, in your growth, in your failures? In your morning commute, in your exchange with a child, in a job well done?" We're not crying, you're crying!
5. Rihanna Is Vogue's November Cover Star (via Vogue)
This is the second week we're talking about Rihanna, but can you blame us? Ms. Fenty has been absolutely killin' it the past three years. In her interview with Vogue for her November cover—in which she's wearing her own luxury fashion line (talk about boss moves)—RiRi talks about Fenty, President Trump, and if we'll ever get a new album. Who can keep up with this pop star turned rising beauty and fashion mogul?
Want more stories like this?
Wait, What's an ASMR Boyfriend?
Apple's iOS 13 Has Some Cool New Privacy Features
Philippa Price's Closet Is a Sparkly, Vintage Paradise