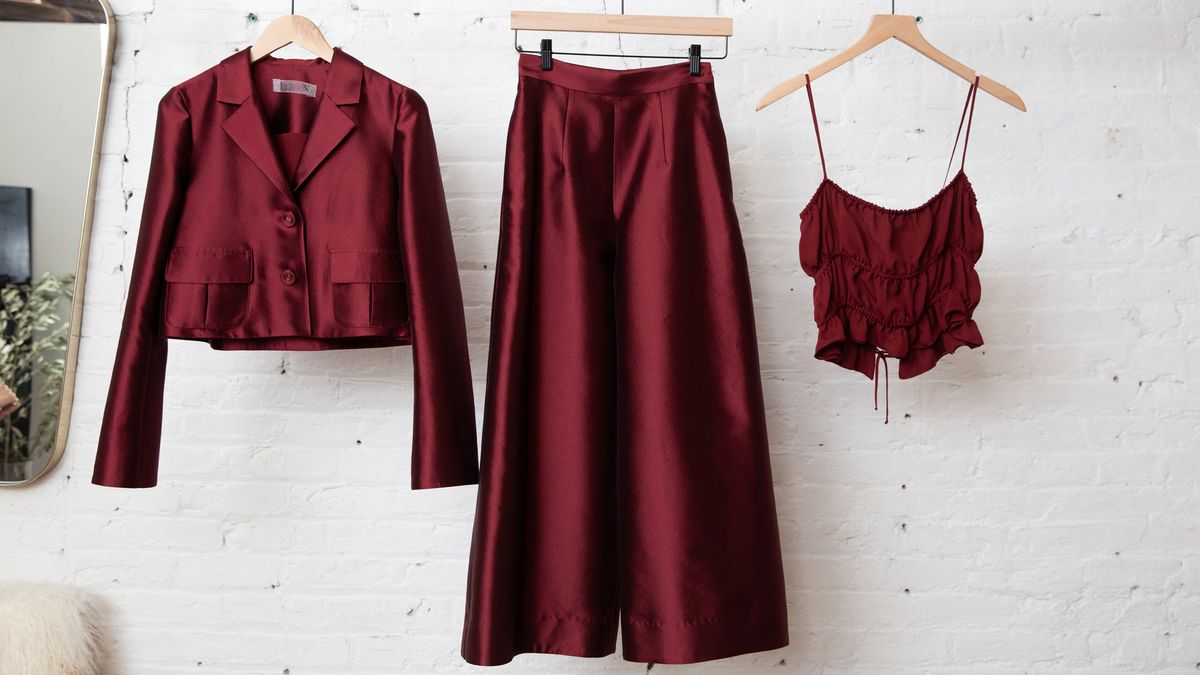 Fashion
My journey into custom clothing with Lein.
Alec Kugler
When you hit your thirties, going to a
wedding
at least once a month becomes pretty par for the course, which means having a photo-worthy outfit ready and waiting in your wardrobe at all times. But when my big sister got married last month, I knew I needed to pull out all the stops. Not only does she have exceptional taste, but I was the one tapped to marry her and her fiancée. And while I may have added "minister" to my r
é
sum
é
, I wasn
'
t keen on wearing religious garb. For me, that meant looking for my absolute favorite thing to wear any day of the week—a suit. Given that this was my sister's
wedding
, I couldn't wear just 
anything,
so I started to think about getting something custom-made. Soon I was contacting Meredith Stoecklein, the incredibly chic founder and designer of
LEIN
.
Before she launched her own label, Stoecklein worked for an L.A.-based agency that handled celebrity dressing for CHANEL. Given her exposure to stylists and seamstresses of that caliber, she gradually honed her own eye for tailoring. "Working with couture collections allowed me to develop an appreciation for the construction behind each garment and the woman in the gown," she says of her time in the fashion and bridal industry. " I knew I wanted to move into design, but with my own take."
With her feminine-meets-tomboy aesthetic and penchant for minimalist romantic creations, I knew that she could capture my own sense of personal style in a suit made just for me. And after several months of meetings and fittings, we eventually landed on the stunning design I wore as my sister and her now-wife exchanged vows. More on the bespoke process, her refreshing approach to everything bridal, plus the end result, below.
---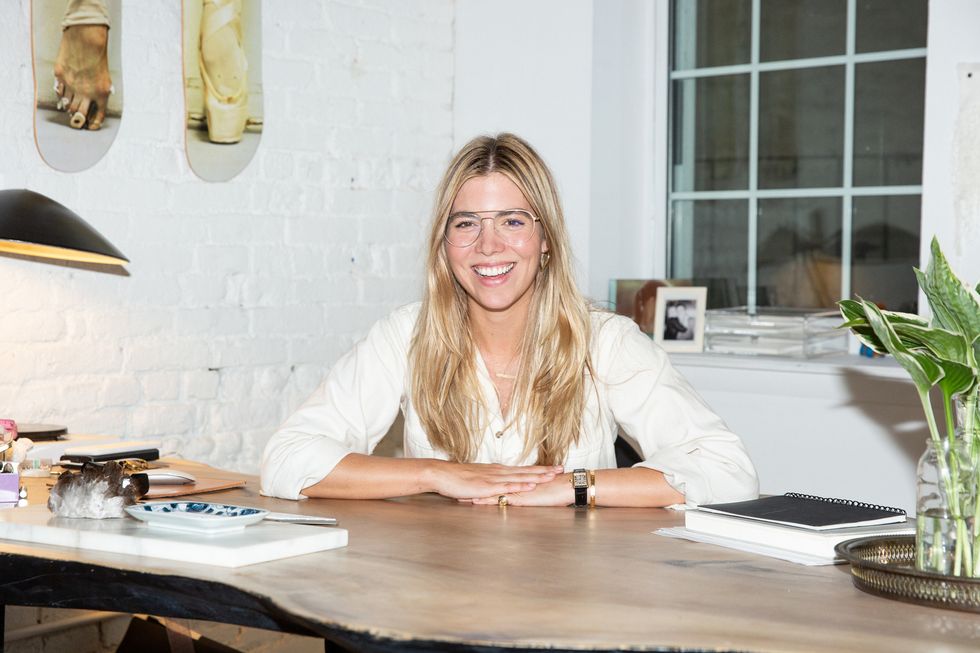 When you're making something custom, what are the first steps you take to get a feel for what the client is looking for?

"I love interfacing with my clients—it's a way to feel purpose and meaning in what I do. It's about our initial meeting and learning about a client's personal style. What type of silhouette does she gravitate towards? What's the day-of look like? I always ask, 'What's the experience you want guests to have? What's the vibe of the day?' It helps me to understand the aesthetic and who a couple is. Above all else, the LEIN girl is independent and wants to feel like herself in her clothes."

How much custom bridal do you do on average?

"Bespoke is a big driver of my business. It's how LEIN started. It not only allows me to be creative with colors and fabrics, it enables me to work with different clients. I can design a bride's dress and for her mother, grandmother, and bridal party. The multi-generational element means a lot to me."

Is this your first custom piece outside of bridal?

"No, I often design mainstays for clients' wardrobes or careers as well. LEIN is just as much for the everyday as for the wedding day. My pieces are not designed to sit in a box, covered in tissue. I'm proud that after the wedding, the bride can continue to wear her dress for anniversaries, dinner parties, and even to work. Why should such a special piece lose meaning or a place in your closet after one wear? There's always a sense of emotional connection to wedding wear, and LEIN bridges the gap."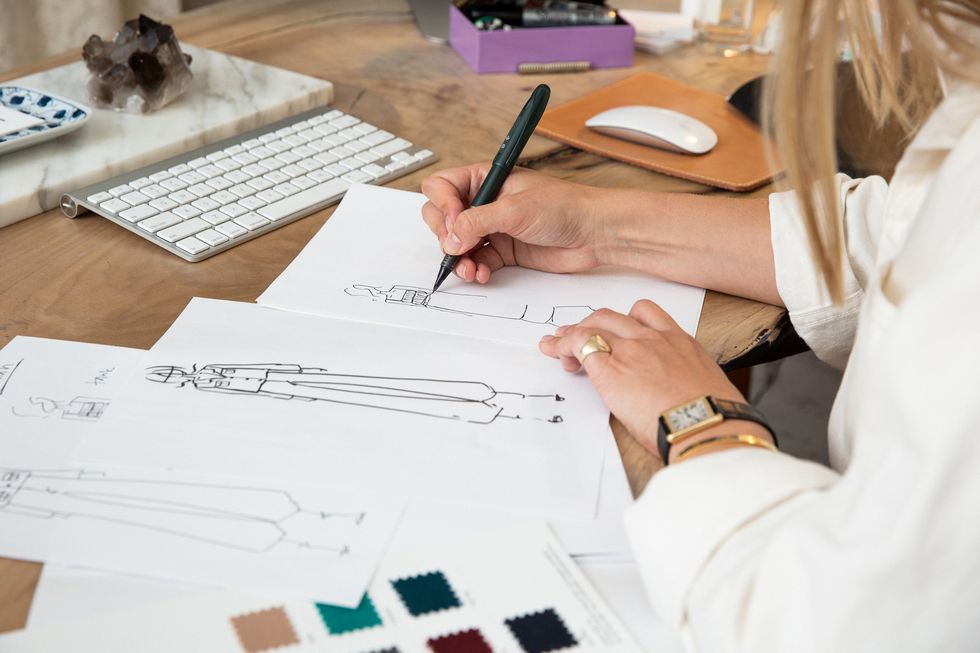 How did you decide on the silhouette for my suit?

"It was important for me to understand what you feel most comfortable in and what your sister and her fiancée would be wearing, since you'd be officiating. I wanted your look to complement their looks. I knew you'd be speaking in front of a lot of people, and the last thing I want you to worry about is what you're wearing. You should feel at ease and enjoy the moment!"

How about the fabric?

"We talked about time and place, plus attire for the couple. We ended up going with a stunning burgundy silk wool, which has beautiful structure and a bit of shine to elevate the look."

What piece did you start with for my suit?

"The jacket. I love the idea of dressing you in a boxy cropped jacket and mixing it with a feminine top and a wide-leg trouser."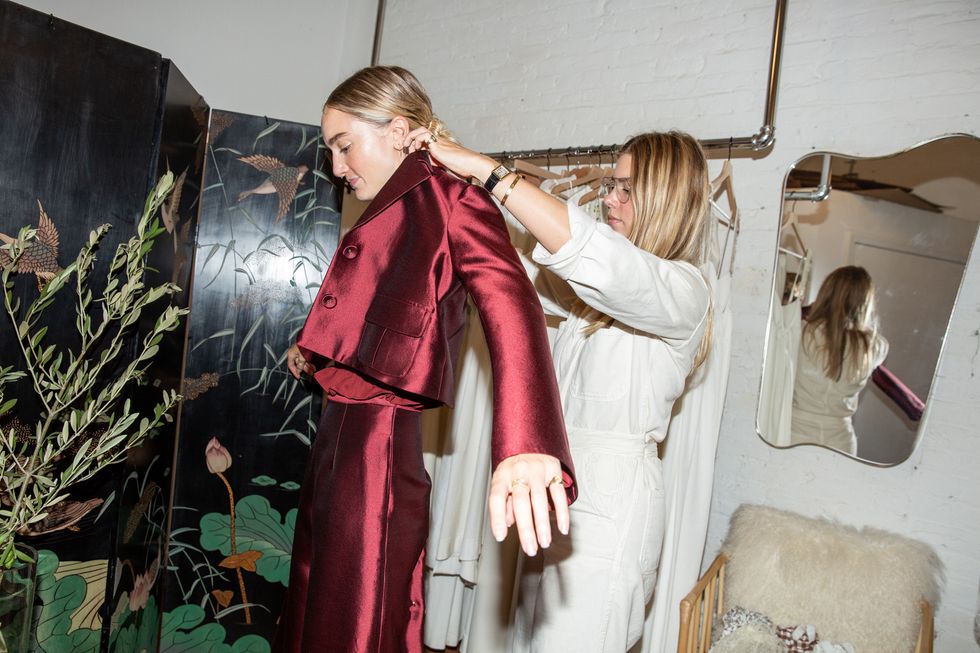 How did you decide on the cut and fit for the jacket and pants?
"A sense of structure with movement is the perfect mix for your celebration. It's important to me that you can wear the jacket and trousers separately, beyond the ceremony and celebration."
What elements of my personal style did you focus on in creating this look?
"You're a mix of tomboy and feminine, like I am. One day you're wearing a boiler suit, and the next, you're in a cute mini with platform sandals. You bring a touch of the unexpected, which your bespoke look reflects."
What is next for the new season of LEIN?
"I'm playing up my take on modern wedding gowns with texture and movement. My approach has always been to design ready-to-wear pieces, but I'm excited to explore a fresh take on aisle styles."
Want more stories like this?
The Best Street Style from Paris Fashion Week
17 Glamorous Hair Accessories for Your Big Day
How to Afford All the Weddings You Have to Attend This Year