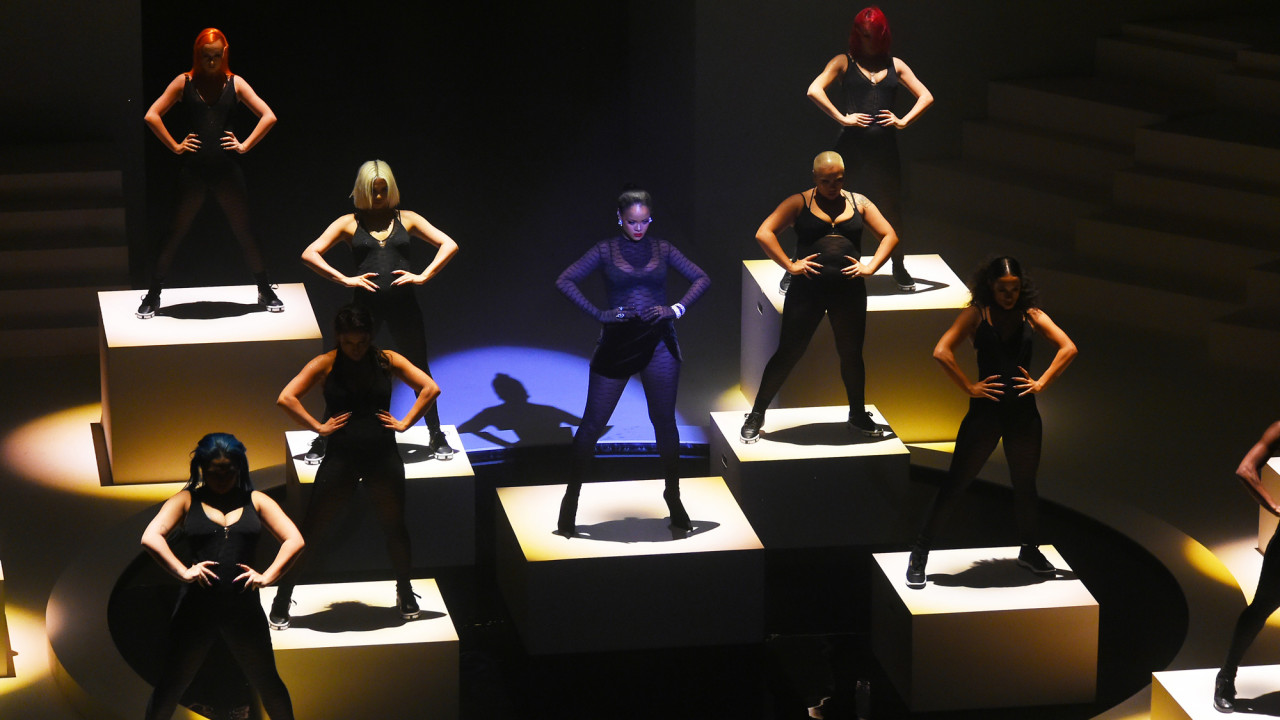 Everyone Agrees: Rihanna's Savage x Fenty Fashion Show Won NYFW
And everything else we can't stop talking about this week.
This week on Open Tabs—an assortment of links we have on our open tabs for the week—we're giving you a peek into our own internet habits and the stories and themes we can't seem to stop talking about, like how Rihanna's Savage x Fenty Fashion Show is snatching wigs everywhere, a good thing, AKA The Good Place, is officially coming to an end, President Trump might be removed from office, and much, much more.
1. Everyone Agrees: Rihanna's Savage x Fenty Fashion Show Won NYFW (via WWD)
If anyone knows how to put on a show, it's Ri-Ri. Although the 2019 Savage x Fenty Fashion Show took place during NYFW, on September 10th, everyone and their moms have been buzzing about the 40-minute show ever since it began streaming on Amazon Prime last Friday. The star-studded show featured top models Cara Delevigne, the Hadid sisters, as well as actress Laverne Cox. There are also performances by Migos, DJ Khaled, and Normani. The second annual Savage x Fenty Fashion Show is a celebration of beauty in all shapes, sizes, and identities.
2. The Final Season Premiere of The Good Place is Here! (via Vox)
The much anticipated season 4 premiere of The Good Place is finally here! As this is the final season of the show, we're all excited about what will become of our friends Eleanor, Tahani, Chidi, Jason, Michael, and Janet. Make sure you catch up on the first episode of the final season that premiered last night before you get into this critical analysis of, "A Girl from Arizona, Part 1."
3. Meghan Markle, Prince Harry, and Baby Archie Go to South Africa (via Marie Claire)
If you're as obsessed with the royals as we are, specifically Meghan Markle and Prince Harry, then let us swoon and awe together at photos from the family's recent trip to South Africa. Our little prince, Baby Archie, even got to meet Archbishop Desmond Tutu, and we've never seen a more adorable diplomatic meeting.
4. A Look at FENTY's "Release 9-19" Lookbook (via Hypebae)
What can we say? Our girl Rihanna has been having a stellar couple of weeks! Yesterday marked the release of FENTY's newest lookbook, "Release 9-19". The collection, "deconstructs corporate structure", and adds unique structures and silhouettes to traditional workwear. Take a look at the collection now on FENTY's web store.
5. The House to Move Forward with Impeachment Proceedings Against President Trump (via New York Times)
House Speaker Nancy Pelosi announced on Tuesday that the House will officially be moving forward with a formal impeachment inquiry against President Donald Trump because, 'No one is above the law.' Only time will tell what happens from here on out.
Photo: Getty
Want more stories like this?
The Best Street Style from Paris Fashion Week
The Bad Habit That Is Sabotaging Your Success
Is It 2005? Because French Manicures Are Back