How This Cool, Minimalist Jewelry Brand Found a Home in Miami
Inside Miansai's Wynwood HQ with founder Michael Saiger.
Career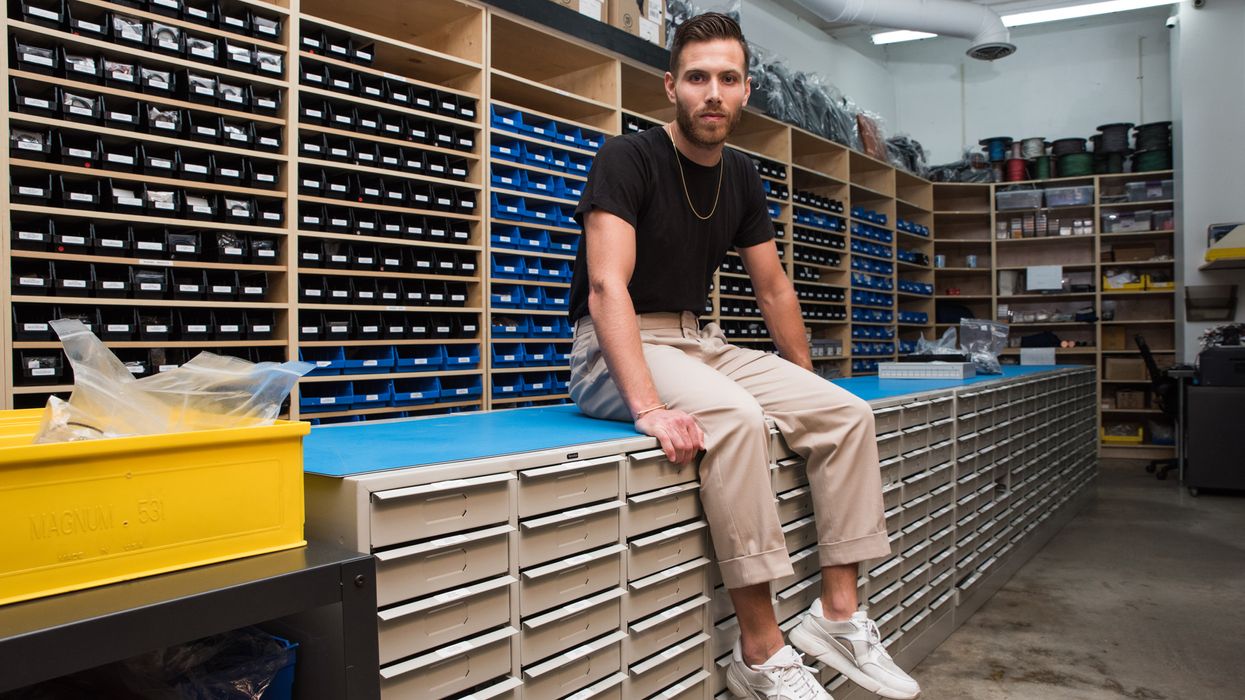 Why would someone launch an accessories brand in Miami as opposed to the fashion capital that is New York or the retail playground of L.A.? For
Miansai
founder Michael Saiger, a better question is,
Why not?
"Going to school here I was able to see the quality of life Miami provides, and didn't want to give that up," Saiger tells us. Having visited the brand's HQ in Miami's Wynwood district, we get it. While studying marketing at the University of Miami, Saiger started making pieces for himself when he couldn't find any he was drawn to. "One summer I placed my designs at a local men's specialty store, Base, and came back from break to find them all sold out," he says. "Everything moved pretty quickly from there, and before graduating I was already in all of the top department stores around the country, like Barneys, Saks, and Neiman Marcus."
Pulling inspiration from hardware, hinges, and maritime elements, Saiger works alongside his wife, Rachael Russell Saiger, founder of fashion nonprofit
Style Saves
and Miansai's creative director. More on the brand and their vibrant HQ ahead.
---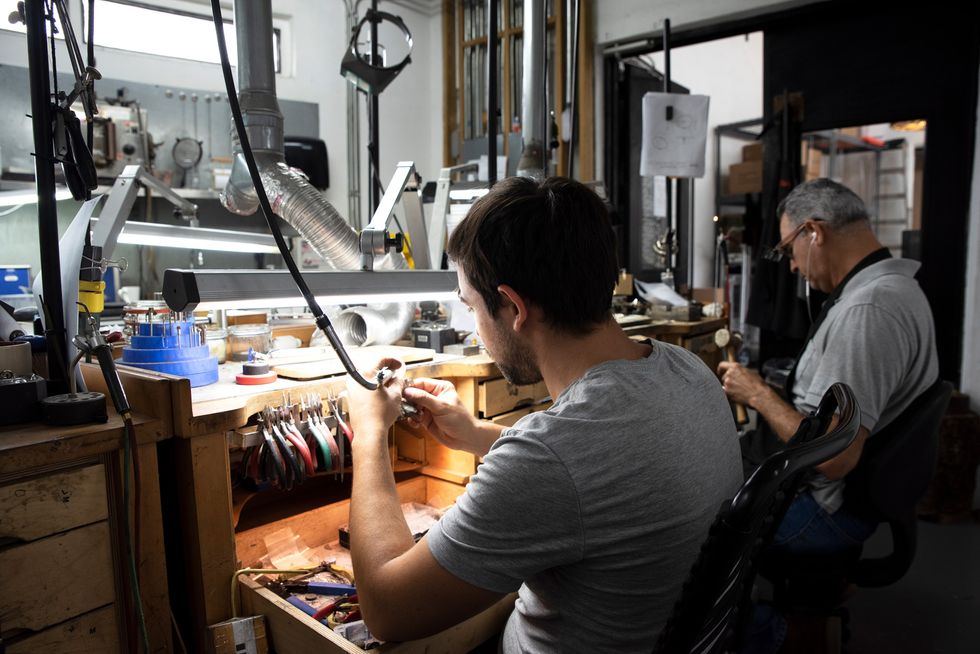 Photo: Courtesy of  Miansai
Tell us a bit about your first collection. What pieces did you launch with?

We launched with our Casing Bracelet and Hook & Anchor on Rope. It reminded people of summer camp and had that nostalgic vibe to it. Everyone really connected to the brand right away. We then launched the Screw Cuff, which highlights the nautical undertones of Miansai by pulling inspiration from a traditional maritime piece of hardware.

When did you move into your current HQ? How did you settle on the neighborhood and the space?

Originally, we started in a small office downtown that was just a couple hundred square feet. With Miansai growing, the need for a larger team was evident, and so I began looking for a larger space. In 2010 I decided on Wynwood for its central location. We were here before this neighborhood was anything like it is now. It's cool to see how much it has developed in that time.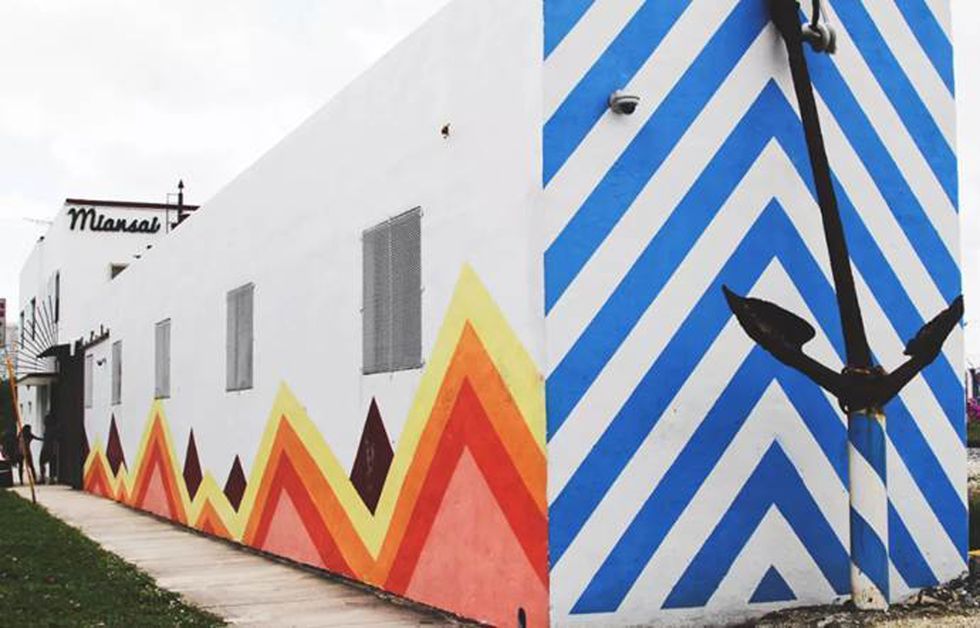 Photo: Courtesy of  Miansai
How does your HQ operate?

What is really unique about Miansai as a business operating in Miami is that everything is fully integrated. We have the creative, production, and design teams upstairs and our jewelers, assemblers, inventory, and shipping teams downstairs. Everyone works in tandem and sees all the products through their life cycle. We have four artisans and 65 other employees between our HQ, two flagship stores, and mobile retail. There aren't many places or businesses where you can see everything happening all under one roof.

Can you tell us a bit about Miansai's artisans? What are their jewelry-making backgrounds?

Miami had a booming jewelry scene in the '80s. As time went on, a lot of businesses left for Asia to save on costs, and so a lot of skilled people were left in the city without work. Miansai has four talented artisans in-house, and we're so lucky to have them. Our artisans have backgrounds as a goldsmith, a gemologist, and a casting specialist.

What is your design process like?

Our collections start with inspiration, which then transforms into a theme. I don't follow trends—I just look at what I am really interested in for the season. Lately I have been developing a lot of pendants that feature two-tone designs and enamel with hints of antiquity. We've always been expanding our fine collection, which has a lot of dainty stackable pieces enhanced with sapphires or diamonds.


What pieces are you most excited about right now?
Necklaces are getting more and more attention every day, and I'm really into our designs that feature enamel pendants for a pop of color, as well as our two-toned vintage-inspired pendants. Also, we're getting ready to launch a Wedding Band Take-Home Kit. A lot of men don't go into a store to try on bands and find their ring size, so their fiancées end up picking a ring for them or they go with what they know: thick, bulky, and outdated with unappealing finishes. My main focus with this launch is to give men a place to go and be advised on what a cool wedding band can look like. Understated staples are what we do.
How does the brand support Style Saves?
It's really important for us to give back to our community. My wife started the fashion-focused nonprofit nine years ago, which provides students from homeless shelters, migrant camps, and foster care with necessities like uniforms, backpacks, shoes, and school supplies. Miansai's jewelers and assemblers help fabricate and build out spaces for the events, the visual department makes creative assets, our photographers shoot the events, and the marketing and PR team assists with planning and execution. Everyone is really hands-on and passionate about giving back, which is really amazing to see and be a part of.
Photos: Courtesy of  MiansaiWant more stories like this?
Allow Thakoon to Reintroduce Himself
Raissa Gerona Doesn't Believe in Overnight Success
How Annelise Michaelson Went from Haute Couture to Jewelry