Nails
NYC's Most Sought-After Manicurist
Mei Kawajiri's resumé more closely resembles a front row seating chart for NYFW.
Leslie Kirchhoff
Being that we're in fashion, it's a given that we're into nails—the two pretty much go hand-in-hand (pun intended).
Mei Kawajiri
is arguably the best in the game when it comes to fancy nails, and we follow her work like true fan-girls. Working off of house calls, Kawajiri has an extensive client list as well as editorial portfolio, and the nail art she creates cannot be described as anything less than incredible. Her work can be seen, well, everywhere, including in many a
CR Fashion Book
, on various fashion week runways, and *always* on the hands of
Bella Hadid
.
We spent our night pre-shoot making sure our nails were 10/10—but we really had nothing to worry about considering Kawajiri was just as sweet and charismatic as we had guessed she would be. We spent our afternoon chatting with Kawajiri about how she got started, meeting
Alexa Chung
, and her signature style.
---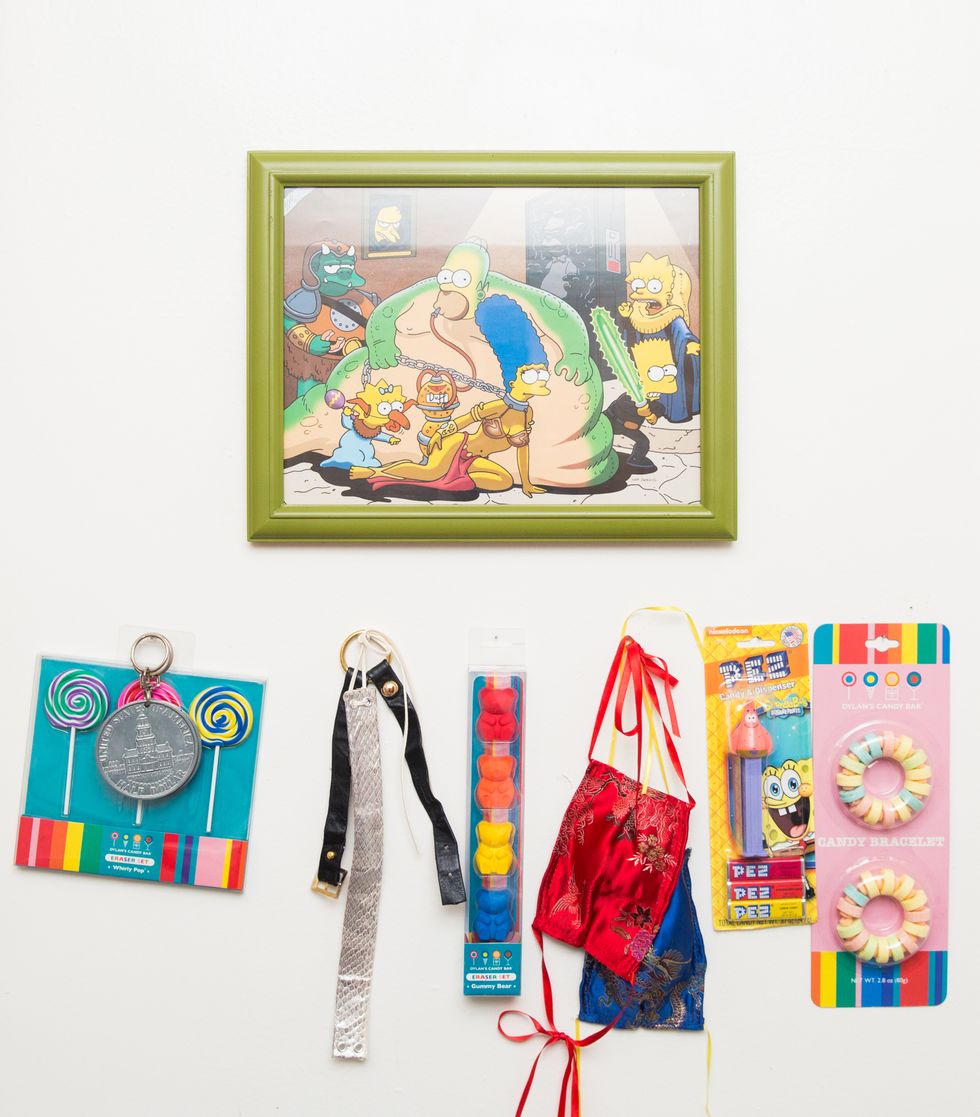 How she got into nails:

"[When I was younger I] found a nail book in the bookstore and [realized I] wanted to do something with art for my career. I was thinking [that I wanted to be a] tattoo artist but my mom said no. I knew I wanted to have art on my body all the time, [so] I decided I should be a nail artist and went to nail school at the age of 19. At the time, nail art wasn't big, [but] I started doing my nails crazy, and so many people asked me [if I could do the same on them] so I started doing it in Japan, in Kyoto, which is a very quiet place. Then I moved to Tokyo when I was 21 years old [to work at] a nail salon, and then when I was 23, I opened [my own] nail salon in Harajuku, [called] FOXXY. I did Omakase nail, meaning I did whatever I wanted, but I made it a little cheaper [than others], like $80."

On when she first came to New York:

"My friend came from New York to Japan to visit—he was a photographer. I was surprised because everything here happened for him so fast. I [was] so impressed because I was more mellow, more slow. Then I decided to visit New York. The first time I came I was by myself I carried so many nail pictures and [walked] on the street from downtown to uptown, showing people. I heard so many opinions from people, I went to stores, and people said that I should definitely move to New York because nobody [did that here]. I went back to Japan and started doing my visa—I got my artist visa after one year and then I moved.

"When I moved to New York I lived in Brooklyn, and started working at a nail salon in Soho called Valley. [They were] my sponsor for my visa, and I met so many amazing people [there] like Hannah Bronfman [and] Samantha Haber."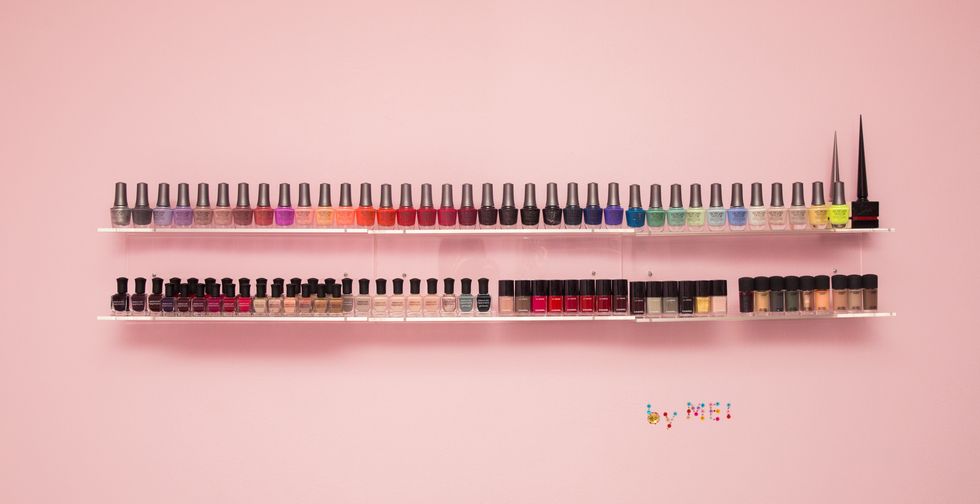 On her first 'real' client that she got excited for:
"Alexa Chung. It was for a photo shoot at the salon, but I [already] knew of her, because she's so big in Tokyo. When I saw her [in person she was] more cool than I was expecting, because she talks in a raspy voice. I did mushroom art [on her nails]—three red mushrooms that looked like Mario mushrooms. It was so cute."
On when she decided to go freelance:
"I met so many customers at the nail salon, and after maybe four or five months I decided to go freelance because I wanted to do different jobs outside of the salon [that I couldn't do there]. I [hired my agent] Ilana because the 
New York Post
wrote about me and I got so many emails that I couldn't handle them all by myself. [Once] I met Ilana, I started going to people's houses because people were asking me [if I could do their] nails but I had no place [to do them because] I lived in Brooklyn with four roommates. Everyone loves house calls—for hair, food, everything. Then I started working for photo shoots and doing collaborations. My favorite collaboration was my drawing with Google."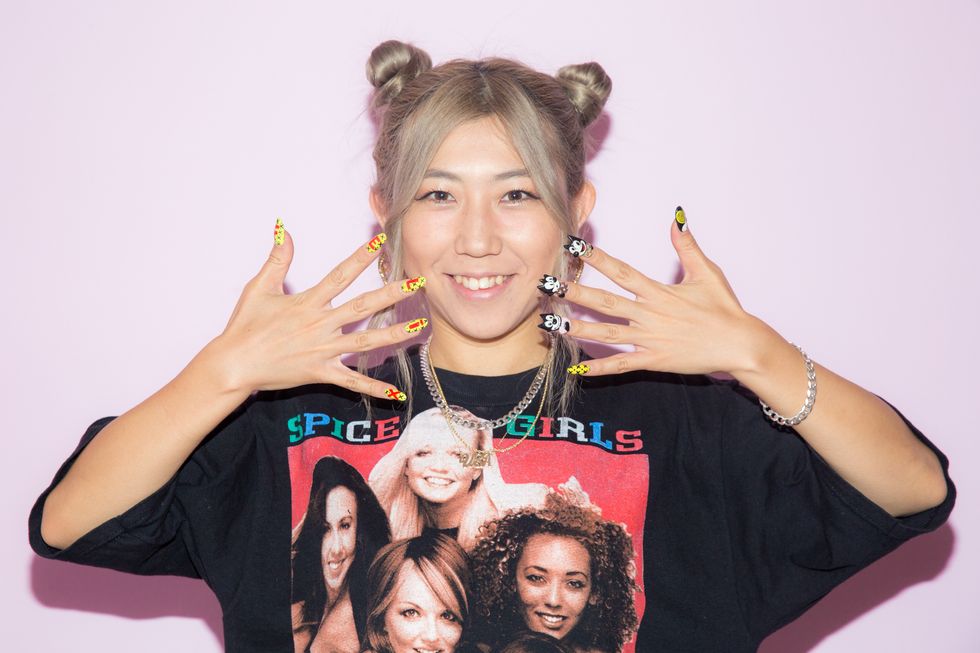 Her favorite editorial shoots she's worked on:
"I work with
CR Fashion Book
a lot, and I thought [it would be] more conservative, but it's not. [
Carine Roitfeld
] asked me for so many unique nail designs, so one time I painted on the finger [all the way down the hand]. Then I did one finger super long and the others super short. She doesn't want anything boring. That's my favorite—I can't wait to work with her again, I have so many funny ideas. I also worked with a magazine called
Eighty Nine
 magazine. I made so many 3D nails [for them with a] David Bowie design. It was really good."
On whose nails she is dying to do:
"I want to do men's nails. But Kylie [Jenner], Jaden [Smith], and Rihanna would be amazing. [But] people tend to use the same artist—they get very loyal."
On if she ever wants to expand the brand:
"Sometime it's hard. [Being a manicurist] is half artist and half making people happy. Sometimes I can't do what I want for people because I have to create and do [what they want]. Then if it's getting really busy with customers I can't think about my next project. That's why it's hard but I really want to do this 3D stuff more. [It's] more my style. I also want to make more drawings and someday I want to collaborate my nails and drawings together. Maybe even animation finger drawing. I don't want to do trendy stuff, I want to grow up with my designs but I don't want to change my style. I see so many nail artists coming from Japan or other countries [that are] very trendy right now and you see so many designs from all the Japanese styles. But I've finally found my style so I think I should keep doing it."
Want more stories like this?
4 Trends We Spotted Backstage at New York Fashion Week
How to Remove a Gel Manicure Without Killing Your Nails
Warning Signs You Need to Lay Off Your Mani-Pedi Routine