Get Your Shit Together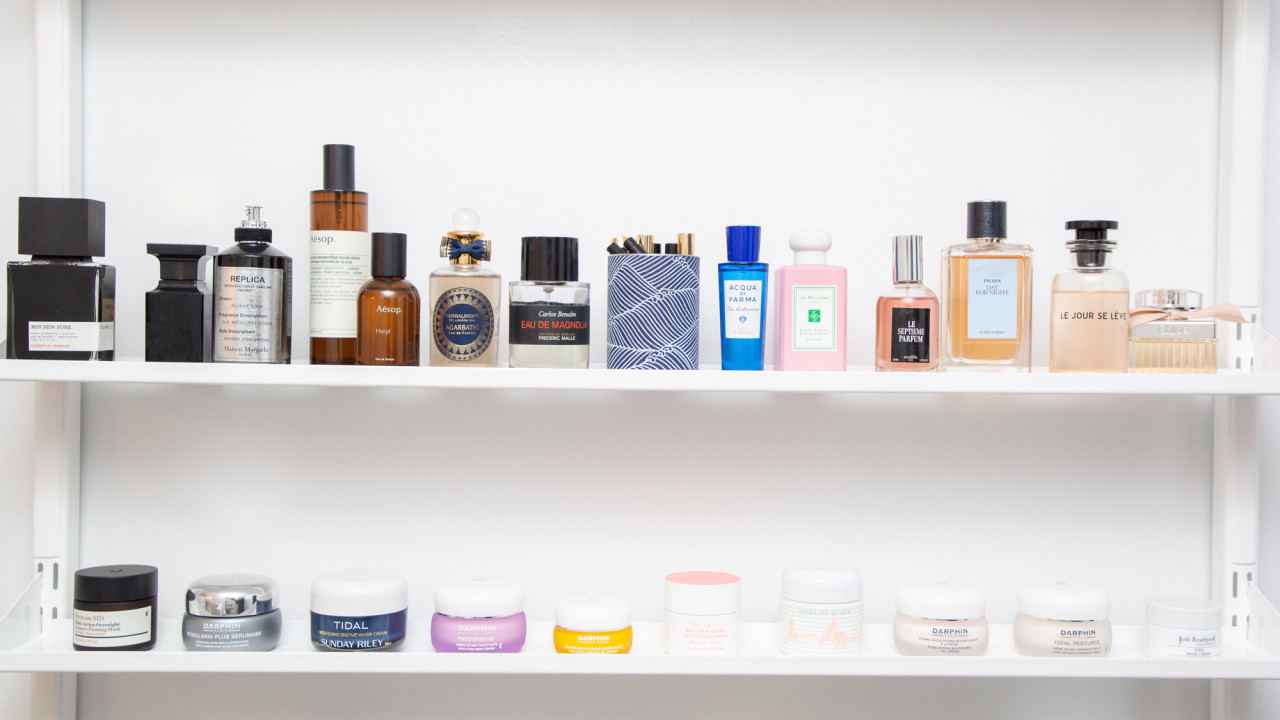 A Professional's Guide to Organizing Your Beauty Products
Beauty addicts, this one's for you.
When you love testing every beauty product under the sun, you will inevitably find that your home is lacking in adequate storage. You know the feeling—serums are strewn about on your kitchen counter; you've stuffed bags of nail polish behind the couch; your bathroom mirror is threatening to burst open at any moment. It's a problem that can't be solved with a simple "Well, why don't you just use less makeup/hair care/skin care?" Obviously, that's not helpful, since you'll have to pry our new oil cleanser out of our cold, dead hands.
We figured it was time to consult some professionals for tips on keeping our beauty products neat and organized. Jamie Hord, the founder of Horderly Professional Organizing, was more than up to the challenge. Find out all of her most helpful tips and tricks below, and watch your chaotic bathroom transform into an oasis of beauty.
For someone who has limited space, what do you recommend using to store beauty products?
"It's important to think vertically to maximize your space. By using stackable drawers or stacking bins, you can accomplish this along with creating easy access."
What is the best method for organizing multiple types of beauty products?
"Sort your items into categories to set you and your space up for success. These should be what makes sense to you and your routine. Some usual categories that you can create are: daily routine, hair, face, body, makeup, travel, etc."
Do you believe in storing beauty stuff outside of just the bathroom?
"Although we love to see items stored where they are used to maximize productivity and efficiency when going through your routine, sometimes space is limited. Depending on what your space has to offer and how much product you have, you might not be able to keep all of your beauty products that you own in the bathroom or one particular space. In this case, you might need to create a section outside of the bathroom. If you have to do this, try creating a category of 'bulk or backup' outside of the bathroom and keep your 'most frequently used' or 'current' items in the bathroom."
For people who need or enjoy having backups handy, how do you recommend storing them?
"If you like to stock up or have backups, that's not a problem at all! It only becomes a problem once you don't know where to find your backup items or forget that you have them. Making sure to create a specific home for your backup items, and labeling it for you to easily find them and know that you have them when you need them is key. Most importantly, make sure you are keeping an eye on those expiration dates and routinely getting rid of those items that are old or that you no longer use or love."
If your apartment is lacking storage options to begin with, what do you recommend?
"If your space doesn't have built-in storage, there are still solutions. We love using these white opaque drawers from the Container Store to create a seamless look under the bathroom sink. We also love taking advantage of the back-of-the-door space by using an Elfa back-of-the-door system."
What are the most important tenets of storing beauty products?
1. "Behind the mirror we love using these acrylic risers to maximize space if you're not able to add or adjust shelves.
2. "Use acrylic dividers to contain your categories in drawers.
3. "Under the sink, use stacking drawers and/or these like-it bricks to create containment.
4. "If you're in need of additional space, don't forget to utilize the floor space under your cabinet if your space offers it. Use baskets to store items like toilet paper, fem care, or toiletry bags."
What are some other creative space solutions you recommend for small spaces?
"Hang shelves and hooks! Whether you rent or own, don't be afraid to make your space a functional space. We love these floating shelves, and we always recommend hooks on the back of a bathroom door to easily hang robes and/or towels. At Horderly we see a lot of small-space bathrooms, and you have to get creative."
Want more stories like this?
How to Give Your Home the Coveteur Treatment
My Moisturizing Hair-Care Routine from Start to Finish
Cult-Favorite RMS Beauty Launches a New Organic Foundation