Studio Visit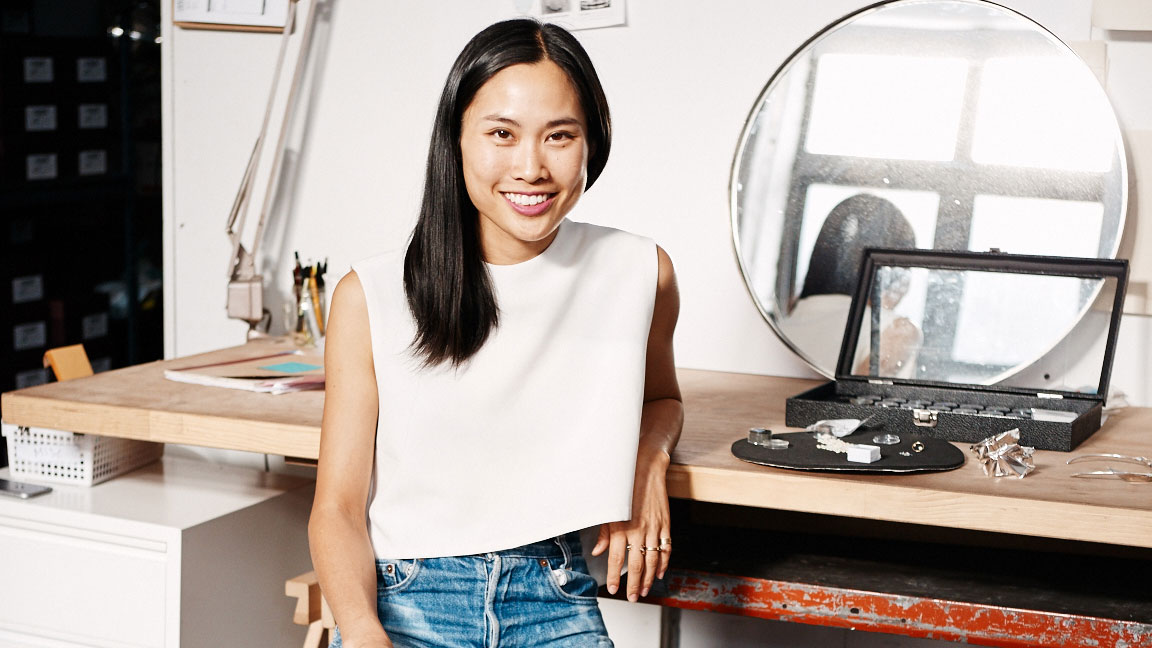 The Designer Behind Instagram's Favorite Jewelry Line
Wing Yau's opal and tonal sapphire are pieces you'll wear for life.
A question we always ask our Coveteurs is 'What's the most sentimental item you own?' Nine times out of 10, the answer? An heirloom piece of jewelry passed down through generations to land on the fingers or around the necks of our most stylish and successful subjects. But something so precious and cherished must start new at some point, right?
These are precisely the sort of pieces Brooklyn-based designer Wing Yau hopes to create with her fine jewelry line WWAKE. Think delicate precious-metal rings dotted with teensy perfect opals and natural tonal sapphires that you'll want to stack all the way up to your knuckles, or constellation earrings that map out stars up your lobes with moonstones and diamonds. We're almost certain you've seen them all over your IG feed, being that they're the favorites of classic types and sartorial eccentrics like Rihanna, whose ~thing~ is anything but subtlety.
So we had to sit down with Yau to talk about her start in sculpture and art, her obsession with the opal, and why ethical sourcing is important to her.
How she landed in jewelry design:
"I have a background in sculpture and I really just fell into jewelry. I graduated from Rhode Island School of Design, it was the recession, and I was working for galleries and artists here in New York. I was trying to figure out how to break into the art world, and it just wasn't clicking for me, so I moved back home and took a break. I started experimenting with textiles in my studio and I made these wearable sculptures. It quickly became an experimental jewelry collection, and I started experimenting with more materials like metals. I've been able to apply what I know about sculpture and making things out of metal on a large scale and how to apply it to mini form."
Her evolution from sculptural to ethereal:
"Even though our look for the fine jewelry line is quite distinct now—it's all about being light and airy with the stone settings and using stones that have a sort of an ethereal color to them—that was quite a process. When I first started the fine jewelry, it was much more sculptural and a lot more organic—it was more about how the shapes related to each other. As we expanded the collection into pave diamond settings and different types of stone settings—like opals in different scales and diamonds—I now think about how shapes relate to each other within one piece, rather than over a whole collection."
Where the name WWAKE originated from:
"WWAKE is a reminder to me and how I like to design. I always design several iterations of the same idea, so that a collection can come together as a whole, naturally, with a sense of flow. My design sensibility is more mature, so the name WWAKE is a visual metaphor of several waves creating a body of water and how I designed different iterations of the same thing."
Her biggest hurdles:
"It was really challenging trying to figure out sales and how to get exposure having no foot in [the] door in fashion prior. I really come from an art background and so understanding how to bring my collection to a market and speak to customers and stores was really intimidating. But it's also been really fun—I really love connecting with people at that level and it's become this amazing community."
On *that* Rihanna moment:
"It was really surreal to see Rihanna wearing our necklace at the Grammys. You can never see our stuff printed in the press because it's so small, but you could actually see it, and we were so excited."
Her favorite stone:
"I'm obsessed with opal! I don't see myself as a first-and-foremost diamond girl, so I want to try something that I hadn't seen on the market. When I started, turquoise and diamonds were really popular, but I love opals and thought that we should be the people to use them. Ever since I launched that first fine collection with the opals, I've just become so obsessed with the stone—it has so much depth to it, it's always changing and it's just always surprising me. Each one is so different and has different colors and different types of brilliance."
Why the source of her stones is important:
"We spent a long time this year working to provide full provenance for our stones. The sapphires are either from Montana, Australia, or a specific mine in Malawi, which is a dream textbook development project. The mining community has built a school based off the profits from the mine; they're planting trees; they made uniforms for the girls so that they can go to school in decent clothing. I'm excited to keep growing our business with them because it's helping real people. We work really closely with our vendors to know more and more about those projects and I'm really eager to build on them and see how we can help in a deeper way."
Want more stories like this?
This Denim Brand Is the Definition of Sustainable
Us to Fall Jacket Weather: Bring It On
The Biggest Investing Mistake That Women Make & Men Don't