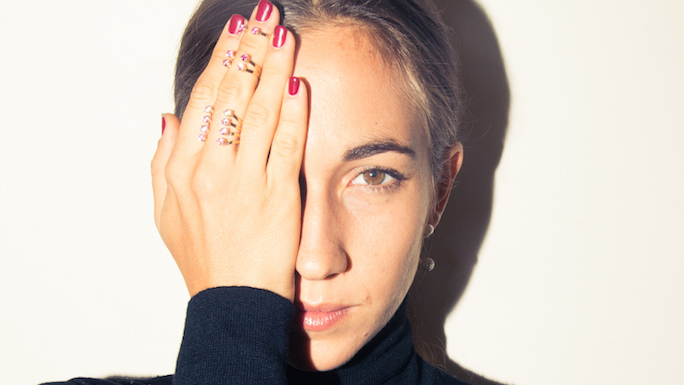 Gucci Westman Wants You to Wear Lipstick in Your Eyebrows
Move over, glass skin—glass eyebrows are about to be fall's hottest makeup trend.
Going backstage at New York Fashion Week is our favorite way to scope out new trends for the season ahead, and when Gucci Westman is leading the team for the show, we know the makeup is going to be extra glowy and gorgeous. When we spotted models walking around at Brock Collection with some of the fluffiest yet oddly shiny-looking brows of the whole week, we knew we needed to learn the secret.
"The collection is quite romantic, so we wanted the girls to have a bit of an edge somewhere," said Westman prior to the show. "We thought the brow was a very obvious and expressive place to show some strength." Since more masculine-looking makeup has been all over the runways this season, we weren't surprised to hear the makeup artist cite the brows as the focus of the look, but instead of relying on just a pencil or powder formula, she used an angled brow brush dipped in lipstick (!!). "Powder can look quite makeup-y, so instead I use a combination of pencil and black lipstick on the brows. I mix brown in with the black so it turns more grey."
She approached the application in a similar way that a hair artist would with your color, considering highlights and lowlights, tones and contrast, painting on top of the hairs themselves so that the brow doesn't appear to be one solid block of color. And in case it wasn't wild enough to use lipstick on the brows, Westman also tapped some of her cult-favorite Lit Up Highlight Stick on top. "I brush on the highlight so it feels really glassy and inky." The result was a full, natural-looking brow that caught the light and brought attention to the eyes. It was absurdly pretty and complemented the rest of the glowy look perfectly.
So you heard it here first, folks—glass skin may still be the biggest skin-care trend of the summer, but glass brows are making a strong case for spring.
Want more stories like this?
How-To Beauty: Sculpted Lips
This Is What Happens to Your Eyebrows as You Age
Rihanna Reveals Fenty Beauty's New Eyebrow Pencil