How Tracee Ellis Ross Keeps Her Hair "Juicy and Joyful"
You can finally shop her new curl-centric hair-care line, Pattern.
Celebrity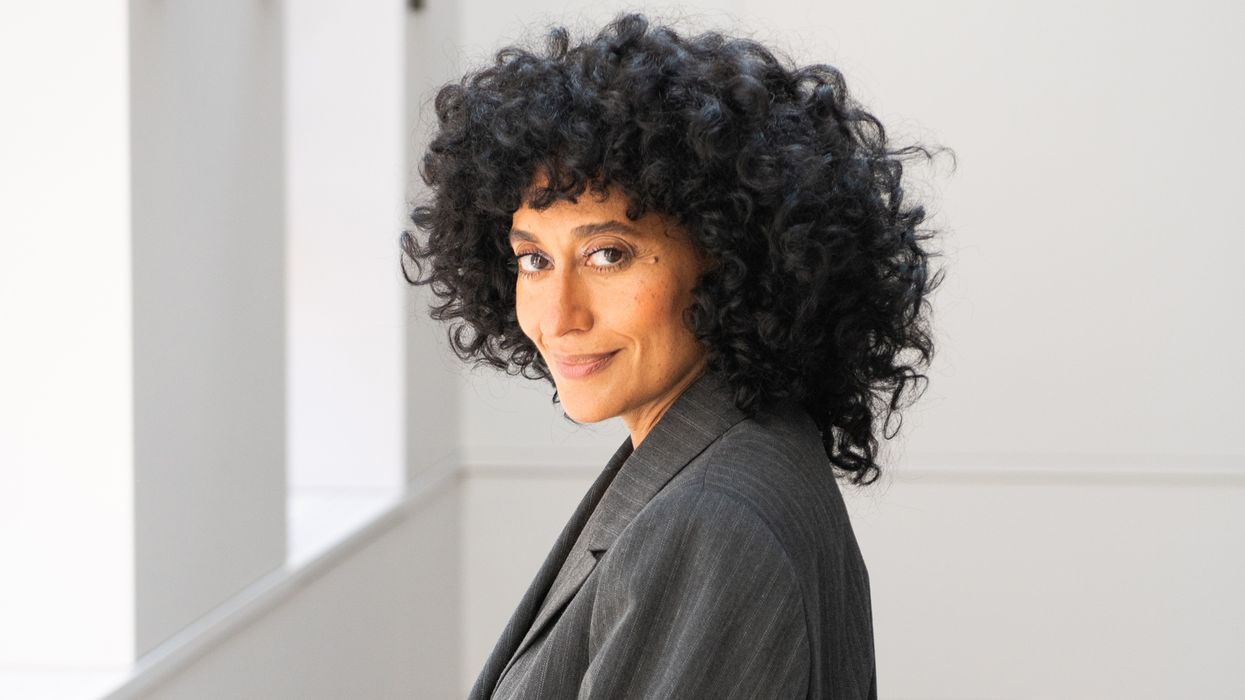 You'd be hard-pressed to find a woman in our office who isn't obsessed with
Tracee Ellis Ross
. Seriously, have you witnessed her dominating the red carpet over the past few years? In addition to her sartorial savviness, the actress, producer, and activist is essentially a ray of sunshine personified, a fact we confirmed after sitting down with her last week in Manhattan. The main topic of conversation? Her debut hair-care line,
Pattern
—of which she is the founder and CEO—a collection of products "designed to fulfill the unmet beauty needs of the curly, coily, and tight-textured community."
There are ten products in all: three hair accessories, three different conditioners (medium, intensive, heavy), leave-in conditioner, hydrating shampoo, and two oil serums, one jojoba-based and one argan-based. As a whole, it's a true celebration of curls, specifically 3b to 4c hair types, and a perfect amalgamation of Ross' unwavering confidence and support of her fellow textured women.
"Your hair is an extension of you," she explains in between shots, her own luscious curls bouncing against her Dries Van Noten suit. "And like you, it can defy gravity. It is way more than any circumstance or limitation, and if you honor it, meet it where it is, nourish it, and spend time getting to know and understand it, the world is your oyster." In case that's not enough to convince you of the quality of Ross' products, consider that it took her 10 years to formulate the entire line and 20 years of dreaming before that. But don't just take our word for it—let the actress and newly minted CEO tell you why Pattern is primed to take over the hair-care world. 
---
Important question right off the bat: What is your favorite song to sing in the shower?

"Oh, I don't sing in the shower. I do a lot of thinking in the shower. Some of my best ideas come in the shower. The picture I posted [last week] that said, 'Sometimes, it's just all about the hair'—shower. I sing in the car sometimes."

Do you have a go-to karaoke song?

"Yeah, Pat Benatar, 'Love Is a Battlefield.' We did that on Lip Sync Battle because it was my favorite song."

So we're dying to know—what's your daily hair-care routine?

"Well, because of my job, my work routine and my Tracee hair-care routines are different, and then when I'm on hiatus and not working, it's even more different—so I've got three. When I'm off, like on weekends, I usually just slick my hair back so it can have a rest, because I like it to be happy and bouncin' for work—juicy and joyful. I will often use the leave-in conditioner with jojoba oil and a little bit of water, and I just slick my hair back, drench the ends, and then put it into a braid and give it a tuck.

"To create my best hair, which I'm usually doing for work, it all happens in the shower. I often co-wash, so no shampoo; I give my hair a good rinse and work my scalp, and then I use a really good, hefty conditioner. I personally use Medium of my three [product options], and I brush it out in sections to get the curls poppin'. Then I rinse with cold water, low water pressure, so that all the curls that developed don't get broken up. While my hair is soaking wet, I drench it with the leave-in conditioner, which I did today, and then I diffuse. I do that because it takes a long time for my hair to air-dry."


Do you invert your head when you're diffusing?
"I invert my bangs, so I come forward on my bangs—my new thing is my bangs, which also can be stretched out. When I diffuse them leaning forward, I lean side to side to side. I don't really care what the back looks like, because I don't see it [
laughs
]. What I like to do while I'm diffusing is think, 'Give it dance and play! Give it dance and play!' Like I put all of that energy into it, and then we get this!"
What are five of your other must-have beauty products?
"
Retrouvé Intensive Replenishing Moisturizer
;
Biologique Recherche Biokiss
; the rubber band that we have on
Pattern
. There's a specific rubber band that I love for my hair that doesn't break—that's a real go-to for me. If there's not a rubber band in my purse, I start to panic, because like, if it's time to put the hair up, you've gotta put the hair up!
"
M.A.C. Ruby Woo [lipstick]
is always in the purse. I like to mix it with the
Cherry pencil
. It gives it a little brightness. A dry brush. Because I don't drink coffee, never have, but I wake up really early for work, if I'm really tired, I
dry-brush
. I like the one that literally looks like an old-school pot sponge. I work my way up, I do my armpits, I do my boobs, I do my stomach, I do the back of my arms, and I tell you, when you're done and then after you shower, you're like, 'Oh, I'm fine! I'm awake.'"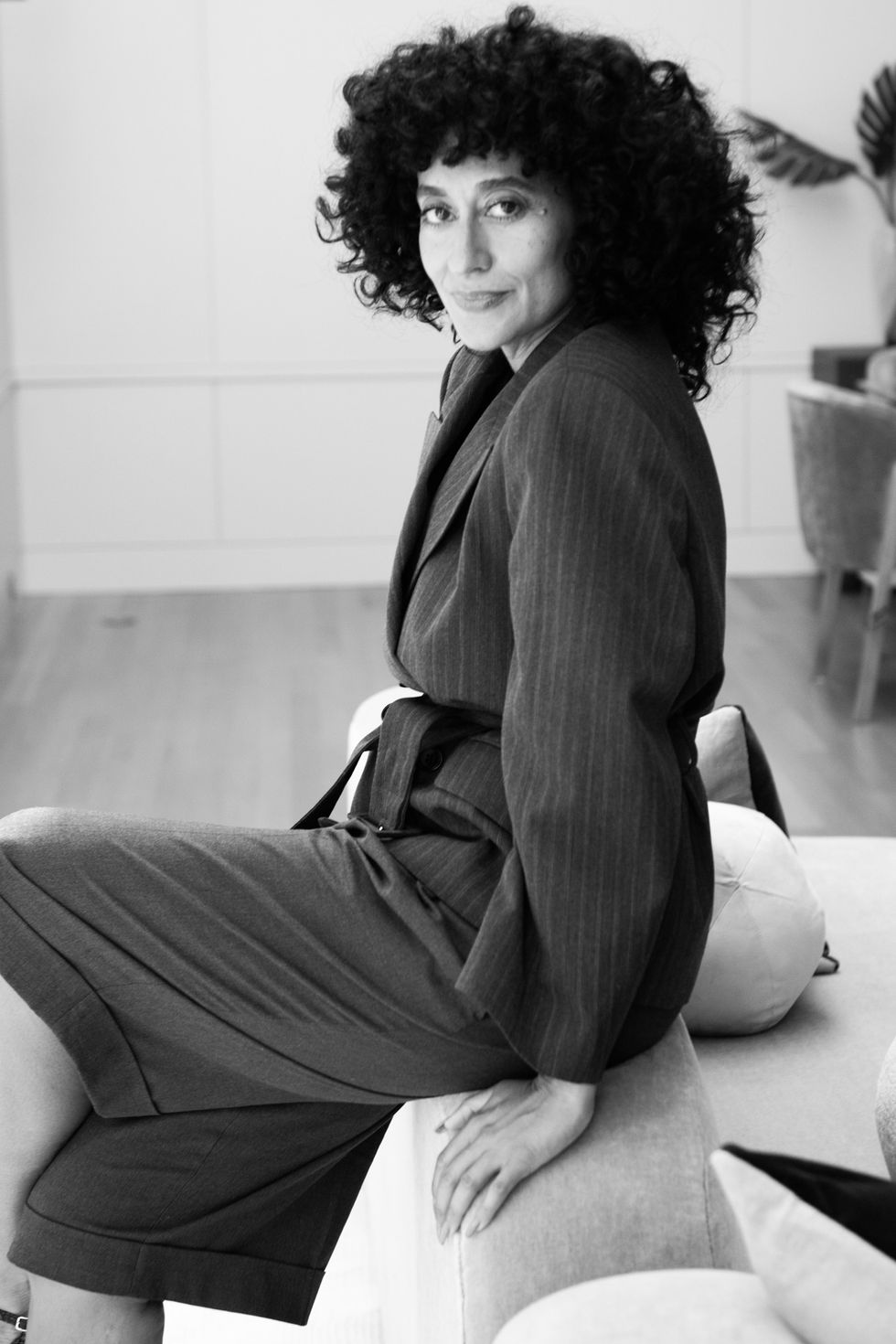 What's your go-to cocktail?
"Casamigos Reposado on the rocks. I like to fill the glass to the top with rocks. Then a single shot of tequila, and a whole bunch of lime juice. You'll think it's lemonade, but it's not [
laughs
]. I call it the Tracee."
What about your biggest sources of inspiration and motivation?
"I'll be honest with you, my biggest source of inspiration are trees. Any kind of tree. I like
'
em bare, I like
'
em green, I like
'
em big, I like 'em small. I love a tree. I find them to be really wise—they've helped me with a lot of my hardest decisions. When I'm having a really rough day, or a really bad moment, I have three tips: Change your underwear, wash your face, look at a tree."
That should be embroidered on something:
"I mean, really! You can have some fresh undies, wash your face—like a lot of people, midday, when they go to have their cup of coffee, they will put more makeup on. I take off. I don't wear makeup when I'm not working (we shoot five days a week, so I'm in makeup five days a week), but even if there's no makeup on your face, reapply your lipstick, and look at a tree."
It's tough to find them in New York!
"It's really tough in New York! But I've gotta tell you, the groundedness of a tree, the way they reach towards the sky, the fact that sometimes they bear fruit, that they move with the seasons, that they have a flexibility—all of these things teach me so much. And they usually have an old-school wisdom, because they've been here for a while. So often the message is 'Be quiet.'"
What do you do to your hair at night? How do you keep it protected and hydrated?

"I don't do a thing. I'm horrible. People have issue with it. I'm one of those people who can't sleep with my rings. I can't sleep with anything on me, so I usually put my hair up in a top-top bun. I use a scrunchy that is either satin or velvet, and it's not too tight.

"I have five or six curl patterns on my head, and the top section is the coarsest and the waviest—it's not curly-whirly. All my most delicious curls are around the front. So it's very hard for me to get two, or even three or four, days out of my curls. Day one it's out, day two I might leave a bang forward, but then I just slick [it back]. But that's the beauty of this community—everyone has a unique experience with their hair, and most of us know our hair incredibly well, some are in the process of finding and discovering our natural selves in terms of our hair, but most of us know what works. I've spent years figuring out, like, 'OK, so I can't do three days on the same curl pattern.'"

What has been the most memorable moment of your career thus far?

"I would say [I have] two. This [Pattern], this is up there—I feel like I birthed a baby. And winning the Golden Globe."


What is your favorite red-carpet outfit?
"Oh man, I wouldn't even know where to begin. My favorite red carpet outfit was probably my Emmy's Valentino Couture. That dress... It was like that dress was made for me. I was like, [
sings
] 'THIS IS THE WAY ONE SHOULD LIVE!' I was like, 'YAAAS!' I was like, 'OHMYGOAOAOAD!'"
What about red-carpet beauty?
"I loved the cat eye and the Golden Globes Marc Jacobs look with the head wrap; I had the black head wrap,
the black dress
, the black cat eye, and a red lip. There was a conjuring of a legacy there. It gave me a feeling that day, especially in that moment. That was the Time's Up announcement moment when we were at the Golden Globes and we all decided to wear black. That look exemplified something."
What's your ideal hangover food?
"I am not a big drinker, so I don't even know what a hangover food would be. I'm a girl for whom drinking is more about the stem wear. It's more about the physical experience of what it is that's happening. I don't even know what one is supposed to eat? Burnt toast? Clearly, I am not somebody who gets hungover a lot [
laughs
]."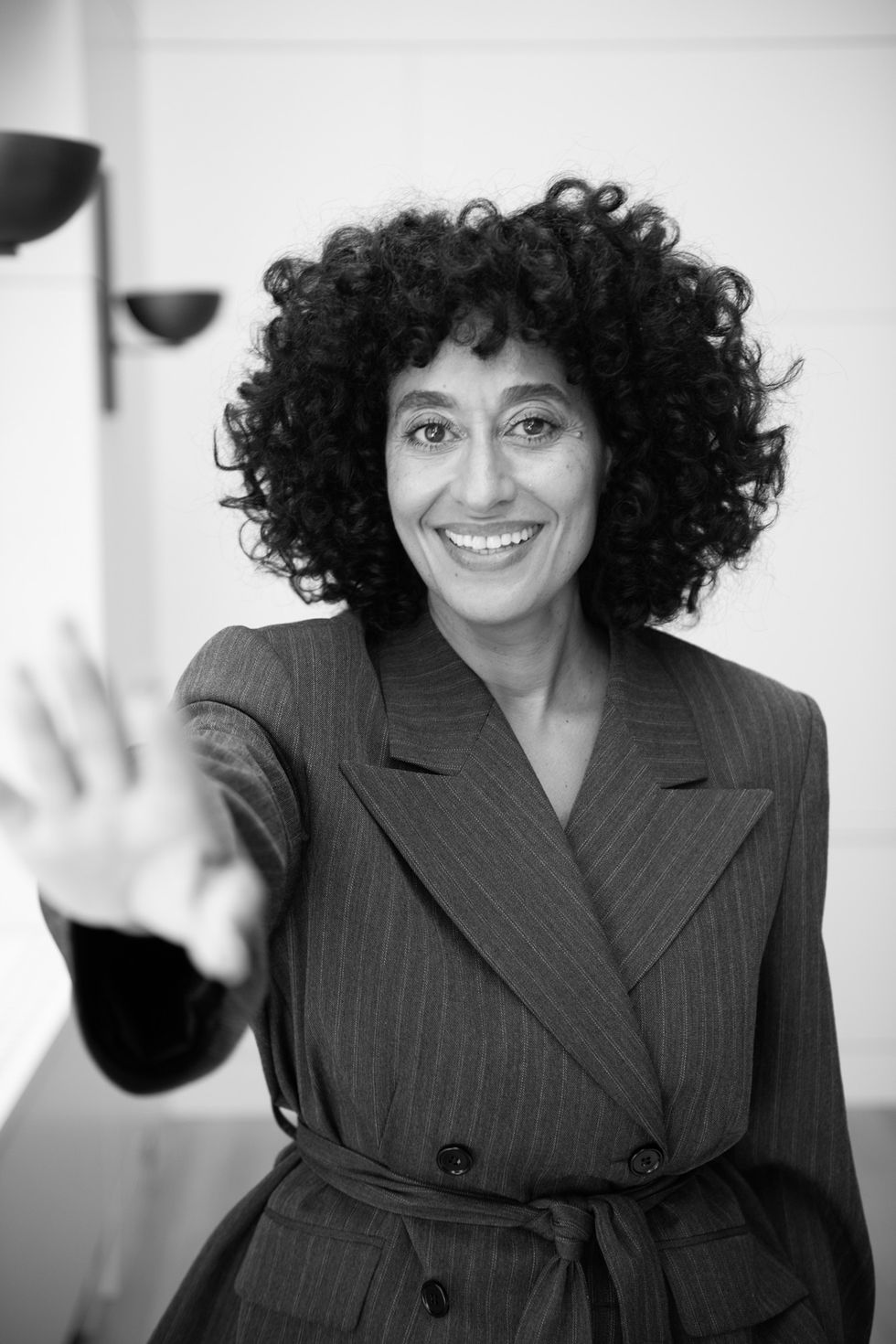 Was there a specific moment that inspired you to create this line? Do you remember when it came into your consciousness?

"About 20 years ago. And it was a long-running journey of experimentation and not knowing at the time that I was part of a very large community that also was feeling the same way that I was. It was a lightbulb moment that kept going off, and during Girlfriends, somebody saying to me—because I'd gotten my hair to that place where it was so healthy, and my curls were poppin' and juicy—and I remember going to a beauty supply shop on Wilshire to buy my products, and the guy came out from the salon in the back, and he was like, 'You have no idea how many women come in here with pictures of you torn out of magazines saying they want their hair like you, and I tell them, 'I can sew it in, girl.' And I was like, 'What do you mean? They don't have to sew it in, they just need the right products.' And he was like, 'Well, they don't exist, so if you ever make a line of products, you'll be a millionaire.'

"It's taken me ten years, and it's been a lot of learning, a lot of patience, and a lot of persistence. Being a founder on a journey, and becoming a CEO of a company that you've built, that's been so exciting to me. Also, I created products that I've wanted and [fill] an unmet need in the community."

Do you have a personal mantra?

"It changes daily."

Did you have one for this morning?

"Deep gratitude. In my meditation this morning—they all make me cry—I feel the team of women that we put together, the Pattern team, is an extraordinary group of women that have helped me to physically manifest a very long-time dream. So I was just sending out really good energy of gratitude."