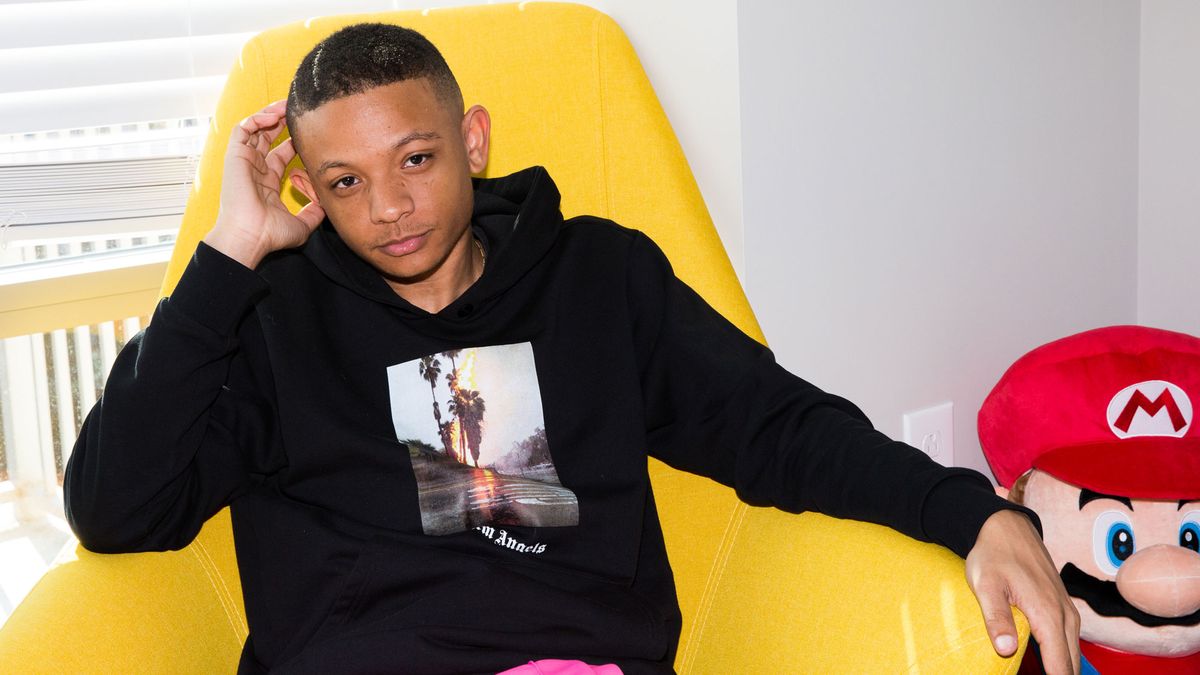 Living
Throwback to when we spent a day in Atlanta with Stahl talking about shooting Pharrell, working with Moncler, and spending 18 hours in Milan at a Palm Angels party.
Alec Kugler
When we first caught up with photographer
Gunner Stahl
, it was in his hometown of Atlanta. He was fresh off a trip to Tokyo and was getting ready to head to Miami. Fast-forward three months later to when we hopped on the phone with him, and he had literally just landed in Atlanta, returning from All-Star weekend in L.A. The esteemed photographer, best known for his raw and unfiltered photos of rappers and hip-hop artists, has a travel schedule crazier than an editor
'
s during fashion month. Makes sense considering those in the music world flock to him and his chilled-out personality, wanting to have him around to hang and capture moments for their trips around the world.
---
When we caught up with Stahl in Atlanta, he was chilling out at one of his managers
'
apartments. He tells us that during the rare times he is back in Atlanta, he's either there or at home playing video games. Atlanta is part of the reason that Stahl is where he is today; even though he had no intentions of ever being an artist himself, he grew up surrounded by music and the many artists that hail from the ATL, Metro Boomin' included, whom he spends a good amount of his time with. "[I met Metro Boomin'] from just being around in Atlanta and being around the same people," he tells us. Stahl taught himself how to shoot, starting out on digital and then moving to film. "I was doing digital, but then my camera broke," he explains. "I just had no other choice but to use film." Film is now what he is known for, with a quick scroll through his IG presenting you with film portraits of pretty much every rapper. You'll see the likes of
A$AP Rocky
,
Pharrell Williams
, Travis Scott, Skepta, and even Jaden Smith all within one quick glance.
The photo of Pharrell is from the same L.A. trip he had just returned from, and is already one of Stahl's favorites. "I shot Pharrell a few days ago [for my] first time," he says to us. "He was about to go onstage at an adidas event in downtown L.A." When we asked the photographer how he gets to such an intimate point with these artists, he nonchalantly tells us, "I think it's just from being myself. I represent a different lifestyle. I'll never try to live their lifestyle—I'm not trying to be something that I'm not, and I feel like they respect that."
We began to make moves and left Stahl's manager's house (where they had just wrapped a game of Nintendo) and headed over to the Moncler store down the street. Stahl let us know that he had just finished a job with the brand out in Hong Kong. "One of my friends works with [Moncler]—his name's Francisco," he says. "He reached out saying he wanted me to be part of something in China, so I went to Hong Kong where there was an activation in one of their stores. It was fun. There was a little photo booth set up there [where I was shooting]." He picked out a large winter coat with a fur-lined hood, and we were on our way again.
Our next stop was
Eight Sushi Lounge
in the westside of Atlanta, which Stahl described as "the best Japanese restaurant in Atlanta." We chowed down on the most amazing ramen (the photographer's favorite dish there) as we chatted with him about some of his past projects. The most memorable shoot he's ever done? "Probably [Playboi] Carti's album cover [for
Playboi Carti
] shot in an Airbnb downtown L.A." He's also responsible for
Highsnobiety
's well known (and loved) 2017 fall/winter cover story of
when Gucci Mane met Playboi Carti
and explains to us that he first met Gucci Mane in June of 2016, and they've since worked together multiple times. "I went on tour with Gucci Mane over the summer, and I did Coachella with him," he tells us. "We have a good relationship."
When it comes to cities Stahl likes to shoot in, he says Tokyo is his favorite. "It's the most beautiful city on this earth," he says. "I like the culture and the people—they're real welcoming. I like their language and their lifestyle." And while the photographer's work has been predominantly focused on the music world, he's hoping to begin working more in the fashion realm, shooting for the likes of "
i-D
,
Dazed
,
Oyster
,
Vogue
—stuff like that." Earlier this year he attended
Paris Fashion Week
with
Future
and Metro Boomin', and one of his best memories is
Milan Fashion Week
in 2017. "It was amazing," he tells us. "I was only there for 18 hours—all the way from Atlanta. We just went to the party that night for Palm Angels. It was fun."
We're guessing it's only a matter of time before fashion is head-over-heels obsessed with Stahl's unfiltered and intimate aesthetic. Puma has already jumped on board, releasing
a capsule collection
with the talented photographer in the fall of 2017 that was dedicated to his late mother. We're excited to witness the growth of "
Rap's Rawest Photographer
." It won't be long now before you see Stahl's name in your favorite fashion publications.
Want more stories like this?
Why You're about to See Renell Medrano's Photography Everywhere
Meet the Man Who Has Your Favorite Artists On Speed Dial
Kareem"Biggs" Burke Is Back & Better Than Ever