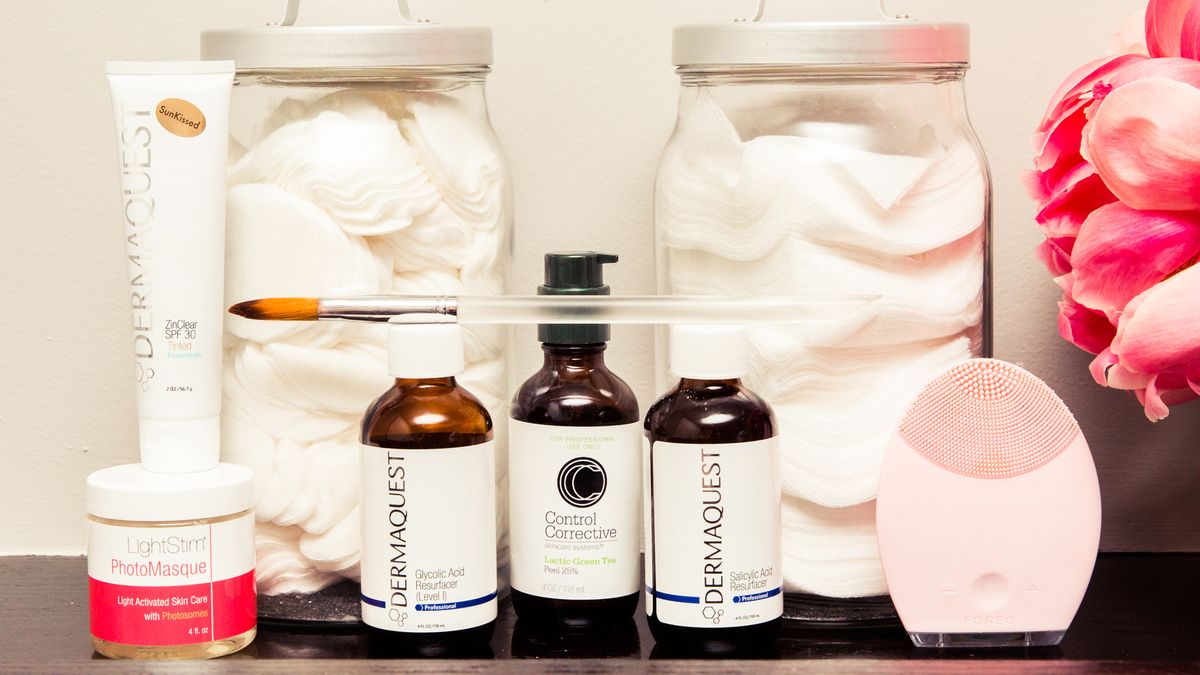 Skin
Fine lines are no match for these traditional and vegan formulas.
Retinol, otherwise known as a form of vitamin A, is one of the most effective and popular skin-care ingredients for preventing the various signs of aging. Think dull skin, fine lines, and wrinkles. As we get older, our cell renewal slows down from every 28 days through our mid-thirties to every 50 to 70 days in the years that follow, leaving your once bright and
glowy complexion
looking a little lackluster. To speed up this process and reveal fresh cells more regularly, dermatologists recommend incorporating a retinol product into your beauty routine. It's basically tricking your body into thinking it's younger, so your skin looks more like it did when you were in your twenties. Cool, right?
As the market for over-the-counter "anti-aging" products continues to thrive, we've scoped out the best retinol products available right now. Whether you prefer a traditional, animal-derived formulation, or a vegan option, you don't need to wait to get a prescription from your dermatologist to access quality
retinol
creams, serums, and more. Check out our eight current favorites, and get ready for the smoothest skin of your life.
---
Traditional Retinol
Typically, retinol products come in serum form, but newer options offer cream and mask varieties as well. It's recommended that you use your retinol at night, as UV rays can break them down and render the product ineffective. Just be sure to avoid any other harsh chemicals in your skin-care routine while you use it (that means no other topical acne medications, acids, or vitamin C) so that your skin doesn't become irritated. Just apply, go to sleep, and wake up with crazy-glowy skin.
1 / 4
Wander Beauty Do Not Disturb Overnight Repair Concentrate
, $68
A 1 percent retinoid concentration works fast to lessen the appearance of fine lines and wrinkles without irritating your skin in the process. Plus, this concentrate contains Dragon's Blood (which is a real skin-care ingredient, believe it or not). It's a sap derived from the Croton Lechleri tree in the Amazon, which soothes and firms the skin.
Vegan Retinol
If you're pregnant, nursing, or just wary of some of the harsher side effects of retinol (dryness or irritation at high concentrations), you're in luck. Bakuchiol is an antioxidant found in the psoralea corylifolia plant (a plant with historic importance in both Ayurveda and Chinese medicine) and is backed with
scientific data
supporting its use as a less irritating and natural alternative to retinol. There are also several other lab-created retinol and plant-based vitamin A options to choose from these days, so you have more options than ever.
1 / 4
Drunk Elephant A-Passioni Retinol Cream
, $74
This is formulated with 1 percent vegan retinol as well as a triple peptide blend to firm the skin and boost the smoothing effects. Vitamin F provides linolenic and linoleic acids to calm and improve overall texture.