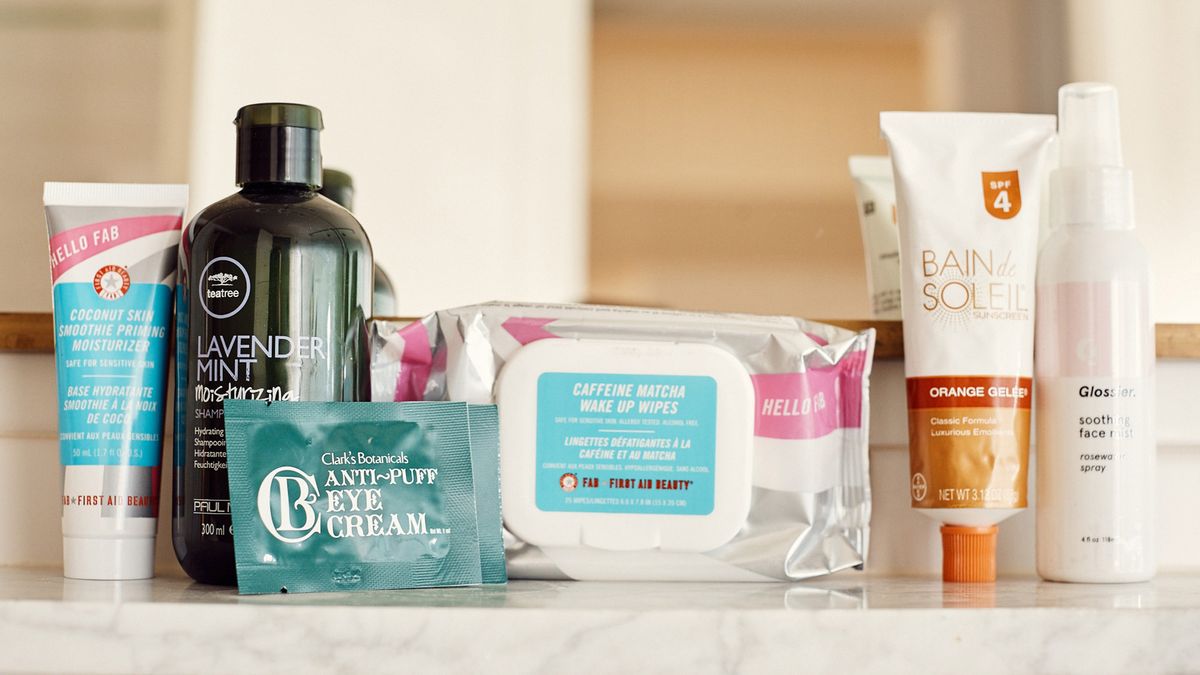 Skin
It's time to embrace your dermatologist's shopping list.
Keeping your skin clear and healthy is a constant battle. No matter how stellar your complexion is on the average day, there will come a morning when you wake up and it's looking dull. Or congested. Or just plain
blah
. That's where your
skin-care routine
comes in to save the day. But with a plethora of products on the market designed for a wide array of skin problems, it can feel a little overwhelming to narrow it down. Our recommendation? Identifying specific ingredients that will address your issue, so that no matter where you're shopping or the size of your budget, you can feel confident that you're buying something that will work.
To get the intel on which skin-care ingredients we should be looking out for, we spoke with Manhattan-based dermatologist
Dr. Dendy Engelman
. For the top six concerns we face on the regular—from dryness to
blackheads
—these are her recommendations and favorite products.
---
If You Have Dry, Dehydrated Skin, Be on the Lookout For: Hyaluronic Acid & Ceramides
Hyaluronic Acid:
"Hyaluronic acid can hold up to a thousand times its weight in water, meaning it does wonders in hydrating the skin. When applied, it creates a barrier for the skin, locking in moisture and improving texture. Skin loses water and moisture as we age—this ingredient will help restore its hydration."
Product pick:
Derm Institute Anti-oxidant Hydration Gel Masque
, $120
Ceramides:
"Environmental factors can disrupt the lipid layer of the skin, which locks in moisture and acts as a barrier against pollution, bacteria, and [other] assailants. If this first line of defense is compromised, the skin is at risk of rapid aging. Ceramides help to restore the skin's barrier by holding the cells together. As a result, skin feels smoother, plumper, and more moisturized."
Product pick:
Elizabeth Arden Ceramide Overnight Firming Mask
, $88
If You Have a Dull Complexion, Be on the Lookout For: Glycolic Acid
Glycolic acid:
"Cell turnover is the process by which our skin produces new skin cells, which travel from the lowest layer of the epidermis to the top layer and then shed off the skin. This is what keeps dead cells from building up on the skin's surface. As we age, the top layer of the skin, the one we see, becomes dull. We lose our 'glow.'
"Glycolic acid is an alpha-hydroxy acid (AHA) that is used as a chemical exfoliant. Glycolic acid, derived from sugar cane, is the smallest acid in size, meaning the molecule can get deep into the skin. It is very effective in breaking down skin cells and removing dead particles. It is a great anti-aging ingredient, as it
boosts collagen
and elastin production with the removal of waste and dead skin cells. It is safe to use on other areas of the body, other than the face, like the back, chest, neck, and arms."
Product pick:
Elizabeth Arden Skin Illuminating Retexturizing Pads
, $56
If You Have Blackheads and/or Congestion, Be on the Lookout For: Salicylic Acid
Salicylic Acid:
"This is a BHA, or beta hydroxy acid, used primarily in skin-care ingredients as an anti-acneic application. It has antibacterial, anti-comedogenic, and keratolytic properties that upon application can help to regulate cell turnover (shedding dead skin, revealing new skin), declogging pores, and preventing buildup that may lead to acne and inflammation. As salicylic acid is keratolytic (keratin-dissolving), it actually can penetrate into the pore to dissolve dead skin-cell buildup and encourage the shedding of the top layer of skin, which prevents the pores from becoming congested. It helps to regulate cell turnover, which, as a result of aging, slows down, leading to opaque and dull-looking skin. Zero-point-five to 2 percent concentrations of salicylic acid are effective at clearing mild to moderate acne effectively without over-drying the skin."
Product pick:
iS Clinical Tri-Active Exfoliating Masque
, $95
If You Have Whiteheads, Be on the Lookout For: Sulfur
Sulfur:
"Sulfur is a mineral found in the environment and our bodies. It is an antimicrobial, meaning it helps prevent the growth of bacteria by prohibiting the activation of certain proteins throughout the metabolic pathways. The good thing about this ingredient is that it is not as drying, so [it's suitable] for people who have an overall acne issue. It also acts as a mild antiseptic that helps disinfect skin and boasts both comedolytic and keratolytic properties by helping dry out problem areas while pushing to promote quicker shedding and exfoliation of pore-clogging dead skin cells, dirt, and oil, respectively."
Product pick:
Dr. Dennis Gross Clarifying Colloidal Sulfur Mask
, $42
If You Have Redness, Be on the Lookout For: Calming Ingredients
"Look for hydrating ingredients that will strengthen the skin barrier as well as provide a 'shield' from environmental stressors. Peptides, ceramides, and hyaluronic acid will all help to build a barrier for the skin. Look for products with calming properties [like] niacinamides, rose oil, aloe, and oatmeal.
"
Tip:
I like to keep a selection of my masks in the refrigerator because I know that when I need it urgently, I know I can just grab it. [The cooling will help calm inflamed skin.] We can never really tell when our skin might act up or when we might need to reach for that emergency mask."
Product pick:
Skinceuticals Phyto Corrective Mask
, $59
If You Have Hyper-Pigmentation or Dark Spots, Be on the Lookout For: Antioxidants
Antioxidants:
"Free radicals are highly destructive molecules that can wreak havoc on your skin. They are unstable compounds in search of a missing electron. When they 'steal' electrons from other molecules, it leaves those molecules unstable as well, and then, in turn, in search of a missing electron. Because this produces a domino effect, this further weakens the skin barrier, leaving it vulnerable to premature aging (i.e., fine lines, wrinkles, and uneven skin texture) and discoloration.
"Hyperpigmentation is caused when melanin (what gives our hair and skin color) is overproduced in certain spots on the skin. Melanin goes into overproduction in the sun to protect our skin from harmful UV/UB rays, causing them to look darker than your natural skin tone. These sunspots accumulate over the years. An antioxidant helps protect skin against free-radical assaults by neutralizing oxidative stress that can cause cell damage. Antioxidants pair with free-radical scavengers in search of a missing electron, so it neutralizes the damage from [a] free radical if it were to pair instead with an electron from a skin protein."
Product pick:
Innisfree Antioxidant Mask with Fermented Green Tea
, $43