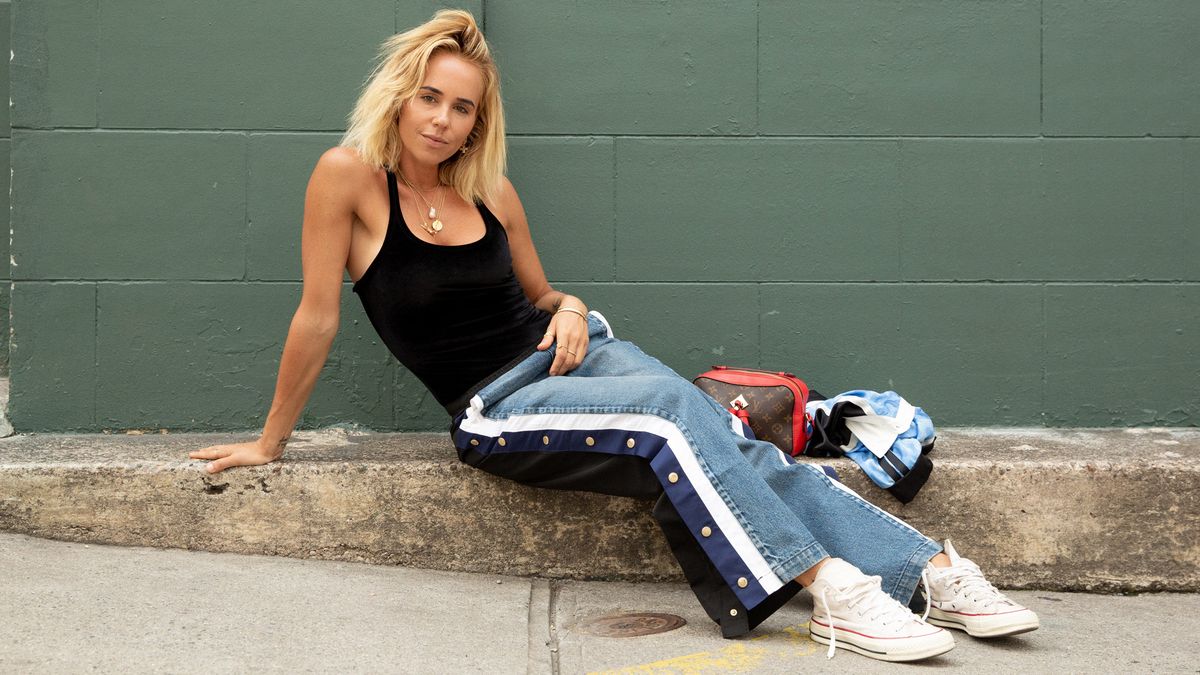 Designers
The 411 on P.E Nation's New Denim Line
It's everything we could have hoped for and then some.
Alec Kugler
When we caught wind of the fact that Pip Edwards and Claire Tregoning of
P.E Nation
were stepping into the world of denim for their highly favored "athletic streetwear" line, we were all over it. Convenient timing, considering it's Coveteur's
Denim Week
, and all.
Those already familiar with P.E Nation know of the high quality and functionality of the brand's pieces (think the best of the best fabrics on pieces that easily take you from day to night or from a workout to the bar), and they made sure the same was true for their
Denim by P.E Nation line
. Not only that, but Edwards and Tregoning tapped Adriano Goldschmied of
AG Jeans
when building out the line to learn more about patterns, different types of denim, and washes. That knowledge combined with the fact that both Edwards and Tregoning have denim backgrounds (Ksubi and General Pants for Edwards, while Tregoning had her own line, Maise) already hinted at the fact that the line was going to be impressive. And that it is. From contrast denim jackets and distressed jeans to '90s-inspired denim tearaways, there is a little something for everyone. Below, how the collection came to be.
---
The birth of P.E Nation:

Pip Edwards: "Athleisure suggests an active way of life—athletic leisure—and it was definitely this aspect that was so appealing. The basis of P.E Nation was to accommodate a busy, active way of life that so many women juggle with. Being able to really blur the lines between fashion and sport was going to support and work with my own personal way of life. We also knew that we had a great concept, born from the name itself: P.E [means] physical education. That familiarity and nostalgia is always at the heartbeat, and Claire and I added to that [the] original retro collegiate vibe to make it a multifaceted active streetwear brand that could take us from A to Z. We thought if we were missing these multi-functional pieces in our wardrobe, then others must be, too. Once we connected that idea with great quality product and a strong brand identity, it took off in a way that we never imagined."

How their roles are divvied up:

PE: "Claire and I are both creative directors, and together we set the overall vision, purpose, and direction of P.E Nation. Claire takes care of the product from design to sampling and production, and I oversee marketing, sales, PR, [and] online. It's a very clear delineation that completely plays to our strengths and skill set. We are 100 percent yin and yang."


They always knew they were going to add a denim line:

PE: "There was definite planning in terms of the evolution of our main-line product and how the introduction of a new category would impact that, but we were adamant that denim made sense to the story of the brand. We have always considered ourselves a street sports brand and always had in mind that our activewear would be styled with denim. The whole premise of P.E Nation came about because of our lifestyles, so denim was always going to be a part of the mix, it was [only] a question of when."

Claire Tregoning: "It was really exciting getting back to my design roots [and] linking it back with our P.E flavor. We looked to the '70s, '80s, and '90s for inspiration for the range. We want our denim to be your alternative to your leggings but worn back in a sporty way."

Past experiences helped to prep them for this launch:

PE: "While I was working at Ksubi, Claire was working in London as a designer at Topshop and then went on to start her own denim label, Maise. We met at Sass & Bide and worked side by side for nearly five years. I then went on to be design director for General Pants. Our combined working knowledge of the industry and the category 100 percent benefited us [when creating this denim line]. We definitely know the product, process, technicalities, and what's involved to create and drive a brand."


The silhouettes and styles:
CT:
"We love our rigid denim, and having the P.E flavor is my favorite aspect of our denim. We have a couple of wide-leg styles that can be worn high or low, as well as some classic mid-rise styles, but the most exciting silhouette is the crop high-rise washed front and dark back indigo denim style. The collection also includes tees, singlets, tanks, and sweats—vintage-inspired prints give the pieces a retro, tomboy feel."
How Adriano Goldschmied came in:
CT:
"AG is the god of denim, we worked with him in L.A. on patterns and learned about different denims and washes. [He] was very involved mainly in the wash and denim specifications—the collection is manufactured by experts and made to last."
The brand has many exciting things in the works:
PE:
"In our latest collection, you will notice more fashion pieces as we start to incorporate more fashion styling to our activewear, to elevate the product and give it its own context. We have a swim collab with Speedo launching in October, as well as our second snow collab with DC Shoes."
Want more stories like this?
Blue Crush: The Coveteur Denim Guide
The Best Denim Moments in Coveteur History
The Best Vintage Shops Around the World to Find Denim