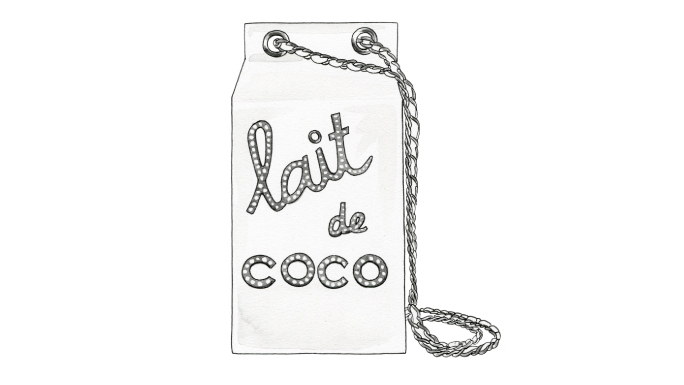 Is Oatly Really the Holy Grail of Alt-Milk?
A history of the popular milk alternative, and a look at whether we've reached peak oat milk (or if there are other options on the horizon).
Have we reached peak oat milk? Which is to say, have we hit the point with oat milk that we reached with kale 10 years ago, when at one time, thanks to its popularity, we couldn't find a single stalk in the entire city of New York? Perhaps. Oat milk did experience a well-documented shortage last year, just as it was on the come-up.
But don't dole out the sash to oat milk just yet. It is environmentally sustainable and uses less water than, say, almond milk, to produce. Many varieties, such as the most easily recognizable, Oatly, have no added sugar. It's super good in coffee and espresso. But it's hard to declare that oat milk will be the queen forever and ever. After all, people might have once said that about soy, or almond, or rice.
Oat milk, at least Oatly's, is made by "milking" oats through a process that sounds exactly nothing like milking: Enzymes are added to raw oat kernels to liquify them into what we all know and love as oat milk. Sounds more like catalysis than milking, but what do we know?
Anyway, once the oats are broken down, rapeseed oil is added for flavor and consistency, along with a sprinkling of other things (calcium carbonate, calcium phosphates, iodized salt, and vitamins). Oatly is Swedish, formulated in the nineties by food scientist Rickard Öste, who looked to oats for the sustainability. And thus, oat milk was born, though it took 22 years to come into its own, as per a new report from Vox.
Oatly's ascent wasn't random, but rather the direct result of marketing, which should come as a surprise to no one. At first, "Nobody wanted it," as Toni Petersson, Oatly's CEO, told the New Yorker. But then the company was successfully sued by the Swedish dairy lobby. In another case of "there's no such thing as bad publicity," Petersson placed full-page ads protesting the lawsuit, and oat milk's rise to the top of the alt-milk chain began.
As a child in the East Village in the eighties and nineties, I can attest that the only alternative milk in alternative circles was soy milk at one time. Back then, oat milk was but a dream, a twinkle in the eyes of a barista with an angular haircut. Though Oatly launched its product in Sweden in 1994, it hit our fine shores less than three years ago. That nascence was quickly followed by a fallow period, which resulted in the shortage that no one could resist poking fun at (including the Brits).
Oatly didn't do much to quell how easy it was to satire the situation: The company's general manager told the New Yorker that shortages are charming, allowing "the humanness of the company to come through." Mm-hmm.
Now that Oatly has gotten better at keeping up with demand, other oat milks have stormed the scene. To be fair, Pacific Foods has technically been shilling oat milk since 1996, but they haven't claimed much of the popularity. Not so for Planet Oat, helmed by $2 billion legacy dairy company HP Hood, which launched in January and already accounts for 36.4 percent of oat milk sold in this country, surpassing even Oatly to be the top-selling oat milk in the U.S., as Vox reports. It should be noted that their packaging not just a little bit resembles Oatly's.
There are others: Quaker Oats, of course, because they couldn't be out-oated by Swedes (or anyone else). Silk has an unfortunately named "Oat Yeah" milk. Califia Farms, which already had a corner on fancy milk alternatives (almond, coconut, cashew, the vaguely named "nut," and "übermilk," which is basically oat milk swirled with pea protein and mushroom powder). Elmhurst, from the owner of the now-shuttered last dairy in New York City, which regrettably offers "milked oats." Minor Figures has rolled out "oat milk made by baristas," which wins the cutest packaging award by far. We could go on.
But none have quite the appeal—or the taste—of Oatly. As Man Repeller concluded last month, Oatly is the clear winner in a taste test of six leading milks, and we couldn't agree more. It's hard to achieve a balance between creamy and too-thick, oaty, and just-left-the-pasture. Oatly does it, and all of the others are just trying too hard.
The burning question remains, though: Is this it? Have we reached peak alternative milk with oat? Have enough people found their fix: hippies and their soy, smoothie enthusiasts and their almond, wellness fanatics and their coconut, coffee drinkers and their oat? Maybe. But we doubt it. As evidenced by Califia Farms' übermilk, companies just can't refrain from sourcing milk from new and unlikely places—and consumers can't resist drinking it.
As long as people continue to seek dairy alternatives (forever) and wellness stays in the zeitgeist (for certainly the foreseeable future, as we all attempt to attain immortality), we'll continue to be presented with more options. Whether or not they'll be better than oat will remain to be seen.
Want more stories like this?
The Only Non-Dairy Milk Guide You Need
This New "Coffee" Was Engineered in a Lab
How to Get Away with Eating Dessert for Breakfast