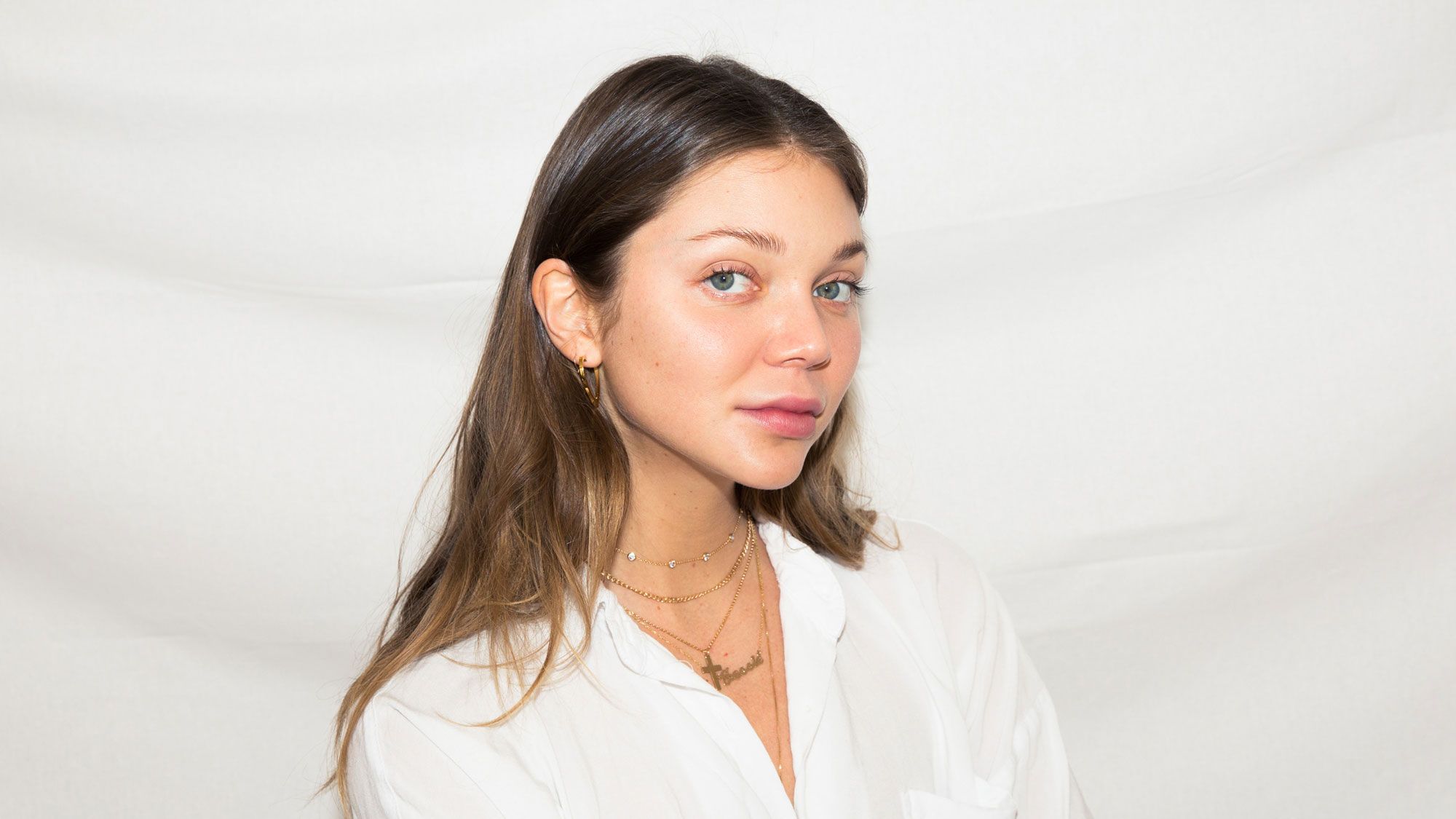 Designers
She says her past career choice has made her "fearless."
Alec Kugler
Even if you don't know the name Jessie Andrews, there's a strong possibility someone around you does. To one person, she might be described as a former
porn star
—her original claim to fame—or the model who used to appear in American Apparel ads back in the day. Maybe she's that cool girl they follow on Instagram, with thousands of followers, noteworthy friends, and an enviable feed. But for fashion lovers,
Andrews
is someone to watch: a designer, CEO, and
overall businesswoman
 who founded and runs a growing list of brands that includes 
Bagatiba
,
Basic Swim
,
Jeu Illimite
, and
Petiue
.
Andrews talks about her small empire so casually that it might take you a moment to realize just how brilliant she is. With no prior experience in the fashion world, she's managed to get her pieces on Kendall and Kylie Jenner, Kaia Gerber, and a long list of It-girls, and she's only been at it for a total of six years. Even more impressive, Andrews is basically a one-woman show: She designs, organizes, packs, and even ships her stuff herself; it was only recently that she hired another person to help her out. Plus, her success is based on merit alone. Jessie is quick to admit that she kept her identity hidden at first, simply because she knew the stigma associated with her
porn career
.
So what made her pursue fashion? How did she get her start? What have been the most valuable lessons she's learned, and what's next for this multi-talented human? We found out when Andrews visited our office for an amazing photo shoot and an eye-opening chat.
---
Were you into fashion as a child?
"I was a tomboy and didn't really get into fashion until I was older. I grew up in Miami and went to a public school, and we had uniforms. The [only] individuality that you could have was, like, your shoes and the color coordination. You wore Converse or Vans, and either white, black, khaki, or navy blue. And you wore a white polo shirt and Dickies. Or a skirt if you wanted, but I always wore pants."
What did you originally want to be when you grew up?
"When I was young, I was like, 'chef...firefighter…' You get all these careers pushed on you. But in high school, I remember thinking, 'I hate school, and I never want to go to college.' They don't give you the option to be an entrepreneur—they say you have to go to college, become an architect, get a PhD in this or that. There's nothing that says
you can own your own business
, you can make a living without having to do one of these long, waited-out careers, like a doctor or a dentist. I think that's all part of a bigger thing—saying you have to get married, saying you have to go to college, that you have to open the retirement fund. We're programmed to do these things, but there's no rule book that says you have to, and I think career choice is also one of those things."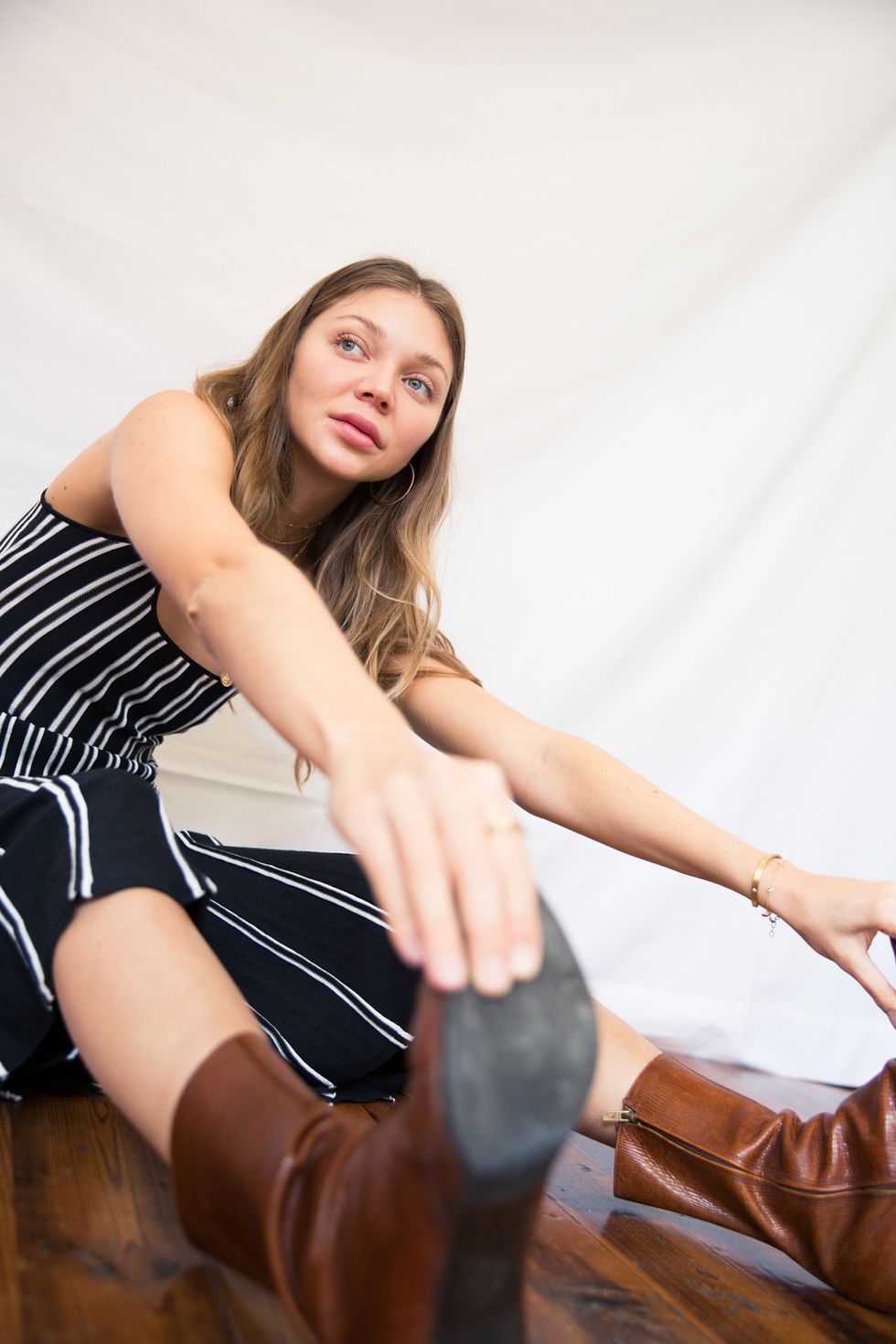 Do you remember the first thing you designed?

"I really got into design around 19 or 20, when I started Bagatiba in 2012. I found one of those amazing finger bracelets in a store—where a ring is attached to a bracelet—and I was like, 'Wow, this thing is beautiful.' It was a couple hundred dollars, and I'd never worn jewelry before because I hated taking it on and off, so I didn't know how much jewelry cost. I thought, 'Who's going to buy that? There must be other girls who want the same piece, but not for a couple hundred dollars.' I had a guy friend who made men's jewelry, and he took me to the place where I still make my jewelry [and they made it for me]. I was like, 'That was so easy!' Now they make most of my stuff. I'm like, 'Here's this design. Can you do 10 pieces for me?'"

You've said in the past that your background in porn made you fearless. Can you elaborate on that?

"Porn is a career where you're judged on every single thing you do, from your looks, to your body, to your mentality, to the way you can act. I think learning that at a young age has just helped me become who I am today, and not fear being judged. I've read the worst things [about myself] on the internet, I've taken the worst photos, so there's nothing that I fear. Going into something new, nobody can say anything or do anything that will make me be like, 'Oh no! I'm going to have a bad day!'"


You've had a few different careers in your life, so what made you pursue designing? Was it just more fulfilling?
"Porn and deejaying were careers that I knew weren't going to have longevity. I wanted to be able to build a future for myself, so I had given them a time cap. When I felt that I did as much as I could in that career, I was like, 'OK, what's next?' Designing is fulfilling, but I think owning your own brand and learning every different aspect of a business is what keeps me fulfilled and occupied. In the morning, I'm going to the sample maker; in the afternoon I'm going to find buttons; at 1:00 PM I have a marketing meeting with a beauty company—there are so many different little avenues that keep me busy. I know that when I'm like, 50 or 60, I could still sit here on my email like, 'Hey, what do you guys think about this?' My mind is what's going to keep me going. If I break a hand, it's OK. I'm still going to be able to work."
How does lifestyle come into play with your brand?
"I think my market is girls who are very consistent, rather than the girl who's [into] every trend and wants everything that
Kendall Jenner
and
Bella Hadid
are wearing every week. That's not my kind of style. I like to wear the same things, the same kind of pattern, but different variations, mixing, matching. I can remember wearing the same summer dress five years ago. Sometimes I look at brands, and I'm like, 'Every collection could be a new girl,' and you lose your customers from that. The French, laid-back girl is not gonna want to be the
I.AM.GIA
girl next season, and vice versa.
"As I get older, I imagine I'll design more contemporary pieces. Even with my jewelry design, I've gone more minimalistic and then abstract sometimes, but I still keep the core layered necklaces. The same with Jeu Illimite—I'll do a flare pant, and then I'll do summer dresses, but I still keep the core aesthetic and that core girl that I want to portray. She's a very natural, easygoing girl."
Would you say you're more of an independent worker?

"Definitely. I've never really been a relationship kind of person. I spent a good five years alone building all the brands and businesses, and I think that's really contributed to how successful they are. The brands were like my significant other—I'd wake up and do everything for the brand. I believe in the saying 'If you want something done right, you need to do it yourself.' Or you need to be a very good delegater and teacher. I've taught [my assistant] certain things that I want her to handle, but there are still things like production, and billing, and taxes, and communicating with magazines and stylists [that I do]. If you were doing business with someone, wouldn't you rather talk to the CEO than somebody who's under them? That's how I think. I'd much rather work with the person at the top, who knows every avenue, than the tenth person down, who's lost some information along the way and could tell me something wrong."

What's the most important thing you've learned from running your own businesses?

"When you say you're going to do something, you have to do it. If you put it off, it just creates so much mess. When I need to do something, I write it down. Even if it's just a tiny little thought, I'm like, 'I have to do this. I have to send this email. I have to mail this out. I have to stop by the cleaner.' I'm just very adamant about doing things when I say I'm going to do them, because I want other people to do the same. If I'm waiting five days for an invoice, I'm like, 'Why do I need to remember in five days to remind you again? I just want to remind you once, and then you do it, and that's done, and then the problem is solved.'"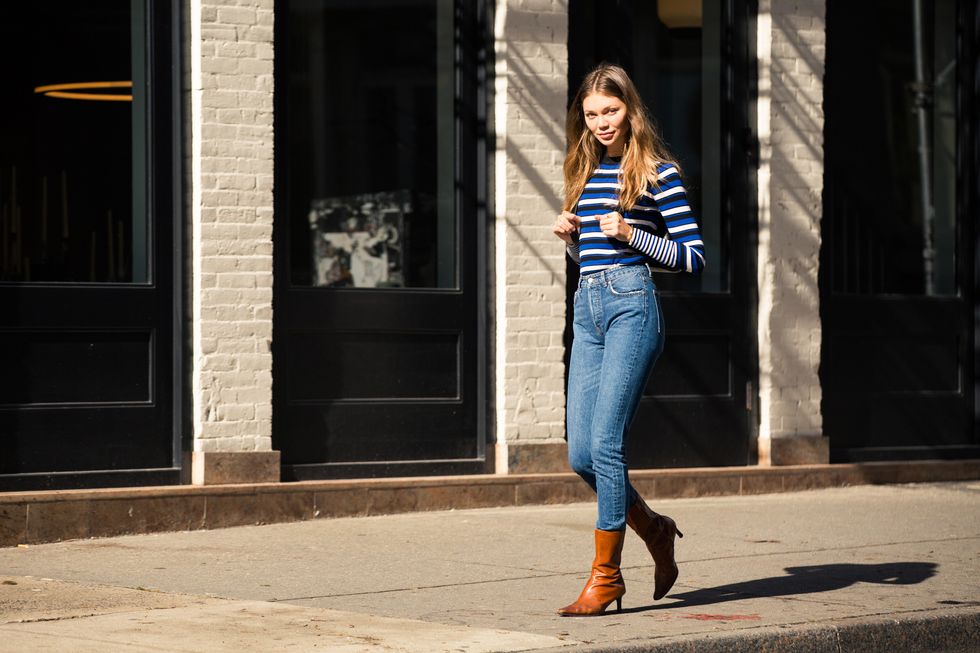 Do you have plans to do anything else, or branch off into another space?
"With
Virgil [Abloh]
being appointed to Louis Vuitton, it's exciting to see somebody with no prior experience in fashion prove that you can make a brand [like Off-White] from nothing and be competitive with other brands. You don't have to be a fashion student to create a big brand, and you don't have to have education and experience to be appointed to a big brand. It's really exciting, because it opens up the future. Maybe when I'm 30—just as an example—I can be appointed to something like that. Maybe the message I use with branding and building a business can be applied to a bigger brand, because I think that's what those big brands are looking towards. That could be the goal for the future. And also, just to keep evolving my brands and reinventing the way that business is done
—
reinventing scaling, because I think there's a problem with scaling in the world. You always think you need an investor and more money, but I think if you grow smaller, you grow smarter. Then I'm doing a sun care, skin care line that launches later in the summer. After that, that should be it. But I always say that, and there's always one more thing [
laughs
]."
What's something that you wish people asked you about more often?
"Innovating. People probably don't know that a lot of the things that I create now are multi-wear and multi-use. Like, I'll create an earring that can be worn two different ways; I'll create a clip on a bikini that you can take on and off when you want to tan, so you don't have the marks on you. And a dress or a romper that you can tie six different ways. I really love American Apparel for that—they had those dresses that you could tie all the crazy different ways. I hate the fashion of wearing one thing once and throwing it away, so I really try to make everything I do a multi-use product. I think at the end of the day, everybody's doing the same hoops and the same necklaces and stuff, so it's how you innovate those products."
Want more stories like this?
You'll Probably Spot the Dress of Your Dreams Inside This Designer's Closet
These Necklaces Are Perfect for Layering
Let's Talk about Porn