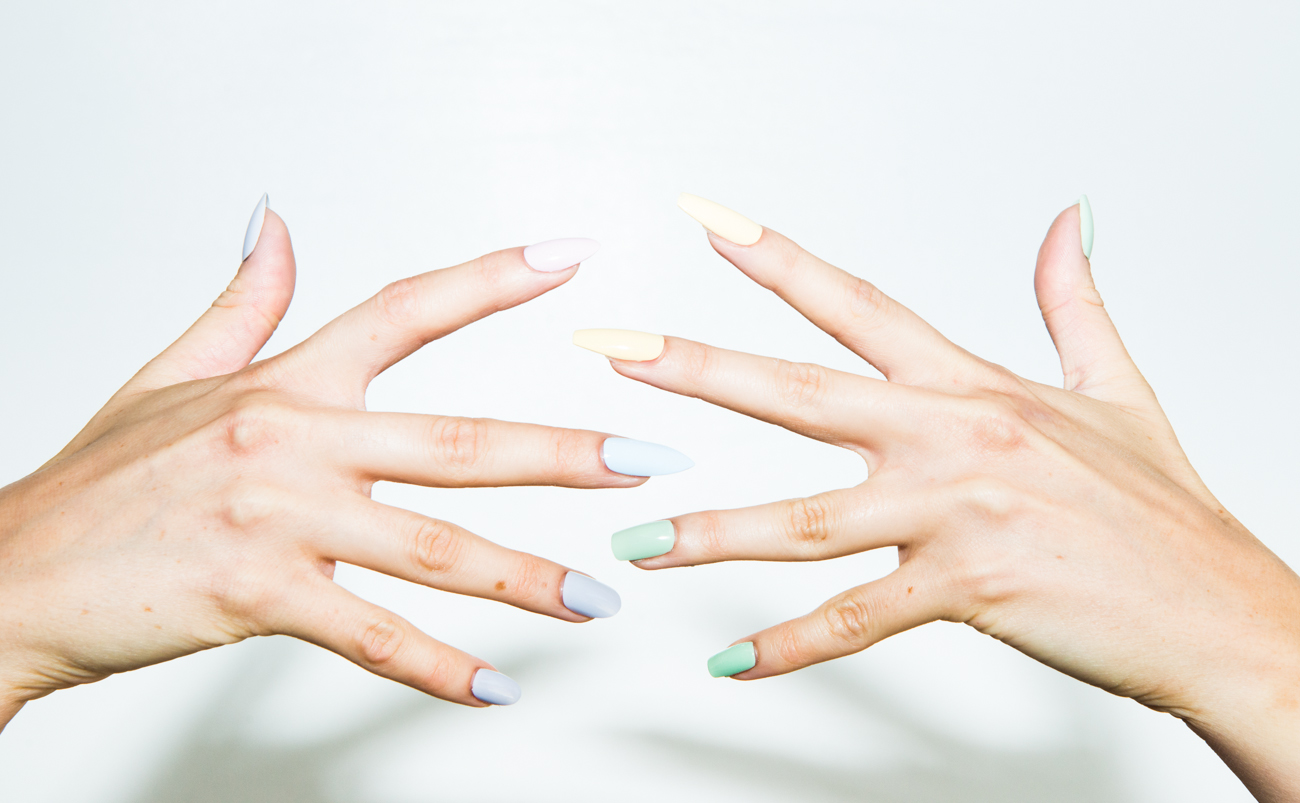 5 Nail Shapes (& How to Get 'Em)
Almond? Coffin? Stiletto? Fariha Ali, aka @nailjob, shows us how it's done.
Occasionally, beauty crosses over from general upkeep right into the borderline baffling. Just when we're getting the hang of curling our eyelashes, it's as if we're also expected to have magician-like makeup tricks in our back pockets. Turns out the phenomenon extends right over into nails, too—right when we thought we were ready to call it a day, as we'd mastered the at-home gel mani, it turns out there's a whole other side to our nails we hadn't taken into account: shaping. As in the fact that there's a whole lot more beyond deciding on square versus round. So during a recent trip to Los Angeles, we chatted with Fariha Ali (her Instagram, @nailjob, is not to be missed) to try to get a handle on the shaping situation. Here, she introduces us to the five most popular nail shapes and how to get (and keep) them.
Almond & Oval
Also known as...the "I have at least 10K on Instagram"
Fariha says: "The only thing that can be said about transitioning [shapes] is that most people need to start out with squares when their nails are short, then file to oval and then taper further to an almond. It's much easier to maintain longer natural nails with the almond or oval shape, since the sides are less prone to impact and wear and tear. The only issue with these two shapes is that it does need some practice to achieve the perfect filing technique. It's better to go slow and steady instead of over-filing on the sides. I love light pinks, creams, pale yellows, and white with almond or oval nails of any length. Almond nails are really in right now, so when juxtaposed with trendy grey-tone colors like sage, periwinkle, dusty rose, dusty lavender, you can't really go wrong."
Round
Also known as...the ladylike one
Same thing that goes for square, goes here—Fariha says: "Protecting your nails with gels usually helps to grow them out to desired length. A lot of people give gels a bad rep, but gels aren't bad for you; improper application and removal is what does the damage. No matter how tempting it may be, don't peel them off your nails! Find a good nail artist, and stick with them. If you don't like wearing gels or other enhancements on your nails, massage oil or balm on your cuticle area daily, as it increases blood circulation to your nail matrix and encourages healthy growth. You can also opt to wear nail hardeners, such as OPI Nail Envy or Duri's Rejuvacote, to keep them from breaking."
---
Coffin
Also known as...the "how do you type with those things?"
Fariha says: "A true coffin shape is usually only possible on longer nail lengths, and it's possible to transition to coffin from long almonds or squares. I would suggest to get professional help when doing the first reshape, and then maintain the shape at home with the help of a 180-grit nail file. To achieve the coffin or the almond shape, you can start tapering the nails when they are starting to grow, but just be aware that they won't look exactly like what you want them to be from the get-go. Though some shapes are most suited for longer nails, feel free to try out short versions of the coffin, almond, and ovals on yourself, and see how you like it."
---
Square 
Also known as...the OG
Fariha says: "Square nails are pretty straightforward to maintain when kept short because filing that shape is very DIY-friendly, but when you try to keep it long with natural nails, that's a different story, as it tends to break on the sides. If you're a fan of long nails, it's usually hard to have long nails and keep up with life, work, and fun without breaking them. Each shape can be worn with both dark and light colors, but in my personal opinion, I love dark plums, burgundies, and black with short squares."
---
Stiletto 
Also known as..."this one's the middle finger for a reason."
Love it or hate it, Fariha says: "If you are in the market for gel or acrylic extensions, I love the stiletto or coffin shape because they both give an illusion of elongating the fingers."