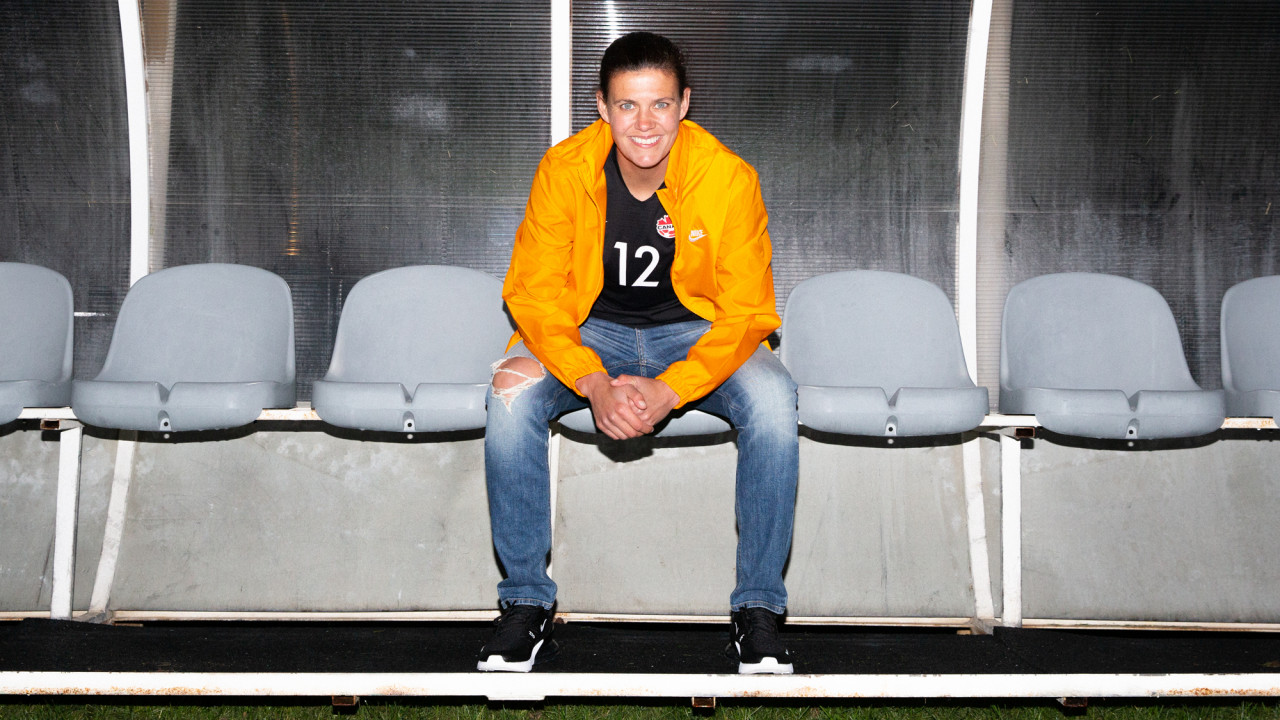 The Canadian Women's National Soccer Team Eats Pancakes Before Every Game
Christine Sinclair chatted to us about anything from the team's pre-game rituals to how she stays on top of her mental health.
As we're sitting and chatting World Cup with British Columbia native Christine Sinclair, captain of the Canadian women's national soccer team, she pivots the conversation to her Pomeranian, Charlie. Sinclair is not one to boast about her achievements; she'd rather sit and talk about how amazing her teammates are, or how much she loves her dog and two nieces. Casual, considering she's only four goals away from breaking the world record for highest number of goal scores (the current record is 184).
Soccer has been a huge part of Sinclair's life since she was a little girl. Her first memories of the game? "Being on the sidelines of my brother's soccer practices as a three- or four-year-old and wanting to play with him." But while she always enjoyed the game, she didn't necessarily always know that she could make it pro. "I was 11 [years old] or something, and my provincial team coach told me, 'If you keep this up, you'll be on the national team at a young age.' I was like, 'OK, sure, Coach.' It was one of those things like, I didn't even know that was possible." At the age of 16, Sinclair joined the Canadian national soccer team. Since then she's gone on to play professionally for FC Gold Pride, Western New York Flash, and Portland Thorns FC (where she currently remains), win two Olympic bronze medals, and become the most successful soccer player to ever play for Canada.
Where she gets her competitive drive from:
"Probably my family. We are a very competitive, athletic family, and you have to fend for yourself, absolutely. And I think just having an older brother. You know that love/hate relationship? [We had that], especially when we were younger. Best friends until mortal enemies."
She credits those around her for her success:
"I think my teammates are the reason for my success. I mean, I've been blessed to have incredible teammates [and] incredible coaching staff that have helped pave the way and helped me become the player that I have become. I'm talking even back when I was a little kid. [Also,] my family is incredibly supportive. We were joking that they never let my head get too big. I'd score a hat trick, and they'd be like, 'Well, you missed five others,' so there's that balance. [laughs]. Yeah, we're an athletic family."
Her first pinch-me moment happened at the age of 11:
"I was watching the '99 Women's World Cup in the U.S., I was fortunate to be able to go down and watch a few of the games in Portland, and I remember sitting in the stands being like, I'm playing in the next one. That was an aha moment for me."
Pre-game rituals include pancakes and music:
"We all have our own individual thing. The main team one is that we have to have pancakes in our pregame meal, which we didn't have before [one of] our last games. They were testing us or something. But for me personally, I have to listen to Michael Jackson's 'Man in the Mirror.' What else do I do? I walk the field before the game doing the same thing. That's about it. I'm not that superstitious."
How it felt for the entire team to become sponsored by Nike this year:
"I think it's a massive step in the right direction for this sport and this country. When people think of Nike, they think of, if not the biggest athletic brand in the world, then one of them. To now be associated with a brand like that is incredible. We're going to look like the world-class team that we are."
The feeling she gets post-goal:
"Some are like extreme relief. I don't know, scoring goals to me is fun, and I love the pressure associated with that. Just turning around after you score and seeing the excitement on your teammates' faces. Desiree Scott is the one that I always look to after I score because she shows her emotions."
How she stays on top of her mental health:
"We have a mental guy that travels with us, he's responsible for our mental well-being. It's a pressure-packed, stressful environment to be in. He definitely tries to help you embrace that and be OK in that environment. We have these neuro games and apps—we have homework when we're away from this environment. For me, the big one is a healthy balance of life and family and getting time away from here, even if we're in this environment, like going and doing your own thing and just checking out for a while."
She's fairly calm about the fact that she's close to breaking a world record:
"It's something I don't think about a lot. I get reminded of it a lot by Carrie [Serwtnyk] and my mom. Scoring goals has never been the actual thing that motivates me, that drives me. I try to focus on a couple things every game that will maybe help me score. It's never been my focus, but it will be an incredible honor. You look at some of the players' names that are on that list: Abby Wambach, Mia Hamm—I mean, those are two icons of the game. They're people that I looked up to growing up, so it would be pretty cool."
Her thoughts on whether women's soccer is getting the attention it deserves:
"It's getting there. For a large portion of my career, absolutely not, but the sport has been growing. You see that with every major tournament that passes. The quality of every team increases, the amount of fans in the stands increases, the coverage worldwide increases. You see the sheer number of professional leagues and quality of professional teams and the opportunities that females now have. That didn't exist when I started playing on the national team. This World Cup [was] another step in the right direction for our sport."
What she wants to be remembered by:
"I don't know, just a decent Canadian that hopefully helped change the sport in this country and inspired some young girls. We'll start there."
The advice she'd give to young girls:
"Find something that they absolutely love doing and they are passionate about. Obviously, I'm biased towards soccer and sports, but it doesn't have to be that. When you absolutely love what you're doing, you'll put in the extra work, and it actually doesn't seem like work. I don't think I've had a job my entire life, because I love what I'm doing so much. Sometimes those crazy, nutty dreams come true, but you've got to put in the work. There's no secret."
Want more stories like this?
Exclusive: Getting Ready with Alex Morgan for the Time 100 Gala
We Found the Most Expensive Sneakers on the Resale Market
Blake Griffin Loves Sunscreen Just as Much as You Do