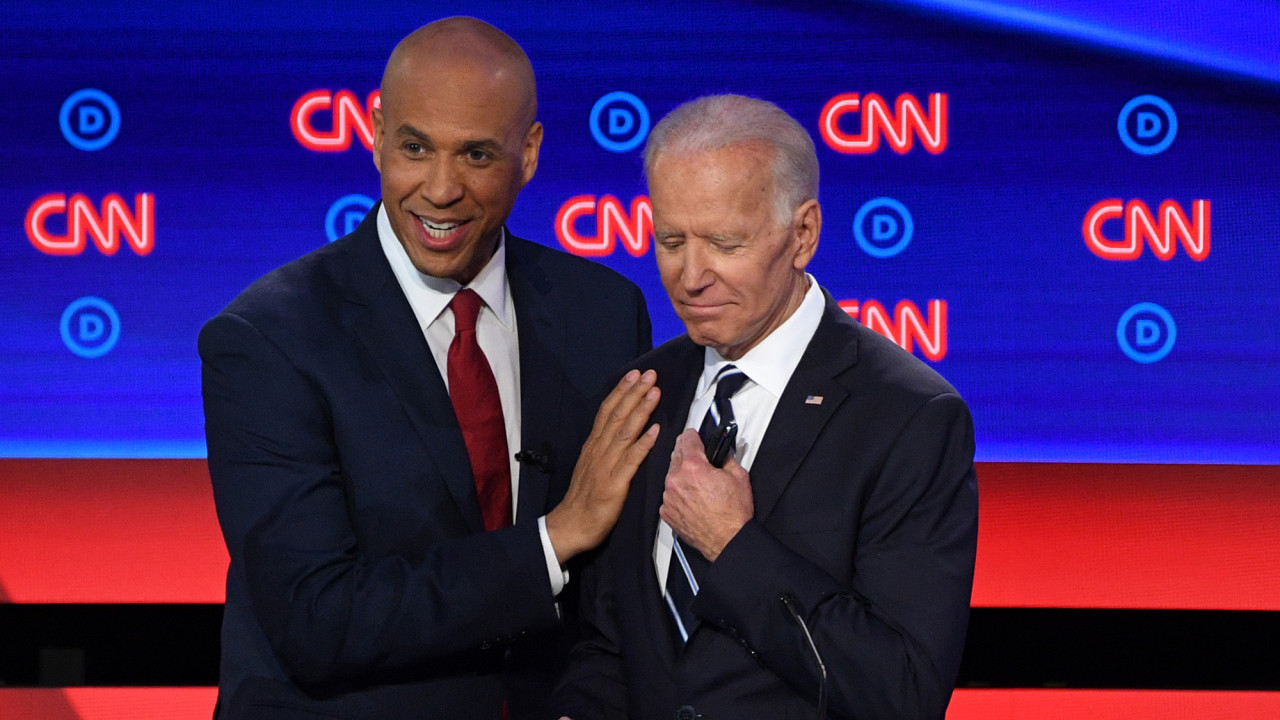 Who Really Won the July Democratic Debates?
And everything else we can't stop talking about this week.
This week on Open Tabs—an assortment of links we have on our open tabs—we're giving you a peek into our own internet habits and the stories and themes we can't seem to stop talking about, like new recyclable beauty products, HAIM's "Summer Girl" music video, Jeffrey Epstien's eugenicist fantasies, and much, much more.
1. Who Won the Second Night of the July Democratic Debates? (via Vox)
Well, as your regrettable 2010 Facebook relationship status once said, "It's complicated." Former Vice President Joe Biden and Senator Kamala Harris butted heads from the start, and both faced a barrage of questions about healthcare, immigration, and women's empowerment from the other candidates. Biden, who came across as ill-prepared to explain some less-than-progressive decisions in his political past, saw his ratings take a nosedive. Harris undoubtedly crushed him on the issue of race as Senator Cory Booker did with police reform. However, since Biden started the debate with nearly double the numbers of the next-closest candidate, Bernie Sanders, he is still in the lead.
2. 9 Beauty Brands with Brand-New Recyclable Packaging (via Byrdie)
If one thing was made clear during Wednesday night's Democratic debates, it's that there's an environmental crisis. Thankfully, one industry that has a history of less-than-perfect sustainability practices (looking at you, beauty) seems to be turning over a new leaf—everything from recyclable packaging to vegan ingredients. Head over to Byrdie to shop a few of the new players in eco-friendly personal care.
3. Meghan Markle Will Release a Capsule Workwear Collection Benefitting Unemployed Women (via Marie Claire)
Duchess Meghan Markle is teaming up with Marks and Spencer, John Lewis & Partners, Jigsaw, and friend Misha Nonoo to create a capsule workwear collection. For each item purchased from the collection, one will be donated to Smart Works HQ, a charity that helps unemployed and vulnerable women get back on their feet. We can probably expect streamlined silhouettes and sharp tailoring per the duchess's personal taste.
4. HAIM Make Stripping in the Streets of Studio City Chic in "Summer Girl" Music Video (via Vogue)
The Haim sisters secured their L.A. pop royalty crowns with the release of their new single, "Summer Girl." The Lou Reed "Walk On the Wild Side"-inspired track is a bit softer than the band's usual guitar-forward sound, featuring jazzy upright bass cycles and cooing vocals. In the video, the three sisters wear heavy winter garb, which they gradually remove as the montage continues. By the end, the trio are strutting through Studio City in denim cutoffs, beige and gingham bras, and a tube top.
5. Before He was Arrested, Eugenicist Jeffrey Epstien Had Plans for a "Baby Ranch" (via Elle)
If that's not the most terrifying thing you've heard all week, along with building a "breeding ranch" in New Mexico and planning to impregnate 20 women there, the multimillionaire was also studying how to cryogenically freeze his head and genitals in hopes of bringing them "back to life" after he died. In a desire to "better the human race," Epstien roped in Nobel Prize winners, best-selling authors, and an M.I.T. professor to work on new "transhumanist" technologies that would be used to manipulate the human genome. This information came after Epstien had already pleaded not guilty to accusations that he sexually abused dozens of minor girls. The trial is expected to begin next year, and prosecutors claim to have "one million pages of evidence" against him.
Photo: Getty