A Summer Afternoon with Camila Morrone
Getting to know the actress and talking life in Hollywood, films, and being a travel junkie.
Fashion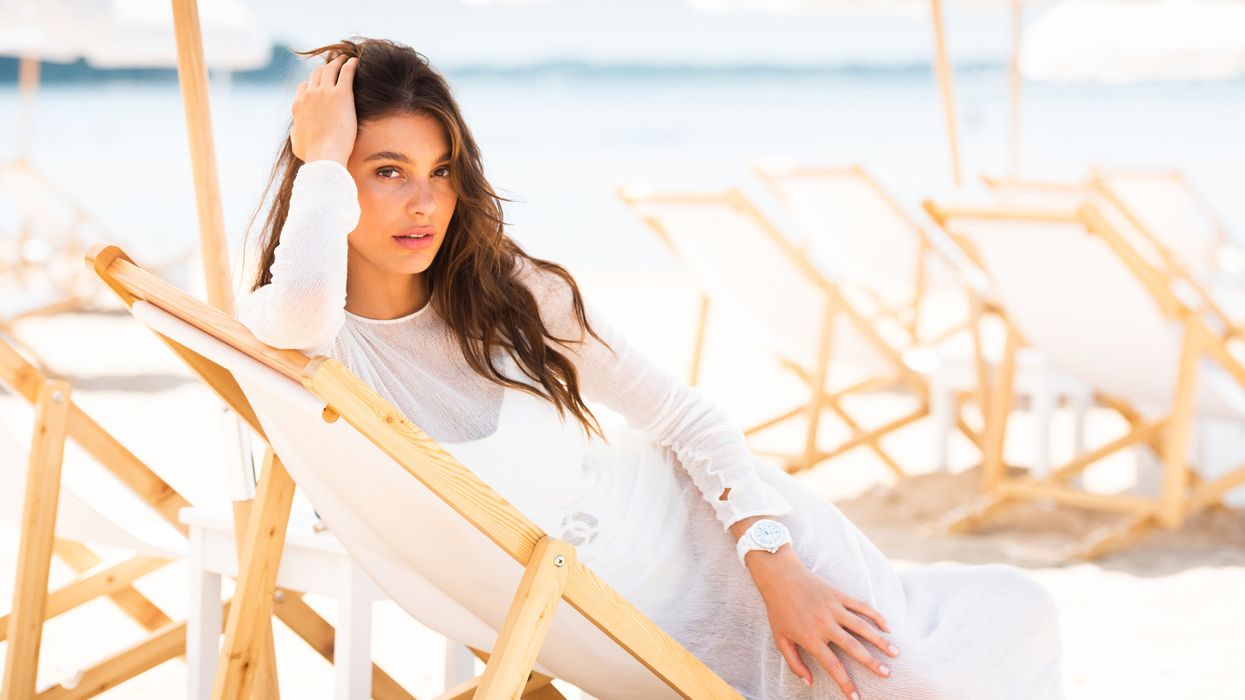 It's time you get to know
Camila Morrone
. And what better way than spending an afternoon with the model and actress on the beach at Shelter Island, flocking with CHANEL surfboards and lemonade. Let me tell you, it was a fun time! Morrone has the sort of transcendent personality that makes you want to hang out with her every day. "I loved being the center of attention at all my family dinners," she laughs.
The actress was born and raised in L.A. (not in Buenos Aires, like Wikipedia says, FYI). Her parents, both successful models and actors, hail from Argentina's capital, a place Morrone calls her second home. And if you know anything about Argentinians, you'll notice she's inherited the free-spirited characteristics synonymous with the South American city. "The Argentinian culture is pretty amazing! It's similar to Italian in the sense that it's very welcoming and open, and everyone invites you over to dinner at their house. It's kind of an open-door, open-arms policy," she gushed. Growing up in Hollywood, Morrone was surrounded by Hollywood elite—it only seemed natural she would follow suit. A successful career in modeling and a growing social media following set the groundwork for her pivot to the big screen. Now she stars in
Mickey and the Bear
, a poignant coming-of-age story of a young woman torn between staying in her rural town to take care of her veteran father with whom she has a volatile yet loving relationship, and breaking free in search of her own independence.
When we finally settled down from a day of surf and sand, and playing with CHANEL's newest J12 watch, we talked about how she maintains privacy in the age of social media, being selective with her projects, and the bad habit she just can't break.
---
On pursuing acting:

"I grew up in Hollywood with a family of actors. And I grew up going to auditions and sitting in a waiting room rehearsing lines with my parents when I was older. So I really was in a world where I felt very comfortable and familiar with Hollywood and with acting. I saw my parents and their friends and the group of people that we surround ourselves with really struggling as actors, and I saw the ins and outs of it and the pros and cons. So I was kind of turned off for a couple years by it. But secretly, deep down I always had a passion for it because I loved being the center of attention at all my family dinners [laughs]. I loved being in all the plays, and I always had a really big personality. So it was in me probably since I was really young, and then I didn't really come to fully recognize it and admit it till I started to pursue it fully at 19."

Mickey and the Bear is a powerful film. How do you select your projects?

"I'm really selective with the things that I go out for because when I'm not passionate about something, I'm genuinely not good at acting [laughs]. So I have to really like and feel some sort of connection to what I'm going out for, or else it's really genuinely hard for me to play something I have no connectivity to. When I read Mickey and the Bear, I didn't even finish the script and called my team and was like, 'I'm doing it.' When I ended up booking the job, I went back and reread the script because I hadn't finished the last 20 pages or so, and I fell even more in love with it. I was like, wait, the ending is crazy; how did I not finish this? I was just really attracted to Mickey's relationship with her father, her coming of age, her internal struggle between family and herself. I thought it was a beautifully written story and something very important to share—I think this is a dynamic that exists between some father-daughter relationships and veteran relationships. So it had a lot of really important elements that someone looks for."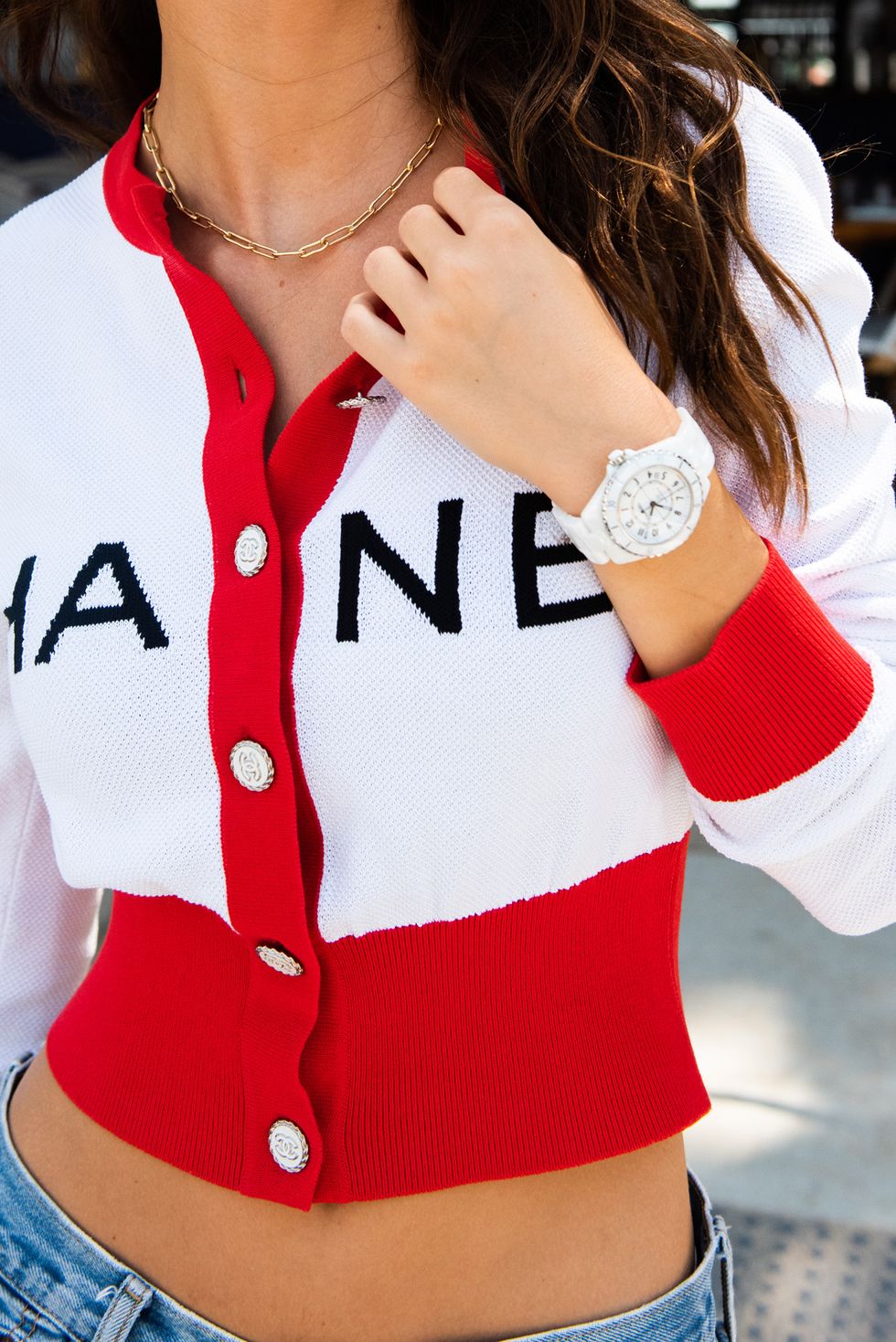 There were so many little nuances...

"It was a complicated relationship, which I feel like most family dynamics are complicated, especially between daughters and their fathers and mothers. It's never black-and-white, and it's never linear. So I loved all the complexity and how close they were but also how distant they were in so many ways."

Were there any scenes you got stuck on?

"I always say this because it's interesting; the scenes you read in the script that are initially the most terrifying and daunting, when you shoot them, end up being the easier ones. Then there are the small, little scenes that are just a couple lines and nothing too big is happening in the scene, but that's where I always tend to get stuck—the smaller, more minuscule, simple stuff, I start to overthink it. That last scene of the film, where Hank and I have our interaction, the straw that broke the camel's back, was a serious thing to shoot because it was one take."

Did you learn anything about yourself during filming?

"I learned a lot as an actor. I also learned about myself. This was a beast that I was very scared to tackle, and to be completely honest, I wasn't sure if I was going to be able to pull it off. Which is probably not the right thing to say, but it's the truth. Being far from home and shooting really long days, it was definitely challenging at a lot of points, but I found quite a bit of resilience and endurance in myself that at the end of the shoot, I was very proud that I was able to accomplish it. You surprise yourself when you're able to do things that you were maybe scared of or doubted yourself in."
Do you have other creative outlets?

"I like to think that I sing...and then, when I put myself on auditions to sing, I don't think that I sing as well as I think in my head, so there's that [laughs]. I like to think that I play the guitar, but I'm quite bad at it! I think I put all my creativity into my acting because it seems like my other things are all much better in my head than they are in reality [laughs]."

How do you navigate what to share and what to keep private on social media?

"I'm always kind of dealing internally with how I want to just disappear on social media, and then I sometimes feel like I want to share everything. So I'm always in between the two extremes. It's a really interesting balance; I think that with social media you have to make good judgment and not share things that you feel may be personal to you. I'm pretty open, and if I feel like sharing something, I don't really put much thought into it. I don't know, I find social media to be a great way to share your work, to share things that you're proud of, to share things that you're passionate about, to bring awareness to things. I mean, the way that social media has changed in the past couple of years; now I have all my friends posting about climate change, about the election, about politics, and there are things that I find out through social media that I didn't see on the news, and that's the first place that I find out about all these things. It's really kind of interesting how that's such a powerful source."
Favorite Instagram account you follow:

"Ooh! @filmatic. I'm an old-movie freak—everything that's 1930s, 1940s, 1950s. It's your daily dose of cinema, and it posts new movies, old movies, clips from movies, behind-the-scenes from makeup on movies, and it's very entertaining if you're a movie fanatic. @natgeo! That was my other one, it's really cool. @roam, it shows weird, cool places in the world, and I'm like a travel freak, so I love it."

What do you always bring back from Buenos Aires?

"I always bring alfajores, which is an Argentinian dessert, and dulce de leche. I usually come back with [yerba] mate for my friends and some gaucho products, whether it's a poncho or a belt."

What's on your travel list?

"I went to Thailand for New Year's, and there were so many countries that I was like, god, I have to come back to see Bhutan, Vietnam, and Laos. I would definitely like to do a big Asia tour at some point and go hiking and backpacking through Asia."
Are you good at surfing?

"I have a kind of funny story. My dad would take me out to Santa Monica and put me under the biggest wave because he thought that was the best way to teach me how to surf. So after I got pummeled by a massive wave, I promised my dad I would never surf again. He would just buy me surfboards for my birthday, and I told him that I hated surfing. It was really just so he could end up taking them, but he used me as an excuse to buy surfboards. [Laughs] So I'm not a great surfer."

Your perfect summer day:

"My perfect summer day would be maybe riding bikes or playing volleyball; being by the ocean, which we have here in California, and anything that's outside, and good beach food."

Any hidden talents?

"Hmm… Wow, I make myself sound really boring here, don't I? When you ask these questions I'm like, geez, I don't really have any hidden talents, do I? I can speak three languages, I don't know if that's a hidden talent. I wish I could say that I can make cool noises or I can impersonate something, but I'm actually not great at any of those things."