In the Kit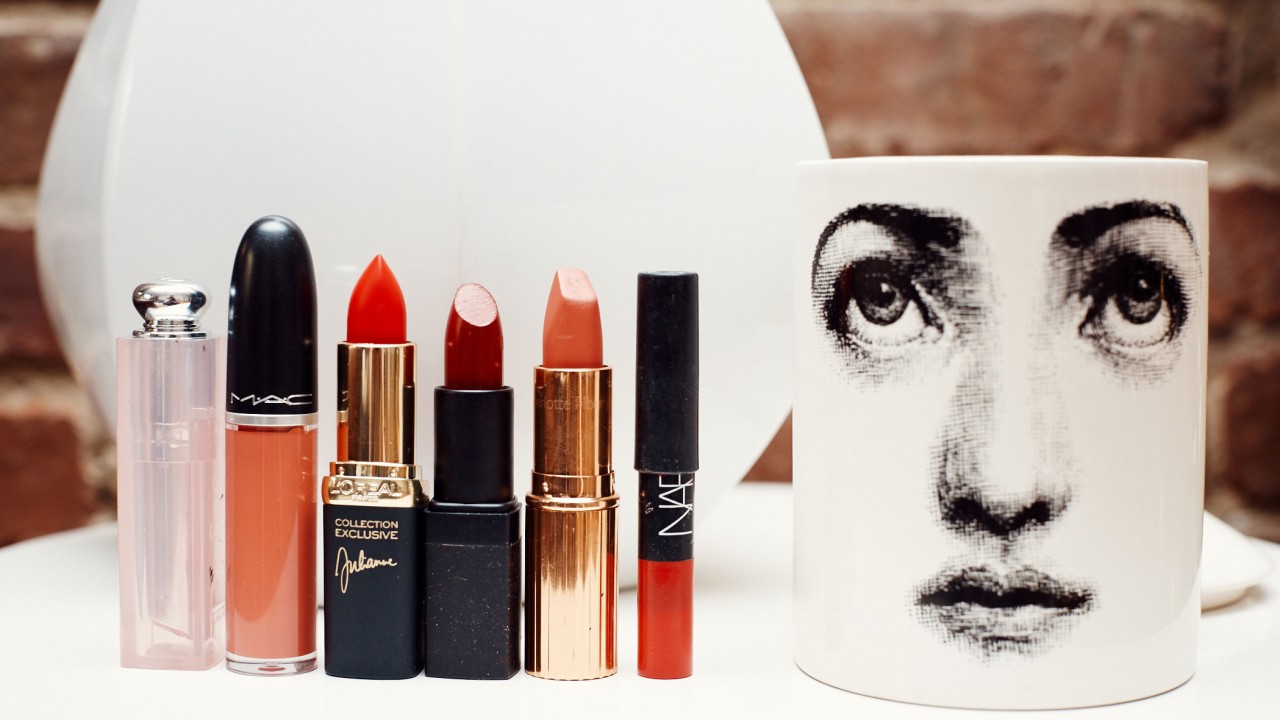 How to Get Kendall Jenner to Call You Back
Makeup artist Aidan Keogh on the model's favorite lipstick shade, and the importance of building relationships.
Aidan Keogh may have known he made it the day Charlotte Tilbury called asking him to do makeup for Tom Ford's show (in which, um, Beyoncé casually walked). Or that time he was tasked with doing makeup for Hilary Rhoda for her debut Lui magazine cover. Or it was probably the time he painted Kendall Jenner's face for the the seen-pretty-much-everywhere Rock The Vote campaign. But after visiting him at home in his sunny Chelsea apartment, we like to think it's Keogh's approach to the whole industry that really sticks out. As he told us while we raided his makeup kit and swatched products, "For me, success is working consistently. I believe in being authentic, my big thing is that anybody can get a job, but who you are gets you asked back." Which is precisely what got him to where he is today, serving as Kendall's go-to makeup artist when she's in New York City.
Besides his career trajectory, the Honey makeup artist filled us in on his skincare advice (investing in skincare is just as important investing in as a new bag), beauty tips (mix in a couple drops of oil with our foundation to keep dry skin looking glowy—even in the coldest of winters), top three favorite mascaras (including drugstore favorite Maybelline Great Lash), and natural beauty philosophy ("Everybody has beauty, but it's knowing how to draw [it out].") Let's just say that his approach to life and makeup is something we can definitely get behind.
Who he looks up to and how he got his start:
"I got my start working with models backstage, they started asking for me for events and endorsement jobs. I was introduced to Nina Agdal, who was really a big part of my development. I'll always have a special place in my heart for her, we came into the industry together. When girls start to like your images on Instagram you know you're doing something right. Some people measure success by having 5,000 likes on an image or whatever. For me, success is working consistently. I believe in being authentic, my big thing is that anybody can get a job, but who you are gets you asked back."
Some of his pinch-me career moments:
"My big moment for me when I realized I was doing something I loved to do was when I got a call from Charlotte Tilbury's agent saying, 'Charlotte's working on a secret project and she wants you to come and do makeup.' The day before we learned it was Tom Ford's return to womenswear and the models were Beyoncé, Natalia Vodianova, Rita Wilson, and Julianne Moore. I was backstage thinking, 'I'm a little boy from Cabra, Dublin, here on Madison Avenue in Tom Ford's boutique with all these huge stars!' That was a big moment in my career, I realized I was doing what I was supposed to.
"Charlotte Tilbury is the makeup artist I can relate to most when it comes to aesthetic. She always makes girls look really beautiful or really sexy. I admire Diane Kendall, Tom Pecheux, and of course Pat McGrath—she's mother makeup."
What it's like doing makeup for Kendall Jenner and Hilary Rhoda:
"Word spread and Kendall Jenner was calling. The first time I worked with her she wanted a red lip, groomed brow, natural skin and lashes. I did the makeup in about thirty minutes, she looked in the mirror and went, 'Yup, that's great, thanks.' I thought, 'Okay, that's good…' Then she asked for me again for MTV's Rock the Vote where I did a red lip combination of Nars Dragon Girl and Estée Lauder. And that was seen by everybody. I went back to work with Kendall again and she said, 'Do exactly what you did the last time.' We did just that except I used a different red, an Estée Lauder x Victoria Beckham coral red. I gave the lipstick to Kendall at the end of that day.
"I recently shot four covers of Lui magazine with photographer David Bellemere. In America, Lui doesn't have an equivalent—maybe Playboy—but Lui in Europe is so chic. Every girl in the world wants to shoot Lui, it doesn't matter what your status is. Hilary Rhoda said that one of her dreams was to do a cover of Lui and she brought it. You could see the confidence come from inside, it made it even more magical and she was able to bring a whole other level to it, so kudos to her."
His "less is more" approach to creating a luxe look:
"My ultimate goal is to make people look expensive. And expensive can mean not a lot of makeup, but still really beautiful and chic. I like to make skin look great, so I use a lot of creams, texture, and minimal powder. Creams just give a whole other dimension to skin, and who doesn't want to look fresh and luminous?"
His beauty tips for dry skin and how you should apply foundation:
"Regardless of skin tone or type, prepping the skin is like laying the foundation of a house. Once the skin looks good, everything is going to sit perfectly on top. I'm a huge fan of Darphin and their amazing HydraSkin serum. First I clean the skin, then warm up the serum in my hands and press it into the skin. It's super hydrating and allows the skin to look polished, and then when you put makeup on it, it shows through.
"If your skin is a little drier, or now in New York City when it's bitter cold, I add a little bit of oil into whatever base I'm using to sheer it out. The Armani foundation, it's quite viscous so I like to put a little oil in it, so you still get coverage and consistency, but more control."
The OG products he keeps in his kit:
"I'm always on the search for hydrating mists, I have MAC and Caudalie, but I'm obsessed with the Allies of Skin Toner Mist lately. It's skin-healing skincare without parabens or fragrance. It's a little more expensive, but for your skin, it's like a good pair of shoes or watch, it's worth the investment.
"I'm a firm believer in quality and will only invest in something if I know that it's going to deliver. I can always rely on the amazing YSL Faux Cils Mascara—the first time I used it on Kendall Jenner she said, 'What is that mascara?!' I also love Diorshow for when you want to get right into the inner and outer corner or root. Then there's good old reliable Great Lash, I always go back to Maybelline, there's something magic in it. Every woman should have this as an in-between if you can't afford Dior or YSL."
"I'm big into illuminators because I like to make the skin glow, RMS is amazing for this on cheekbones, the bridge of the nose, and above the cupid's bow to accentuate a fuller pout. It photographs and wears beautifully. Pat McGrath's Metalmorphosis took over the world and is a staple in my kit right now."
Who's on his must-work-with list:
"I would love to work with Lupita Nyong'o, she is the most beautiful and her skin is just like butter. And Cate Blanchett, she is the epitome of style, grace, and elegance. I was an educator with a firm that prided itself on all ages, races, and sexes. One of the best trainings I ever got was being able to do makeup on any skin type."