WWWRN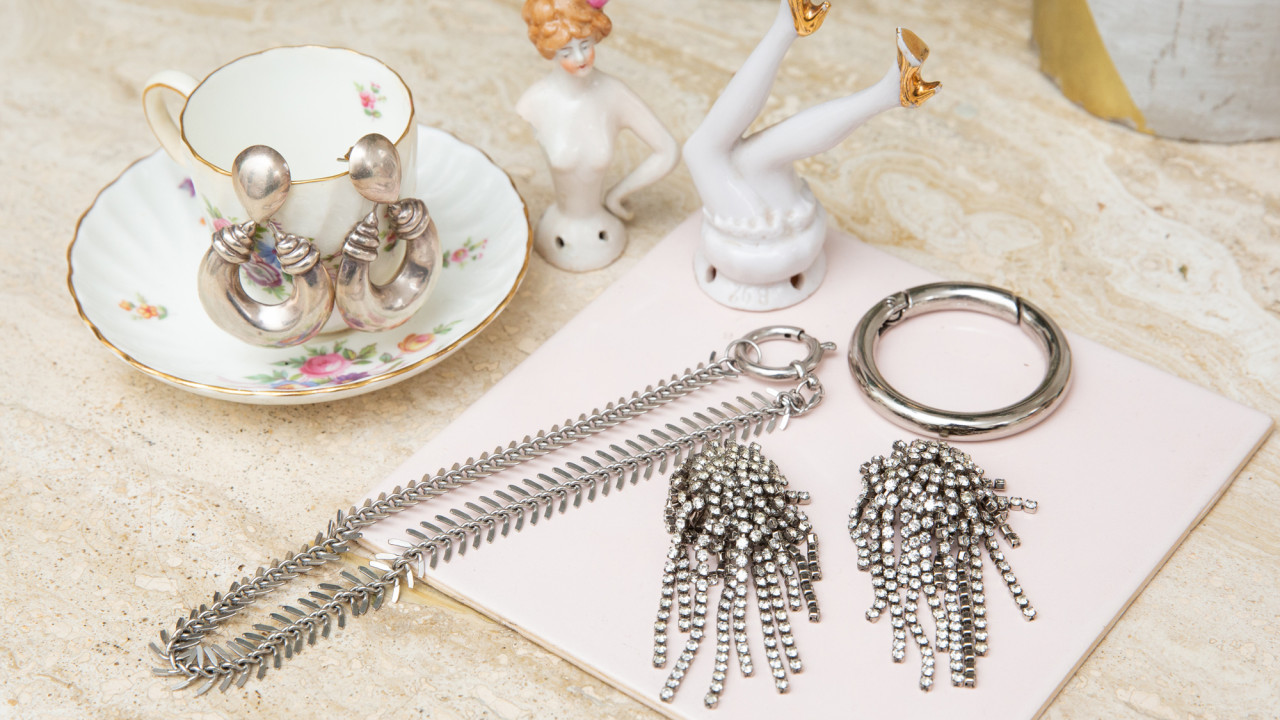 18 Pieces of Jewelry Our Editors Are Currently Shopping
Think gold, colorful, and stackable.
On any given day, you can look around Coveteur HQ and see gold necklaces layered on top of beaded chokers, stacks of dome rings and colored gemstones, small hoops, large hoops, sparkly studs, and dangly babies hanging from ears. We love jewelry so much that two of our very own, Daniella Deutsch and Noah Lehava, have jewelry side hustles. Since we're so jewelry-obsessed, no matter the season, we're on the lookout for new finds. Below, everything we currently have our eyes on.
---
Jodi Taylor
Editor
1. Shami Double Nameplate Curb Link Anklet: I love a good nameplate, so when I saw that one of my favorite jewelry brands, Shami, was making an anklet version, my day was made. I won't be taking it off anytime soon.
2. Lili Clapse Baroque Hoops: Lately I've been on the hunt for some more unique-looking hoops, and as soon as I saw these, I fell in love. The hammered effect on the metal is a detail I love, and you can't go wrong with a beautiful pearl.
3. Kiin Dare to Love Dome Ring: My ring collection is growing at a steady pace, and I'm all for it. This dome ring from Kiin seems like the perfect addition to my all-gold fingers—I love that it's easily stackable.
---
Noah Lehava
Director, Lifestyle and Talent
1. Ele Karela Serpent Drop Earrings: As you may notice by this row of pieces I've selected, I'm increasingly drawn to colored gemstones. There's just something so fun and whimsical about them. While this particular pair is no drop in the bucket, I'm adding it to the top of my if-I-win-the-lottery list.
2. Bea Bongiasca Baby Tendril Ring: Speaking of fun and whimsy, check out this ring! It's 10k gold and a bright blue enamel that snakes around your finger and will make you audibly squeal from its cuteness.
3. Jemma Wynne Fire Opal Studs: Oh my gawd, have you ever seen a color like this? The ladies behind Jemma Wynne know a good stone when they see it and turn it into a piece I always want to own.
---
Rachel Pickus
Social Media & Affiliate Coordinator
1. Cities in Dust Checkerboard Inlay Daisy Earrings: My personal philosophy when it comes to earrings is "the bigger, the better." So naturally, when I discovered these checkered daisies, I was smitten. While they're surely a statement, I find them natural enough to wear daily.
2. Nina Berenato Goddess Necklace: I'm sure you all have seen Beyoncé's music video for "Spirit" by now. And I'm POSITIVE you all noticed the golden face mask adorned by the Queen B. This, of course, led me to discover Nina Berenato. Although the facial gear is a bit too daring for myself, I'm dying to get my hands on this necklace.
3. Beck Jewels Millefiori Anklet: On my most recent trip to the beach, amidst the piles of puka-shell chokers, I came across a kitschy assortment of anklets. Since then I've been searching for the perfect anklet before summer comes to an end. No shame to the bedazzled dolphin, but I'll happily sport this beaded treasure instead.
---
Monique Kamargo
Editorial Producer
1. WALD Berlin Gold-Plated Shell and Pearl Necklace: As some of you may know, I have a strong love for all things shell. That being said, I've seen my fair share of shell accessories, but none like this necklace from Wald Berlin. Featuring a real shell pendant encasing two sweet freshwater pearls and handmade in Berlin—I cannot stop thinking about it. Yes, please!
2. Wwake 14-Karat Gold Multi-Stone Ring: Similar to Noah, my love for colored gemstones increases by the day. I was instantly drawn to the combination of pastel-colored stones in this 14 karat gold Wwake ring. It's the perfect piece for stacking or wearing on its own.
3. Adorn Monde Santana Gold Earrings: After recently purchasing a gold chain necklace, I can't get enough of the style. These earrings by Adornmonde are even more fun because they are asymmetrical, making them the perfect pair for mixing and matching with the other earrings I already own.
---
Hannah Baxter
Senior Beauty Editor
1. Hirotaka Gossamer Ear Cuff: Most ear cuffs are designed for the cartilage part of your ear, but designer Hirotaka Inoue has gifted us with an oversized style meant to be worn lower over the lobe. Since I already have a half-dozen tiny rings in that area, this is just another opportunity to shower my ear in diamonds. I need.
2. J.Hannah Duo Form Ring: You can never have too many classic gold bands, which is why a linked pair is ideal for any collector. I adore Jess Hannah's sculptural, minimalist designs, so clearly I need to scoop up this style as soon as possible.
3. Martine Ali Cuban Link Choker: As much as I love delicate gold pieces, lately I'm craving chunky silver necklaces that scream I live for hardware. Martine Ali's collection is my everything, and this Cuban link style is my latest purchase. I just throw it on with jeans and a white tee—easy and cool.
---
Leah Faye Cooper
Editorial Director
Part of the series:
WWWRN