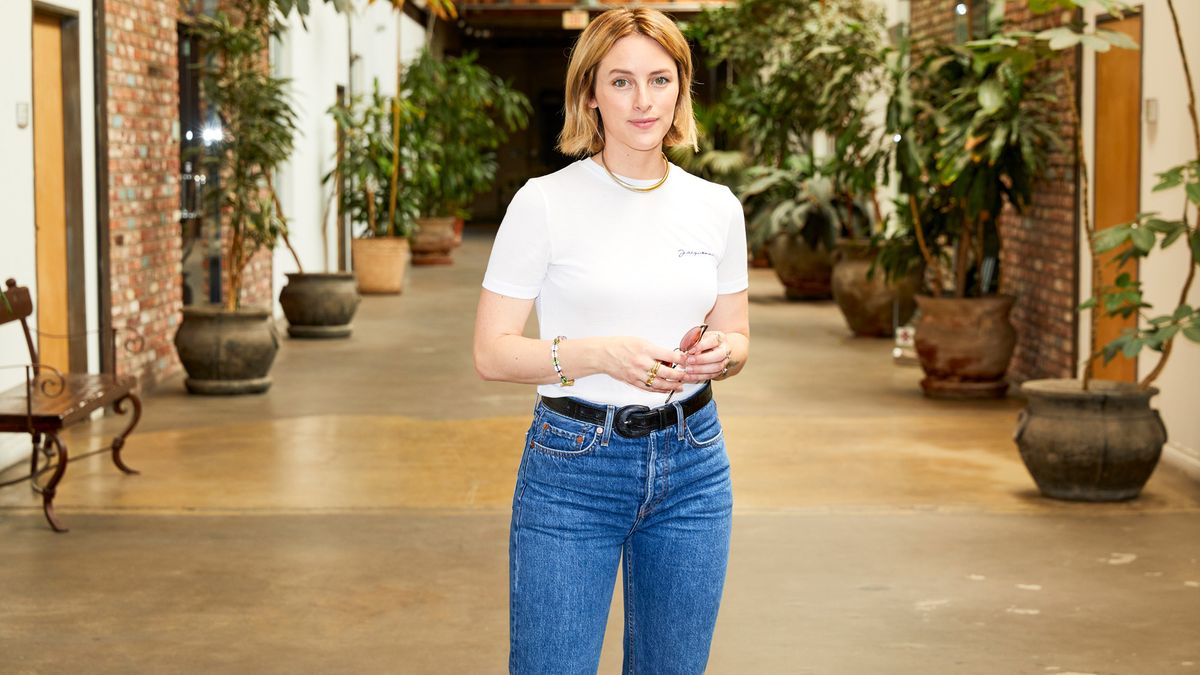 Career
The designer has been with Garrett Leight for close to a decade.
Tristan Kallas
"I often feel that people forget about the truly transformative nature of eyewear. It can create a character or persona," says 
Elena Doukas
, head product designer at Venice Beach-born optical brand 
Garrett Leight
. Our curiousity got the best of us, and we had to know how many pairs of glasses she owned. Her answer? A hundred pairs, give or take a few. NBD. As she pointed out, she has unique access to them, but she's also a believer in choosing glasses based on your mood. "I like to have something for every mood, whoever I decide to be that day," she explains. Something we can get behind.
Doukas has been with the brand for nine years, ever since she first applied to their Abbot Kinney store back in 2010. After a short time working the sales floor,
Garrett himself
requested that she try her hand at designing and, well, the rest is history. In the beginning she spent a lot of time working and traveling alongside Garrett, and now she meets with Larry Leight, Garrett's father and also the founder of Oliver Peoples (he and his son collaborate on
Mr. Leight brand
), on a weekly basis, working alongside him and referring to him as her "design mentor." To get a better feel for what a day in the life is like for Elena Doukas, we met up with the designer at the brand's headquarters in Los Angeles.
---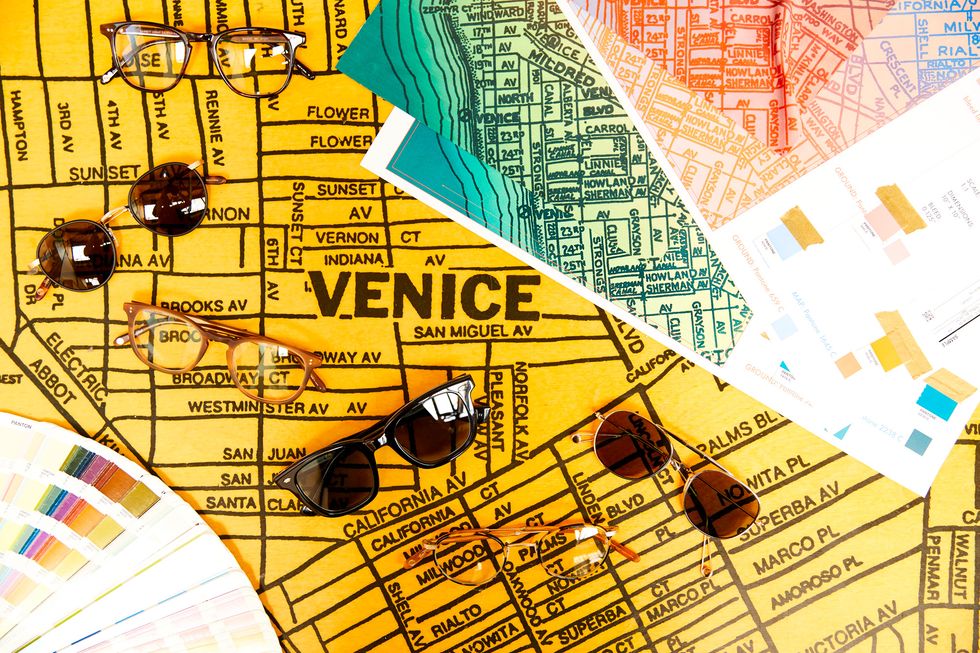 The designer actually grew up sewing:
"My mom taught me to sew at a very young age, really by way of necessity. If I wanted to buy something, first I had to try to make it. We lived near a Joann fabrics, and I would walk there and complain about everything—the fabric wasn't quite right, or the patterns were not the shape I wanted. My mom would help me alter them, but I never was quite happy with what I came up with. I was super envious of girls at school that could buy new outfits, and I would cut out photos from the Limited Too and dELia*s catalog and daydream."
But didn't immediately see herself working in the fashion industry:
"Even though I grew up creating things, I saw it more as a chore. I made a last-minute decision my senior year to move out to Los Angeles to go to FIDM [Fashion Institute of Design & Merchandising]. I worked for a small apparel company which gave me the opportunity to do it all
—
patterns, cutting, sourcing, packing orders. It was when fast fashion was really taking off, and our designs would be knocked off within six weeks. I was half naive about what the apparel industry really was, half realizing I wanted to work in a product category that wasn't as disposable as apparel."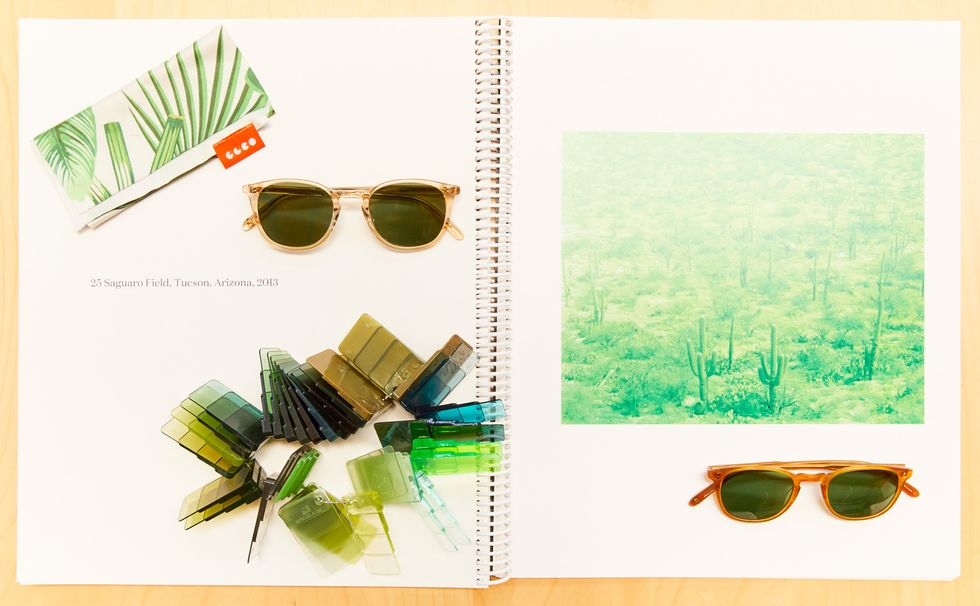 In 2010, she applied to the Garrett Leight store in Venice:

"A few things drew me to the job and the store. I knew I wanted to work in Venice on Abbot Kinney. There was such an incredible energy on the street, and I was inspired by the community of artists and interesting people—I had worked at a temp job on the street and loved it. When I met Garrett shortly after he opened his concept store, A. Kinney Court, I knew it was meant to be. What really sold me on the actual position was Garrett's passion. We were coming out of recession in 2010, and I hadn't met anyone nearly as optimistic as he was. In the interview Garrett was selling me on his five-year plan, and I drank the Kool-Aid."

And quickly transitioned over to the design team:

"Garrett offered me an assistant design and development position three or four months in, but one of his stipulations was that I continued working full-time in the store. I was also going to school to finish a business degree and originally turned him down. He finally convinced me to do all three, and I would work at his store and go to school during the day, and work on his eyewear line at night. About four months later we took a trip to our factory and selected the final assortment for the first collection. From there, I was hooked."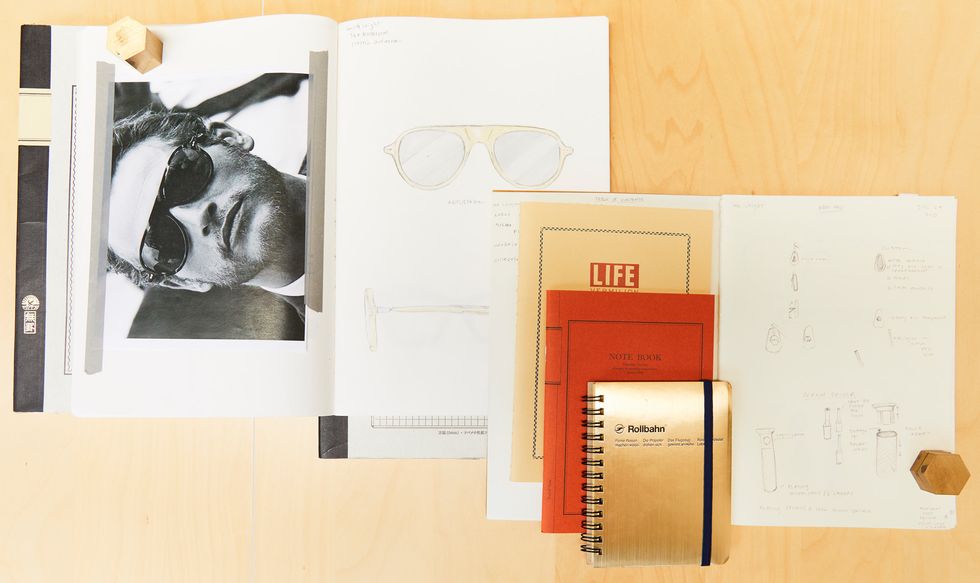 A little bit about what her time at the brand has looked like:

"[Working] in the store was the best introduction to eyewear. Before we had the Garrett Leight brand, we sold a lot of vintage, and that was when I really fell in love with the category. Getting direct customer feedback and working with frames all day long was an industry crash course.

"We got our first office right behind Abbot Kinney. We set up a warehouse and a lab, and Garrett and I did everything from design and marketing to customer service and packing orders. Garrett recognized our strengths, and the first jobs we hired were for operations and planning so that he could focus on growing the brand and I could focus on product. In 2012 we had outgrown our Venice digs and moved our office and warehouse to downtown L.A.. Today we still work out of the downtown office, where I hold the position of head of design and oversee an amazingly talented design and development team."

What a typical day looks like for Doukas:

"I start my day at home working out and checking emails. When it's not travel season, I like to go to the office. We have an amazing team of people, and [I] feel the most focused there. The design room is full of tools that I use, from a vintage collection of eyewear to acetate chips [and] countless lenses. The day-to-day really depends on where we are in the season, but for the most part, about half of my day is taken up with meetings. Whether it's our executive touch-base or a cross-department meeting on a collaboration, I have my hands in a lot."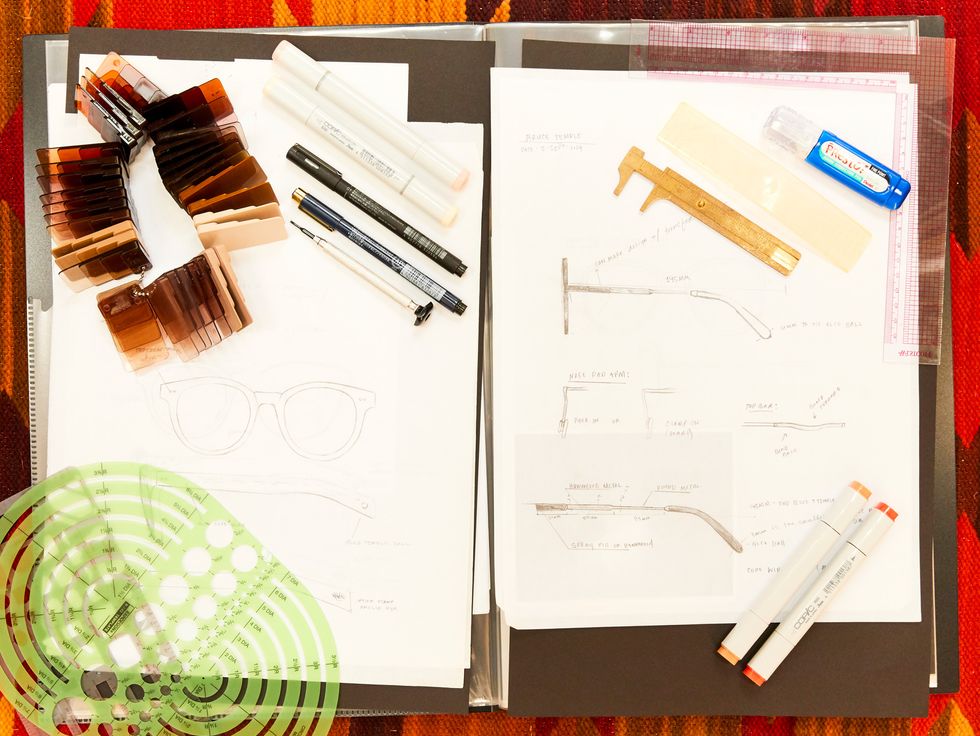 How the design process works:
"It takes about a full year from the start of a design to the time we receive the final product. It can feel long, but every step is important to make quality product from an original idea. We start sketching ideas in Illustrator, and after narrowing down the designs we like, we'll ask a factory to prototype them. It takes about eight weeks to get a prototype. Once we receive it, we do rounds of fittings before we make a tooling mold, which is the engineered cutout of the design the factory follows during production. The factories we work with have experience in aerospace, lock hardware, and costume jewelry, so they're very precise and follow an efficient manufacturing schedule."
Her favorite memories with Garrett and Larry:
"Garrett and I spent a lot of time together growing the business, and in the very beginning we would go on four- to five-week sales trips. Some of my favorite memories of Garrett is traveling around, catching trains, missing flights (mainly my fault), and meeting stores all over the world. There was one time I forgot my passport, which made Garrett and I miss our flight out of LAX. We ran into one of [his] friends who is a tattoo artist, and we all went back to the office and got tattoos. It was random and amazing.
"Larry and I see each other about once a week, and he's an eyewear encyclopedia! I feel very lucky to have him as a design mentor, he knows every reference and can instantly look at a drawing and spot the areas that need fixing. He really pushes you to get it right, down to the millimeter. When I meet with him, he makes me sell him on a frame: why it's good, who would wear it, why we need it in the collection, etc. Doing this exercise over and over has made me a better designer."
Want more stories like this?
Qimmah Saafir was Tired of Black Women Being Overlooked by Magazines, so She Launched Her Own
This Woman Is Responsible for Helping to Launch Dozens of Fashion Brands
Music-Industry Maven Karen Civil Talks Career Advice & Giving Back