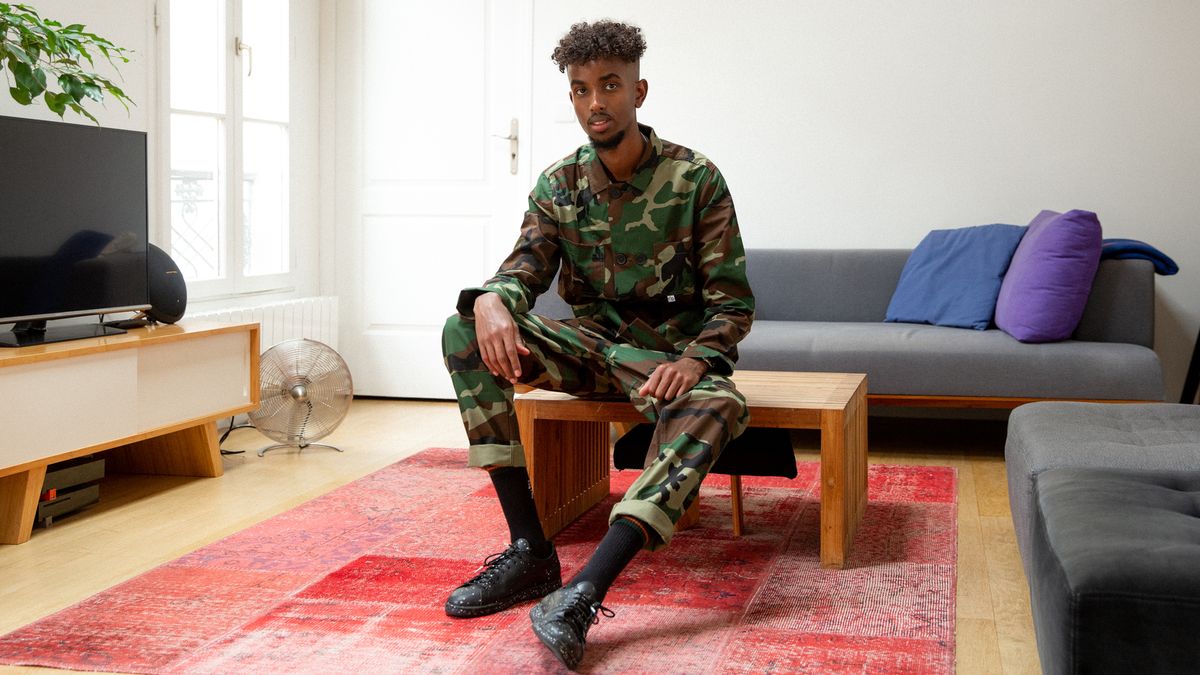 Career
From blog to brand, this streetwear label is taking over.
Alec Kugler
It was never
Hussein Suleiman
's plan to start a clothing brand, yet the one he ended up founding alongside
Jefferson Osei
and
Abderrahmane Trabsini
has been worn by everyone from Lupita Nyong'o to Lil Baby, Danileigh,
Goldlink
, Jorja Smith, and
Brent Faiyaz
. Born in Amsterdam,
Daily Paper
originally started out as a blog (hence the name) where the three friends would interview prominent people in the streetwear and sneaker industries, but following the creation of a merch tee, the team made the decision to transform their four-year-old blog into a brand. Nowadays, not only are notable names wearing the pieces, but they've also collaborated with the likes of Alpha Industries, Wizkid, Havana Club,
Leomie Anderson
, and NPO Elman Peace.
While Suleiman and his co-founders are focused on creating high-quality streetwear pieces, they're also adamant about showcasing their countries' heritages. All three are of African descent and grew up in Amsterdam, and they've made sure to proudly showcase this since the brand's inception, balancing African and Dutch design elements into both their menswear and women's-wear pieces. To get the full story behind Daily Paper, we met up with Suleiman at their Paris showroom (casual, we know) for the 411.
---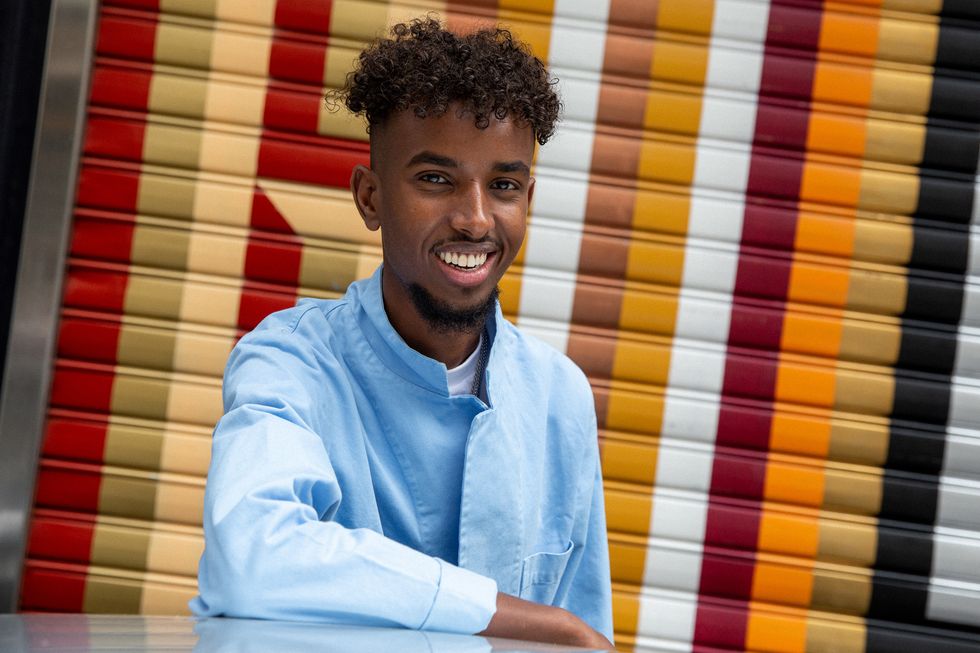 For Suleiman, it all began with a pair of Nike Air Max:
"I'm from the Netherlands, and where I'm from,the Air Max has always been a big shoe. I remember when I was younger, my parents didn't really have the money to buy me Nike shoes, so I never had Nike shoes until I was 13. I remember I was like,
I can't wait to make my own money because that's what I'm going to buy.
[When] I was 13, I had my first job, and I saved up and I bought my first Air Max 1s. I made sure they looked crispy—I was so proud."
From there, the love affair began with sneakers and streetwear:
"Fourteen or fifteen years ago was when I really started getting into streetwear. It was the blog era, [and] the
Hypebeast
blog is where I met a lot of people and talked about products—and NikeTalk. First I got into sneakers. What I liked about that era is there were shoes that were only being released in the United States, there were shoes only being released in Japan, and there were shoes that were only being released in Europe. Today everything is being released for every country because of online sales. Before that, you used to have blogs like NikeTalk, where people used to trade, or [they'd] ask each other,
'
Can you get me these Jordans?' This is the first time I started thinking [that] I could make some money off this, because people [in the United States] were willing to pay more for the Jordans that were here.
"On the other hand, in the year 2006
–
2007,
Pharrell [Williams]
was one of the biggest stars, and Kanye West. I was exposed to new things, like A Bathing Ape—all of these brands I'd never heard about because we couldn't get them [in Amsterdam]. That's when I started going on eBay and buying stuff for myself. Some people called me a clown for wearing it, some people were like, 'Yo, I want that too,' and that's when I first started making money off that [and] really started paying attention to brands and how one could get a cult following but another brand couldn't. I was really intrigued by that. I had all these connections around the world, and before I even thought of starting a brand, I thought it would be cool to document all of this, because nobody was really paying attention to what was happening in Europe with streetwear. So I started a blog called Daily Paper. It wasn't until four years later that the blog transformed into a global brand."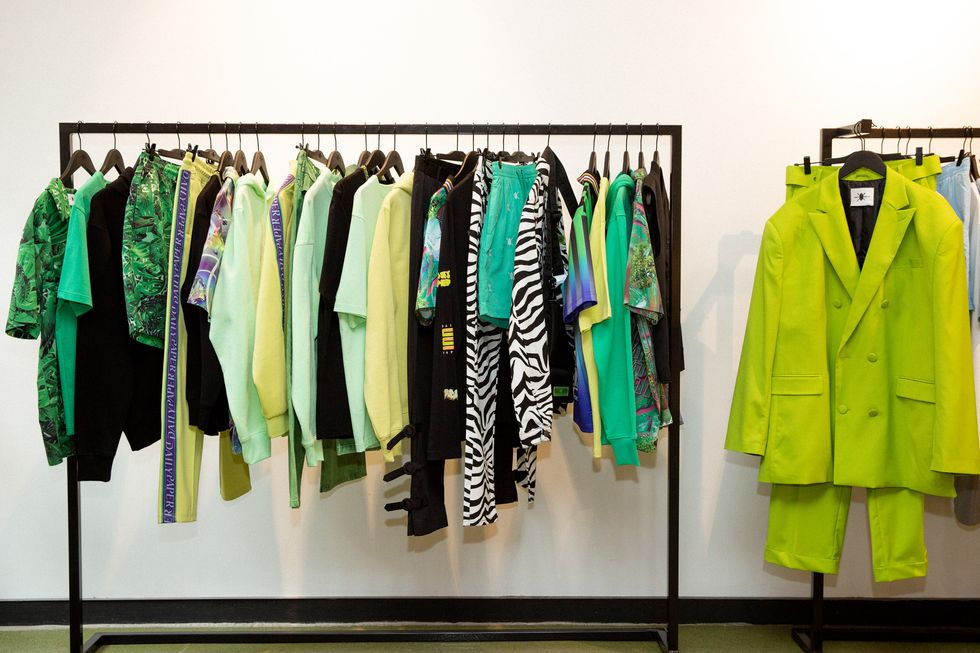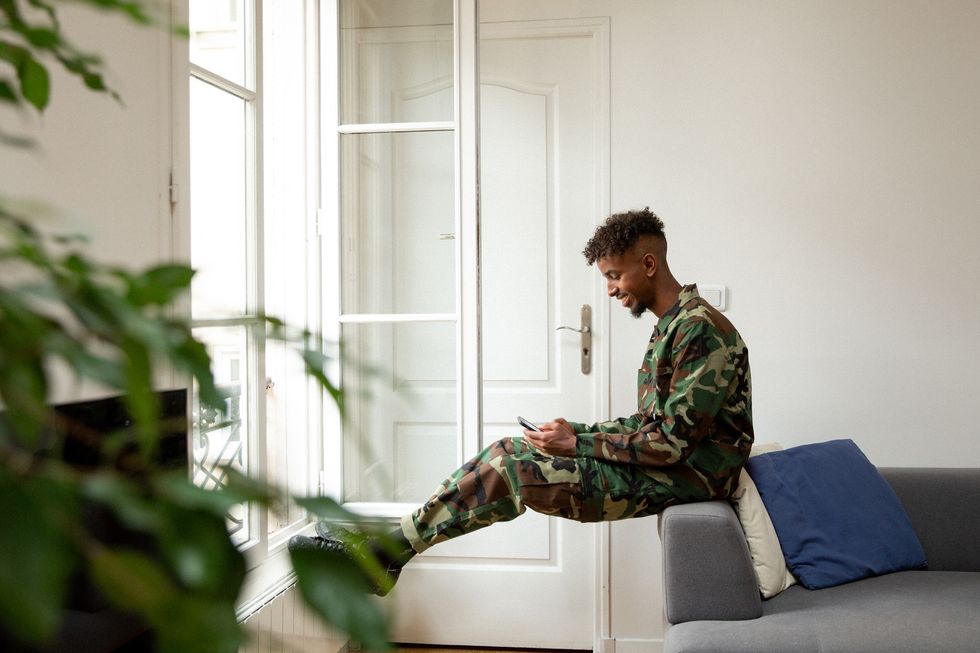 The transition from Daily Paper the blog to Daily Paper the brand:

"[For] the blog we were interviewing a lot of very interesting people from the industry, like sneaker designers, brand owners, creatives [from] all over. We started getting more and more traffic, so I printed some t-shirts that said 'Daily Paper.' In my mind I was thinking, If we wear them, more people will come to our website, but what happened was people were emailing us like, 'Where can I buy the t-shirt?' I realized people really liked [them], and then that became something that I really enjoyed doing, making product and selling it. One or two years later, we were making all of our money from t-shirt sales, and that's when we changed our business model."

How the three founders divvied the roles up:

"A lot of people that look into our company say things like, 'It's perfect that you guys all focus on totally different things and you work so well together,' and that's one of the things that I'm most proud of. Everybody has natural roles. Jefferson was always someone that was sales-driven, he can package shit in a way that you're like, 'OK, I'll buy it,' [and] he's always been strategic when it comes to brand storytelling or art direction. Automatically, I was doing more of the strategy and online marketing for the brand. Abder is the only one out of the three of us who went to a design academy, so he was a natural when it came to designing our collections."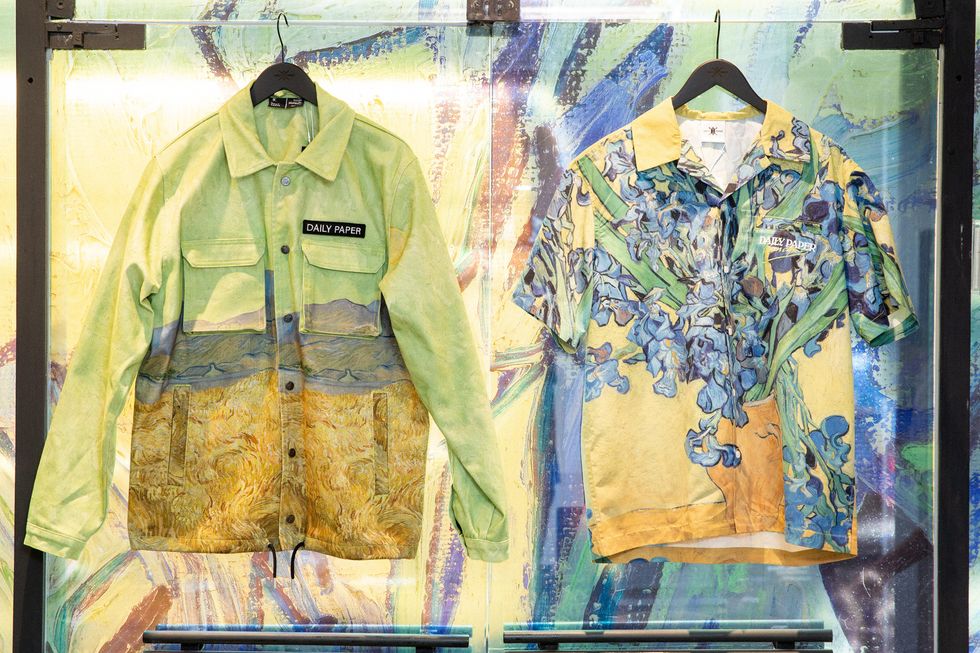 Why it's so important for them to highlight Dutch and African designs in their pieces:
"When I was growing up, people weren't really proud to say that they were from Africa—they thought it was cooler to identify with black Americans or the Caribbean. That's because around that era, this was the '90s and 2000s, a lot of hardship fell on Africa; whether it was famine or war, it was a place that wasn't sexy, so people didn't really have the pride that they do today. I remember [when I was] growing up, I was seeing people around me distancing themselves from their heritage and their roots, because it wasn't the coolest thing to be, and I thought that was whack. Same goes for Jefferson and Abder—we're all from Africa, and we all grew up in the west side of Amsterdam. I believe that any art form is best if it's a reflection of your true self and your true identity."
What a typical day looks like for him (when he gets one):
"I live above the store, so I go downstairs and get myself pancakes. I'm a big pancake fan, I eat pancakes so often I'm like a pancake connoisseur—I even have my own pancake at this restaurant around the corner from my house. I go there and then make my way to the office and spend as long as possible there, going by every department and getting an update because I'm more on the road then I am at the office. After that, I like to be where the designs are being done, where people are creating stuff—I try to see as much as possible and give as much of my feedback as possible. Then I go see family or friends for some food, and that's basically it. I don't like to be out too late in Amsterdam anymore [because] I'm trying to be up early, catching up on whatever else is happening in the world so I can continue scheming."
The most surreal moments of the brand to date:
"I think all the small little victories that we get. I had some goals when I started the brand, and seeing them coming through is amazing. I still remember the first day we were published on
Hypebeast
, they published our first lookbook. I couldn't believe it. This was around the time that a
Hypebeast
post really meant something; they were so particular about what they would and would not post on their website. I loved that moment. What else? Seeing famous people randomly wearing our stuff. I love the Migos, and I saw this picture on Instagram of Offset wearing [Daily Paper]. This was one of our first collections, and I have no idea how he got it, because we were still a very local brand. That was a very proud moment. We just moved into a new office in Amsterdam, it's 13,000 sq ft, and we're the first people to ever be in there."
Want more stories like this?
Dream of Being Covered in Diamonds? Call Greg Yuna
How This Entrepreneur Lands Deals with Nike & Pantone
Music Industry Maven Karen Civil Talks Career Advice & Giving Back