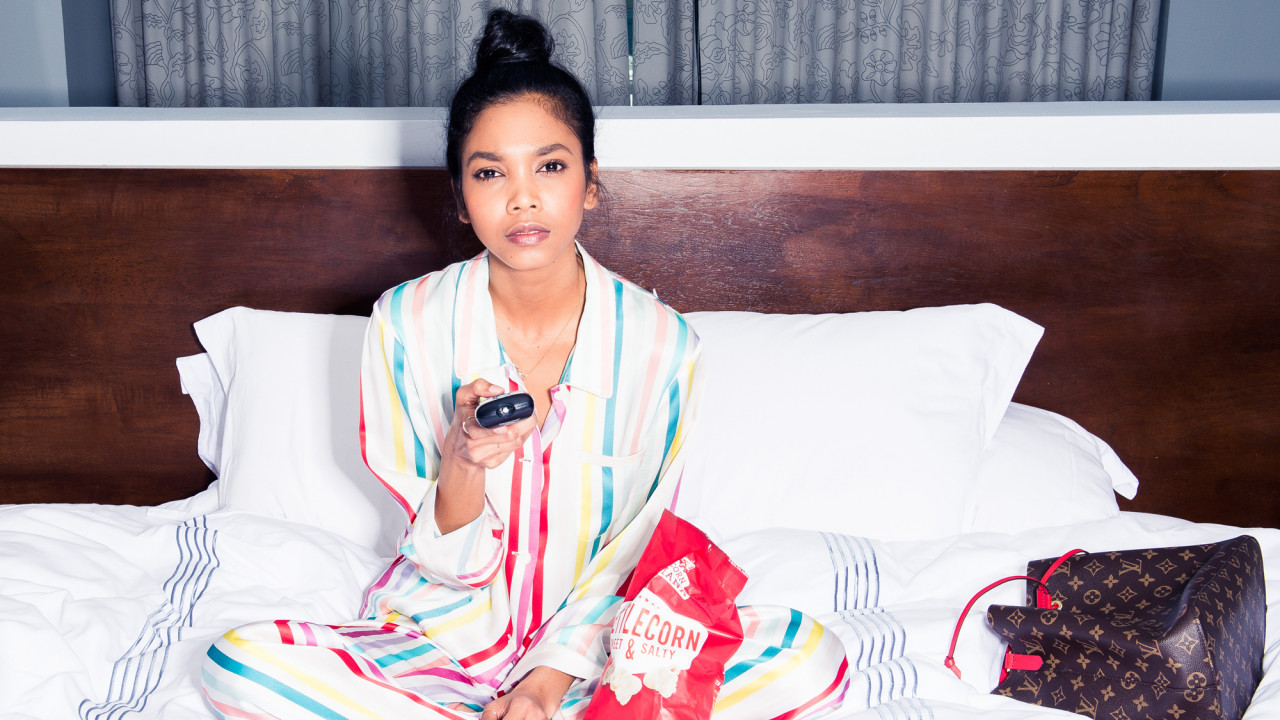 As Streaming Services Proliferate, Say Goodbye to Prestige TV
A brave new world, featuring a changing face of television.
Once upon a time, HBO was the kingdom of prestige television—the land of Sex and the City, The Sopranos, and Curb Your Enthusiasm. And though all has not yet been lost (here's looking at you, Big Little Lies), the face of streaming TV is changing rapidly.
In the next nine months or so, five new streaming services will storm the market: Disney+ and AppleTV+ this fall, and HBO Max and as-yet-unnamed platforms from NBC Universal and Discovery next year. Expect smaller spin-offs too, both in scope and length of content; for example, Quibi, or "quick bites of quality entertainment," will be by design delivered to a device near you in, as The New York Times reports, "10-minute chunks." It's enough to make your head spin. And your wallet empty.
Gone will be the days when you can subscribe to Netflix and Hulu, and maybe Amazon and HBO, and be perfectly able to keep up with the latest shows at the proverbial water cooler. In the next year, the way we will be able to access shows will change drastically. But is it better—or just different?
Perhaps the biggest change will be that streaming platforms are entering an unprecedented arms race with each other, which means a major emphasis on more hours of TV, regardless of quality, as per the Times. Previously, networks competed for subscribers by helming the ship with marquee shows and filling in the gaps with shows that might be considered more niche or fluff.
No more. Though Game of Thrones–style shows won't be ushered out completely, the push to create the next big show may be replaced with the drive to crank out as many shows as humanly possible. And that has already started, especially at smaller networks.
As Nick Weidenfeld, an independent TV producer who was formerly president of programming at Viceland, told the Times: "To fill the hours in the day for sales, we had to make essentially 300 hours [of TV] a year" at Viceland. "So we could have made a huge show. The Vice version of Mad Men, our version of Game of Thrones, whatever." But it wasn't worth it. "We're spending eight to ten million dollars an episode on it, and we've wasted our entire budget!"
Instead, they zeroed in on smaller, low-budget, easy-to-produce shows that encouraged people to partake, especially in small quantities on mobile devices. As the landscape shifts, that, too, will become a major consideration.
It's already happening at the bigger companies, as well. When was the last time you opened Netflix, randomly flipped through new shows you've never heard of, and found a show you actually liked? If the answer is never, same—though shout-out to the original Tales of the City from 1993, starring Laura Linney, Parker Posey, and Olympia Dukakis, which appeared on Netflix recently. (If the answer is more than never, are you magic?)
Get ready, too, for more game shows. Weidenfeld told the Times he was working on a pitch for a new game show "on the theme of impostors," which he described as "so stupid but so sellable." Can't wait for that one.
Also prepare for a musical-chairs situation as networks reclaim their rightful shows. For example, the parent company launching HBO Max owns the rights to Friends, The Fresh Prince of Bel Air, Pretty Little Liars, and other huge shows. If you don't plan to subscribe, get your Friends binge on before the end of the year.
But if you do, you'll have plenty to choose from, though who's to say about the quality of what'll be on offer. When HBO Max launches early next year, it's set to cost slightly more than the existing HBO Now streaming service, which is priced at $14.99 a month. The new service "is anticipated to premiere with 10,000 hours of premium content," as CNN reports.
There is at least one upside to all of this. More creative freedom is being passed from the networks to the series creators themselves, which means a break from familiar TV formulas and more experiments (in some cases, at least). The unending appetite for new shows has meant more diversity and inclusivity, as the Times notes, pointing to places at the table for Donald Glover's Atlanta, Ramy Youssef's Ramy, Issa Rae's Insecure, Ryan O'Connell's Special, and Lindy West's Shrill.
That, we can get behind. As for the rest—the endless hours of television available on rapid demand, the competition with sleep Netflix has positioned itself to win—it seems we've taken one step closer to the terrifying prophecy that was Idiocracy.
Photo: Shot on site at 6 Columbus, a Sixty Hotel. On Jonelle: Pajamas, Morgan Lane; Bag, Louis Vuitton; Rings, Catbird; Hair, Angela Soto.
Want more stories like this?
What Is the Future of Technology?
5 Women on What It's Actually Like to Work in Tech
The Unexpected Side Effect Technology Has on Your Skin