Nails
A Fourth-of-July Nail Art Design That's Actually Chic
Nail artist Alicia T. gives us a sleek star-spangled new mani idea.
Ben Ritter
We were on the hunt for a Fourth of July manicure look that we would actually
want
on our nails come barbecue party time (99 percent of nail art lately is...of a certain taste...), which is exactly why we ended up in the little SoHo studio of nail artist
Alicia Torello
(aka Alicia T). The studio, which is practically wallpapered with rows of nail polish bottles and shared with another nail artist, cool girl Madeline Poole, could be considered New York's home base for the nail art trends seen on editors and fashion girls in the know. And despite its tiny size (there are two benches for the nail artists to work and a couple of desks), it's also a popular spot to just hang. "Sometimes friends will come by if they
'
re in the area," says Torello, who offers us trendy Mountain Valley Spring Water, their new amenity at Poole
'
s insistence. "Sometimes they
'
ll even set up and do a little work." 
---
But it's not hard to see why people are drawn to Torello, who is dressed in a vintage Christian Lacroix knit tank she found in Venice last summer, vintage Levi
'
s from
10 Ft Single By Stella Dallas in Williamsburg, and a Toga Pulla cardigan from Opening Ceremony—s
he's hilarious. When we asked Torello for her favorite story from when she worked with photographer Terry Richardson for three straight years, she thinks for a moment before exclaiming: "OH! I met fucking Oprah and did Oprah's nails! I honestly wanted to make adoption papers and trick her into signing them somehow. Like, hide a contract under some other papers and ask for her autograph. That didn't work."
The trick she really
is
best at pulling off, however, is in the nail art department. Here, a step-by-step for a Fourth of July manicure for girls that
hang
.
---
What You'll Need:
a "striper brush" (from Amazon) filled with remover in the bottle
Orly Bonder Rubberized Base Coat
OPI Nail Lacquer in Pale to the Chief (nude)
Zoya Nail Polish in Trixie (silver)
Deborah Lippmann Nail Color in I Know What Boys Like (blue)
Dior Vernis Nail Polish in Rouge 999 (red)
mini angled eyeliner brush
cuticle oil
---
1. Do a base coat. "I like this Orly base coat because it's sticky and rubberized. Like it's always tacky, even when it dries. I find it makes the polish last."


2. Apply your foundation shade. "I like the base color pretty opaque, but I do it with three thin coats and not a lot of polish on the brush. The thinner the layers, the faster it will dry. Your very first layer doesn't need to be completely opaque because you're going to go over it two more times."


3. Outline, then fill.
"The goal is to make the stars look like they are falling from the tips of your nails. Use the long edge of the striper brush to make angled lines. As in, you lay it down rather than drawing the shape with the tip. After you
'
ve made star shapes and triangles, carefully fill it in. I arrange the shapes pretty randomly."
4. Repeat with blue and then red. "Just do the same thing with the blue. On some I'll do small edges of stars or small triangles depending on what I did with the other color. Then go in and do the red."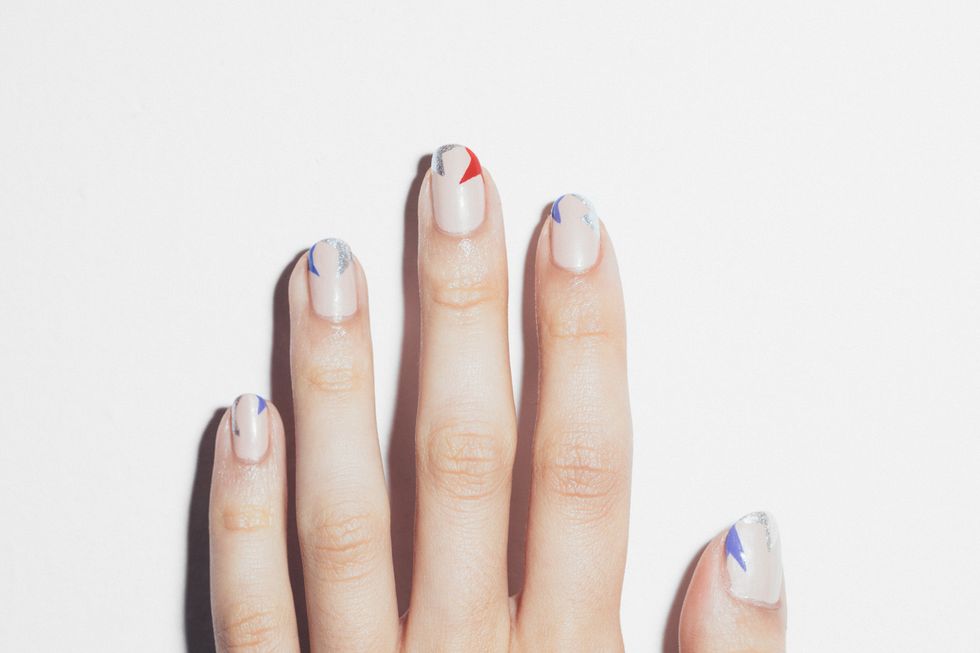 5. Clean up.
Torello's pro trick to remove excess nail polish mistakes that end up on your cuticles is to dip an angled eyeliner brush in nail polish remover and carefully stroke around the edges of the nail.
"
I also make my own cuticle oil because I
'
m allergic to everything else,
"
she says. "
I get a dropper bottle, fill it mostly with jojoba oil, and add a few drops of sea buckthorn oil and chamomile essential oil, which is a smell people love. I just get the oils cold-pressed from Whole Foods."
6. Get your BBQ on.
This one's pretty self-explanatory. But may we suggest that this year's
"
ice cream cone and manicure
"
Instagram be switched to hot dogs? Way cooler.