WWWRN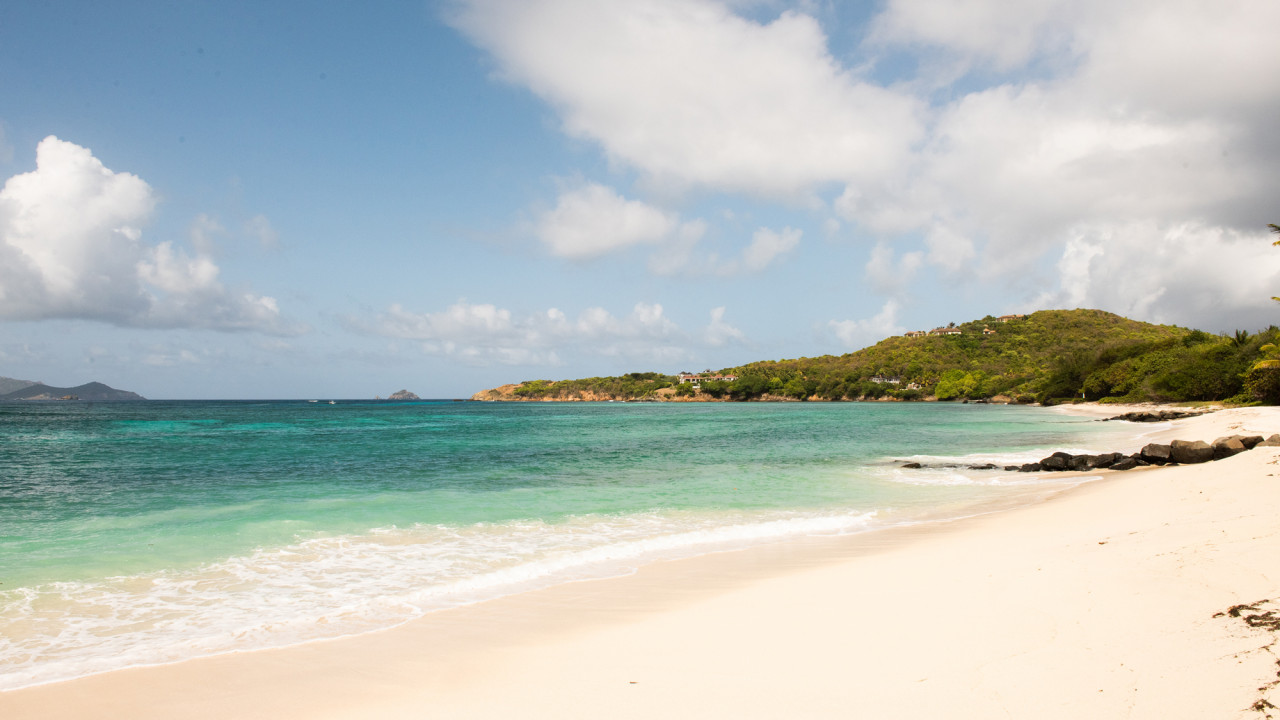 What Coveteur Editors Wear to the Beach
Because we always escape to the shore in style.
Like most people who live on the coast, we thoroughly enjoy an impromptu afternoon at the beach. But we're not about to abandon our sense of style and roll up to the shore in just any old outfit. A beach look is a whole other animal, requiring the perfect balance of functionality and fashion. Naturally, we decided to poll our co-workers to find out how they put together their ideal outfit for a day lounging in the sun and playing in the waves (maybe throw in a frozen margarita for good measure). In case you're in the midst of packing for your next vacation and in need of some inspiration, check out what five editors wear to the beach.
---
Hannah Baxter
Senior Beauty Editor
1. Self-Portrait Pleated Printed Satin Kaftan: I've always been a denim-cutoffs-and-flip-flops girl at the beach, but I am determined to step up my game this summer. I mean, just look at this gorgeous kaftan! Are you dying? I'm dying.
2. Givenchy Logo Print Rubber Slides: I was recently on a trip to Hawaii, and one of the girls was rocking these painfully cool Givenchy slides throughout. They're just the right amount of ostentatious but also look super comfy. I'll wear them to the beach, to the pool, and every taco joint in between.
3. Simon Miller Brown Tent Medium Neoprene Tote Bag: When I go to the beach, I bring pretty much everything but the kitchen sink. You can never have too many snacks or too much sunscreen. To store everything, I want a durable (but cute!) bag that I can wipe the sand off easily. Plus, this guy is on sale!
---
Noah Lehava
Director, Lifestyle and Talent
1. Emme Parsons Susan Sandal: A sandal that's so minimal and chic, and can literally take me from the beach to dinner to...just about any occasion, is all I need.
2. Rose Carmine Metallic Striped Crochet Knit Tank: Doesn't this just conjure up images of sun and sand...and aperol spritz? It's breezy and cute, plus, the holes are key for shaking out the sand so you don't bring the beach back home with you.
3. Loewe Square-Frame Metal Sunglasses: I have an obscene collection of sunglasses. When I pack for vacation, I usually haul, at a minimum, six pairs. Adding this one to the rotation.
---
Monique Kamargo
Editorial Producer
1. Rejina Pyo Crinkled Satin Shirt: My favorite thing to wear on the beach is always a loose, oversized tee. I love the boxy shape of this one, not to mention the amazing slime green color that will compliment my (soon to be) tan skin.
2. RE/DONE Distressed Denim Shorts: I like to keep my outfits easy and comfortable on a beach day. Denim cut offs are a must for me, and I think these RE/DONE shorts may just be the perfect pair. High waisted, a little distressed, and just the right length.
3. Eliou Shell Gold Plated Pearl Earrings: My arm candy currently consists entirely of rainbow colored bracelets and I'm officially ready to bring this same jewelry game over to my ears. This dangly pair from Eliou screams summer to me and I am obsessed with the pearl and bead pairing.
---
Daniella Deutsch
Producer and Market Associate
1. Solid & Striped Bandeau Bikini Top: A bathing suit that doubles as a going-out top? This Solid & Striped wonder checks off two categories I constantly struggle with.
2. Agolde Carrie Denim Shorts: These shorts are the denim version of biker shorts! They bring me back to early summer camp days but still feel so fresh and current. I plan to live in these guys all summer, so they will certainly make their rounds to beach outings.
3. Aglaia Ancient Greek Sandals: While I tend to grab a pair of flip-flops for the beach, this summer I am looking to throw some elevated options into the mix. Ancient Greek has endless pairs to choose from, but this blue plastic pair channels all the Limited Too feels.
---
Rachel Pickus
Social Media & Affiliate Coordinator
1. Jacquemus Alassio Draped Shirt Dress: In truth my beachwear isn't nearly as glamorous as I'd like it to be, but that's not to say it's too late! This summer I'm pulling inspiration from this Jacquemus number and exclusively wearing oversized gauzy blouses that double as coverup dresses.
2. Alexa Chung x Sunglasses Hut Sunglasses: My down-right obsession with these granny glasses started with a selfie from the queen of cool herself, Alexa Chung. Unbeknownst to me, these sunnies come from her namesake line which is undoubtedly chic. Mark my words as soon as I get my hands on them, I'm wearing these shades everywhere!
3. Macramé Shoulder Bag: Currently in search of a macrame bag because truth me told I *want* to show off my copious bottles of SPF.
---
Jacquelyn Greenfield
Editorial Production Fellow
Part of the series:
WWWRN