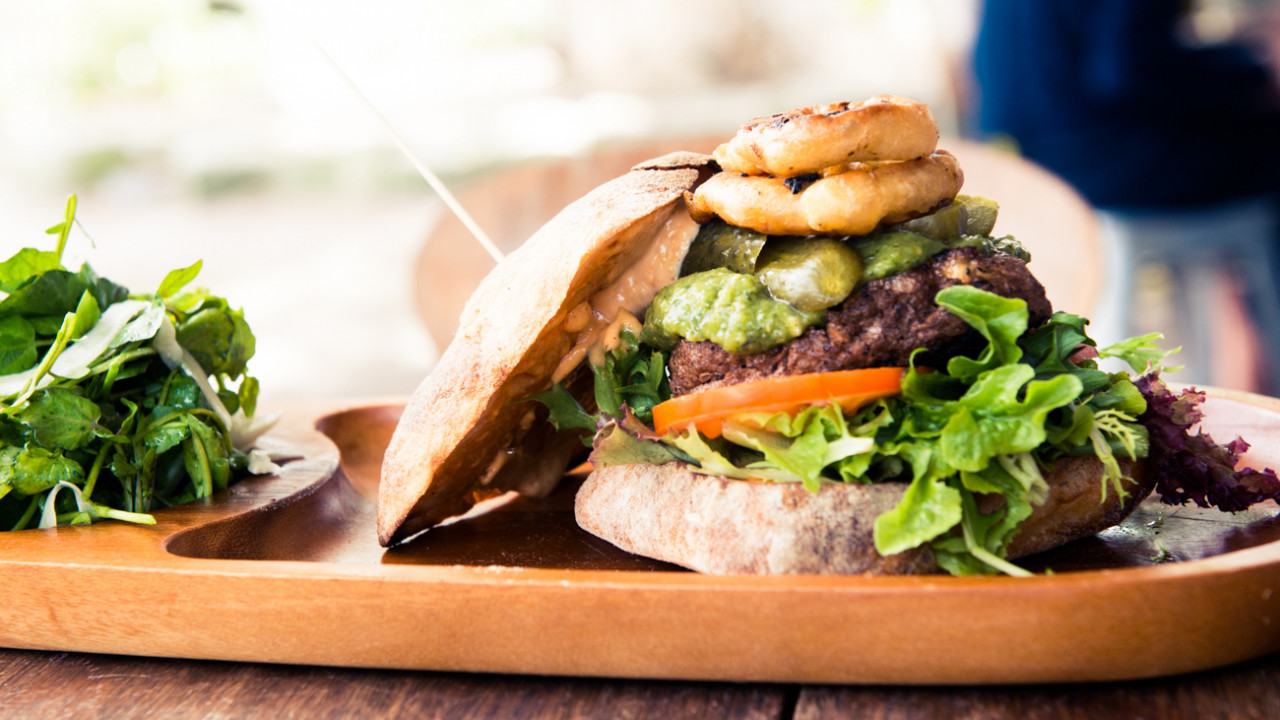 Vegetarians, Rejoice: White and Red Meat Are Equally Bad for Your Cholesterol
When it comes to your health, you might be better off focusing on dairy, legumes, and vegetables.
In a win for vegetarians around the world, a new study has found that white meat is just as bad as red if you're trying to lower your cholesterol. Long thought to be better for you than red, the new research found that white meat had an identical effect on cholesterol levels. Perhaps unsurprisingly, those who avoided meat altogether for a month experienced an improvement in blood cholesterol overall.
Traditionally, it has been well accepted that ordering a burger is not as good for you as tucking into a more virtuous chicken sandwich. But this new study, which examined more than 100 healthy men and women between ages 21 and 65, crushes that notion.
Participants eschewed alcohol and tried three test diets for four weeks each: one incorporating red meat (mostly beef), one with white meat (mostly chicken), and a diet with no meat at all. Those who went full veg experienced the lowest cholesterol levels; protein from sources including dairy, legumes, and vegetables seem to have the best effect on cholesterol, as CNN reports.
But if you're a meat eater, don't throw out those turkey burgers just yet. Though eating white and red meat appears to have the same effect on your cholesterol, red meat may still have more negative impacts on the cardiovascular system, according to the University of California, San Francisco, researchers.
In general, though, if you're worried about your health, avoiding meat completely seems to be your best bet; other research is still focusing on the harms of red meat specifically. For example, another new study found that reducing your red meat consumption by half a serving per day or more translates to a 10 percent lower risk of premature death.
What's more, replacing red meat with alternative sources of protein—nuts, legumes, whole grains, vegetables, and also poultry and fish—was found to be associated with lowering the risk of early death, according to that study's senior author, Dr. Frank Hu, who is a professor of nutrition and epidemiology and the chairman of the nutrition department at the Harvard T.H. Chan School of Public Health.
"If you have problems with cholesterol or if you have a family history of cholesterol or heart disease, then it is best to consume less of both red and white meats and instead substitute beans, lentils, higher-protein grains like quinoa, and soy-based products like tofu and tempeh," Maria Romo-Palafox, a registered dietitian and postdoctoral fellow with the Rudd Center for Food Policy and Obesity at the University of Connecticut, told CNN.
The jury is still out as to the lasting effects of red meat on other aspects of health, but one thing is clear: If you need to lower your cholesterol, or if you're just interested in keeping your cardiovascular system in tip-top shape, look to the nearest garden for protein options. The environment will thank you, anyway.
[Editor's Note: As ever, we are not doctors or medical know-it-alls. And everybody is different, so make sure to check with a doctor before trying anything new.]
Want more stories like this?
Are We Hiding "Diet" Behind "Wellness"?
Beauty Foods You Need to Have in Your Cupboard
The Spices Missing from Your Diet That Will Change Your Beauty Routine