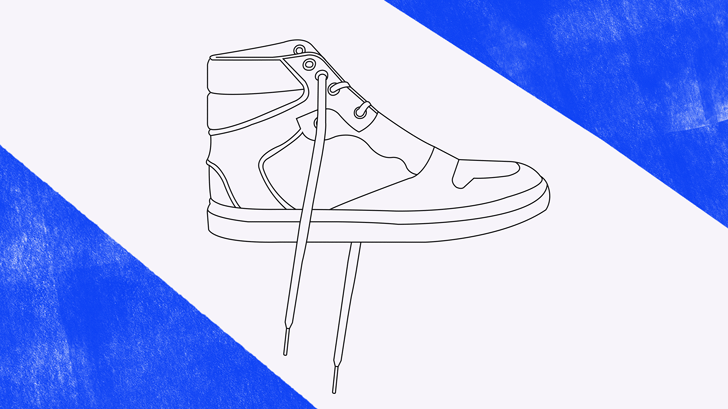 Fashion
C/O Sneakersnstuff's Lauren Cardenas.
Graphic
Rachel Pickus
If you think that a brand-new pair of sneakers are meant to be put on your feet as soon as they're taken out of their box, think again. When a pair of sneakers arrive on your doorstep (or in your hands at the store), they're factory-laced, and according to Sneakeresnstuff's general manager, Lauren Cardenas, you don't want to be caught dead walking around like that. Cardenas, who has been working in the industry for about ten years now, graciously took the time to run through a few other dos and don'ts of sneaker lacing. Get your pen ready to take notes on the below, and then, well, run, don't walk, to your closet to see where you're at.
 

RULE NUMBER ONE:
"First things first, this is what you don't do: You don't choke your shits. You don't want to lace them too tight, you want to keep them a little spread out. Let them breathe. Let them breathe just like you gotta breathe." 
RULE NUMBER TWO:
"On to the next don't. We don't wear factory-laced shoes. Wearing a factory-laced shoe is like letting a stranger drive your car. Would you just let a stranger drive your car? No, we're one of one. So when you take your shoes out of the box, you have to re-lace them because we don't do the factory lace." 
RULE NUMBER THREE:
"Moving on to the do's, and how to properly lace your sneakers. The most important do—I like to call it the 'get right'. You're going to take your sneakers out of the box and completely unlace them. After you remove your laces, you're going to begin lacing them back up, lacing straight across the bottom into the top of the eyelets. Measure the lace to make sure you have the same amount on the right side as you do the left. Continue to lace from the top of the eyelet in going left lace over, right lace under, making sure it's even from side-to-side. This is the proper way to step into your shoes. Trust me on this one."
RULE NUMBER FOUR:
"A loose lace is a good lace. Follow the same steps as rule number three and then begin to tug your laces out starting from the toe box to the top of the sneaker until you have only two inches of lace sticking out of the top two eyelets. This gives me baecation vibes. If you don't have a bae, you can take a you-cation with your loose laces."
Want more stories like this?
How Sustainable Are Your Sneakers?
How 6 Coveteur Editors Style Sneakers
We Found the Most Expensive Sneakers on the Resale Market