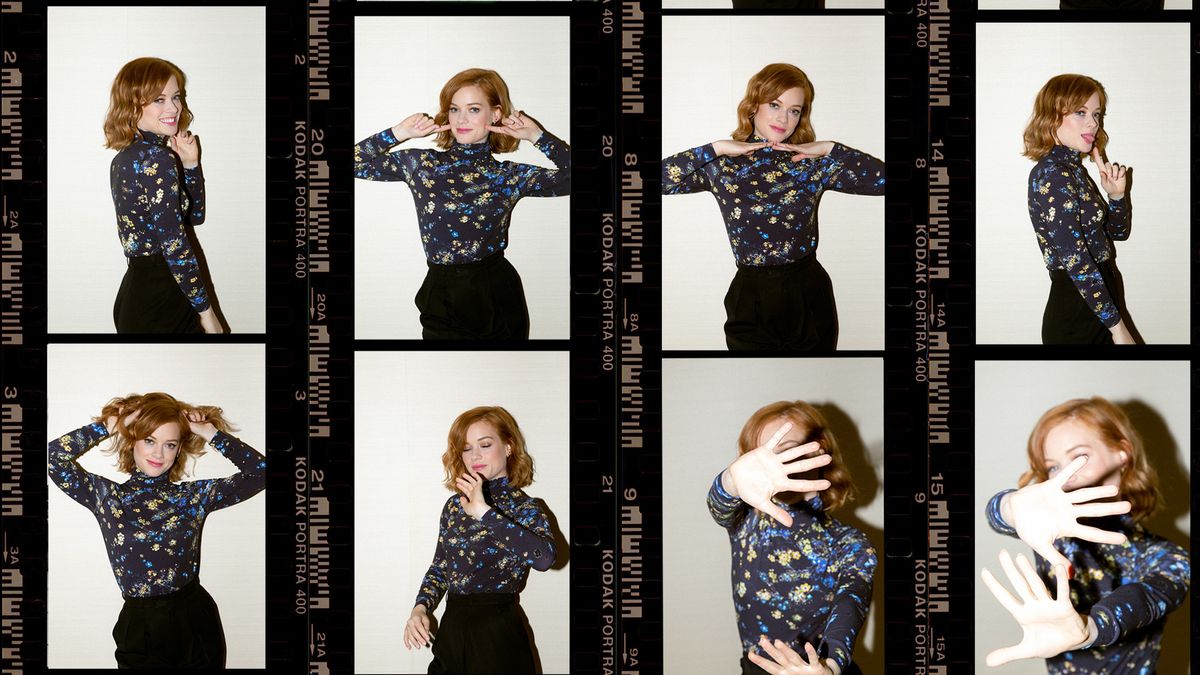 Celebrity
Jane Levy on Being Horror's Secret Sauce & Her Newest Musical TV Drama
An afternoon with the actress talking Hunger Games auditions and working with Renée Zellweger.
Alec Kugler
The internet has made a certain correlation in the past decade and three quarters:
Jane Levy
and horror flicks are a match made in gore heaven. "It's in part because of my athleticism," she surmises as to why she keeps getting cast for the genre. "Final girls are sort of warriors, and I think I have a really good scream." But despite all of this, Levy still has pretty diverse (and impressive) IMDb credits. She landed her first gig in
Suburgatory
in a very serendipitous fashion (more on that below), simultaneously had a recurring role in
Shameless
, and on top of racking up double-digit film and TV credits in the horror-thriller category—her most recent alongside Ren
é
e Zellweger in Netflix's
What/If
—she was just confirmed to star as the lead in NBC's new musical drama,
Zoey's Extraordinary Playlist
. We sat down to chat with Levy about the audition that started it all and the audition that didn't work out but made a hell of a good story, and what it was like to work with Ren
é
e Zellweger.
---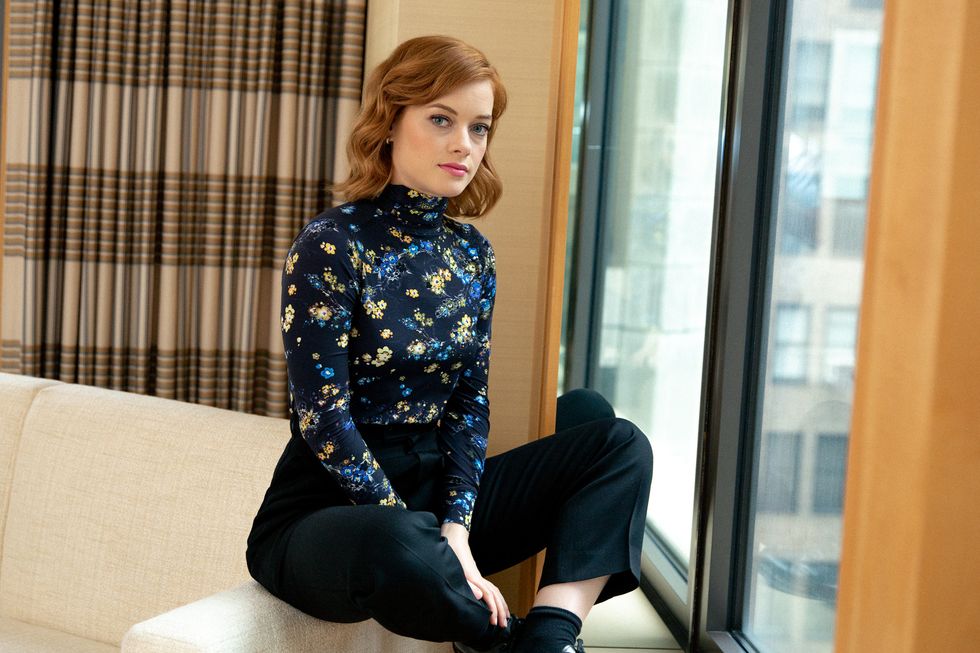 On how her first role came from a series of perfect events:
"I was 18 and I had just finished a year of college in Maryland, where I was playing soccer. I was a serious jock, working out twice a day. I wasn't really passionate about my studies, and I just didn't feel excited to be at school. I thought,
When was the last time I did something that really interests me?
And that was when I was onstage. I remember feeling that was the most at home I've ever felt while doing something. I told my parents that I was dropping out of college, and they were surprised and scared for me, but they were supportive. I auditioned for theater school in New York and did that for two years and then moved to L.A. right as I graduated.
"[
Suburgatory
] was the first time I ever auditioned—the stars were aligned; something was happening in my favor. I had a general meeting with ABC, and I showed up, and the person who I was supposed to meet with wasn't there. So some other executive was like, 'Hey, sorry about that. Why don't you come into my office and talk to me?' I sat down
—
was wearing Frye boots and a '90s dress that I bought thrift in New York. [
Laughs
] And she was like, 'You know, you actually look right for this part, for this pilot we're developing called
Suburgatory
.' She had me read the script right then and there. She put me in touch with the creator, and I ended up getting that job.
"
On the auditions that made for funny stories:
"I went to a
Hunger Games
audition, and they handed me a bow and arrow. And I was like,
What am I supposed to do with this?
[
Laughs
]
"I also remember I auditioned for
X-Men
, and the casting director told me that it was 'film, not television,' which was supposed to be a burn, I guess? He was like, 'film,' like some French New Wave... I don't know [
laughs
]. Auditions suck. I don't understand actors that are like, 'I love it!' I'm like, no, this is miserable. You're in a cubicle basically trying to be artistic."
On having success early on:
"That was a funny thing to negotiate—having success so quickly early on and then navigating this business, or any freelance business, where sometimes you have work and sometimes you don't. I didn't grow up doing this—I didn't have it ingrained in me as a kid, so I just learned on the job as a 20-year-old. But I love my job, and I feel so grateful that I get to do this."
On getting involved in
What/If
:
"I was sent a script last summer, and I read it really quickly— wanted to know what happens next. I had a meeting with my program creator, and he charmed the pants off of me in the meeting! Mike [Kelley] told me [why this woman is pursuing this couple] in the meeting, and I gasped audibly. There's a real shocker towards the end of the season, which is really fun. I wanted to try something new. This is a totally different style of TV that I've ever done—it's extreme melodrama."
On working with Renée Zellweger:
"It was really awesome working with Ren
é
e. I'm a huge fan of hers. She's an incredibly gifted, brilliant actress, and it was really fun to watch her. She makes it look really easy. I'm not exactly [sure] what it is that she's doing, but there's a reason why she's an Oscar winner. I have nothing but praise for her. The rest of the cast were a lot of cool people who I've remained close friends with."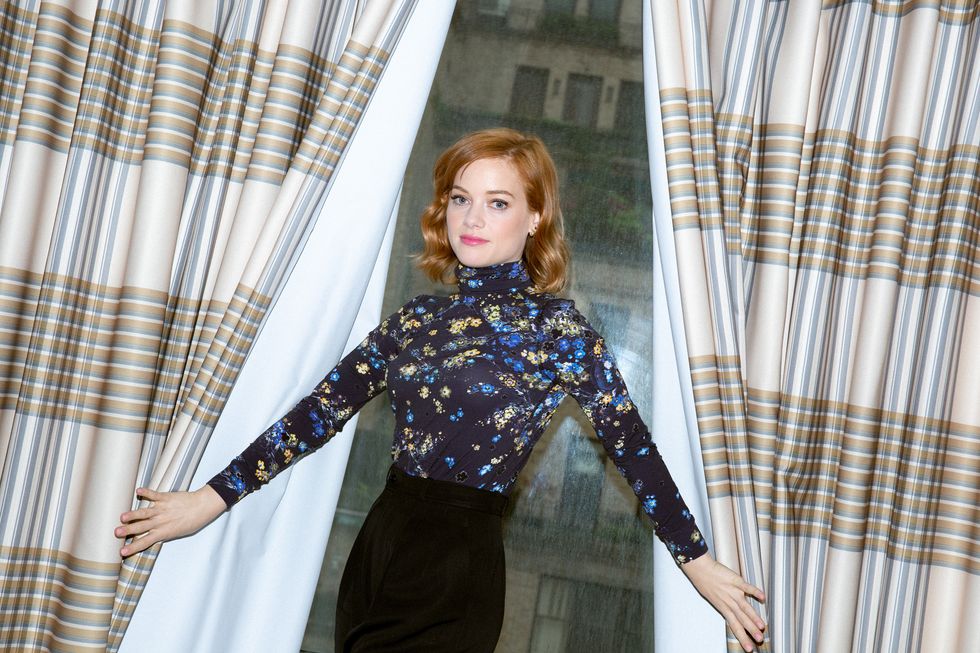 On how horror films can be a challenge to shake off:
"I had a really great time working on
Castle Rock
. But it doesn't actually feel that great to make horror films because I am not one of those actors that goes to work and goes home and is like, 
It's all fine
. I'm sensitive. It affects me. It does take a toll. In terms of making straight-up horror films, I am discerning about jumping on board some projects. It takes a long time for me to [feel back to normal]. The first four films, I didn't sleep the entire time. And not sleeping makes me paranoid, and all your guards are down. It's not pleasant."
On her upcoming role in
Zoey's Extraordinary Playlist
:
"I made this very bizarro fantasy musical in Cannes in 2014 called
Bang Bang Baby
, and there's a recording of me singing. I'm not a singer; I wasn't trained, but I can carry a tune. I thought,
What a cool opportunity to try something new with dancing and singing
. This is a fantastical reality where my character can hear the most private, intimate thoughts of people, which I think is a really interesting device. We made the pilot in March, and I had one of the best times I've ever had in anything! It was this magical situation where everything clicked. I saw it, and I think it's really good! I'm really excited for people to see it because I'm so proud of it."
If she could hear other people's thoughts:
"I think there is no other choice than to use it to help one another and bring people closer together. Because, you know, at the core of everyone—unless you're the small percentage of sociopaths or psychopaths—I think that we're all searching to love and be loved."
Want more stories like this?
Chace Crawford's New Roles Are a Far Cry from Gossip Girl
You Can Blame Marianne Rendón for Your Binge-Watching Habit
Westworld's Angela Sarafyan's First Acting Gig? A Céline Dion Music Video