Inside the Studio of Handbag Brand Nannacay
Founder Marcia Kemp took a chance on employing prisoners and over 120 artisan families, and it's paid off.
Designers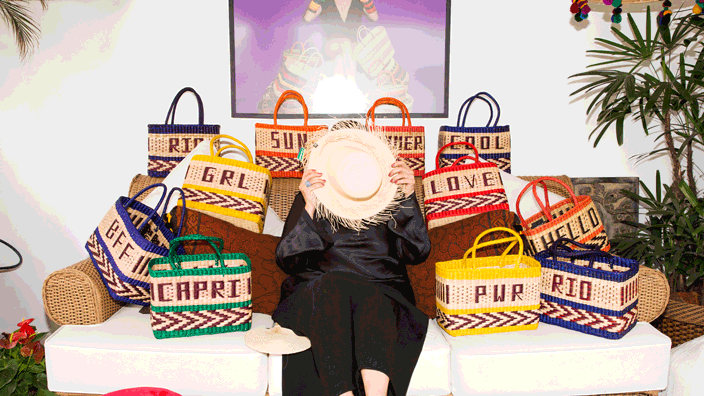 Since the summer of 2014, our feed has been flooded with images of chic straw bags. The handwoven, bright, and colorful bags with cascading pom-poms and a buttery brown leather strap are accouterments that have cemented their place in our closets to this present day. The
beautiful bags
in question are Brazilian-based brand
Nannacay
, the brainchild of an IBM sales executive turned creative entrepreneur—who also moonlighted as a volunteer—Marcia Kemp.
It was her volunteer work in Brazil that inspired her to launch the brand. "I was searching [for] a mission and purpose in life," she says. "I was in Africa with the
Maasai tribe
, seeing all of their beautiful arts and crafts, and the vision came to me," she continues. "I foresaw what I wanted—to connect them to the luxury market. I understood that there was a gap in the fashion industry for artisanal products, and they deserved to be there."
---
Kemp flitted around the warm and colorful showroom in
Rio de Janeiro
, where in-house basket and bag customization (stitching on pom-poms, etc.) is done. It's a collaborative effort, and Kemp wanted to capture that with Nannacay, "a catch-all word meaning 'sisterhood of women,'" she explains. The Nannacay woman is "a person who admires the simplicity of life, and has joy in life and in the heart," she continues.
Although her vision had been realized when
she went to Africa
, the demanding travel repositioned her focus on artisans closer to home. Kemp headed to Peru, where she discovered a whole new crop of artisans. "In the first year, I went there more than 10 times. I would get on a plane Friday morning, stay there Saturday and Sunday, and on Monday I would be back working at IBM," she says. "We started working with different patterns, colors, and specifications to make these handbags." The bag that originally caught the eyes of us at Coveteur HQ, the
"
Baby Roge
,
"
was one of the first in the Nannacay collection. "I'll tell you a story about [that bag], it's very funny," Kemp laughs. "When I went to see the communities, not every woman could weave a bag with my specifications. I approached one of the women and asked her what they were able to do. She started telling me about little coin bags and 'Baby Roge' was born."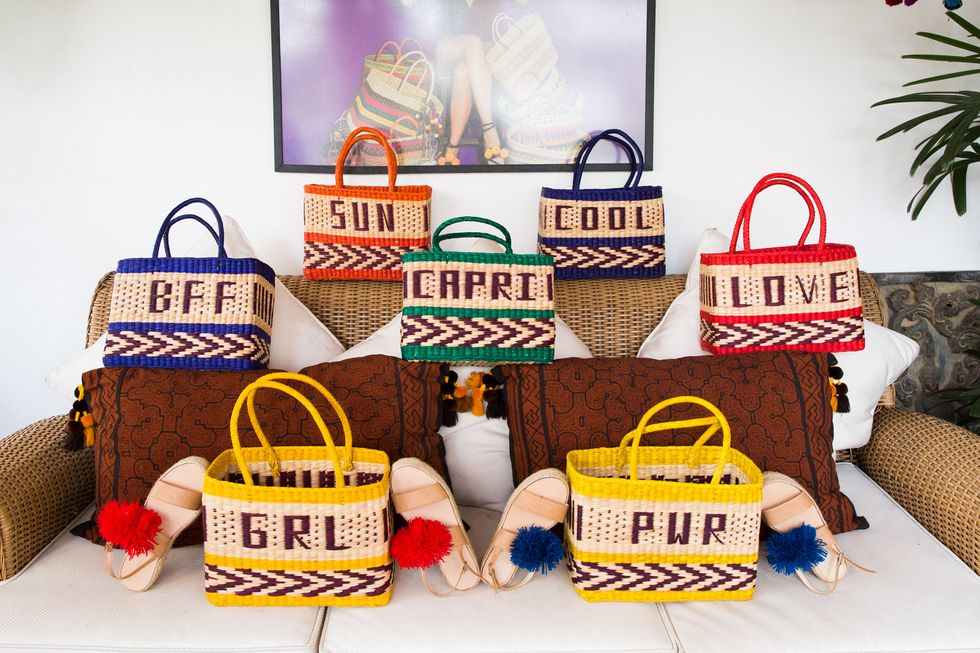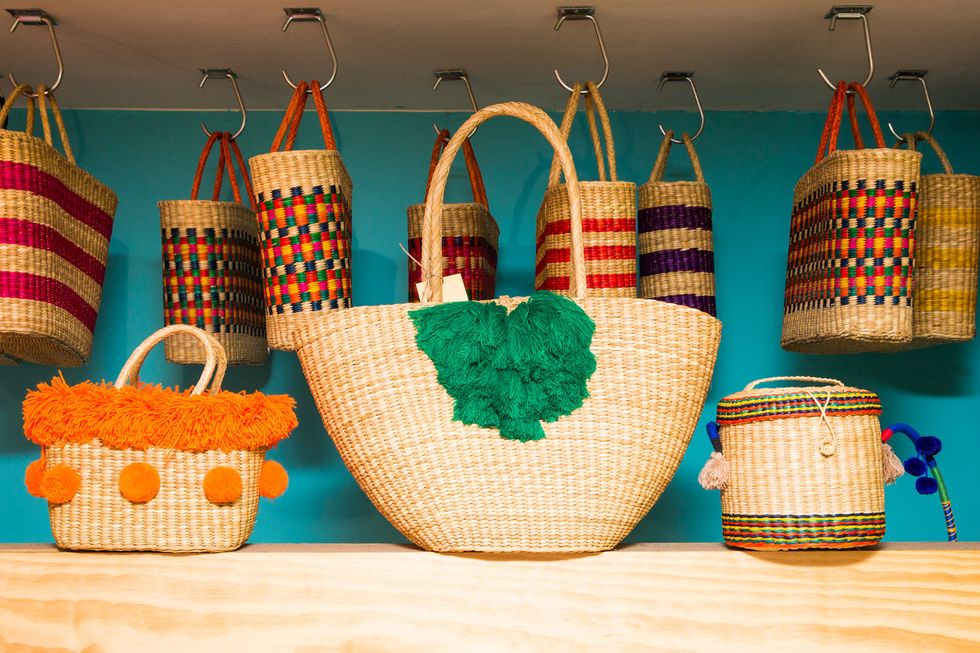 Nannacay became such a success that Kemp now helps to manage 120 families in four different regions in Peru, one region in Colombia, one in Ecuador, and two in Brazil. And she continues to expand. "It's now a South American project, but I'm searching everywhere. I was in Thailand last quarter with a Thai ambassador to see artisans there," she tells us. She's also set up a program at a prison in Lima, to allow inmates to be able to work and provide for their families. "I didn't search for prisoners in Peru, but a lady approached me saying her husband was [in there], so I provided a workshop," she explains. "I sent people to teach them how to make colorful baskets."
Each bag tag features the name of the artisan who created it—a sentiment of appreciation Kemp extends throughout her studio. Photos of Peruvian villages hang in the entranceway, and ceramic bulls are placed on her outdoor patio. "They're from the Andes region," Kemp explains. "They're placed on the rooftop to protect the families, to bring fertility and prosperity, and to get rid of evil things. There's always two, and I brought these to keep our environment protected." It's no easy feat to remain so humble and commonsensical when selling in a luxury market, but these types of relics help Kemp do just that. To be quite honest, we even felt at home in the space and left the shoot being so touched by Kemp's selfless mission and heartwarming stories that we had the urge to hop online right then and there to fill our closets with all and everything Nannacay.
Want more stories like this?
A Natural Beauty Founder on Acne Scars, Eye Oil & Her Favorite DIY Face Mask
A Beyoncé-Approved Accessory Brand That's Surprisingly Affordable
Your Favorite Celebrities Are Probably All Wearing C2H4