WWWRN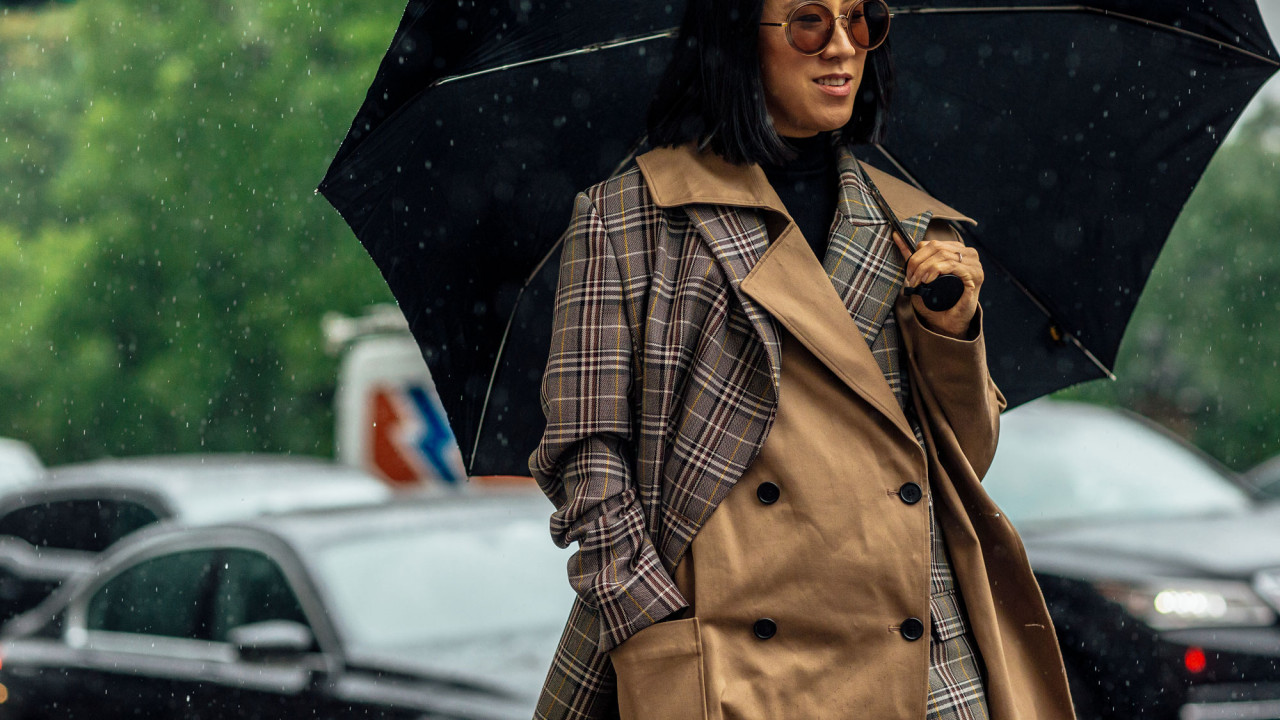 18 Pieces of Rain Gear to Get You Through a Downpour
Or a drizzle, because those can cramp your style, too.
We're usually not thrilled to see rain in the forecast. If it's a Sunday, our fridges are stocked, and Pretty Woman is on, then fine. But on a weekday when we need to be motivated at work and have several out-of-office appointments, we see rain outside and ask the weather gods, "Must you?" Not having proper rain attire (that we actually like to wear) only heightens our annoyance, and after three straight days of grey skies and downpours in NYC earlier this week, it was obvious that most of us treat rainwear as an afterthought. We don't buy nice raincoats or cool Wellies because we'd rather buy pieces that we love and will wear more frequently. But then it rains, and we're livid that we're walking around in some shapeless hooded coat we once borrowed from our brother and never gave back. That ends today.
There are lots of rain-appropriate pieces that are worth buying and definitely worth wearing. From bucket hats to trench coats, here are 18 of our favorites.
---
Leah Faye Cooper
Editorial Director
1. Dior Diorcamp Rubber Ankle Boot: If I must wear a rain boot, I prefer one that's a dark, solid color and offers as much style as it does function. Adding these to the rainy-day vision board I've designed in my head immediately.
2. Stutterheim Mosebacke Raincoat: My sister owns this coat in black, and every time I see it, I'm jealous. Having recently been caught in the rain wearing a denim jacket, I'm ready to buy one of my own.
3. Wrap Life Fari Headwrap: It's pointless with a capital P for me to do my hair when it's raining (unprecedented frizz is inevitable), so I plan to stock up on these gorgeous wraps, which will make commuting in heavy showers much more bearable.
---
Noah Lehava
Director, Lifestyle and Talent
1. Rains Glossed PU Trench Coat: The problem I have with raincoats is that they look like...raincoats. So on a day when it's raining in the morning and clears up by the afternoon, well, it can look a little goofy. That's why I love Rains' glossy trench coat. It functions like a water-repelling layer, but I could easily get away with wearing it when the sun is shining.
2. Blunt Metro Umbrella: There are only two important qualities to an umbrella, in my opinion. 1: It's small and compact, so it can fit in a coat pocket or handbag. 2: It withstands being flipped inside out even in the most intense of windstorms. I live by the water, so it's about 20 percent windier by my place. And if I'm going off the reviews, this umbrella is one heavy-duty option. Plus, it's sleek and simple, so it isn't sartorially offensive.
3. Clyde Vinyl Bucket Hat: I'm probably not cool enough to wear this, but whatever.
---
Ivanna Martinez
Social Media Associate
1. Ganni Raincoat: This raincoat screams spring! I love how it's super simple and can easily be stored in my purse. This coat will actually have me singing in the rain.
2. Everlane Rainboot in Stone: I love how short yet functional this boot is. They are perfect for traveling, since they can also serve as an everyday boot. I can pack them in a suitcase with no hassle—plenty of space for other things.
3. The Handbag Raincoat Bag Medium City Slicker Handbag Protector: The first thought I had when I saw this was "Wow, someone clearly thinks of bags the same way I do." Your bag NEEDS a raincoat, too. This one comes in different sizes, perfect for any accessory you're carrying.
---
Rachel Pickus
Social Media & Affiliate Coordinator
1. Rachel Comey Stunt Ankle Boots: Weather-appropriate footwear definitely isn't my forte, but I'm considering these Rachel Comey booties a baby step. They may not be categorized as rainwear, but that's *exactly* how I'm gonna sport them this spring.
2. Nanushka Large Belt Bag: I'm calling it now. Belt bags are THE rainy-day accessory. Sling them across your torso and tuck them into your trench to prevent your valuables from becoming soggy.
3. Rains Limited Long Faded Raincoat: My disdain for raincoats is due to their tendency to be shapeless sacks that can single-handedly ruin an outfit. Not so much the case with this Rains trench coat that I'm tempted to wear rain AND shine.
---
Valeriya Chupinina
Beauty Fellow
1. Michele Lopriore Low-Heel Python Printed Ankle Boots: Nothing other than a good leather boot will get me through a rainy day in New York. These look great, stop the wetness from coming through, and can carry you into a fun night out on the town once that inevitable downpour stops at 5:00 PM.
2. Miaou Sport Bucket Hat: An umbrella is never enough protection. I'm wearing this Miaou bucket hat to ensure my hair stays on point through a surprise storm.
3. I.AM.GIA. Tex Jacket: The perfect jacket for rain protection when you are going out. It's always raining in New York, so I'll probably have my umbrella on me. I'm not trying to wear a giant raincoat every day, and that's where this cute leather mini comes in handy. It's just fitted enough to keep you dry.
---
Hannah Baxter
Editor
Part of the series:
WWWRN