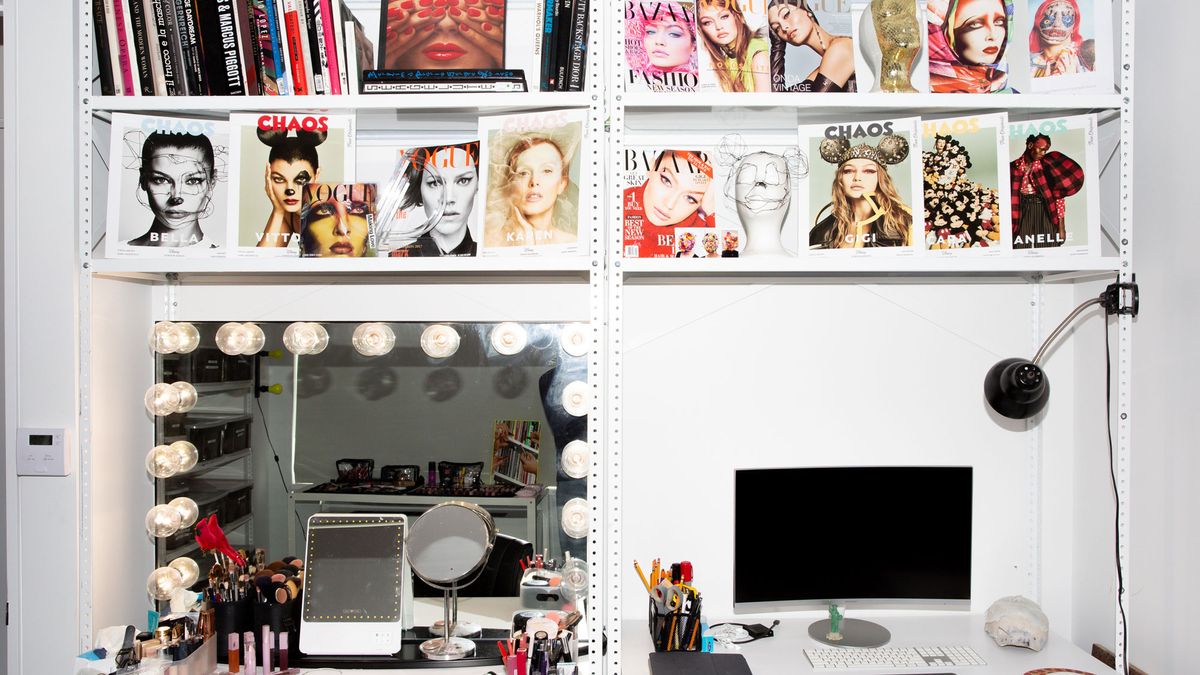 Makeup
Dramatic beauty is her specialty.
Alec Kugler
Let us explain how to get a beauty nerd excited. Show her an impeccably organized closet stacked with drawers upon drawers of products (labeled, naturally), then pull out four suitcases filled with multicolored feathers, slime, and glitter. If you're anything like us, you're probably hyperventilating on the floor right now. That's exactly how we felt when we met
Erin Parsons
, the Maybelline Global Makeup Artist who also happens to paint the faces of celebrity clients like
Gigi Hadid
and
Emily DiDonato
. Her New York home and studio is essentially a beauty Shangri-la—not surprising for someone who got her start assisting Pat McGrath.
If you think back to a recent magazine cover you loved because of the killer makeup look, we predict Parsons had something to do with it. Maybe it was the
Chaos
one with Bella Hadid wearing a wire Mickey Mouse-type mask, or
Karen Elson
looking all types of ethereal with pale olive eyeshadow. This sort of dreamy, irreverent makeup is her specialty. "I really love going to the extreme," she explains while we dig through her seemingly endless custom lip palettes. "I love using products that people don't use all the time."
But as much as she enjoys creating over-the-top editorial looks, the Ohio native says that, at the end of the day, she simply loves making clients look unbelievably stunning. "Gigi started working with me because she knows I can make her look more beautiful than she already is, [and] that's not easy for makeup artists to do. If you want to make money, you better know how to make girls look gorgeous." Isn't that what we all want our makeup to do?
Ahead, see the makeup must-haves Parsons keeps on set, where she finds the bulk of her beauty inspiration, and why she's obsessed with platform shoes.
---
1 / 24
"I was obsessed with Marilyn Monroe since I was around six years old. She's just the epitome of glamour to me, [especially] in The Seven Year Itch. I remember seeing her and being like, I need to put red lipstick on. It all started when I was really young. I would go to the library and find books on Joan Crawford and Marlene Dietrich, anyone with more interesting makeup."