Designers
What It's Like to Grow Up with an Iconic Fashion Designer as Your Mom
Listen in on a conversation between lingerie designer Morgan Curtis and her mom, Jill Stuart.
Alec Kugler
We love our moms—they have taught us some of the most important things we know (like to
always wear sunscreen and stop over-tweezing our eyebrows
). Admittedly, though, there have been times when our moms don't quite get what working in our industry entails, which is why we found it so fascinating to sit down with Jill Stuart and her daughter, Morgan Curtis, who designs the lingerie, pajama, and swimwear line Morgan Lane (you've probably seen her adorable and quirky
Baron Von Fancy
eye masks). For one thing, Curtis keeps her studio and showroom one flight of stairs up from her mom's supersized version in Manhattan's Garment District; for another, the women so obviously get each other and celebrate each other's success, from Curtis' recent participation in the
Vogue
Fashion Fund to Stuart's icon-making turn making
that Clueless
costume (actually), that we just shut up and let them talk (a rarity, let us tell you). Here's what it's like to have your mom be a fashion designer when
you're
a fashion designer. Read this, email it to your mom, then go home for the holidays and give her a hug for all of us.
---
You get to play dress-up with way more than the old box in your basement:
Morgan:
"I
'
ve always been obsessed with fashion. I didn
'
t really figure out exactly what I wanted to do until I was 15. The exact moment I felt recognized as an artist was when my mom came into my room, and I had randomly bought all these oil paints and was painting my first oil painting of Man Ray's crying eyes, the photograph, and she almost started crying, too. I still have the painting. That's when I realized I had some kind of talent, and ever since I was little I
'
ve always been coming to this office. I had my birthday parties here. We had one in the pattern room, where everyone got to make their own skirt."
Jill:
"Then they did a fashion show! All the little girls put on the skirts at the end, and they did a show."
Morgan:
"We also raided her vintage collection and tried on all the big fur coats. We were only five years old. It was so funny."
You have an intimate association with the most famous costume of the '90s (that would be Cher's yellow plaid suit in
Clueless
):
Jill:
"It was really fun working on that. I came up with this plaid kilt skirt that I must have sold thousands of. Especially once it was in
Clueless
—it went crazy! I did these little furry Mongolian lamb knapsacks, too."
Morgan:
"It's the line where Dionne is like,
'
Did you skin a collie to get that bag?
'
[
laughs
] And it
'
s in the Jeep. It's a white fur puff ball."
Jill:
"It was just really fun to work on the clothing for it—it
'
s such a great movie."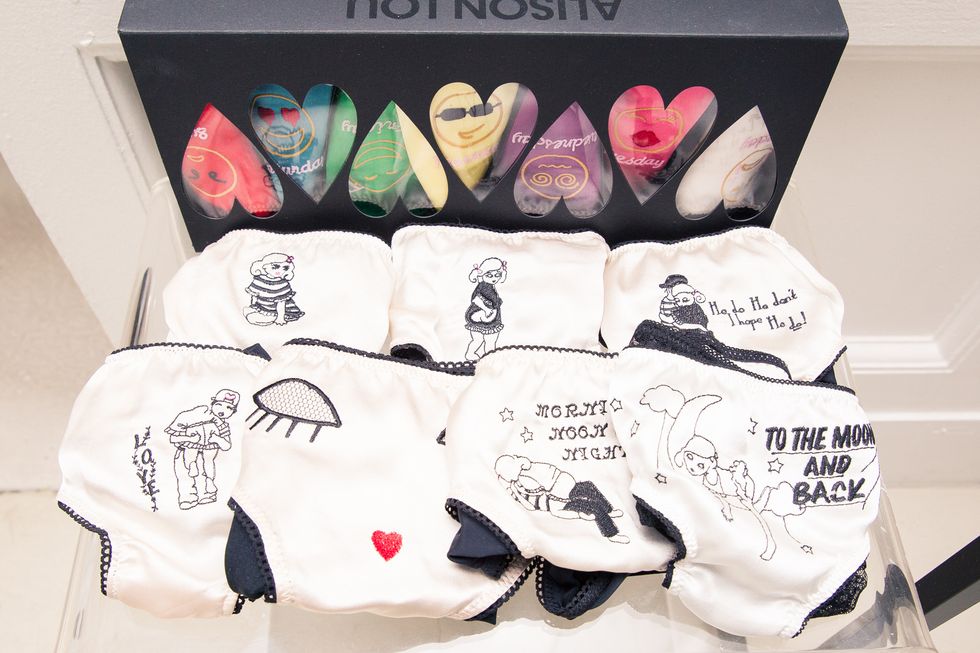 You get to shop each other's collections:
Jill:
"I only wear her lingerie!"
Morgan:
"She loves to take off her shirt and show me which bra she is wearing. [
laughs
]"
Jill:
"I could show you right now which bra I
'
m wearing! [
laughs
] It was so funny, I was even in the doctor
'
s office the other day, and she was like,
'
Oh my god, that bra is unbelievable! Can you get me one?
'
She got it in pale pink, and she absolutely loves it. She was like, 'I show it to all my friends! It's the best bra I've ever had. It's so incredible! It fits so well.' Morgan's lingerie is amazing. Not only is it really beautiful, delicate, feminine, and modern, it's very comfortable too!"
Morgan:
"Obviously I wanted to do lingerie for a long time, it's always been a huge passion of mine. Also a pro is it's something that she doesn't do, so now I have everything I want, and I never have to go shopping. I take everything that I don't make from Jill Stuart and then wear everything I make underneath it!"
You have in-house inspiration—literally:

Morgan: "My mom is definitely my biggest inspiration. I love everything that she does, and I have a really similar taste. We are both very feminine, but we have a bit of an edge. I think the difference is in my sense of humor with my clothes, the quirkiness and playfulness. That is definitely my personality."

Jill: "I don't have a sense of humor with my clothes! [laughs] I'm a little more serious. I think we both love feminine, beautiful, romantic pieces, and we have a very similar sensibility. Morgan is such an incredible artist that she draws a lot of her own prints, which is such an incredible talent of hers. But I think that we work very similarly; we get to see each other every day. We worked together for four years before Morgan went on her own—we work very well together and apart."


You get to learn the big lessons:
Jill:
"I've learned to be a little more patient. Morgan is very patient. I'm not very patient. I like everything done right away, perfectly, fast, move onto the next thing."
Morgan:
"I've learned so much from her, it's hard to pick one thing. One of the most important things I've learned is to always trust yourself and your first instinct, to design for your customer and for yourself. Never make something that you wouldn't wear. It's pushed me in design, but also in sales. If I know I'm a good fit for a store, I'm not going to give up, to the point where I'll just show up at the store and pretend I have an appointment and end up selling the line [
laughs
]. I've actually landed some of my biggest accounts that way. I learned that from her! When she was young, she has some stories like that."
Jill:
"I started when I was 15, and I brought my line to Bloomingdale's. I just walked right in there, saw the buyer, and got an order in the windows. It was pretty amazing. You just have to persevere and [be] driven, especially in this business."
Want more stories like this?
Jada Pinkett Smith on Parenting, Rebellion & Learning from Willow & Her Mom
Find Your Mom the Perfect Gift in 60 Seconds
What It's Really Like Being a New Mom