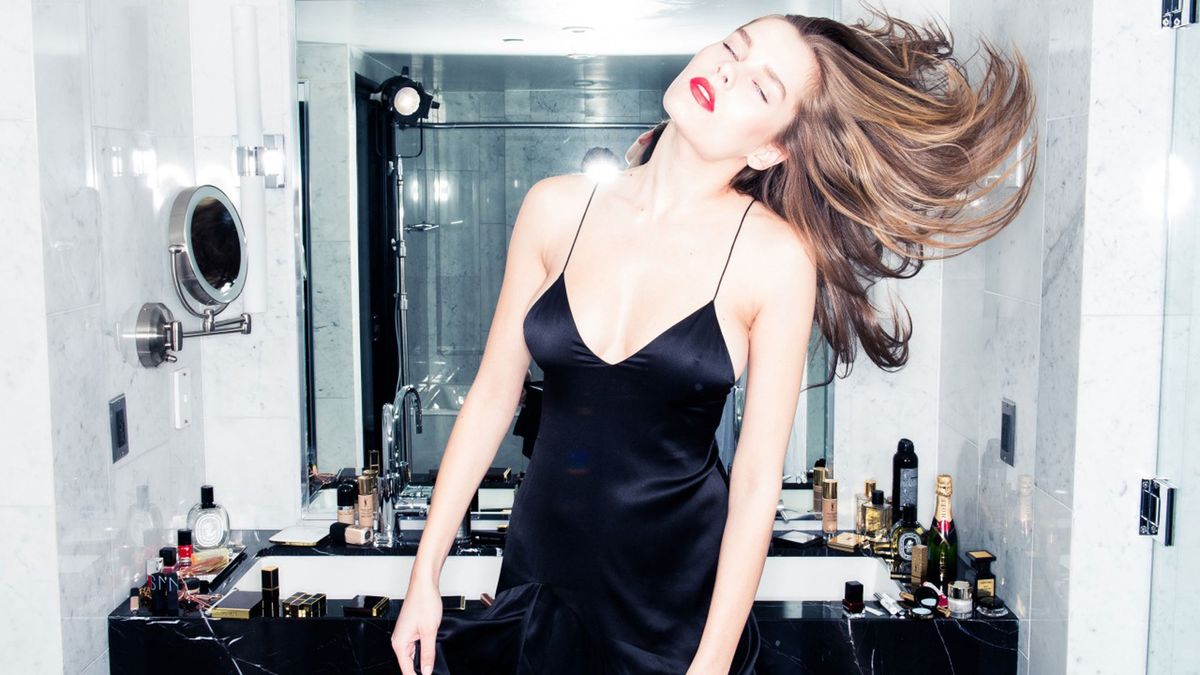 Hair
Confused about Wet & Dry Hair Oil? A Celebrity Stylist Breaks It Down
Teddi Cranford on why hair oils are spring's must-have beauty product.
Meagan Wilson
Warmer temperatures have *finally* arrived, which means your hair is likely behaving in a whole new way, welcome or unwelcome. Instead of battling the
dry, brittle texture
you had all winter, your strands are starting to absorb the extra water vapor in the air courtesy of the added humidity. That means frizz (sigh). Rather than succumb to looking like you just stuck your finger in a light socket, we decided to investigate the wondrous world of hair oils, aka one of the most effective products for both moisturizing your hair and
eliminating frizziness
. Only it's not as simple as a one-size-fits-all formula
—
there are two main players in the oil arena: dry and wet.
Since dry oils contain smaller molecules than traditional oils, they are more lightweight and absorb faster, meaning there is no greasy feel left on your strands. But it's also hard to beat the deeply moisturizing properties of a wet oil, especially if your hair is color-damaged, kinky, or curly. So what's the right product for you, and how do you use it properly? We chatted with
Teddi Cranford
, owner of 
White Rose Collective
in New York and 
ApotheCARE Essentials
 lead stylist, to get the scoop. If there's anyone who could explain how to achieve effortless, cool-girl hair with just one hero product (regardless of hair type), it's her.
---
What's the difference between a dry hair oil and a traditional hair oil?
"A traditional hair oil is more concentrated, and it's definitely heavier, as well. It leaves more of a feeling on the hair and gives more shine. It's definitely better for people with coarser hair, who need a lot of nourishment. For me personally, I like the dry oil more. I don't like my hair feeling weighed down or greasy. I also don't like to shampoo that often."
How do you prevent the hair from feeling greasy when you're using an oil product?
"For me, the ultimate base is always a really good shampoo and conditioner that's going to remove any excess buildup or product. I let my hair air-dry and use the
Diptyque Hair and Body Oil
. I comb through, and it dries as if there's nothing in my hair—there's just weightless volume."
What are the benefits of using an oil versus a cream or spray for styling purposes?
"It gives you a sort of lived-in look. If your hair is freshly washed, sometimes there's this poofiness. When you find an oil that works with your hair type, it gives you a cooler, more lived-in look without having to use a texture spray. There's a lack of movement with texture spray. It's great for an editorial shoot or photos, but for the everyday person, you want movement in your hair; you want to be able to run your hands through it. Using an oil is a really great, modern approach to having soft pieciness."
What kind of oil would you recommend for more coarse texture compared to fine hair?
"I would use a dry oil on all hair texture, but that's just me. I think, for the women that want more control in terms of frizz, somebody with more curly, coarse hair could use a more concentrated oil. But I will say that there is a benefit to using a dry oil with this type of hair texture, too. Their curl is going to have more life; it's going to have more bounce; the curls are going to have more air. One is going to weigh it down a little more, one is going to give it more life. Somebody with finer strands of hair, I would definitely recommend dry oil."
What is the application process for dry oil?
"With the Diptyque oil, I'll mist it into my hands and softly scrunch it in on my wet hair after the shower. If I want a little more, I'll lightly mist it all over. Make sure you're doing it very lightly. [When there is] humidity and salty water, I feel like I'll need more."
Are there more styling benefits than just reducing frizz?
"It's also a way to boost the overall look of the health of your hair in terms of shine and refresh. But less is more. If you do want to add additional texture, I would use the
Oribe Swept Up Powder Spray
for people with finer, longer hair for a beachy, lived-in look. Having a million products can be quite overwhelming."
Photo: Shot on site at 6 Columbus, a Sixty Hotel. On Solveig: Dress, Jonathan Simkhai; Hair, Angela Soto; Makeup, Andriani.
Want more stories like this?
The 36 Best Beauty Products That Launched in April
You Can Now Smell Like the Eternally Cool Carine Roitfeld
Anti-Frizz Products That Would Work in the Middle of the Rainforest