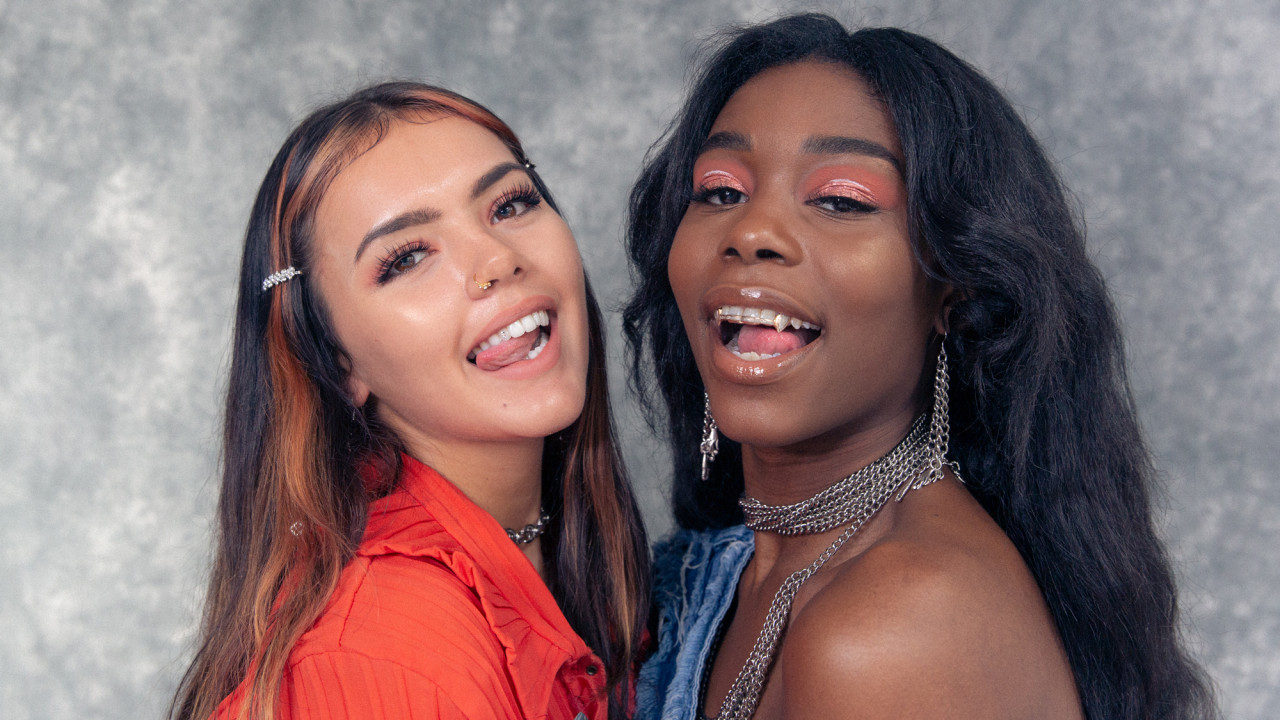 Grills Aren't a New Trend, but They Are an Exciting One
Crazy about gold fronts? Us, too.
Currently, on the Beyoncé Homecoming album cover, you can see a bottom gold set from Queen Bey's mouth, which I can confirm is an actual representation of Southern culture. I got my first grill when I turned 16, from Houston jeweler and the "The King of Bling" Johnny Dang—a removable bottom iced-out six-piece with pink diamonds on the fangs. In the early 2000s, grills seemed like they were becoming universal, but that quickly died down as Southern rap became less popular. But what now seems more like a current trend has in fact been a part of my community for a long, long time. According to Johnny Dang & Co., no one is playing it safe when it comes to purchasing grills—the more iced-out, the better. "It doesn't even matter what style or color; as long as it's fully iced-out. Nobody wants just a few diamonds; now people are getting more teeth iced-out. Instead of eight-and-eight [set], people are getting 24 teeth, all diamonds." And when asked about a specific budget one may need to purchase a grill from Johnny? "With our business, we have a specific kind of crowd, but that doesn't limit us in the style. We have a budget for everybody. If you come with $150, we can get you right, but if you come with $15,000, we can get you super right."
But there are jewelers who speak to different audiences, and Blakk Grillz has taken the lead in introducing grills to a luxe working-class community in New York and beyond. Their mission is to create a space where the average nine-to-fiver can go out for a night with a piece of jewelry that they may not have seen themselves in. "This is something that no one has touched, and they left grills in a lane that it was in, and it's like, why? We want to diversify and be able to showcase our culture and our history in a more elegant way that people can relate to. When people think of grills, the masses are not thought of at all, and we wanted to change that perception of what grills can be and what they are. For us, being able to reach [out] to different demographics, it showcases our history and diversity of what we are doing with this company."
But what if you're too scared to commit to a full iced-out piece? No worries, GBY Beauty has you covered. There is a new subtle tooth gem trend that is starting to emerge, and with partnership from Nike to Twitter, this company is leading the way. Instead of getting a grill, you can commit to a tiny gem attached to your tooth, and depending on how bold you are, there are different colors and designs that GBY provides. "The more expressive you are in fashion and the more personality you have is an extension of their style. So someone who is a more streetwear influencer, they are the ones who want to do five of them on their teeth, and [it] has really become an extension of how they dress. Our clientele in New York is more expressive; in L.A. they kind of play it safe. In L.A. it's more of a cute accessory that you don't really see, whereas New York it's like, 'Put them on my front teeth.'"
While thinking about how Coveteur could capture the ongoing grill trend authentically, we tapped three prominent jewelers, Johnny Dang & Co., GBY Beauty, and Blakk Grillz, for their insight on who's purchasing grills. And when choosing what models to come in and show us their pieces, we dialed up our friend, stylist Ziggy Mack Johnson, who has his creative crew on speed dial.
Explore how these creatives use their grills as an expression and expansion of their personal style.
"I received my first grill when I was in sixth grade. Obviously it wasn't real, but I saved up some money selling candy at school along with some extra help from my mom to buy them at my local beauty supply store. In my neighborhood growing up (Tampa, FL), having gold teeth was like having a car. All my OGs had them, however theirs were permanent. Nonetheless, having gold teeth in my community growing up was a normal thing, so I always knew I'd have a pair of my own. As I got older and started making more money through my photography, I decided to finally get a real pair of my own, and to be a little different, I decided to make mine 14k rose gold. When people see my golds, they at first think I'm just trying to look cool; then they hear me speak, they hear my natural Southern twang, and then it begins to make sense to them. It's not a fashion statement for me; it's a culture statement more so than anything."
"I got my grill last year in December for my birthday. I feel like my grill is perfect for when I want to go out and just add a little bit more sauce to my outfit, just like how I wear my pearls and gold chains; it's just another accessory. What I like most about it is that most people's grills are different, so you can get it to your liking."
"I actually just got mine put back on because my last ones fell off. I've had one since like, 2017. I feel like they correlate with my personal style and creativity, because after you get one, it just becomes a part of you. I really felt weird when my last ones came off. I love how simple they can be, but you can also go off and bling them out. I want to smile way more now."
"I got my grill in 2013, right after I graduated high school. My mom actually hated them so much that she hid them from me for years. I think it's a nice touch to my looks, because I like to dress either super girly or baggy tomboy. It takes people by surprise because they don't expect a girly-girl to have grills in their mouth."