Sneaker Week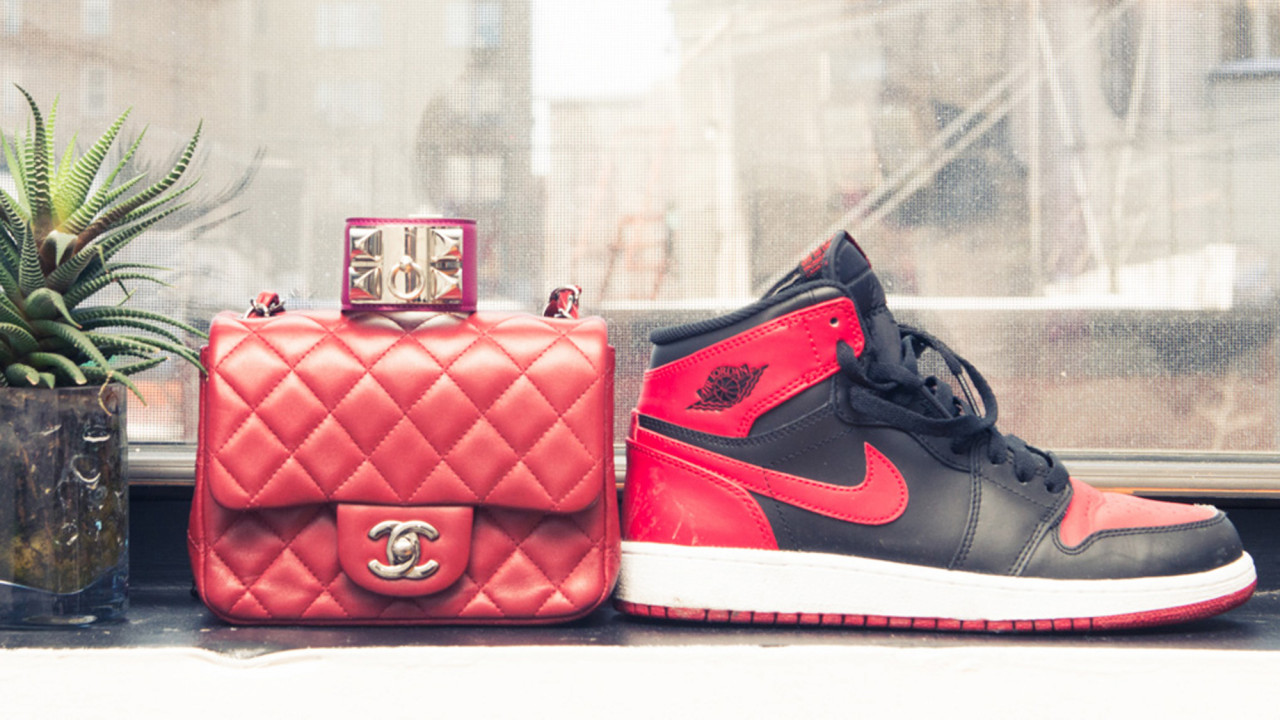 How 6 Coveteur Editors Style Sneakers
With taffeta dresses, bucket bags, and more.
While we're big fans of all footwear, there's only one category of shoes that we dedicate an entire week to, and that's sneakers. Over the years, they've become a wardrobe piece as celebrated as a luxury handbag or designer dress. CHANEL makes them, Balenciaga makes them, and when classic labels like Nike and adidas make them in limited quantities, people camp out to buy them and drop *serious* amounts of cash on the resale market. In honor of Sneaker Week, here are six pairs we love and how we'd style them.
---
Leah Faye Cooper
Editorial Director
1. Cole Haan Zerøgrand All-Day Trainer: If you enjoy feeling like you're walking on a cloud all day long, I highly suggest you buy a pair of these. They couldn't be more comfortable or versatile—the best combo for any pair of shoes.
2. Stine Goya Jasmine Crinkled-Taffeta Mini Dress: Stine Goya is one of my favorite brands right now, and I'm *seriously* considering adding this billowy beauty to my wardrobe. Think of how easily I'll be able to twirl in it wearing sneakers!
3. Tod's D-Styling Small: I love everything about this bag—the shape, the exaggerated zipper pulls, and especially the color. It's the perfect addition to my comfy-meets-glam outfit.
---
Hannah Baxter
Editor
1. Yeezy Off-White Boost 700: I never thought of myself as a Yeezy gal, but this Off-White pair stopped me dead in my tracks. I love the treaded outsole and the cream-and-grey colorway. It's the perfect everyday sneaker with a little extra oomph.
2. Sea Poirot Cropped Checked Cotton-Blend Twill Straight-Leg Pants: There's nothing I love more than a tailored trouser with chunky sneakers. The rich camel plaid and extra-large cuff on this pair make my heart melt.
3. Orseund Iris Le Funk Silk Satin Shirt: This shirt is the ideal blend of sexy and vaguely masculine, aka my dream pairing. An all-neutral power outfit, down to the shoes, is my new spring must-have.
---
Ivanna Martinez
Social Media Associate
1. Atmos x Nike Air Max 2 Light: These colorful Nikes are the best! I've been eyeing them all month and desperately need color for the summer. They've been a #SneakerWeek favorite, and I can now see why. These will be on my feet all season.
2. Geraldine Puff Sleeve Dress: This beautiful puff sleeve dress from Geraldine is so put-together, but can easily be worked into a more casual outfit. I plan on wearing it to the beach, to work, drinks after work—everywhere.
3. Adriana Castro Alva Mini Bucket Bag in Python: This Adriana Castro bag is calling my name. Especially the beautiful iridescent blue color. It works perfectly into any casual outfit, but also steps up any formal attire. My ideal summer bag.
---
Nandi Howard
Production Fellow
1. Cleair Monroe Neon Tri Tank: I'm always searching for new designers and have recently fallen in love with Sky Conner's brand, Cleair Monroe. The name is a fusion of Marilyn Monroe and Claire Huxtable, due to the sexy-yet-classy wardrobe palette. Neon is a having a major moment, so this top is right on trend and perfect for me. Slime season, anyone?
2. Prada Cloudburst Sneakers: There have been mixed reviews about these sneakers, but in my eyes, Prada can do no wrong.
3. Columbia Bugaboo Omni-Heat Snow Pants: My mission is to not wear jeans this summer, so casual pants (like snow pants) have become my best friend. These Columbia ones sit right below your belly button and give you the perfect fit with a little vintage feel. Instead of purchasing from a high-end designer, I am going straight to the OGs.
---
Valeriya Chupinina
Beauty Fellow
1. Balenciaga Triple S Sneakers: I knew I'd never get over these sneakers, and I was right. They're still number one on my wish list. I'm obsessed with the cream-and-white combo, as well as the extreme chunkiness. I'd rather spend big bucks on this luxury sneaker than a pair of heels.
2. Rat & Boa Valentina Dress: This dress is absolutely perfect for every occasion—formal with a beautiful pair of heels, or paired down with a cool leather jacket and chunky sneakers. I'm dying to wear this semi-sheer silk gown and juxtaposition it with something casual like the Triple S.
3. Jayne Smooth Leather Jacket: Topping off the outfit with this guy, because the quality of this jacket is absolutely incredible. Catch me on a rooftop this spring with a glass of red in hand.
---
Jodi Taylor
Editor
1. Jordan 1 Retro High Panda: These don't really need any explaining. All you need to know is that, yes, you need a pair, and yes, they will very quickly become part of your summer sneaker rotation.
2. Stone Island Patchwork Utility Trousers: The color of these? I'm obsessed (and have a strong feeling that our beauty editor, Hannah, will be as well). And with a fresh white tee? Game over.
3. L'Art de L'Automobile Mock Neck: If you have yet to hear about L'Art de L'Automobile, you need to get to know everything about the brand which, plot twist, is also a rare car dealership (chic). The cars came before the clothing, but it draws just as much attention. Makes sense though, no? I mean, look at this shirt. It's *the* perfect finishing touch to my cozy sneaker outfit.
Want more stories like this?
13 Wedding-Worthy Sneakers
We Found the Most Expensive Sneakers on the Resale Market
Nicole McLaughlin Debuts New Shoes from Her Insta-Famous Footwear Collection