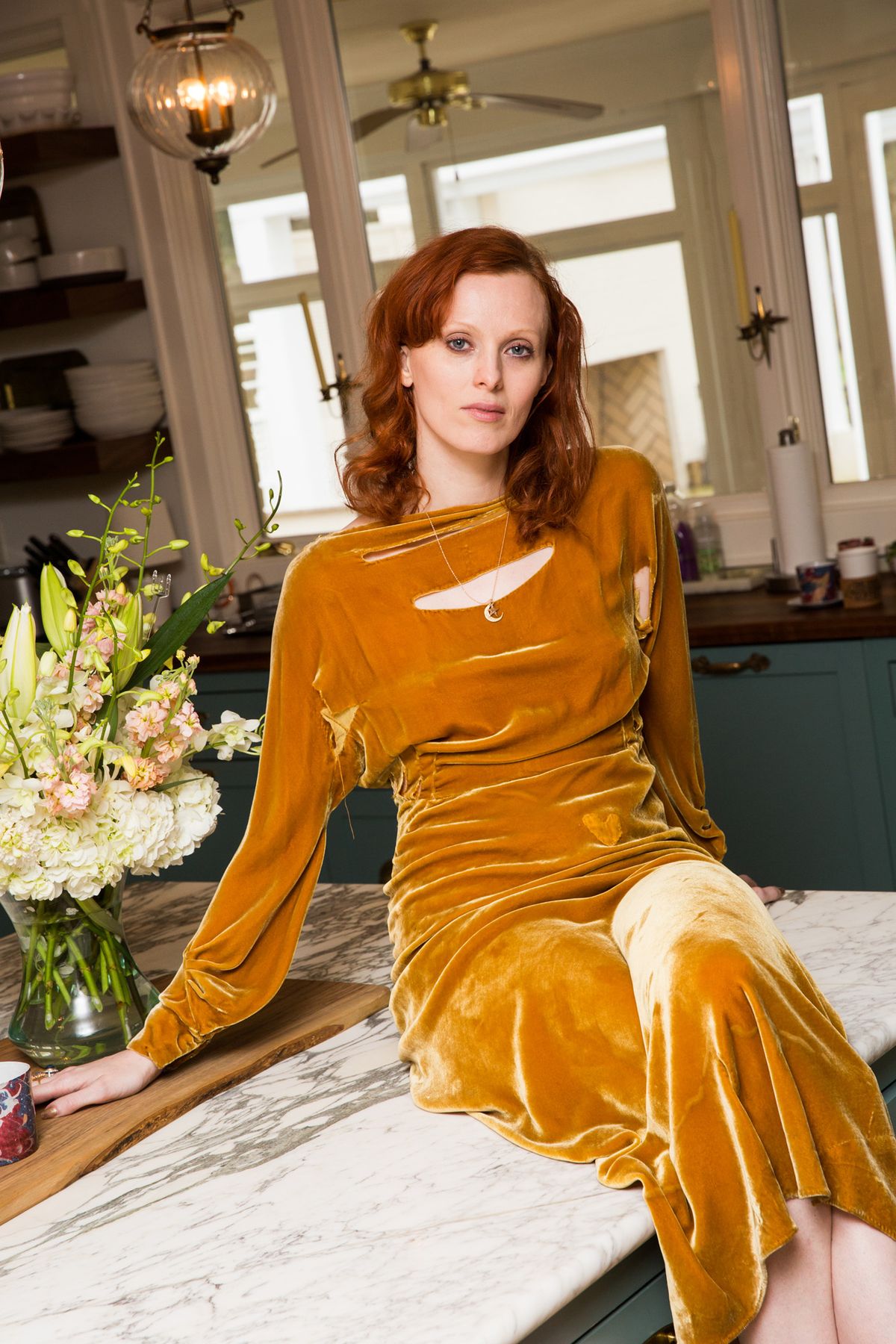 Closet
Karen Elson will forever be our bohemian street-style icon. Nashville, Tennessee.
Alec Kugler
Hannah Baxter
For the average model, the fashion industry can be a tricky business to navigate. There are the girls who have their season or two, then filter back into normal life, and then there are those who manage to redefine the meaning of
"
iconic
"
for years to come. The qualities that separate these women from their peers are difficult to pinpoint. It isn't merely stunning looks or a signature strut down the runway, but rather that inability to be defined; a nebulous, intoxicating "it
"
factor so rare that we're lucky to witness it in more than a handful of models per decade. Such is the allure of
Karen Elson
. Even if you're not familiar with her name, you've undoubtedly bought a magazine or spotted a billboard with the supermodel standing front and center. With her shock of red hair, alabaster skin, and otherworldly beauty, she has cultivated a career that no doubt solidifies her as one of our generation's most recognizable faces. Since being scouted at 15 in Manchester, England, she's worked with some of the biggest names in fashion—including Saint Laurent, CHANEL, Miu Miu, Burberry, Lanvin, Versace, Dior, Alexander McQueen, Louis Vuitton—and has racked up over 30 international
Vogue
covers, among many others, which eventually led to British
Vogue
labeling her as "Fashion's Red Queen" in 2008. Since then, there's been no slowing down in Elson's illustrious career. Case in point: Between her newest campaigns (she's the current face of
Jo Malone London
and
Tom Ford Extrême
), getting elected to the board of the Model Alliance, and taking care of her two kids, she's also made time to begin working on her second studio album, which she hopes to release later this year. "That's the plan," she explains when we visit her cozy Nashville home to raid her closet. "At some point, in the next couple of months, [I'll] give myself a good six months to really connect and write the new record and get the things I need to get off my chest done." After insisting on making us a cup of tea post-shoot (she's still an English girl through and through), we curl up in her music room, among her many guitars, records, and piano, to learn exactly what her life is like away from the epicenter of fashion. "I think when I first moved to Nashville, I kind of toned things down a little bit," she says when we ask whether life down South has affected her signature bohemian style. "Because again, when I'm in school pickup with my kids, and I'm dressed head to toe in some getup, you realize that it's just not necessarily the town to do that. But Nashville also has this delicateness to its style as well, and a free spirit that I've embraced. I'm a creature of habit as well, so I'm always going to wear the same sort of
vintage, flowery dresses
that I wore in New York. I just might pair it a little differently these days." Music to our ears.
Click through to see Elson's incredible collection of vintage and designer dresses, learn the beauty products she's currently obsessed with, and find out why her first fashion purchase is the literal stuff of dreams (hint: it involves a shopping spree at the Paris CHANEL store when she was just starting her modeling career). Plus, shop her closet here.