Wedding Week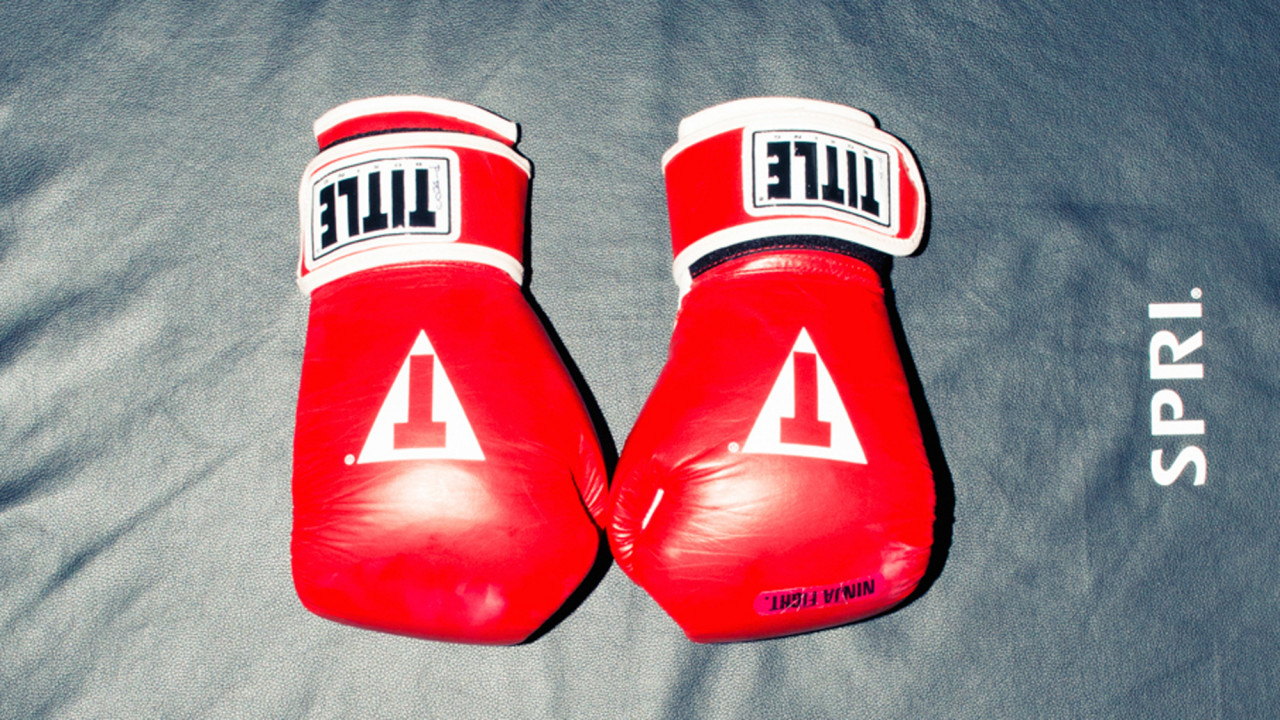 Forget Premarital Counseling—My Fiancé and I Joined a Martial Arts Gym Instead
An alternative way to prep for until-death-do-us-part.
The way couples communicate their anger is like a litmus test for a relationship's lifespan. And even though reacting thoughtfully to tense circumstances is the key to longevity and trust, it's certainly not easy, considering "spouse" is indicated as the top stressor in marriages. As a recently engaged idealist, this is exactly what was on my mind as I shuffled from one foot to the other, locked eyes with my husband-to-be, and proceeded to whack him in a frenzy of enthusiastic punches.
This, we decided, would be the fruitful start of our path to married life. What better way to handle a possible source of frustration than to (literally) tackle it head on?
I was only 10 years old when I first received the unsolicited marital advice to "argue in the nude" (thank you, Nonna). At an age where simply having a crush on a boy was unthinkable, the idea of being naked around one both embarrassed and horrified me. But now, 17 years later, the bizarre suggestion—a timeworn tip from the Catholic Church's Pre-Cana counseling—resurfaces when I get lost in a heated debate with my fiancé, Mohamed. In the midst of regretful comments and unnecessary shouting, I can't help but wonder: Would this be easier if we were naked? But before stripping down mid-dispute (although I won't knock it until we try it, so stay tuned for a follow-up story), we're forgoing prep classes altogether and seeking out less-traditional methods to help mold the foundation of our impending union.
From my limited knowledge of martial arts, I knew its training styles involve channeling a very cerebral component that could also be applied to the process of merging our two lives into one. This includes working on mental endurance, focus, and the ability to better control emotions and negative thinking. Without any nudity involved, martial arts seemed like an interesting way to push ourselves physically while developing mental tools for navigating potential conflict areas in our relationship.
"Probably the biggest benefits of training together is building trust and seeing yourselves as being a team,'' says Vicki Larson, relationship expert and co-author of The New I Do: Reshaping Marriage for Skeptics, Realists and Rebels. "Whenever a couple thinks in terms of 'we,' they feel closer and more connected."
To be honest, we hadn't really thought about undergoing any kind of marital training at first. Both of us figured somewhat naively that since we survived a year and a half together in the cramped quarters of our suitable-for-one Parisian studio, we could make it, hand-in-hand, over any relationship hurdle that came our way (and we have so far, including headache-inducing visa applications, a transatlantic move, and the challenges of being a multiethnic couple in an era of heightened xenophobia). Since settling in Brooklyn and getting engaged in 2018, Mohamed and I have become very comfortable as a "we"—perhaps even too comfortable, I've realized, because growth doesn't come from the status change of "girlfriend" to "fiancée," but from those terrifying moments of uncertainty that test our ability to solve problems as a pair.
So it wasn't until one lazy Sunday a few months into our engagement that we decided to pluck our perfectly fine relationship out of its comfort zone. We were strolling by a nondescript martial arts studio where the garage doors opened onto oversize black and red mats. Uniformed students trained barefoot, throwing kicks high into the air and performing complex symphonies of punches, knee thrusts, and elbow blocks. Everything about this place was impressive and intimidating, which is why we were both surprised by a mutual interest in the sign outside encouraging rookies to try out a complimentary class.
I entered, fiancé in tow, to find an environment unlike any other fitness studio that I'd frequented in the past. There was no juice bar or motivational neon signs. There was, however, a bold red wall at the far end of the space behind a wooden exercise apparatus (which I later learned was a wing chun dummy), free weights, and jump ropes. Emblazoned on that wall was the ominous face of a samurai, with a similar metal warrior bust at the front of the mats. In a word, this place was hardcore.
But the instructors, who go by sifu—the Cantonese word for teacher—were extremely welcoming and got us fired up about getting started. We could tell from the warm interactions among their members that this wasn't just another trendy congregation spot for fitness-savvy Brooklynites. It was a family, and they were ushering us into excitingly unfamiliar territory.
So we settled on trying out a Muay Thai class, which is a combat sport from Thailand. According to Larson, research shows that "being part of an exciting physical activity or challenge increases relationship satisfaction." And there we were, coordinated t-shirts and all, trying our best to relax, breathe, and remember the technique for each new position. While the class included students of all experience levels, I appreciated our instructor's patience and the equal amount of attention he gave to all attendees. He set an example for how treating one another with respect can result in more significant progress.
Despite our aching muscles (the kind that get worse, not better, as the days go on), we came back again and again: high-intensity training, battle-ready, JKD, boxing. Sometimes I was punching Mohamed repeatedly in his solar plexus. Other times he was cheering me on through routines that set my abs on fire. While physically working out whatever frustrations I had been carrying around with me (consciously or not), I was learning to identify how and when my partner needed help. The whole experience was like a metaphor for what can happen when teamwork, love, and commitment collide. With each class we saw that the best way to make it to the next level is on the shoulders of the people that believe in you. We were promising to support one another through every step of our life journey without even realizing it.
Of course, there are also the individual physical advantages of consistent exercise that have also brought us closer. As Larson points out, "Looking good and feeling good for yourself also makes you more attractive to your partner." And while we know martial arts won't guarantee this marriage will work out, we feel better equipped to handle difficult situations—with the added benefit of looking better naked if an argument ever does call for it.
Want more stories like this?
21 Stunning Looks from NYFW: Bridal
6 Ways to Feel Your Best on Your Wedding Day
A Foolproof Guide to Beautiful, Timeless Bridal Makeup