Wedding Week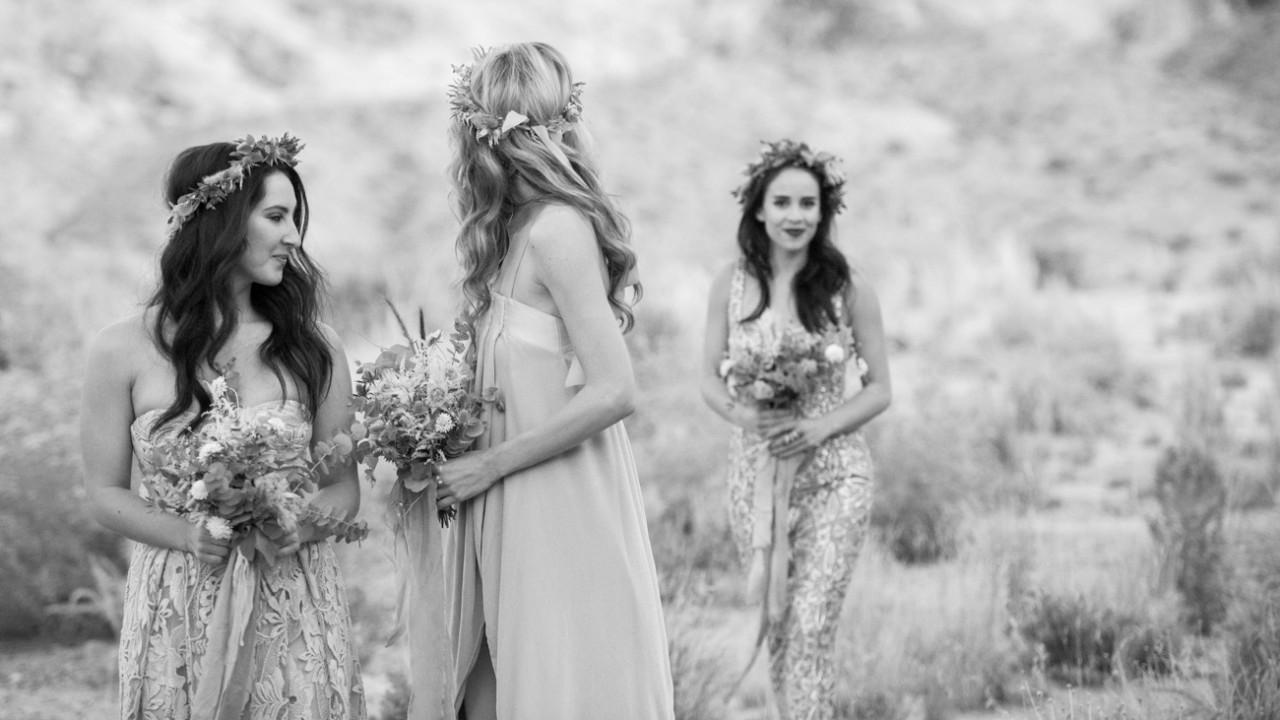 15 Bridesmaid Dresses You'd Actually Want to Wear
Not a boring, shapeless gown in sight.
What comes to mind when you think of a bridesmaid dress? A gorgeous, incredibly cool gown that you'd gladly pay hundreds of dollars for and wear over and over again? Probably not. For whatever reason, this is an area of fashion that still needs...help. Most bridesmaid dresses are boring, shapeless, and void of any personality, partly because it's easy to get fixated on color schemes and universally flattering silhouettes as opposed to finding something fun and different and exciting. We want to help change that. Below, 15 bridesmaid dresses we'd actually *want* to wear—they'd look great on you and your crew, too.
---
Leah Faye Cooper
Editorial Director
---
Hannah Baxter
Editor
1. Sies Marjan Helena Asymmetric Ruffled Stretch Crepe Dress: A universally flattering dress in a perfect orange-red shade—what more can you ask for as a bridesmaid? I'm obsessed with the subtle cut-out detail, too. Nothing wrong with a bit of sex appeal during a wedding.
2. Marchesa Strapless Bustier Organza Mini Dress: A buttery ruffled confection I would die to wear with combat boots and oodles of stacking bracelets. Which of my friends is willing to line us up wearing this dream?
3. Mansur Gavriel Striped Silk Voile Midi Dress: I adore an outside-the-box dress for bridesmaids, especially this understated elegant number from Mansur Gavriel. Can't you just picture everyone in dainty pointed flats and minimalist makeup? Then throw on a leather jacket and Western boots, and go out the following weekend.
---
Camille Freestone
Editorial Fellow
---
Jodi Taylor
Editor
1. Cult Gaia Dehlila Dress: I like simplicity when it comes to dresses, especially bridesmaid dresses. I can see this Cult Gaia number being *perfect* for a summer wedding where you end up dancing into all hours of the morning.
2. Cushnie Emilia Midi Dress: I'm a sucker for good detailing, and this Cushnie dress delivers on that. It's yet another goodie for a summer wedding. Can you tell that I've never been invited to a winter wedding?
3. Monse Patchwork Satin Midi Dress: OK, so maybe this one is a little unconventional in terms of the color, but are we really keeping track of that anymore? Note to all of my friends: Don't be afraid to have fun with color—it'll pop in the photos.
---
Noah Lehava
Director, Lifestyle & Talent
1. Oscar de la Renta Draped Printed Silk Dress: I've been a bridesmaid a few times over, and what you've likely noticed, if you've been in the same boat, is that as soon as you slap a "wedding" label on any gown, even a cheap polyester dress that you'll never (ever) wear again, it'll run you a few hundred dollars. That's why I'd be totally OK shelling out a bit more for a stunning dress like this one from ODLR that I'd likely wear dozens of times over. Plus, I could always sell it to The RealReal afterward and get a bit of my money back. That's if I'd ever want to part from it.
2. Galvan Majorelle Sienna Midi Dress: My brother recently got married, and I was so thankful that the only criteria my now-sister-in-law gave the bridesmaids (who are all different ages, shapes, and sizes) was to have a long, black dress. It gave each of us the freedom to find a cut that we felt great in, and black is *always* a closet staple. I particularly love this silky halter from Galvan. Gimme!
3. Faithful the Brand Noemie Sleeveless Midi Dress: How perfect would this be for a garden or farm wedding? Plus, it's at an amazing price point.
Want more stories like this?
21 Stunning Looks from NYFW: Bridal
17 Glamorous Hair Accessories for Your Wedding Day
Introducing a New One-Stop-Shop for All of Your Bridal Fashion Needs