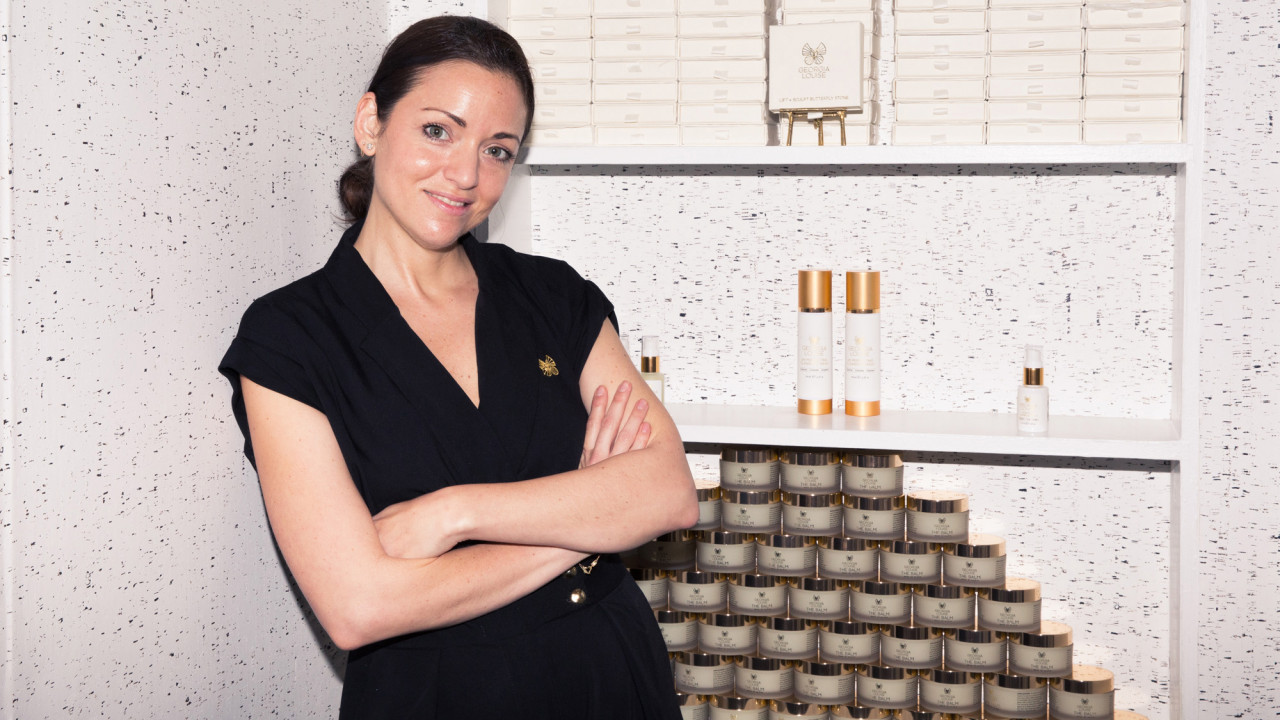 Celebrity Facialist Georgia Louise Just Launched a Freeze-Dried Skin-Care Tablet
Her new Pure Molecule is a serious game changer for the beauty industry.
You might already know facialist Georgia Louise from her celebrity-favorite Hollywood EGF treatment (Cate Blanchett dubbed it "the penis facial" to much fanfare) or her GLOPulse galvanic machine, but today she proved just how dedicated she is to discovering the latest and most advanced skin-care in the world. Her new Pure Molecule is a category-breaking form of skin-care that uses cutting-edge technology to create a freeze-dried tablet. There are four different tablets in all, and each one is a different, highly concentrated ingredient: hyaluronic acid, EGF (or epidermal growth factor), collagen, and vitamin C.
The tablets dissolve on the skin with the help of a liquid applicator (Louise's is comprised of rose water, peptides, and even more hyaluronic acid), but she explains that you could also sub in water. To use, you would dissolve the tablet in your hand with eight drops of the Pure Activator and apply to clean, dry skin before topping with any additional serums and moisturizer. It all feels a bit like a mad scientist concocting potions in her laboratory, which, to be honest, is how we prefer our skin-care routine.
To formulate the tablets themselves, Louise worked with leading Korean research and development experts and conducted clinical studies that showed 22 women noticed a 19.69 percent increase in skin density and 1.98 percent increase of skin elasticity after two weeks of use. Each dose is .001 ounces, and because it penetrates down to the dermis, it lasts for a whopping 72 hours in the skin. The tablets are reportedly so concentrated that each dose contains the equivalent of five 30 mL bottles of 2 percent hyaluronic acid serum.
So how does this even work? Freeze-drying anything involves eliminating all traces of moisture and preservatives with extreme temperatures (think -58 degrees Fahrenheit), thus shrinking the molecular weight of the ingredients so you can pack in more product into a tiny tablet. Lower molecular weight (meaning the molecules themselves are smaller) means they can sink into your skin more easily, rather than chilling on top of the epidermis. Conveniently, Louise also formulated the tablets with hyaluronic acid that already had the lowest molecular weight possible. Essentially, you want those ingredients to penetrate your skin as deeply as possible, so you receive the maximum amount of benefits of your product. For these four ingredients, that means hydrating, brightening, stimulating collagen production, and skin rejuvenation. Still following?
For now, the Pure Molecule is sold as part of a 32 Nightly set, essentially a one-month skin-care regimen. You'll receive four sheets of eight pills—one of each of the four different ingredients. She recommends starting with the hyaluronic acid, then moving on to collagen, EGF, and ending with vitamin C. Again, all of these tablets also contain hyaluronic acid, which, as a reminder, helps promote skin hydration and plumpness. In case using just the tablet alone isn't enough for you, Louise assures us that it is safe to layer another serum on top. Given that this is all inspired by K beauty—and the technology originated in Korea—it makes sense that multiple steps are still encouraged. The end result is that signature Georgia Louise glowy skin—just a little more high-tech than we've seen before.
The Georgia Louise Pure Molecule 32 Nightly is available for presale on georgialouise.com and retails for $550.
Want more stories like this?
Want a Juice Cleanse for Your Skin? Try These 2 New Masks
This Futuristic Beauty Device Gave Me Glowy Skin in 20 Minutes
I Always Get Compliments on My Skin—These Are All the Products I Use