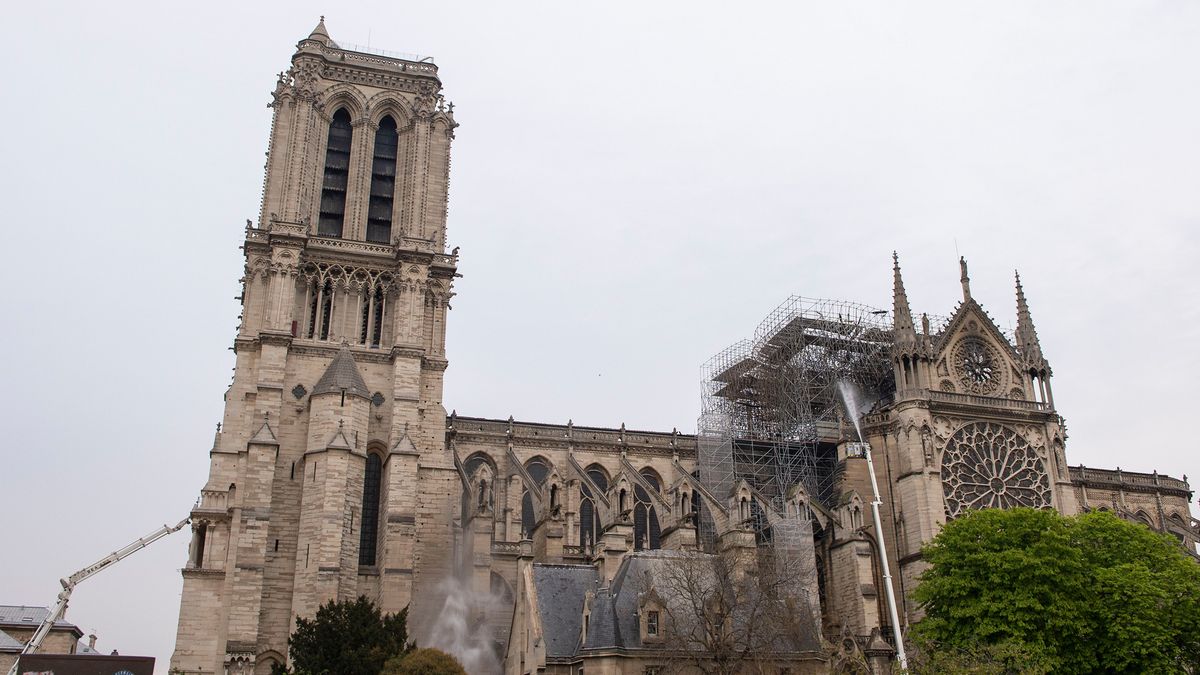 Culture
Photos and memories of the majestic Gothic cathedral, from New York to Paris.
Yesterday afternoon I touched down at JFK in New York after a 14-hour flight to a text from my boyfriend: "If you haven't seen already," he wrote, "you're going to see some bad news when you get off the plane. Notre-Dame is on fire and not expected to survive." I gasped.
I looked around the plane, wondering if anyone else had heard yet. No one else looked troubled. Instead of responding to the texts and emails that had come in while I was in flight, I dedicated myself to watching videos and reading stories of what was happening live in Paris. In my car home from the airport, the driver and I listened in stunned silence to live radio reports from the scene. It didn't seem possible, and yet—it was happening.
The 800-year-old cathedral caught fire early yesterday evening, calling on approximately
500 firefighters
to fight the blaze into the night and the early hours of this morning. The fire began in the attic; at this time, it is ruled
an accident
. Within hours, the iconic spire atop Notre-Dame had collapsed. By the time the fire was out, the
two main towers
had been preserved, but two-thirds of the roof had burned.
The three
stained glass rose windows
, dating back to the 13th century, are intact. So is the
Great Organ
, the largest and grandest of the organs housed in the structure, which also dates back to medieval times. The
main bell, Emmanuelle, is safe
, as well as the Crown of Thorns, Tunic of Saint Louis, and other major works. The
New York Times
published a
striking photo
of various artworks at City Hall today, some blackened with soot and others wrapped haphazardly with orange tape. It is an incongruous scene: ancient works thrown together in a clump in a government building, rather than carefully placed in a museum or other revered space. But—that's what a major fire will do.
Today, once the ashes had largely settled, Paris and the rest of the world woke up to a feeling of mourning. (For a truly upsetting visual take,
head here for a live feed
  of the cathedral, where you can see the progression of the fire, hour by hour.) One firefighter and two police officers
were injured
; no one was killed.
When I was 17, I stayed at Shakespeare & Co., the anglophonic bookshop across the banks of the Seine, for two weeks. Every morning I woke up in the second-floor library, with a large window that opens on Notre-Dame. It was my touchstone, my daily wake-up view; I saw the cathedral every day when I left to have whatever adventure I would have that day.
In the many times I've been back to Paris since, Notre-Dame has always been a place to stop and reminisce. Its beauty is unparalleled, but it's more than that: With the exception of ancient pueblo structures in New Mexico, we don't have buildings older than about 400 years old in the U.S. Religious or not, spiritual or not, there is a feeling of awe that washes over as one takes in Notre-Dame: the first time, and also the last time. I saw it just six days ago and had a funny feeling that I should pause to take a last photo of it. I'm so glad I did.
---
On the phone with my friend Annabelle Huet in Paris today, she echoed the sentiment. "You look at these buildings and think—it's going to be there for my children, my grandchildren," she said. "Even if I die, even if my children die, this will stay." Notre-Dame's devastation brings up a feeling of one's own mortality, she pointed out.
Watching the structure burn from the banks at the Seine until one in the morning, she said the trauma of losing iconic buildings in other countries came to mind. Though there was no loss of life, Notre-Dame is both the metaphoric and literal center of Paris: Just outside the cathedral is
Point Zero
, the exact center of the city, from which all distances are measured.
Huet first heard the cathedral was burning from a friend who worked nearby; the smoke swept into her arrondissement, and she and her friends all began to send photographs of their vantage points of the smoke and fire from all over the city as a way to connect. Tomorrow, she will go back to assess the damage; she said she wasn't quite ready to do so yet today.
While we were on the phone, Huet ran into her friend. "It's really sad," her friend said. "I go between 'It's just stones and wood and no lives were lost,' to 'Yes, but it's culture and beauty, and it makes life worth living,'" expressing a feeling that perhaps many of us have had over the past day. Everyone is OK. The cathedral can be rebuilt. But some things, such as "the forest," the ancient beams beneath the lead roof, cut from trees from primal forests that no longer exist, cannot be replaced.
"We don't, at the moment, have trees on our territory of the size that were
cut in the 13th century
," Bertrand de Feydeau, VP of preservation group Fondation du Patrimoine, told France Info radio this morning. Plus, there is the shock and horror of seeing something we all take for granted, as a given, bursting into flames.
Nonetheless, Paris will rebuild. "
Notre-Dame
is our history, it's our literature, it's our imagery," French President Emmanuel Macron said last night. "We will rebuild this cathedral together." Various billionaires have pledged hundreds of millions of euros for reconstruction, to mixed responses. Governments from
neighboring countries
, including Spain,
Greece
, Russia, and the U.K., have also pledged to help with monetary and expert assistance as the effort to restore the cathedral to her full potential begins.
Notre-Dame was
already crumbling
; many of its gargoyles had eroded and been replaced with PVC tubes over the years. It was under renovation, with towers of scaffolding set up; just last week,
16 copper statues
of the Twelve Apostles and four evangelists were taken out of the cathedral with a crane to allow renovations to the spire. This is not the cathedral's first time to
catch fire
. As we wait to see how reconstruction will unfold, I think it's just fine for people from nations across the world to just feel sad about it for now. Rebuilding, and processing, can come later.
Top photo: Getty
Want more stories like this?
Where to Eat in Paris
How to Do Paris Like a Local
What Parisian Editors Eat, Drink and Do During Paris Fashion Week