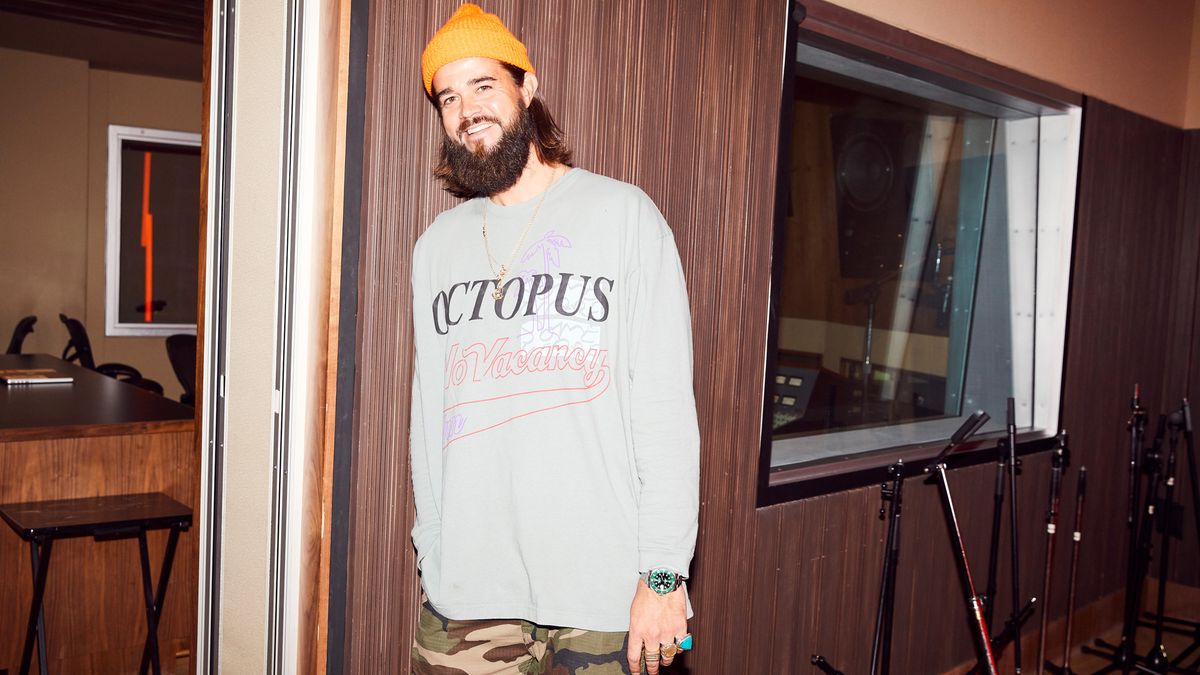 Career
The multihyphenate Brock Korsan on No Vacancy Inn, working with TDE, and producer management.
Tristan Kallas
While artists have been at the forefront of music for, well, ever, over the past year or so we've seen a shift in this. Now more producers, managers, talent scouts (otherwise known as A&R), and others who have been more BTS are getting some well-deserved time in the spotlight. The industry wouldn't be what it is without these key players, a major one of them being Brock Korsan, known to many by his internet alias, Brocky Marciano. Korsan is a jack-of-all-trades—"The Winston Wolfe of music," as Complex calls him—splitting his time between artist management, producer management, consulting, being a managing partner for No Vacancy Inn, and working A&R (artists and repertoire; aka artist development and talent scouting) for Interscope Records. While Korsan has been working independently as A&R for many years with artists like Alchemist, Kendrick Lamar, and Schoolboy Q (just to name a few), this is the first time he has actually worked inside a company, with an official title: VP of Urban A&R.
We decided to trail along with Korsan for a day to get a true, firsthand account of how he juggles his time with so much happening. The first thing we learned? The man doesn't sleep a lot—we're talking maybe four hours a night.
---
---
(EARLY) MORNING
---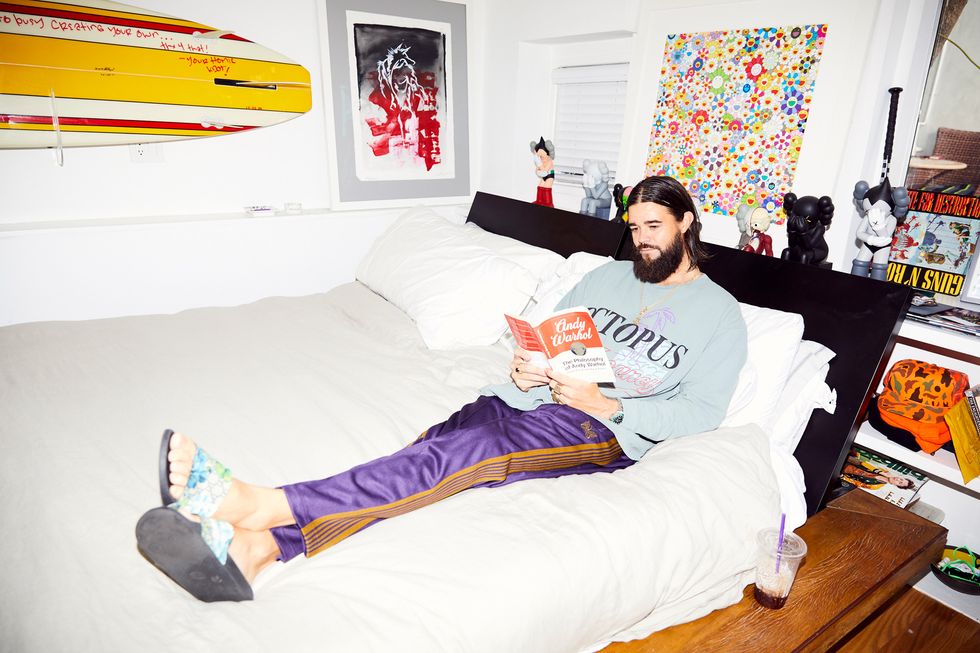 One thing you'll learn about extremely successful people is that they always like to make time for themselves. Korsan is no different. "When I wake up, I look at Surfline on my phone, then I walk outside and look at the waves. The first thing I do from there is go get coffee," he tells us. "I usually drink four shots of espresso over ice. I'm an extremist, you know? I'm in the studio until three or four in the morning, so in order for me to still get up at seven, I need that turbo charge [laughing]." Turns out Korsan uses surfing as a way to de-stress and start his day off on the right foot. "I started surfing young, then stopped for a long time because of team sports and everything else. When I moved back from New York [to L.A.], I moved by the beach [and] ended up really reconnecting with my childhood. I had always wanted to start surfing again, so I dove right into it. [It's] really changed my outlook on life. It's brought me to the place that I am, and it centers me a lot."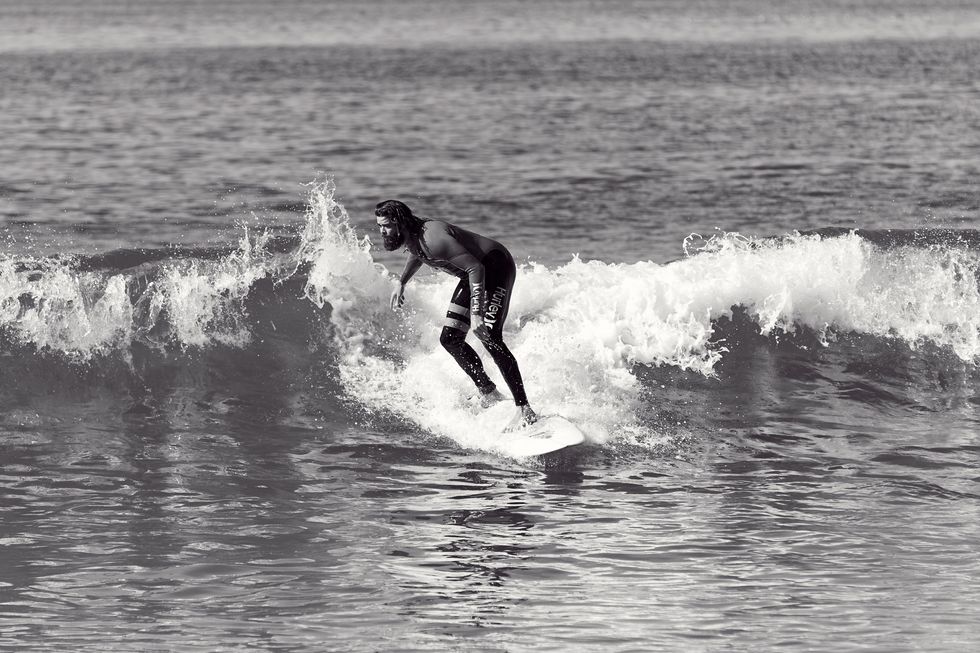 "After surfing, I'll sit at home for an hour, going through all the emails that I missed in the morning," he continues. "Then I'll head into the [Interscope] office, or I'll run around to meetings from No Vacancy Inn, to Interscope, to my management stuff." No Vacancy Inn is the creative group Korsan is part of, alongside Tremaine Emory and Acyde Odunlami—they do everything from radio shows to parties to clothing to fundraisers, but scour the internet, and you'll be hard-pressed to find a set-in-stone definition of what exactly the group is. "It's this morphing entity that no one can actually pin down. You can't put us in a box," Korsan explains. "We don't really know what it's going to end up being, which is the cool thing. We all have our trades, so to be able to do something on the side that is more of an outlet is cool."
---
AFTERNOON
---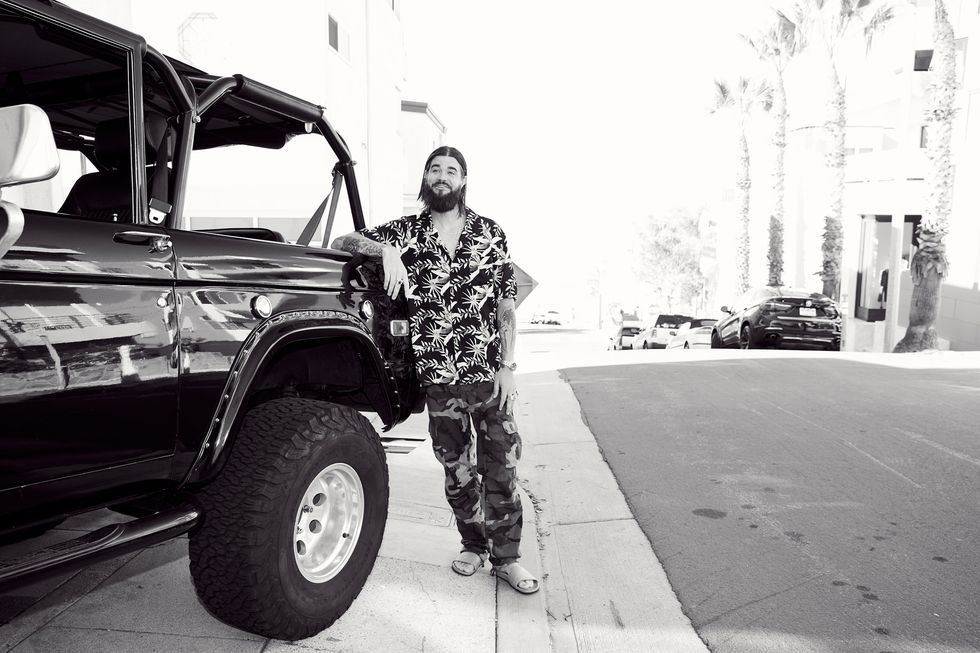 As Korsan mentioned earlier, his afternoons are either spent at the Interscope office or running around from meeting to meeting. But how did someone who is self-taught within the industry go from being a kid playing sports to running around managing producers and artists? "I didn't do this in a conventional way," he tells us. "I came into it knowing that I had good taste—I never was insecure about that part, but just getting thrown into the fire. You have to ask a lot of questions, read a lot of books, and you go through a lot of insecure times because you're constantly amongst people who have been doing this for a long time and that have been groomed to do it." He went on to add, "I've been fortunate that I'm pretty good at picking beats. The right beats for people," he tells us. "I can think out of the box [and] will try to lead an artist into different territories. Other than that, I listened to a lot of fucking music growing up. In college I spent my first-ever scholarship check on a CD burner. I would burn CDs, and when the mixtape game hit, I was on mixtapes.com writing all the new songs down and downloading them on Napster."
And while Korsan may have taught himself the ropes, he's had a few mentors along the way. "Chace Infinite, [A$AP] Rocky's manager, is like my big brother," he says. "I never had a big brother, but he's definitely a big brother to me. Krondon, Alchemists, Evidence, No I.D., Nick Tershay from Diamond [Supply Co.]. All those people either helped put me in the industry or helped catapult me and had faith in me. Without those people I wouldn't be here."
---
EVENING UNTIL THE EARLY MORNING
---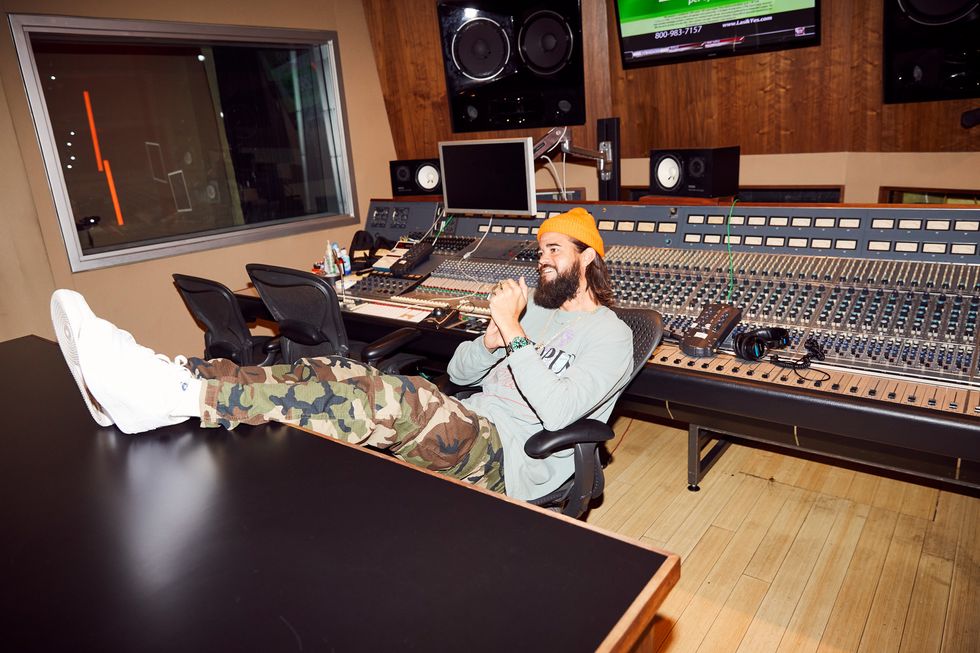 "Around four or five I usually hit the studio," Korsan says to us. One of two studios, as he has one in West Hollywood and one in Santa Monica. "I manage mostly producers: DJ Dahi, Cardo, Ricci Riera, J.LBS, Nino, this new guy Mike Hector," he explains. "I've been doing producer management for close to ten years. I always felt like producers were the underrepresented side of music, and it's nice to see them finally getting their just due. Producers are really running music now, and I think they're the cornerstones of modern music more so than the artists at this point."
The A&R genius also works with a plethora of artists in the studio, Kendrick Lamar and Schoolboy Q included. "Kendrick is just the best. I've worked with him for a long time, and he and I are tight," Korsan says. "[DAMN.] was a rewarding album. He works his ass off, so there's an energy in the room to make whatever it is that he's trying to do happen. He has zero fear, and I think that's the most rewarding thing is to watch someone work with no fear."
As for Schoolboy Q, we got a taste of what their relationship is like when Q called Korsan and the two joked and laughed about the country club, momentarily interrupting us as we chatted about Korsan's career highlights. "I went to the Grammys, you know what I'm saying? That was crazy," Korsan tells us while smiling. "Multiple projects that I've been involved with have been nominated for Grammys. I went [in] 2014 for [Kendrick's] Good Kid, M.A.A.D City."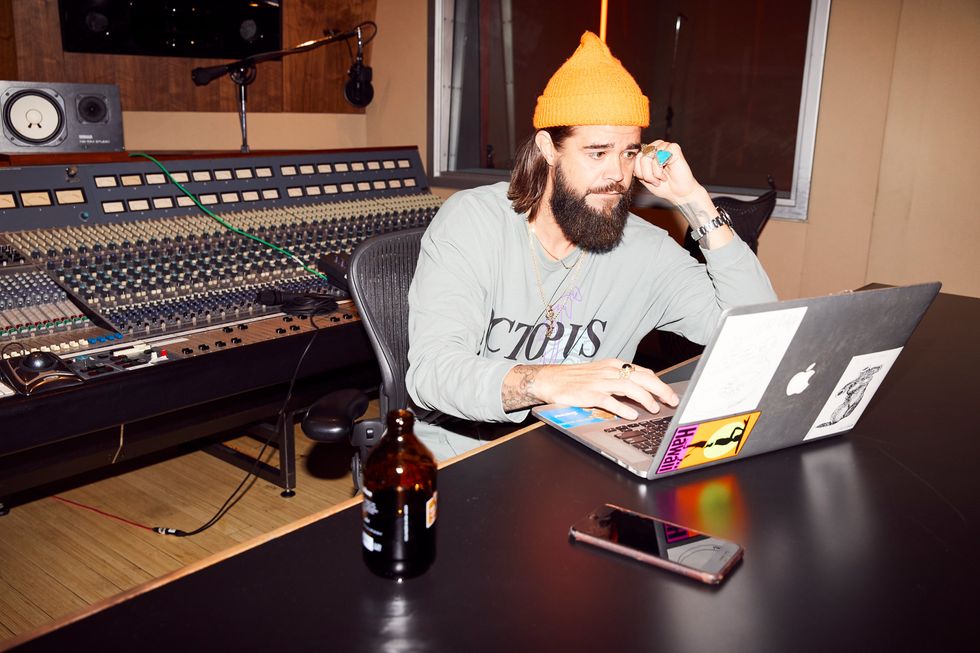 ~ Quick interruption from Schoolboy Q ~
"Sorry, where were we at? Schoolboy Q interrupted us. You can put that in the interview," he laughs as he gets back on track. "This is going to sound really weird, but the fact that I know Jadakiss is pretty tight. He's my friend, Hip-Hop [Kyambo Joshua] is my friend, Alchemist is my friend, obviously working with TDE—total career highlight. The fact that those guys fuck with me and that we've developed this creative kinship is special to me. The fact that I'm able to have creative conversations and deal with these people and be the one that links people together—to me that's like the best thing ever. I like watching people push boundaries, and to be involved in it is even cooler because it's like later on down the road I'm going to be able to tell my grandkids or whatever like, 'I was there. I helped that. I did that.'"
As for who Korsan has yet to work with but is dying to? "Young Thug is one of my favorite artists. He's so fucking good," he tell us. "Steve Lacey—he's everything. He's going to be the guy that forges the new generation, creating a new sound for us. I would love to work with him for the rest of his career. I have this feeling that he's going to be very special to the world."
Want more stories like this?
Deskside: Lenny S.
How Weed Saved Schoolboy Q's Life
Kendrick Lamar Talks Sneakers, Style, Lil Wayne & How 13-year-olds Are the Ones Shaping Our Culture