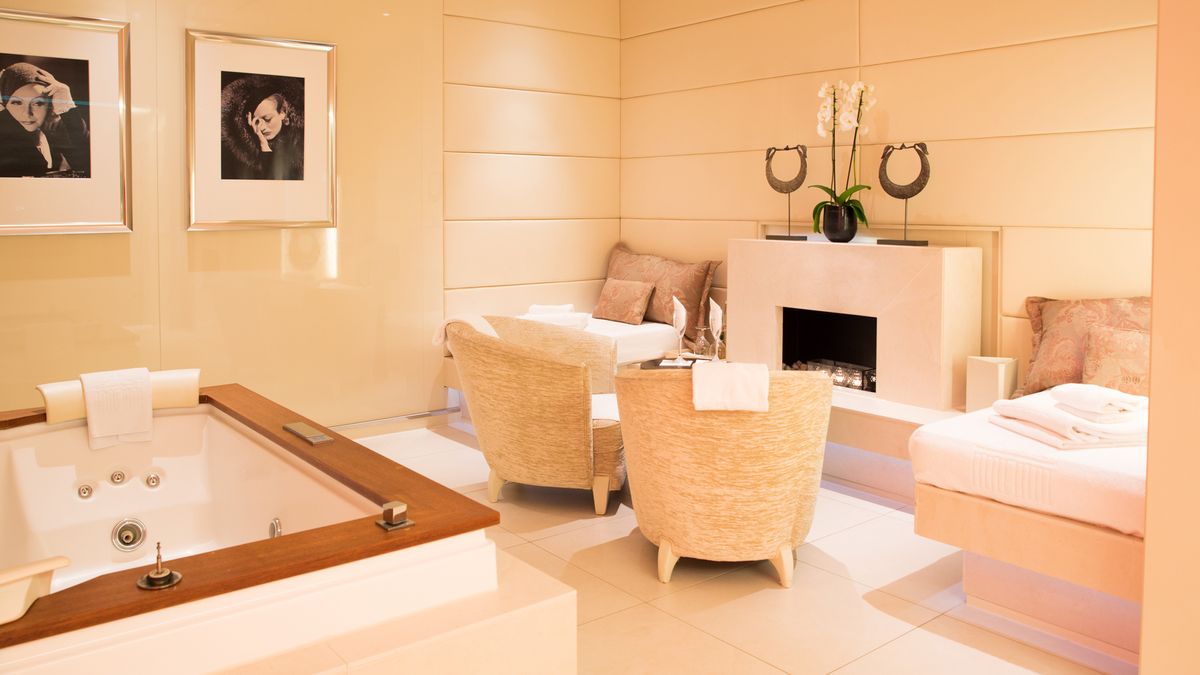 Beauty
The 11 Best Luxury Spas in the U.S.
Self-care, but on another level.
Adequate self-care is 100 percent necessary for the average human being. Unless you're part of the Avengers, a little rest and relaxation is going to dramatically improve your physical and mental well-being. A glass of red wine or a sheet mask is usually our quick go-to at home, but there are moments when we want (and deserve) to go big and *splurge*. Sometimes you just need someone else to give you a massage, steam your face, or bat you with a
banya broom
. Basically, heaven is a day at the spa.
While a short facial or a quick dip in the sauna can be enough, a luxury spa experience takes your bliss quota to a whole new level. This type of swanky experience can take your self-care up ten notches. Remember, a little extravagance every now and then is a good thing. From a utopia in the middle of Utah to a wellness wonderland with a New York City skyline backdrop, check out our 11 favorite luxury spas below.
---
88 Franklin Street, New York, NY, 10013
When we heard "wine bath," we immediately booked. Completely submerging yourself in Spanish vino is definitely not a bad way to spend an afternoon. Right in the heart of bustling TriBeCa, AIRE Ancient Baths is housed in an old textile factory from the 1800s but is all about giving you a tiny taste of the old Roman, Greek, and Ottoman traditions. Choose from an unlimited menu of baths, and opt for a massage if you'd like.
80 Columbus Circle, New York, NY, 10023
The cream of the crop—there's just no other way to describe it. They have the latest in non-invasive spa treatments like the Hydrafacial, and if you really feel like pampering yourself, get a private room. There's also an entire menu dedicated to gentlemen-only treatments, which cater to a man's well-being. Bonus: If you need to get your workout on beforehand, you can hit the gym or sign up for a yoga class.
4441 Collins Avenue, Miami Beach, FL, 33140
As if being walking distance to the Fontainebleau wasn't enough, the Lapis Spa is the epitome of Miami luxury. Choose from an extensive list of skin-care or body treatments, massages, and finish off in a hammam. There's absolutely nothing you can't do in this gorgeous, one-of-a-kind spa. You can even get your nails done!
701 Stone Canyon Road, Los Angeles, CA, 90077
Facials here use luxury products like Valmont and La Prairie, so there's no way you're going to walk out of this spa with anything less than an other-worldly glow. Get your hair done, book a couples' package, and maybe order from Wolfgang Puck next door. Spoil yourself in between treatments by hanging out in the relaxation lounge—cashmere throws? Say no more. This is definitely on our list of places to visit next time we hit Los Angeles.
465 S La Cienega Blvd, Los Angeles, CA
It's a picturesque scene from the beginning—feast your eyes upon Phillipe Starck's avant-garde, colorful designs before walking into one of the flashiest spas on our list. Think Biologique Recherché beauty treatments, a lounge with a snack menu curated by Chef José Andrés, and not one, but five spa rooms. Did we mention the massage beds have music therapy technology?
1 Kayenta Road, Canyon Point, Utah, 84741
That beautiful wellness oasis that filled your Instagram newsfeed is still one of the most visited spas in the United States. This luxury spiritual escape is designed to mirror the four elements of the Earth. You'll have over 25,000 square feet of space to roam freely and be one with the Earth. Enjoy massages, scrubs, wraps, and possibly the most opulent—flotation therapy. Trust us, the long drive is worth it.
113 N Green Street, Chicago, Illinois, 60607
We deem this a paradise in the middle of bustling Chicago. The Cowshed Spa at Soho House is the perfect place to unwind after a few meetings. Get a bespoke body consultation so your therapist can give you a customized treatment. In the mood to get dolled up? You can get their "Udderly Gorgeous Package" (a massage, facial, mani + pedi) and spend an entire
five hours
scrubbing the day away.
1705 S Quinlan Road, Austin, TX, 78732
Spa vacations seem to be the trend nowadays, and the Lake Austin Spa Resort is the cr
è
me de la cr
è
me of them all. Book a weekend away, and indulge in a full three days of relaxation. Join their sweat-inducing fitness program, have a taste of their conscientious cuisine, and enjoy spa services with a gorgeous view.
500 E Via Estancia Miraval, Tucson, Arizona, 85739
If you're looking to have a fully transformative experience, look no further than Miraval Arizona for a spa getaway. Your entire travel package includes food, fitness, and the rest you can pick and choose based on what you think is best for your spa day (or days). Miraval's speciality is Ayurvedic and Eastern body treatments, so you can have a little calm while you enjoy the typical spa services: massage, facials, and a hair and nail salon.
525 Boynton Canyon Road, Sedona, Arizona, 86336
Set in stunning Sedona, Arizona, Mii Amo is another destination spa that we recommend taking work off to go visit. If the beautiful red rocks of Arizona don't make you feel at peace, the multitude of meditation services will. Be at one with yourself, and then treat yourself! Mii Amo offers everything from skin care to Native American–inspired therapies.