WWWRN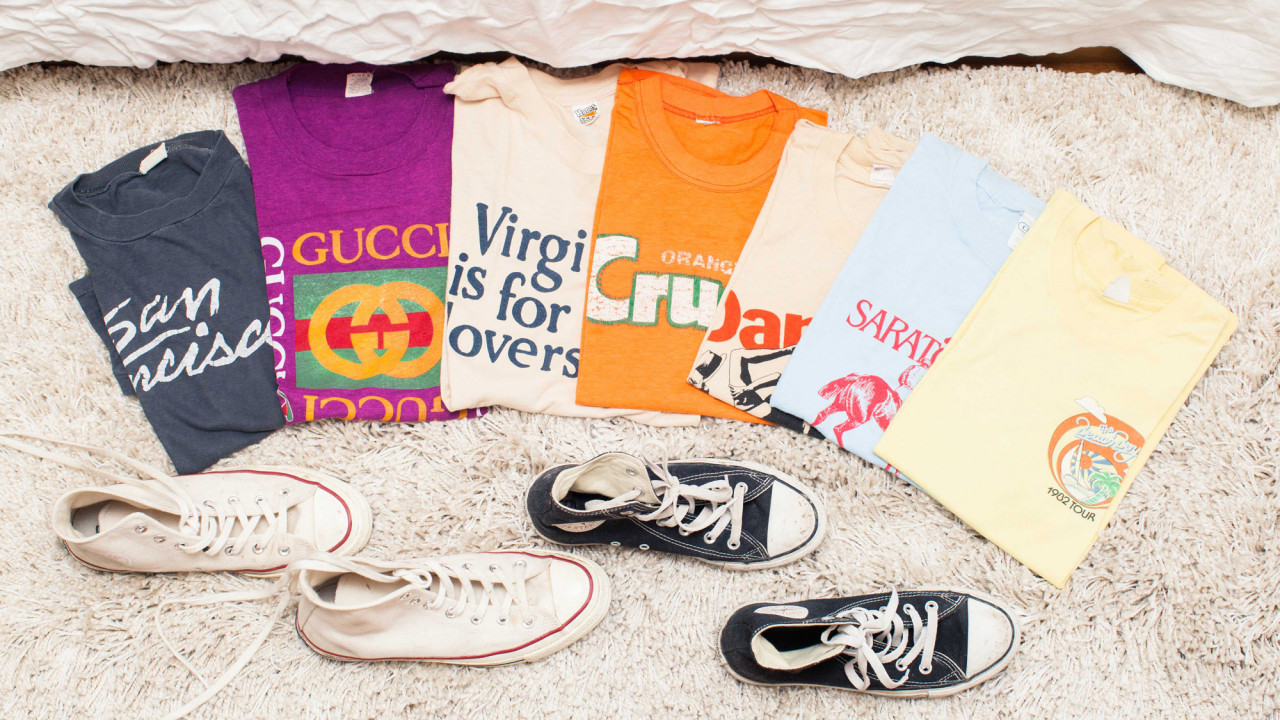 12 T-Shirts We Love for Spring
Back to basics.
Movies and TV shows depicting the "glamorous" world of fashion editorial may lead you to believe that at offices like ours, everyone shows up to work in designer dresses and platforms. We certainly have our dressy moments—a lace midi skirt here, a silk slip dress there—but more often than not, we're wearing t-shirts. A classic white crew neck; a distressed concert tee; a streetwear find with a three-figure price tag. We're into all of the aforementioned for their comfort, ease, and effortless style. These are the 12 t-shirts we're loving right now.
---
Leah Faye Cooper
Editorial Director
1. Mother The Boxy Goodie Goodie Under the Wide and Starry Sky: Mother is best known for their great denim, but every season they roll out an excellent range of t-shirts. My current favorite is this boxy style accented with woven stars—a subtle upgrade of a basic white tee.
2. 1920 F002 Women's Slim Sleeve Crew: I own this shirt in black, and it's one of the most reliable pieces in my wardrobe. I wear it tucked into jeans, tied in a knot with a skirt, and under jumpers. I take this versatility as a sign that I need one in every color.
3. Sézane Promise T-Shirt: I've had a thing for rainbows since…forever, so shirts like these always catch my eye. This one is extra special, though. Through Sézane's partnership with Pencils of Promise, 100 percent of the profits go towards expanding access to education within marginalized communities.
---
Jodi Taylor
Editor
1. Standard Issue Tees Three Pack: Forever my go-to, this t-shirt is the perfect basic, high-quality tee that you've been searching high and low for (unless you read this last year). It's made in L.A., soft to the touch, and keeps its shape through multiple washes. Better yet, you can buy 'em in packs of three so that you've always got a fresh one on hand.
2. Stüssy Eclipse Tee: I'm stocking up on everything bright right now—it's time to switch up the wardrobe.
3. Madhappy Classics Lightweight T-Shirt: Madhappy makes some of the best quality casual wear (I'm wearing one of their sweatsuits as I type this)—you'll be hard-pressed to find someone who doesn't love it. You can hold me to that.
---
Ivanna Martinez
Social Media Associate
1. Raquel Allegra Boxy Tee: There's no doubt tie-dye is here to stay for the summer, so what better way to wear this trend than a t-shirt? I love this purple hazed tie-dye one from Raquel Allegra, and the material is super breathable!
2. Lazy Oaf Oversized T-shirt: I am obsessed with Lazy Oaf! This London–based boutique was one of my favorite finds since I was last there. Their comfortable cotton tees are super minimal in design, but so cute and perfect to pair with any cute outfit.
3. Collina Strada Pierced Tee: I. Need. This. Shirt. Right. Now. This Collina Strada pierced tee is the perfect unique twist to the white t-shirt. I love how you can easily pair it with a skirt or some jeans and already make a statement. I'm planning on wearing this a lot this summer; it'll go great with everything!
---
Nandi Howard
Production Fellow
Part of the series:
WWWRN