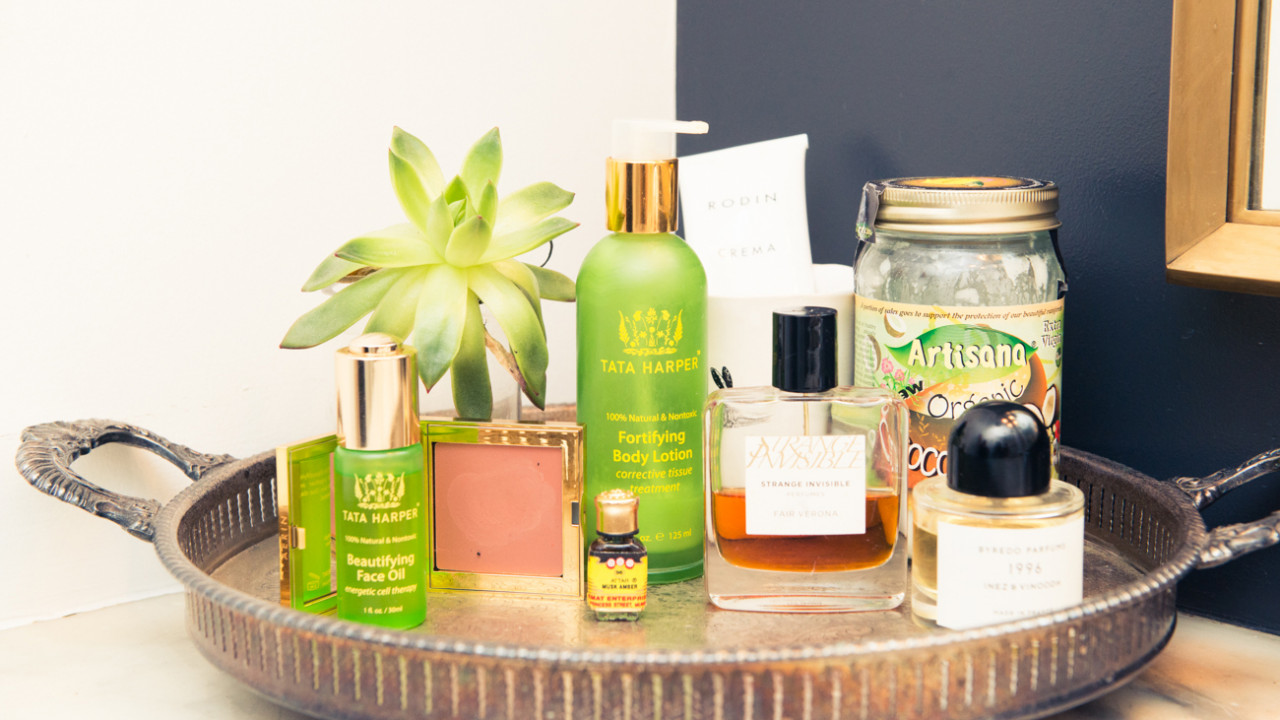 When Vegan Skin Care Is as Effective as It Is Ethical
Save the bunnies!
For too long in the beauty industry, if you chose natural, you had to compromise on effectiveness. Perceivably unable to measure up to the results of chemical science, vegan products have had an unfair rep for being the "fluffy" alternative. Not to mention they were a real pain to get ahold of. For years we've suffered slim pickings in terms of what was actually out there. Virtually no retailers stocked them, and brands supplying them tended to be very small-scale, niche offerings in typically ugly packaging (harsh but true).
Fast-forward to now, and "vegan" had a whopping 90 percent increase on Google search last year alone. Brands have been desperately scrabbling over themselves to meet the demands for being as effective as they are ethical. No longer are they the fermented-smelling pulp from a hippy era, nor are they harder to get your hands on than a pet unicorn (by the way, can we please put the unicorn thing to bed?). They're masters of plant science with cutting-edge formulas that will make you wonder how we ever survived without them.
Here are our top picks.
What they say: A 100 percent vegan, antioxidant gel cleanser packed with a superfood cocktail of kale, spinach, and green tea.
What we say: This cooling gel cleanser feels so refreshing as both a wake-me-up and a soother at the end of the day. Essentially the green juice equivalent of skin care, it rids your skin of toxins built up through the day from pollution and environmental damage. For that reason, we'd recommend a double cleanse—first to remove makeup (which literally melts off your skin, FYI) and second to get right to the bottom of your pores for any lingering toxins.
Smells like: V. fresh. Like just-sliced cucumbers.
Science equivalent: Murad Essential-C Cleanser
What they say: A silicone-free primer that smooths pores and fine lines into a smooth, matte canvas. It also gives anything you put on top some grip so makeup lasts all day.
What we say: A wind-up Instagram filter in pretty packaging. It also glides over skin like ice on a hot surface and immediately softens the look of pores. Despite appearances, it comes out clear and doesn't feel heavy or cloggy either.
Smells like: A little chalky, but you can barely smell anything—as we like our primers.
Science equivalent: Benefit PoreFessional
What they say: An antioxidant face oil that works to undo pollution and environmental damage to preserve skin in its most youthful form.
What we say: We have very simple criteria when it comes to facial oils—they have to absorb instantly and be non-greasy. This ticks both boxes, and my skin didn't have as many flare-ups or blotchiness after exercise either. It basically makes skin look like it would after a long holiday, several back-to-back lie-ins, and an alcohol detox—all glowy and juicy.
Smells like: It doesn't really have any smell at all, which is a good thing when it comes to face products, particularly if you have sensitive skin.
Science equivalent: Sisley Black Rose Precious Oil
What they say: A full-coverage, liquid-to-matte-finish lip paint. Concentrated mineral pigments offer dense color but with a nourishing feel.
What we say: Avoids all our pet hates about matte liquid lipstick—it isn't drying, won't crack, and feels comfortable to wear all day. Plus, unlike all other outlandish matte lip colors out there (we're talking bright purple, black, blue, etc.), this has a very wearable, "adult" shade range.
Smells like: It doesn't really smell like anything and so won't linger or make you taste anything when you come to eat like you do with perfumed balms.
Science equivalent: Kylie Jenner Lip Kit
What they say: Vegan and cruelty-free perfume oil blended just before bottling to preserve freshness.
What we say: Heaven. Heaven. Heaven. It's basically a regular perfume, just in oil form. So you apply it as usual (on pulse points, side of the neck, and décolletage), and it lasts for hours. That said, don't pour it on—it is an oil, and whilst easily absorbed, you really don't need much.
Smells like: There's a whole range of scents to choose from, but whichever you pick, all are so densely fragranced they just exude expense and luxury. It feels like liquid designer that you can drench yourself in.
Science equivalent: There's nothing quite like this!
What they say: A moisturising toner with naturally derived hyaluronic acid, which adds an injection of moisture whenever you spray.
What we say: I'm sure people on the subway thought I had a nervous disposition, as I was spritzing this repeatedly. Addictive to use, and it makes you look like you've slept for more than eight hours even if the reality is quite the opposite. A substitute for caffeine.
Smells like: Musky florals, but not in a granny-ish way. Won't be to everyone's taste, but if you fancy yourself as a bit of a mother earth, you'll love it.
Science equivalent: Caudalie Beauty Elixir
What they say: An oil-free, super-light moisturizer that's rich in antioxidants to fade pigmentation and even skin tone.
What we say: So light and silky, you don't get any of the greasiness. Absorbed instantly, and leaves a nice glow on its own but sits well under makeup. Foundation doesn't slide off after a couple of hours, or streak. It's a decent-sized tub for the price, too.
Smells like: It's hard to describe, as it doesn't have a smell, but it does smell fresh—a bit like cold cream.
Science equivalent: Clinique Dramatically Different Moisturizing Cream