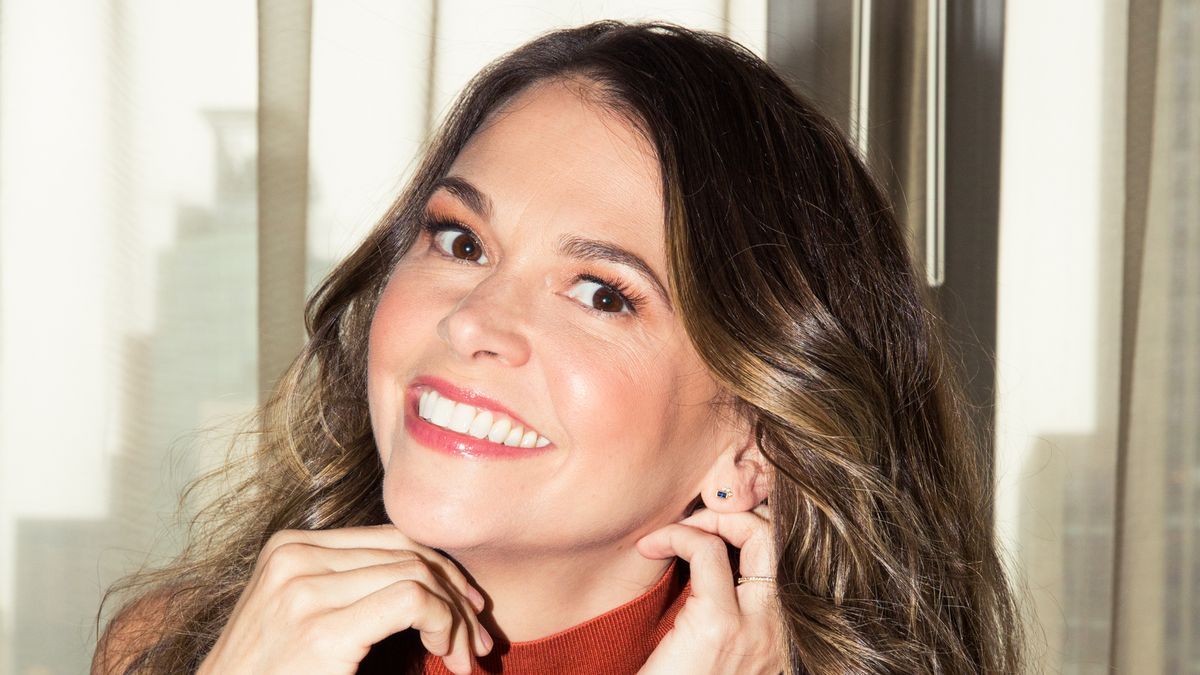 Beauty
7 Women Share Their Experience with Invisalign
Everything you need to know about trays, aligners, scans, and more.
One of the more surprising things I've discovered in my long slog towards adulthood is that the effects of the orthodontia I so hated when I was a teenager have slowly, almost imperceptibly, disappeared. Like many other almost-30-somethings, my teeth have rebelled against the braces of my youth, leaving me a slightly crooked, crowded smile. Only in the last year or so has it truly begun to bother me, conveniently when I'm at a point in my life that tweaking these so-called imperfections is slightly more feasible (read: cash money). So, like any millennial worth her salt, I searched the internet for the best method of correcting my teeth for good. For me, that meant
Invisalign
.
I'm currently halfway through the treatment, which has been a bit more involved than I was prepared for, but I'm pleased to see that my teeth are already considerably straighter. After my initial appointment—wherein my doctor created a 3-D scan to show me how the treatment would work—I began with a set of custom-made aligners that I change out every two weeks. While I was hopeful that I wouldn't need attachments (clear bumps that are adhered to your teeth and hook to your aligners), I was more interested in finishing the treatment as quickly as possible, which the attachments help to do. I also need to use rubber bands to help correct my bite, although I thankfully only wear those at night, much to my partner's amusement.
Any discomfort I feel from the aligners shifting my teeth is quite minimal—comparatively, the biggest struggle is wearing them for the recommended 22 hours a day. I work in an industry with a lot of events, including almost daily breakfasts and cocktail invites, which means I often forgo wearing the Invisalign during the day and only pop them back in once I'm home. Do as I say, not as I do. I'm still on track to complete my treatment by the fall, however, but I don't want to prolong it by any means. Brushing your teeth and cleaning your aligners after every.single.meal is not my favorite activity, although my mouth is always stupendously clean. Everyone's experience is different, but I can safely say that we're all grateful to avoid the traditional braces of middle school in favor of (nearly) invisible orthodontia.
In case you're debating undergoing Invisalign, check out what seven women have to say about their treatment below.
---
Layne Herbert

"I started Invisalign at the end of September 2018 and was given 18 trays—one tray per week—with an estimation [that] I would be done in January. I was super pleased with that, as a previous dentist said I would need to have Invisalign for over two years, longer than I had actual braces. I'm not sure if it's the same for absolutely everyone, but my dentist told me [that because] they didn't need to make any gaps between my teeth for them to align properly, that I wouldn't have to use the last three. I just went last week, and I'm [now] finished, so they re-scanned my teeth to create the new retainers that I'll wear every night. It [wasn't] super uncomfortable/painful, and it was easy to get used to. I'm very pleased with the results so far, and I'm thankful most people don't notice it when I smile or talk!"


Christine Stewart

"I started Invisalign about a month before having twins. I had five sets of trays, and each set had to be worn 22 hours a day for two weeks. Kindly, my dentist gave me all five sets to take home so I didn't have to lug my babies in for a quick visit. Looking back, this was a bad idea because I was way too relaxed about wearing them, knowing I didn't have to get the dentist's OK to move on to the next set. I'd pop them out all day to snack, and this went on for ages. It's currently year FOUR, and I'm still on my fourth set. Also, one set had to be re-made because it didn't fit properly, which added to the time span. However, I was surprised how quickly they shifted my teeth, and I've noticed a major improvement when I consistently wear them. Writing this has inspired me to plow through this next month and just finish!"


Stefanie Martillotti

"I loved my experience with Invisalign. I had it for about eight months to straighten out my bottom teeth, and I now have my retainers. I was surprised by how quickly I started seeing results! I wish I had known that sometimes they have to file in between your teeth to make space, and that the retainer is a separate fee aside from [the] trays themselves. Overall, extremely happy with my results!"


Lauren Goldenberg

"I was super surprised by how easy it was to get done. I had braces as a kid and was traumatized by the mold-making process for retainers, which I never wore [and was what] landed me in need for 'adult braces.' Technology has come a long way—they just scanned my teeth at different angles, and a week later, like magic, I had my first couple sets of trays. Since I had braces before, I was prepared for my teeth to hurt, but they only were slightly sore the day you swap to your new trays, which was no big deal.

"I was not prepared for the fact that you're supposed to be brushing/flossing after every meal. I refuse to be that guy who brushes their teeth at work after lunch in the communal restroom. I opted for a deep cleaning in the morning/before bed and invested in Colgate Whisps in bulk to touch up after food (highly recommend). Luckily, I'm not a coffee/soda drinker, so mine didn't get stained.

"Since I paid for them myself this time around, I was dedicated to getting my money's worth. I wore my trays religiously through the process and wear them now for maintenance at night. That was a surprise—it's a forever nighttime thing now, but it doubles as a night guard, and you can use them as whitening trays, so it could be worse.

"Overall, I love the results. In roughly seven months my crowded bottom teeth were perfect, and I would do it again in a minute."


Stephanie Hernandez

"My experience with Invisalign has been a long but livable one. First thing I realized was, they are not exactly invisible—especially when you have to pop them in and out every time you eat and go through a whole morning routine afterwards (e.g., brushing, flossing, cleaning the retainer, reapplying lipstick!). It's good to know that the level of visibility is really determined by where your buttons are placed, which, for the first half of my treatment, [were on] my two front teeth. Secondly, I had to give up freely snacking at whatever time I pleased, because I had to meet the 22-hour recommended wear and asked myself whether each snack was worth going through the whole cleaning process again (sometimes in public).

"There was a lot of extra teeth-brushing involved, but I got into the habit of carrying my toothbrush around, which I'm actually happy about because there's something about being able to freshen up midday or before a date, even without Invisalign. In my case, I went through the scan process for additional aligners a couple of times because some of my teeth were stubborn, so it was a longer treatment than expected, but during the time I was in it I barely noticed them, and the results are definitely worth it! A good tip for anyone going into the Invisalign experience would be to actually wear them as much as you can, because you won't have to experience that tightening feeling every time you put them back on, and you'll be done with the treatment in no time."


Whitney Cain

"[Invisalign was] one of the biggest lifestyle changes of my life, and this is coming from a gal whose skin decided two years ago to become incredibly sensitive, resulting in me tossing all my makeup and skin-care products. You'll be told up front that you need to wear the liners for 22 hours a day, but I don't think I fully comprehended this until my second or third day on Invisalign. I had to be more efficient and thoughtful whenever I wanted to eat or drink something. Getting a mid-afternoon snack just became bothersome; I realized, no, I didn't need that second La Croix (you can only have water), and I started avoiding sticky foods. I also converted an airline vanity kit (the ones they give you for long-haul flights) as my carry-everywhere tooth kit.

"This sh*t works, but it takes time. I have a super-unique dental situation: Both of my canines were impacted, and I'd retained my baby teeth, so my whole dental overhaul has been a process. I started Invisalign about a year ago, and I've probably had eight re-scans. And yes, I've cheated and gone almost an entire day without wearing my liners, and it actually kind of hurt putting them back in. It's shocking how much your teeth can actually move in a matter of hours."


DaMonica Boone
"I've never had braces, so I didn't know what to expect before getting Invisalign. Until I received my first tray, I had a terrible gum-chewing habit (thanks to my mother not allowing me to chew it as a child), which resulted in a horrible bite on my right side. Like Hannah, I also have attachments to speed up the process. I was told I'd need to wear the trays for 14 months and my top retainer—I was recommended a permanent bottom retainer— every day for a year afterward. Luckily, I was able to find an orthodontist that included my trays, both retainers, two extra cleanings, and bleaching gel in one flat rate.
"My biggest adjustment was the pain. I switch my trays every week, and at the beginning, the pain would last at least three to four days after starting a new tray. Now that I've had them for seven months (halfway there, baby!), the pain only lasts a day or two. I've also had a hard time adjusting to not being able to snack as much as I used to. Since it's recommended I wear the trays 22 hours a day, that only leaves me two to actually eat. Most days I meet that goal, but there have been times where I've gone six or so hours without wearing them. Since it hurts to put them back on, I try to leave them in as much as possible to avoid both the pain and the possibility of my teeth shifting."
Want more stories like this?.
Why I Got Botox in My 20s
How Tumeric Helped This CEO Find Her Calling
I Took a $30,000 Pay Cut to Follow My Passions—Here Are My Thoughts